Hello there,
With The Survivor Series upon us, I have delved into the deepest, darkest areas of my mind to reminisce about the annual event of when 'Teams of Five Strive to Survive!' (or at least when they did). To try and keep you all from passing out, I shall be breaking this into two parts, 1988-1999, and 2000-2010) and, as the astute readers will notice, I won't cover all of the events, as some of them pass without too much notoriety (and I haven't seen the 1995 edition).
The first Survivor Series I remember watching was in 1991. It was headlined by the first ever singles bout contested on a Survivor Series PPV, and it was, at the time, one of the most controversial finishes in WWF history (something which would become a recurring theme with this particular event). 'The Immortal' vs 'The Deadman'. Yes, Hogan vs Undertaker was the big contest, and by God did it SUCK. Thankfully, this dreadful match was saved by it's finish – where the newly arrived 'Real Worlds Champion' Ric Flair hit the ringside area and placed a chair in the ring, allowing The Undertaker to shock the world with not only a Tombstone on the chair, but his first World Title reign. (Incidentally Hogan would claim years later that he suffered a serious neck injury that would bother him for years due to the finish. As with most things that Hogan says – it's complete bollocks.)
The 1991 Survivor Series also saw the start of the demise of  The Rockers, as well as the announcement that 'Macho Man' Randy Savage's  retirement had been lifted, so that he could face nemesis Jake Roberts at 'This Tuesday in Texas', an often forgotten PPV where Hogan regained the title against Undertaker, again in controversial circumstances, leading to Flair's first title reign at the 1992 Royal Rumble. The WWF decided to show the still shocking angle where Jake attacked Savage, tied him up in the ropes and let his King Cobra (ooh err missus) bite Savage's arm. As a 6 year old boy watching this, it terrified me, and I couldn't sleep that night. I imagine it might have the same effect today.
My favourite Survivor Series of all time was undoubtedly 1988's vintage. Now, this was what a Survivor Series should be every year. It kicked off with one of my top 5 favourite matches in WWF/E history, a titanic Tag Team Survivor Series contest which fans who are only familiar with today's product would find alien in the extreme. Never again will we see the likes of The Hart Foundation, British Bulldogs, The Rockers, Demolition and The Brain Busters facing off with each other, and it still seems fresh now. If you haven't seen this – I implore you to. You can thank me later.  Another thing that jumps out from this time (well, 1988 through to 1991) is that every wrestler looks and acts like a star. Even Koko B Ware. Even 'Outlaw' Ron Bass.  Could we say this today? Of course not.
1990 was memorable for a number of reasons. Firstly, Bret Hart competed a few days after his brother Dean had passed away, and put in a wonderful performance, lasting until the end of the first bout before being beaten by Ted Dibiase.  It was also notable for the debut of a legendary figure, who would not only make a big impact that fateful night, but go down in the record books as one of the greatest of all time. The one, the only: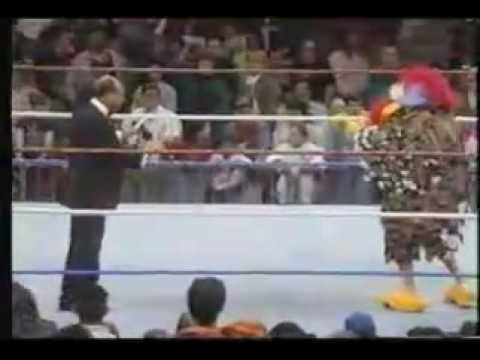 Oh, and The Undertaker debuted, as well.
The worst Survivor Series in living memory was easily the 1993 edition. Headlined by 'The All Americans' vs 'The Foreign Fantatics' , I would only recommend this if you are a complete masochist. The bout featuring 'The Four Doinks' (Men on a Mission and The Bushwackers) remains a low point in the history of wrestling. Sometimes, when I close my eyes, I see that match and wake up in a cold sweat. One elimination occurred when Fatu from the headshrinkers slipped on a banana peel. Oh, the humanity. AVOID.
By 1994, Title matches became a staple of the event (first seen in the 91 and 92 events, but left in permanently from now on), as Vince decided elimination matches just weren't enough to sell PPVs (he obviously has had a change of mind after Summerslam and Bragging Rights this year). In a complete shocker (at least to my 9 year old self), Bob Backlund beat Bret Hart to win the WWF title after the late Helen Hart threw in the towel to end their submission match. This included a masterclass in being a heel from Owen Hart, a face first bump from Davey Boy Smith into the stairs, and Bret Hart being placed in the cross faced chicken wing for about 7 weeks. I vividly remember me and my brother being in stunned silence for around 10 minutes after the match, and the rest of the PPV is a blur, even with Chuck Norris himself appearing in the main event (an atrocious casket match between Undertaker and Yokozuna), flooring Jeff Jarrett with (what else?) a roundhouse kick.
1996 saw Bret Hart return to the ring following his post Wrestlemania 12 sabbatical to face a man who he declared at the time to be 'the best wrestler in the WWF today', Stone Cold Steve Austin. The pair had a dazzling match, with Bret showing he hadn't missed a beat during his time off, and Austin showing why he would go on to be the biggest star of all time in just two years. In the main event – two shocking things happened. Firstly, Sid defeated Shawn Michaels to win the WWF title. And secondly, it wasn't a bad match at all. I don't know if there is anyone who watches wrestling who would doubt that HBK is one of, if not THE greatest of all time, but his ability to have great matches with the likes of Sid was unparalleled. It was around this time that I started to get back into wrestling following a break of about a year and a half, and this PPV was the main reason why. Also notable from this PPV was the debut of 'The Most Electrifying Man in Sports Entertainment', who was a white meat babyface with a shoulderbreaker finisher. Woah, how things changed: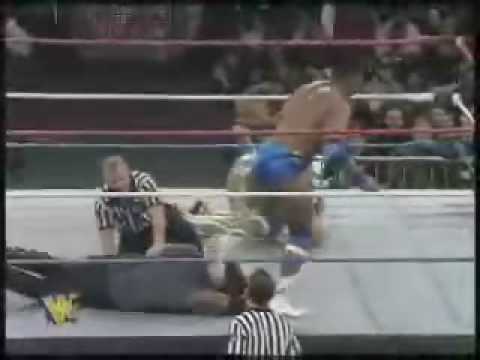 1997 – MONTREAL. Need we say any more? Does anyone want to read any more about it? I certainly don't. I will say this though. The more years that pass, the more I believe it was a total work.
1998 saw the birth of one of my favourite characters – 'The Corporate Champion' Rock. This was the event that catapulted 'The Great One' into the Mega Leagues, with his screw job victory over Mankind in the final of the 'Deadly Game' tournament. Aside from this it was a pretty shoddy tournament, with the actual worst finish to any match in history in the Steve Austin vs Mankind tournament bout, which, to my knowledge, has never aired on TV since. Other notable events include Mankind wrestling in a  tuxedo and 'The Real Man's Man' Steven Regal in general. Don't remember him? Let me refresh your memory:
Finally, to round off part one – 1999. Now, this was woeful, but momentous for two reasons – Kurt Angle's debut and Steve Austin being hit by a car, thus taking him out of the main event (Stone Cold had re-injured his neck and had to take a year off). His replacement? The Big Show, who had just finished feuding with The Big Boss Man in the second most tasteless feud of all time (HHH/Kane/Katie Vick being the first, obviously), built around Boss Man mocking Big Show over the death of his father. Oh the Attitude era. Sadly by 1999, the actual Survivor Series matches themselves had become nothing but a footnote, with it become mainly just another PPV.  This was a massive shame to myself (and no doubt countless others) as I had grown up on these battles, and felt that they could still work. But hey, who am I to argue with Vince?
In the 2nd part I'll look at 2000 to 2010, where I will give some insight into this years event. As always, feedback is welcome and I hope you enjoyed the trip down memory lane. Until next time, I'll leave you with this: