Happy new year, jabronis
I planned on writing this column at the tail end of last year, but the festivities caught up with me rather swiftly and I found myself far too inebriated on nog of the egg variety to scribe anything comprehensible.
If truth be told, I found 2010 to be a fairly weak year in terms of quality for the WWE. The company lost key workers to injuries (not their fault of course), dropped the ball several times in the midst of potentially engrossing storylines (definitely their fault), continued to stuff John Cena down our throats as if he were the second coming of Christ and suffered the almighty loss of HBK through retirement.
With that said, it wasn't all entirely bad, and in all fairness, the WWE – particularly towards the last quarter of 2010 – did pull its finger out its stubborn ass and finally commenced pushing some of its younger or more under-utilised talent towards the bright lights of the main event. I believe The Miz is doing a superb job as champion, the likes of long-time midcarders John Morrison and Dolph Ziggler are stepping up, whilst young guns Cody Rhodes, Wade Barrett and Tyson Kidd could have a very prosperous 12 months ahead of them. On top of that, you also had ring veterans Alberto Del Rio and Daniel Bryan bedding themselves into the company nicely. Hooray!
But enough of the future, for now, much like the Ghost of Christmas Past, I want to dwell on what has been and gone. Despite my belief that 2010 was rather underwhelming in the WWE, I choose not to linger on the negatives and present to you the list of awards I have bestowed upon those who are worthy…
Best newcomer
A very honourable mention goes to Daniel Bryan, but the newcomer who has made the most impact in the WWE is without a doubt Alberto Del Rio. As I mentioned in one of my previous columns, Alberto Del Rio has taken to the WWE as quickly and effortlessly as Kurt Angle did – and to draw comparisons with Angle is the biggest compliment you can pay to any professional wrestler.
We arguably still haven't seen the best of what Del Rio can do in the ring, but I ensure you that will come soon enough. I expect the man to be given a plethora of long bouts on PPV in 2011, and a world title reign is certainly on the cards for the luchador. And that grin is to die for.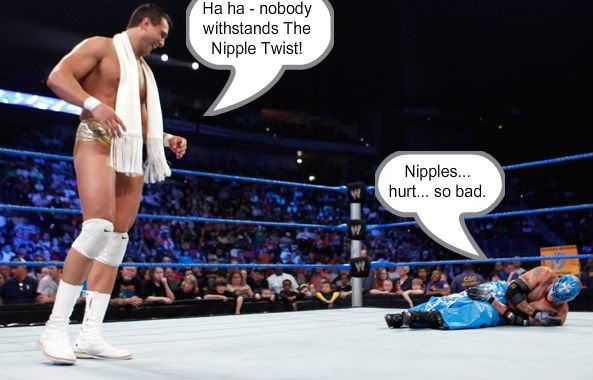 Character of the year
I sooooo wanted to give this award to Zack Ryder, as when he gets the chance to speak he always cracks me up – and his backstage skits with Edge on RAW were comedy gold… but it would be unfair to bestow an award upon someone whose screen time has been so damn limited over the course of the last 12 months.
Instead, I give this award to Chris Jericho. Y2J has been the heel of the year for me. His character brings an aura of believability to an era of wrestling that is worryingly void of it. Every action undertaken by the character is backed up with logical promos that explain why he's done what he's done. Sure, he may have falsely promised to leave RAW forever on countless occasions… but folk didn't seem to get that it was a gimmick. He's a dastardly heel godammit, so why should he keep his word?!
Let's all hope the man is back in time to play a part at Wrestlemania. A return at the Rumble perhaps?
Most improved performer
For me, Bingo Nik, the most improved performer of 2010 was Sheamus – but perhaps only because I had such a low opinion of him to begin with. I felt his push to the top of the WWE mountain was rushed and unjustified, and he didn't have the aura or the ability of a world champion.
But now I'm happy to report that my opinion has done a 180 turn. I honestly can't recall the last time Sheamus has been involved in what could be deemed a bad match. Despite still being a relative newcomer to the WWE, the Ginger Ninja is already perfectly capable of carrying a match with any performer. On top of that, his mic skills are mighty impressive and he always has something entertaining to rant about… and I can't help but find his constant use of the word "fella" very endearing .
Despite being on somewhat of a losing streak for the last part of 2010 – staring at the lights for John Morrison on a few occasions, as well as Randy Orton and, er, Santino Marella – the man still managed to acquire himself some bling as King of the Ring and I'm betting The new King will prove to be a great asset indeed to the company over the next few years. On top of all that – it's rather refreshing to have someone in a WWE main event spot who manages to keep so injury-free. Undertaker, Edge, Rey, HHH, Orton, Cena, Punk – please take note.
Diva of the year
The Bella Twins make my tummy feel funny. That's all I have to say on the subject of WWE divas.
Feud of the year
I had to cast my mind back to the start of the year (and check that it don't actually take place in 2009!) to declare that I was a massive fan of the CM Punk v Rey Mysterio feud.
CM Punk surprised many non-ROH fans with just how damn well he played a heel persona following his transition – and in this feud he was able to take it to the next level. His mic work was second to none, with his memorable, creepy "Happy Birthday" rendition to Rey's kid deservedly earning him a shiny Slammy.
Away from the mic, you had two fantastic workers giving their all in the ring, and producing a series of memorable bouts. From the offset, it was obvious to anyone with even an ounce of brain power that the two would bring out the absolute best in each other . And if the in-ring work wasn't totally to your liking, you also had Serena's incredible bust to admire at ringside. Yep, this feud had it all.
Tag team of the year
The Hart Dynasty, The Usos, Slater and Gabriel, The Dude Busters, Rhodes and McIntyre… none of them contributed anything worthy to the constantly deprived tag team scene in the WWE. Is there even a point in having tag titles anymore? When Mark Henry is being thrown together with Yoshi Tatsu just to make up the numbers, you know you have problems.
By default, this award goes to the duo of Santino and Koslov. Santino carries the team well and continues to remain incredibly over regardless of the two-dimensional nature of his act – but that's testament to the man's comedy skills and timing, so understand I'm not trying to take anything away from him in that department. Koslov has also found the perfect spot for himself on the roster as the muscley-half of a tag team. He was waaaay out of his depth battling HHH, Jeff Hardy and the like at the top of the card.
Commentator of the year
The wrestling business will never have another Jim Ross and that is a very sad truth indeed. It's the main reason wrestling commentators today get such a hard time – because they will always inevitably be compared to JR, and nobody can possibly match how great he is/was at the job. All others will always pale in comparison. That isn't to say that modern commentators can't be good… they'll just never be "JR good".
I have to admit that I've found the evolution of Michael Cole's character rather entertaining for the most part – but unfortunately his commentary still sucks. Had CM Punk's role at the desk lasted more than a few weeks, then he would have been a dead cert for this award, but as he wasn't I instead hand it to Matt Striker. He reportedly doesn't get on with his co-hosts at all… but rather than badmouthing him behind the scenes, I feel his peers should take note as to why he proves so popular with wrestling audiences. He's the only one who offers any sort of modern take on today's grapple game, and his in-jokes and asides make for some decent chuckles.
I sincerely hope that sometime in 2011, WWE shifts William Regal to the position of commentator – maybe replacing Lawler on RAW. Lawler is so dull and unfunny these days that he's almost painful to endure.
WWE wrestler of the year
There's no thought required from me on this one at all – The Miz has been THE MAN for the WWE in 2010, and I can't for the life of me understand why so many wrestling fans are troubled by his world title reign. In my eyes, nobody in the company deserves it more.
The Miz is a complete workhorse and has heat you just can't teach. The way he works his way under fans' skin and riles up crowds with his cocky boastings is pure entertainment.
Much like John Cena and The Rock before him – The Miz has transcended the wrestling business in way that very few do and is recognised as a genuine celebrity by a huge portion of the media. Sure, his reality TV background helps, but why should anyone hold that against him?
I would be lying if said that The Miz's in-ring abilities were up there with the best in the company – but he's perfectly competent inside the squared-circle and has worked a brawling style into his arsenal that is ideally suited to the main event style of wrestling..
Whether you like it or not, The Miz is already "the next big thing" in the WWE, and with Vince McMahon also being a massive fan of his work, I'd say wrestling fans have little choice but to embrace the era of awesomeness… and I'd much rather be doing that then wearing a hideous "Cenation" T-shirt. You dig?
That's it from me for now, Slapnuts. I'll return in a week or two to give my musings on the Royal Rumble – perhaps the greatest PPV of the year, says I!
Over and out.