Greetings Jabronis,
The very pregnant PPV calandar cannons another one of its sloppy sucklings at us this weekend with the second ever Bragging Rights event.
Calling it "Bragging Rights" makes it seems a bit like a hair-pulling contest between two skanks to me… but maybe I'm just not hip with the lingo. WWE likes to promote the event as more of a team-orientated day – a bit like a school sports days. It would be lovely if all the parents of the wrestlers sat at ringside to cheer on their children, donthca think?
Seeing as the essential selling point of the PPV is "RAW v Smackdown" I think it would make sense for the champions to challenge contenders from a different brand, so maybe we could have had Kane v Sheamus and Orton v Big Show or something… maybe that's something that can evolve in future incarnations of the event.
There's just five matches on the card, so this shouldn't take too long (that's what she said). Here lie-eth my predictions…
Daniel Bryan v Dolph Ziggler
Daniel Bryan doing some retard nerd dancing with the WWE sluts made for some painful viewing on this week's RAW. I don't think that any of us were hoping for WWE to lumber one of the greatest indy wrestlers of the last decade with a Rikishi style gimmick. In hindsight though, knowing WWE, perhaps we should have seen it coming.
WWE likely sees legs in the gimmick, so I see Daniel Bryan picking up the win here, likely with the help of some of the face divas who will thwart Vickie's attempts to aid her boyfriend. Then we can all be treated to some more stupid dancing. Hooray!
On a side note, I think WWE has done a decent job of late in establishing Ziggler as a worthy player on the Smackdown roster. Perhaps a main event feud is in-store for the bleached one in 2011.
Pick: Daniel Bryan
Natalya v Lay Cool
Regular readers of my columns must truly be fed up with my attitude towards WWE women's wrestling. It stinks (my attitude that is). But alas, it's not going to change. Diva matches make me truly ashamed to be a wrestling fan – and coming from a most heinous example of mankind with so very little pride such as myself, that's a very bold statement.
Whoever wins the Bryan/Ziggler match will determine who wins here so that going into the main event, Smackdown and RAW will be drawn at one all. So seeing as I've gone with RAW's Daniel Bryan to be victorious, the Smackdown representative will be the victor in this outing.
Pick: Whichever one is from Smackdown
Undertaker v Kane
The Undertaker\Kane feud stubbornly lumbers on, despite the two already having two PPV bouts that reached similar heights in entertainment to watching a cleaning lady rhythmically wipe down a formica work surface. Yep – enthralling stuff. I enjoy Undertaker matches, and I (sometimes) like Kane matches… But let's face it, their wrestling styles really don't gel.
A buried alive match would seem to suggest that the feud will end here because, ya know, being buried alive normally results in death (tut tut, that's not very PG). But it's very difficult to pick a winner…
On one hand, Undertaker has come off the back of two PPV losses and needs to gain the upper hand in this feud for the sake of his character if nothing else. But on the other hand, Ol' Taker is reportedly pretty beat up right now, so, considering his physical state, would it really be wise to put him at the helm of the brand?
So I'm gonna go with a Kane victory again (I've been saying for months that Undertaker won't win the title until Survivor Series – marking 20 years in the company for him). Then Undertaker can take a couple of weeks off to rest up, and then magically reappear at Survivor Series (following his apparent death) to finally give a good kicking to the ever so nasty Kane.
Pick: Kane
Randy Orton v Wade Barrett
I can sum this one up pretty quickly. Despite being a more solid performer than the rest of his Nexus buddies, Barrett is still way too green to be holding a world title. Thusly, Orton will pick up the victory here, no doubt through John Cena "accidentally" costing Barrett the match somehow.
I wish WWE would light the fuse on a Miz v Orton feud already. Hopefully that's next on the agenda for the man who enjoys pretending he's a snake.
Pick: Randy Orton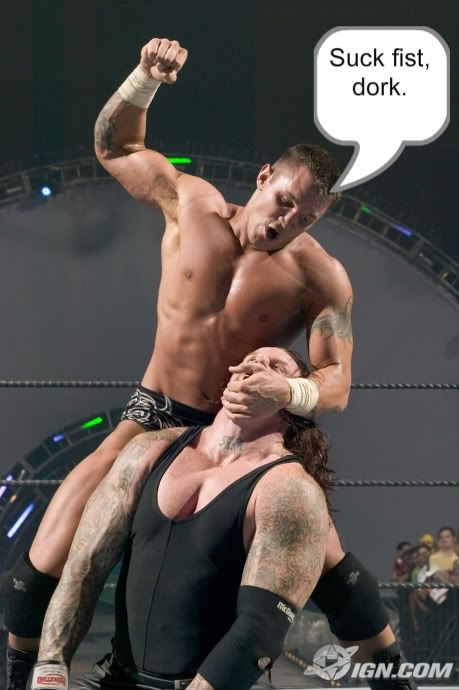 Team RAW v Team Smackdown
I'm so glad The Miz got to captain Team Raw. He's steadily being groomed to be one of the flagship faces of the company, and rightly so. With Jericho on hiatus, surely nobody can disagree that The Miz is the best heel in the business at the moment.
Sadly, WWE has a film to promote starring The Big Show – and that means the plodding giant in gonna be a prime feature on WWE television for the next few weeks.
(Has anyone seen the trailer for this abomination of a film whilst we're on the subject? It looks like 90 minutes of fart "jokes" and people falling over. Vinnie Mac is really playing his part in destroying the cultural integrity of the American public. But hey, here I am writing a wrestling column, so why should my opinion matter?)
So will WWE do the right thing and have Team Miz claim the crappy looking trophy, or will they take the business stance and have The Big Show's team go over, in the vain hope that it might shift a few more tickets for their abysmal movie?
Call me insane, but I'm gonna go for The Miz. Adding that trophy prop to his MITB briefcase will give the obnoxious braggart even more to brag about. And that, dear readers, is a good thing. I wouldn't be too surprised if Mr Mizanin ends up being the sole survivor here. Simply put, The Miz = ratings.
Pick: Team RAW
That's my picks folks. As ever, please add your own thoughts and predictions below. If you can present them in rhyming couplets, then all the better. Poetry warms my soul.
Oh – and a quick reminder to all you UK dwellers out there. Once again this PPV will be available to view for free to all Sky Sports subscribers. So, for us, it's not really a "pay-per-view"… just a "view".
Over and out.