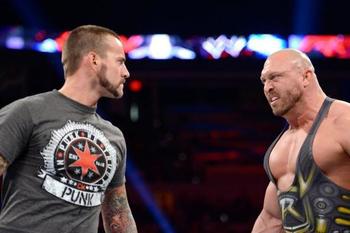 Greetings jabronis,
As a significant amount of the Internet Wrestling Community accurately envisaged (alas not me, I confess), Paul Heyman reigned supreme in his match against CM Punk at the Night of Champions PPV and scored a pinfall victory over the his former buddy courtesy of major assistance from his brand new buddy Ryback.
It was obvious heading into the PPV that CM Punk would need a new feud in the aftermath – Curtis Axel is just not believable as his equal, Paul Heyman is an overweight promoter (i.e. not a wrestler) and we've likely seen the last of Brock Lesnar until 2014. Ryback was given the nod and aligned as the newest Paul Heyman guy and WWE signalled that the Punk/Heyman feud would continue.
This week's RAW confirmed that Mr Punk will indeed face-off against Ryback at the Battleground PPV on October 6th. So, just 10 months after CM Punk's lengthy feud over the WWE title with Ryback, we're back in veeeery familiar territory… Only this time CM Punk is the mega face and Ryback is the big, bad heel. But does that really make a difference?!
If you can feel a moan coming, then your perceptions are very astute. And I apologise in advance.
Last year, Punk earned heinous victories over Ryback at both the Hell in a Cell and TLC courtesy of interference from Brad Maddox and The Shield respectively. Of course, nobody expected the greenhorned Ryback to actually beat Punk for the title, and despite WWE's best efforts in creative finishing, it was all rather predictable. It also proved to be the ignition for a Ryback PPV losing streak that lasted a staggering 11 months and many would suggest it was a booking decision that he has yet to recover from.
But at least WWE isn't trying to pretend that didn't happen (as it so often does) and it's an element that seems to have been brought into the storyline. In an online, kayfabe interview this week Ryback remarked "What better way than to take out CM Punk? He was the guy who started my downfall. That's what you strive for: being the guy who everything revolves around."
But as optimistic as Ryback might be, I can't see the feud ending any differently that the way it did in 2012 – and CM Punk will emerge the victor. And call me presumptuous if you please, but I suspect you, dear reader, feel the same.
I'm happy to state that I'm rather enjoying Ryback's heel character. His backstage bullying skits are deliberately uncomfortable to watch and he has great mannerisms and presence that make the heel role far more natural for him. Plus he seems to have finally satisfied his hunger and no longer demands to be constantly fed more. But who has he feuded with recently? Nobody, that's who. So, much like Curtis Axel, why should we perceive him as a genuine threat to one of the absolute top dogs in the business when he hasn't memorably thwarted any midcarders of late? Even I'd fancy my chances against a bunch of backstage jabronis.
And isn't that the exact problem that Ryback suffered last year heading into his feud with Punk? No wrestling fan believed for one moment that he was going to win the title from Punk – because he had been rushed into the title picture. Of course, a push has to start somewhere. But the launch pad shouldn't be going up against the number one guy.
Quite frankly, I'm a bit shocked that this feud is happening again so soon considering the sway CM Punk must have the company these days. Ryback may have marginally improved as an in-ring performer over the last year or so… But he's still not going to be anyone's "dream opponent", and even against the best wrestlers on the planet it's unlikely he's ever going to be involved in "match of the night".
I get that the top end of the roster is mighty thin at the moment with Lesnar on hiatus, Jericho being a rock star, Kane and The Rock making movies, Cena having a poorly elbow, Sheamus tearing something that shouldn't tear, Rey Mysterio being made of glass, Undertaker on his annual 11 month leave and Mark Henry becoming as injury prone as Kevin Nash… But I still can't help but feel WWE has recycled this feud far too soon.
Wouldn't it have been more interesting and refreshing to see Punk take on someone new? Bray Wyatt is crying out for a meaningful feud after dismantling Kane; Or Matt Morgan is rumoured to be returning to WWE, who would have been positioned as a fresh opponent for Punk had he been the one chosen to be aligned with Heyman (admittedly I very rarely watch TNA, so I'm not sure how much of a big deal Matt Morgan would be perceived as); Or could Punk have alligned himself with his old indie-scene pal Daniel Bryan to take on HHH, Big Show and The Shield in a battle of "what's best for business"?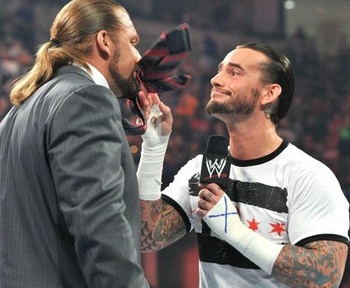 But instead of anything new, we're taking a trip down Deja Vu Alley and this is a feud that, once again, Ryback simply cannot win.
Of course there's always the possibility that Ryback picks up a cheap victory at Battleground – but that will only win round 1, not the feud… And you can bet your kneecaps that if that is how it goes down, Punk will get his revenge and emerge victorious from the feud at Hell in a Cell.
So even though the face/heel roles are being reversed from the feud we were served from October to December in 2012 – we're still looking at the same guys in the same feud with the same outcome. This one has been recycled far too hastily for my liking.
Bah, humbug.
Over and out.