Greetings jabronis,
Earlier this week I took the utmost pleasure in going to my local cinamatorium to see The Guardians of The Galaxy – as I'm sure many of you did too. You lucky, lucky urchins.
I'm aware it's not exactly a contreversial opinion – but what a truly magnificent movie it is. Through dazzle and perhaps dumb luck, it turns the clichés of comic-book movies on their idiot heads and hits audiences with an exhilarating blast of phenomenal fun. It's set the sci-fi blockbuster bar mighty high, and certainly doesn't make JJ Abram's job any easier in delivering Star Wars 7 next year.
But alas, I'm an not here to wax lyrical on the many joys the movie offers for this is of course a wrestling column… Instead, as you've likely guessed, I'd like to take a look at the performance of Mr Dave Bautista and how the wonderful Drax The Destroyer character could impact his wrestling career henceforh.
Firstly, I have to congratulate Batista (I'll be spelling it like that from now on) for his truly excellent performance. I genuinely didn't believe he had such perfect comic delivery inside him, and the weighted gravitas he brings to the more emotional parts of the movie were also highly commendable – if stroking a giant racoon can be deemed emotional. Evidently the acting classes have paid off for the behemoth (but when I compare his performance to the Batista who was involved in stuttering and awkward backstage skits with HHH and Randy Orton earlier in the year, it seems like a totally different guy).
But what I'm reeeeally interested in is this: Will Batista's awesomeness in this movie transfer over to the WWE?
Wrestling audiences have given Batista a tough old time this year. I'm sure he envisioned his return and subsequent Royal Rumble win as being much sweeter career moments for him than they transpired to be. Instead he was mercifully jeered and booed out of many a building in in the early parts of the year – despite the fact he was in a babyface role. Hardly the stuff of dreams.
Many fans and wrestling bloggers, as well as Batista himself, all point to the point of popularity of Daniel Bryan as being his downfall. Many felt that Batista returned from a long absense and undeservedly stole Bryan's spot on the card – and there's undeniably a lot of of truth in that. But I suspect another big part of the negative reaction Batista received was simply due to him not being particulalrly missed in the first place.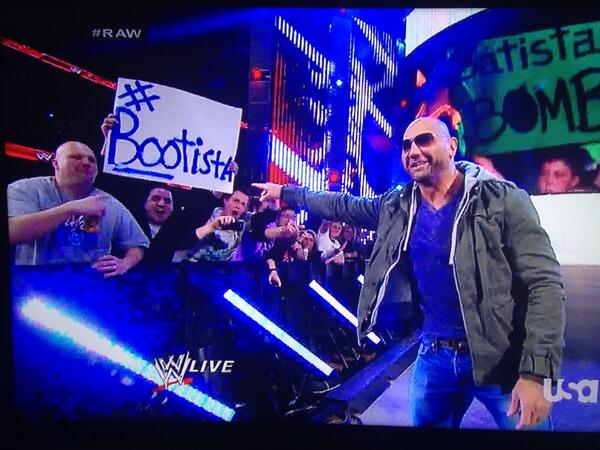 Batista may have a decorated wrestling career, but he's never really had a memorable match unless he's been carried by a great (Edge, Undertaker etc), and his charisma and promo skills have always left a lot to be desired. He's never, ever going to be mentioned in the same bracket as the likes of HBK, Steve Austin or Ric Flair. What I'm getting at is, he's just not the wrestling mega-star he likely thinks he is. So I'm firmly of the opinion that another massive reason he has been treated so harshly by wrestling audiences this year is because they simply found him boring  – and they/we didn't even want him to return to WWE. That, dear readers, certainly wasn't Daniel Bryan's fault.
But now something has changed. Big time. With a sequel already confirmed for Guardians – and rumours of cameos for the cast in future Avengers sequels, Batista is heavily involved in what could become one of the greatest and most successful film franchises of all time. And that's nothing to be sniffed at.
The Guardians of the Galaxy had the best opening for a movie in the month of August in history and the 32nd biggest opening weekend for a film of all-time. OF ALL-TIME! The movie also has the highest critic and fan approval rating of any Marvel Studios movie to date – including The Avengers. It's nothing short of phenomenon. I don't think it's any exaggeration to say that Batista has earned more hollywood plaudits for his role here than The Rock has achieved in over a decade in the movie business.
It's safe to assume that a huge majority of WWE audiences will see/have seen the movie this summer. The audience crossover for both products is abundantly obvious. So are wrestling fans going to re-assume booing the sh*t out of Batista when he does make his WWE return in the coming weeks?
Hell no, says I.
I simply can't envision it happening. I foresee Batista being welcomed back like an all-conquering hero. Why would kids and adults alike want to make a guy who has entertained the bejeebus out of them in a glorious Hollywood blockbuster feel unwelcome? His sins of being a aging, mediocre wrestler have been washed away with the cleansing power of Hollywood success. So much so that even those skinny jeans can probably be forgiven.
Call me delusional if you please, but I just can't shake the feeling that this movie will impact Batista's career in ways we couldn't have predicted before its release. It's a game-changing factor of the highest proportions. Thus I'm fully anticipating a babyface return for Big Dave – and just maybe he'll receive that monster pop he likely envisioned receiving when he won the Royal Rumble.

And you know what would be truly awesome? I'm mark out like a mad man if a "We Are Groot" chant started at any WWE event whilst Batista is in the ring! Please… let's make that happen.
One final thing to add: If you haven't seen The Guardian of the Galaxy yet, I emplore to hurriedly go and do so. It lives up to the hype in every conceivable way.
Over and out.