Greetings jabronis,
With this being WWE's last major outing before Wrestlemania, you'd expect it to be pulling out all the stops to entice you into forking out your hard-earned cash for its annual extravaganza (and/or a WWE Network subscription).
But that doesn't seem to be the case.  Yours truly believes the three main bouts on the card all have a very foreseeable winner, and the undercard is also distinctly lacking in pizzazz.
I hate to be a Negative Nelly (forgive my language) towards a PPV before it has even aired though, so I will aim to approach it with as much positivity as I can muster – and maybe this will be one of those occasions when WWE delivers against the odds. After all, there's much fun to be had watching 6 grown men smash each other around inside a steel dungeon, regardless of whether the outcome is predictable or not. Smashy smashy!
It's a pretty packed card (although I wouldn't be surprised if yet another match is added on the night in the form of Santino and Emma vs Faaaaandaaaaangoooo and Summer Rae), and if you'd care to further your gaze downwards, my predictions are patiently awaiting your peepers…
PRE SHOW BOUT
Goldust & Cody Rhodes v Ryback & Curtis Axel

I hope Goldust and his broski find themselves a spot on the Wrestlemania card in April (even if it's not the long-rumoured match against one another). It would be a mighty injustice for them to be left off the show considering the awesome matches the two of them have put on in the tag division over the last few months.
I'm expecting that The Rhodes Brothers will be involved in some sort of multi-team match for the tag team titles at 'Mania against their opponents here, as well as The Usos and The New Age Outlaws. Which is better than nothing I guess.
Curtis Axel and (unbelievably) Ryback are little more than glorified jobbers of late, and despite Axel being a hometown honcho, I'm siding with Cody and Goldust to win this one. Babyface victories appease the young and the elderly alike.
 Pick: Goldust and Cody Rhodes

Batista v Alberto Del Rio
As sure as the sun will rise tomorrow, as sure as the Grim Reaper will one day claim us all and as sure as Nickelback are the worst band on the planet… Batista will be victorious here. It's an absolute given. And I don't think it will be very pretty.
WWE must still be very concerned about what sort of reaction Batsita is going to receive at Wrestlemania. In a crowd that is gonna be largely made up of hardcore wrestling fans, drunk Brits and vocal travel groups… One anticipates that the rather boring, 45 year old Batista who has done absolutely nothing to deserve his current main event push could well garner a very hostile reception.
Big Dave's second coming has certainly been a lesson to WWE in the "wrestling fans are fed up of the same old shit" department.
Meanwhile, let's take a moment to think about poor, old Alberto Del Rio. He's been an absolute workhorse for WWE over the last couple of years – and whilst his feuds for the World Heavyweight Title on Smackdown weren't always brimming with entertainment, you get the feeling he did his best with some bad storytelling, and always gave his utmost in the ring. There seems little chance that he'll feature in a match of any relevance at Wrestlemania now, and I wouldn't blame him for leaving WWE and heading back to Mexicon once his contract expires, as many rumours have suggested. With only one "World Title" now in play, I suspect ADR's run as a WWE main eventer is well and truly over.
Pick: Batista

Titus O'Neil v Darren Young
It's an odd time of year to be getting a push. Beyond the Elimation Chamber, WWE has just 6 weeks of programming before Wrestlemania XXX – 6 weeks of TV which you have to believe will be largely dedicated to promoting the top matches on the card. The focus is gonna be on Orton, Cena, Batista, Undertaker, Bryan, HHH, The Shield, Bray Wyatt, Hogan and Lesnar (and maybe Punk if he stops sulking) and their respective bouts at the event… Everyone else on the roster will be lucky just to have a 3 minute televised match between now and April 5th.
So whilst Titus is surely pretty chuffed that his push is coming, it must be a bit of concern to him that he's gonna get lost in the impending storm. He's no spring chicken after all (he's older than Cena for example), so this could be his once chance to make his mark in the company. Does he possess the ingredients for success? I certainly think he has the look, charisma and confidence in the bag… But he most-definitely comes up short when it comes to in-ring ability.
I'll side with Titus to get the win here though, because the tag team member who turns heel is always the one to receive a big push. Unless you happen to be called Brodus Clay.
Pick: Titus O'Neil

TAG TEAM TITLES
New Age Outlaws v The Usos
The New Age Outlaws Tag Title win at the Royal Rumble was dropped to the pre-show in an act of heinous injustice to all those involved. But thankfully (as I confess I freaking love these guys) Billy Gunn and The Road Dogg get a proper PPV outing here – the first time since the No Way Out PPV in 2000 dontcha know!
With The Usos defeating The Outlaws in singles competition on this week's RAW and Smackdown, those in the know should be well aware that this is a precursor to The Outlaws retaining here (win on TV lose on PPV is the first commandment in wrestling lore).
I do think The Usos will be our next Tag Team champions, but their time will come at Wrestlemania XXX, likely in an already mentioned multi-team tag match that I suspect WWE has up its colossal sleeve.
Pick: The New Age Outlaws retain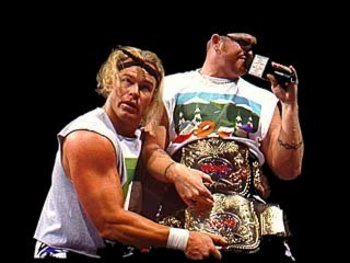 The Shield v The Wyatt Family
With two prominent trios who are both well over with wrestling fans here, I would have preferred to see this one unfold at Wrestlemania. But with Bray likely to be busy dealing with Cena's schoolboy humour in the coming weeks, and The Shield ready to implode – I guess it was wise of WWE to have this match happen now before it becomes an impossibility.
As entertaining as I'm sure it will be, the winners are very easy to telegraph. The Wyatts need to look unstoppable as they enter their feud with Super Cena, and constant bickering amongst The Shield members will surely lead to their downfall.
A triple threat match pitting all three members of The Shield against one another at Wrestlemania XXX could well be the dark horse to steal the show, says I.
Pick: The Wyatt Family

IC TITLE
Big E v Jack Swagger
Despite Big E losing his surname this month, I don't believe his losing streak is set to continue and he'll pick up a relatively routine victory here. I 'm anticipating a very lengthy run with the IC Title for Cena's gym buddy.
I expect an IC title unification with the US strap at some point in the not-too-distant future. With the brand split now virtually non-existent, and one World Title already done away with, I'm surprised that it hasn't happened already. You'd almost be forgiven for thinking that WWE doesn't really care about its midcard…
Pick: Big E retains
ELIMINATION CHAMBER FOR WWE TITLE
Randy Orton v Daniel Bryan v Cesaro v John Cena v Christian v Sheamus
WWE would like us to believe that this is a wide open match which anyone involved can win – and have had those involved share various win and losses over each other in recent weeks (apart from Christian… He just loses to everyone. Shameful.) to enforce that concpet. But we all know that Sheamus, Cesaro, Christian and even Cena (who will somehow be taken out by The Wyatts) don't stand a chance of winning this one. And as much as it saddens me to say – I don't foresee Daniel Bryan being the victor either.
As I've blabbed in previous columns, I think Vince is just too damn stubborn to alter his Wrestlemania main event. Batista v Orton was obviously planned out long before Batsita made his return at the Royal Rumble. And whilst Vince and co couldn't have counted on the incredibly negative reaction fans have given to The Animal upon returning, it's not gonna be enough to make them change their minds. Vince will not be proven wrong Goddammit… And Orton v Batista will be our main event no matter how negatively audiences react and how badly it hits Vince's own ample purse-strings. The company seems far more content on putting on the matches its top brass want to see rather than listening to what the fans want.
To those people (myself included) hoping for a triple threat match pitting Orton against both Batista and Bryan for the World Title, I fear we are clinging to the very faintest of hopes. With CM Punk having gone AWOL, it's safe to assume that Bryan will take his mantle as HHH's opponent at Wrestlemania XXX, otherwise ol 'Trips is left with no other obvious opponent – and he certainly doesn't want that on the company's biggest pay-day of the year.
So I'm going with Randy Orton to retain – in what will be an incredibly badly received decision throughout the entire wrestling community.
But just to finish on a more positive note, a quick word on Cesaro:  I fully expect him to be a starter in the Chamber following his 5 star performances in recent days, and I get the feeling he will be the one with the majority of the crowd behind him as the match progresses ("We the people!, *clap, clap, clap clap clap*, We the people!). It's taken way too long for a man of his talents to break through, but it looks like he's finally arrived. WWE should be seeking to capitalise on his rise by giving him a meaningful opponent at Wrestlemania – perhaps in the shape of The Big Show. Who wouldn't want to see a Cesaro Swing on The Big Show? Nobody. That's who.
Pick: Randy Orton retains
Those are my picks, jabronis. Please add your own below. I love it when you do.
I sincerely hope WWE is able to throw us at least couple of curveballs (a Lesnar appearance perhaps?) and spice up the action otherwise we have a very predictable night on our hands.
But with The Undertaker and Hulk Hogan both heavily rumoured to be at RAW the next night, it's not as if the company will be struggling for ratings in the aftermath of the Elimination Chamber.
Undertaker and Hogan, eh? Who remembers The Gravest Challenge?! Maaaaaan, that seems like three lifetimes ago.
Over and out.