Greetings jabronis,
I'm a little tight for time as I type this – I guess it's fair to say I'm just like Jack Bauer – but I wanted to get a few thoughts up about the Elimination Chamber PPV otherwise I fear my face might explode… Or at least get a little bit hot.
So I apologise in advance if my "casting of the eye:" feels a tad brief this week. That's because it is. Do you see? My thoughts and predictions can be found here: just below.
YOUTUBE BOUT: Brodus Clay and Tensai vs The Rhodes Scholar
So after the scenery-altering announcement that The Rhodes Scholars would be parting ways, they find themselves once again side by side…. just 3 weeks later. One thing WWE is never guilty of is standing by its stipulations.
Who doesn't love dancing fat men? Huh? Probably a very large percentage of us. But I'll tell you who does enjoy dancing fat men: Vince McMahon – and he undoubtedly finds the site of a bald, tattooed, monster having a boogie highly hilarious.
So due to Vinnie Mac's penchant for slapstick, I'm expecting the newly formed dancing fat team to get a mini-push in the coming weeks. They're perfect fodder for WWE's Saturday morning programming, they add more weight (literally and figuratively) to the tag division and and their loud entrance amuses the young (and Vince) – so I'm going for them to pick up the upset victory here.
2013 hasn't been great to Rhodes or Sandow thus far – with both of them picking up several singles losses on TV. I hope this trend dies soon, because they're both stellar performers and should be moving up the card and not down, says I.
Pick: Brodus Clay and Fat Albert
DIVA'S TITLE: Kaitlyn vs Tamina Snuka
Does anyone care who wins? I don't think the champ has even been on TV for the last 3 weeks which shows just how little the belt means nowadays. I guess I'll go with Kaitlyn to win. If WWE held a contest for "Diva who looks most like a prostitute" she'd win that too.
Pick: Kaitlyn
 ***************
US TITLE: Antonio Cesaro vs The Miz
Last month's pre-show bout gets promoted to the main card this month – and it's no less than Mr Cesaro deserves. He's a fantastic in-ring talent with one of the best finishers in the business, and his somewhat old school gimmick is gradually getting over.
For me, The Miz's face turn has been a complete flop. His scripted jokes are Cena-level terrible and the way he sucks up to fellow babyfaces is vomit-inducing. I like The Miz, I genuinely do, but he needs to swiftly find some momentum if he ever hopes to match the heights he reached in 2011.
I'm predicting a long, long US title run for the man with the big nipples (I wouldn't be surprised if he surpassed 12 months) and so I foresee him retaining here. There's no point in giving the belt to The Miz whilst he's perceived as more of a chat show cretin than a wrestler.
There's always the possibility that The Miz wins via DQ. Pesky heels just love to cheat and don't you forget it. But whatever goes down, Cesaro leaves with the bling.
Pick: Antonio Cesaro retains
 ***************
Ryback, John Cena and Sheamus vs The Shield
This is the match that will give us an insight into just how serious the WWE is with regards to pushing Ambrose, Reigns and Rollins as top tier talents.  Ryback, Cena and Sheamus are the three guys that give Vince the biggest hard-on though – so I don't rate The Shield's chances of being victorious very highly at all.
And that's what it boils down to for me. Would WWE book their top 3 babyfaces to lose a PPV bout immediately before Wrestlemania? To a bunch of greenhorns no less?! No sir. I just can't see it happening.
It will be a lengthy and hard fought battle (at least 20 earth minutes long I'm predicting), but your trio of kiddie favourites will be leaving victorious.
I'll be interested to see what role The Shield plays at Wrestlemania. I have no speculation or thoughts to add to that – I'm just interested is all. That's what makes me a world class columnist.
Pick: Ryback, Sheamus and Super Cena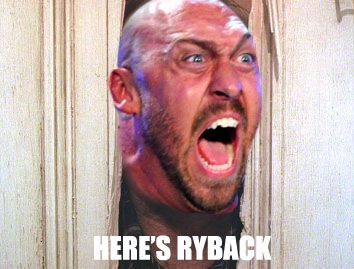 WWE HEAVYWEIGHT TITLE: Alberto Del Rio vs The Big Show
In an effort to further cement Del Rio as a top babyface, and to enhance the buyrate for Wrestlemania amongst WWE's considerable latino audience, I fully expect the Mexican Aristocrat to retain here and head into New Jersey as the champion on March 31st.
Many are predicting a MITB cash-in from Dolph Ziggler in the aftermath – and the fact he doesn't feature on the card otherwise certainly lends weight to the theory. But I'm of the mind that we'll see our first briefcase cash-in at Wrestlemania, and Ziggler will finally lay claim to the strap on the grandest stage of them all. I know Ziggler has "promised" that he'll cash in before Wrestlemania – but Ziggler is a heel, and heels lie. They probably swear when nobody's around too.
I do expect we'll see some sort of tease for a cash-in, but Ziggler will be thwarted by Ricardo Rodriguez throwing a bucket of crabs at him or something.
Pick: Alberto Del Rio
***************
No 1 CONTENDER ELIMINATION CHAMBER
Y2J vs Kane vs Daniel Bryan vs Mark Henry vs Randy Orton vs Jack Swagger
So it seems we're getting just the one elimination chamber match this year, which is a bit of a shame. But I'm not gonna get in a rage about it and kick a puppy or anything. I promise.
I think a lot of us are struggling to pick a winner for this one – and that's a good thing. Following a Royal Rumble card that was littered with the most in-your-face obvious outcomes, it's reassuring to see that the WWE can still present us with a doozy of conundrum on occasion. And let us not forget that the winner of this will face the heavyweight champion at Wrestlemania.
The purists among us would, of course, love to see Chris Jericho or Daniel Bryan in the Wrestlemania main event. But if Del Rio is champion going into 'Mania as I've predicted above, that would require a badass heel as an opponent for the freshly turned babyface – so step forward Mark Henry and the newly racist Jack Swagger. Meanwhile, Randy Orton has been out of the title picture for some time yet remains a constant fan favourite, and can play a heel at the drop of a hat – so he can't be discounted either.
The one person who won't be winning this is Kane. Sorry, Glen.
Ideally, I'd love to see Jericho win, as well as seeing Ziggler cash in his briefcase on the night – giving us another salivating Jericho v Ziggler bout to look forward to, this time with the title on the line. But sadly we don't live in an ideal world.
I'm more leaning towards a victory for one of the big heels. Swagger has only been back for a matter of weeks, and I don't think a couple of wins over the likes of Zack Ryder and Justin Gabriel make up for a 4 months absence that was immediately preceded by a 6 month losing streak. He's just not the  right caliber of opponent at this stage for a Wrestlemania main event spot. And thus I'm going with Sexual Chocolate for the victory.
Henry has been pushed hard since returning – destroying upper card guys like Rey Mysterio, Daniel Bryan and The Great Khali on his warpath – so WWE are obviously still feel there's juice left in his tank. I think he could be the perfect opponent for Del Rio at 'Mania, where they could tell the tale of the resilient babyface managing to finally overcome the all-powerful, monster heel in a long and bloody battle. In the aftermath, a pissed off Mark Henry can smash Del Rio though the Spanish announcer's desk and perhaps give him a couple of fat man splashes, which will provide the perfect cue for Ziggler to make his entrance…
Pick: Mark Henry
WWE TITLE: The Rock vs CM Punk
The Rock – a household name, wrestling legend and Hollywood megastar – is the WWE champion. WWE is in the midst of promoting the biggest event on its calendar. To take the belt off him at this juncture would be business suicide. It just ain't gonna happen. The Rock will win, simple as that.
The Rock v John Cena II will happen again at Wrestlemania and whilst that pisses me off hugely, I understand why it's the most attractive main event that WWE can promote to the masses. But hey, I'm a fan and I'm allowed to be pissed off about it if I like.
A tiny, miniscule part of me is still kinda hopeful that a Rock v Cena v Punk triple threat will somehow transpire come Wrestlemania… But it's likely just a pipe dream. And if that would mean having no Undertaker on the card, then I'm happy to see it not occur.
Part of me is worried that if Cena wins at Wrestlemania (which is 99% certain to happen) then The Rock and John Cena will own one win each over each other. Would WWE hold a final deciding match at Wrestlemania 30, promoting the same main event 3 years in a row? I think it's a lot more likely than many of us would care to admit.
One last thing on thing on this match up - I gotta say I'm not a fan at all of the stipulation (if The Rock gets counted out or disqualified then CM Punk wins the title). Surely this means that Paul Heyman can just enter the ring at the start of the match, hit CM Punk with a baseball bat and get The Rock disqualified?! Hopefully it's something they address on the night – because it's foolish to think that a duo as dastardly as Punk and Heyman wouldn't think of that too.
Pick: The Rock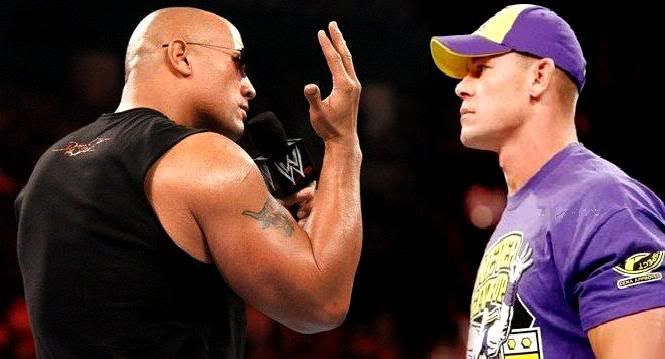 Those are my picks, jabronis. Please add your own thoughts and predictions below. I love it when you do.
To all you UK readers out there – just a reminder that the Elimination Chamber PPV is free to view for all Sky Sports subscribers this weekend. How incredibly fortuitous we are.
Over and out.