Greetings jabronis,
As the memories of a somewhat lacklustre Wrestlemania fades into the annals, the first noteworthy destination as we venture into the new season of WWE is the Extreme Rules PPV.  I always thought it was a tad strange that WWE stuck with the "Extreme" moniker now that all its programming adheres to a PG rating – because there's nothing particularly extreme about hitting someone in the knee with a bit of balsa wood, or temporarily stopping a match to apply a band-aid if someone bleeds … But hey, here we are!
With The Rock and CM Punk AWOL from the WWE frat house, The Undertaker returning to hibernation and Dolph Ziggler out with a sore brain, the WWE main event has significantly diminished in the last few weeks, giving the chance for others to try and steal a moment in the spotlight. Zack Ryder – now's your chance!
Will anyone step up at Extreme Rules? We've got two Wrestlemania rematches, three title matches, an old school steel cage match and a few other shenanigans on the card, so I shall delve right in. If you'd care to aim your gaze downwards you'll find my predictions patiently waiting for your attention…
PRE-SHOW: The Miz v Cody Rhodes
Pre-show PPV bouts are fast becoming the home for Miz matches! But despite significantly dropping down the roster in the last year, The Miz is still a very important asset to WWE. His persona is one of the very few that transcends the wrestling industry, and there can be no denying that he handles himself very well indeed when he's in the media spotlight. He can even grow a rubbish beard should the need arise! So, as this is a bit of a nothing match, I suspect WWE will toss him the win here. Why not, eh?
Poor Cody Rhodes. When he beat Rey Mysterio at Wrestlemania 27 I figured it would be onwards and upwards for him from then on. Instead, he's languished in the midcard for the last 3 years and is rarely offered the chance to step up to the upper echelons. Don't get me wrong, his partnership with Damien Sandow is/was fantastically entertaining, but his best is surely yet to come. How long until Cody's moustache gets its own t-shirt by the way?
Pick: The Miz
*********************
Chris Jericho v Fandango
It's very commendable indeed that Chris Jericho is constantly willing to come back and put others over… But I'm getting concerned that his own star power is starting to fade as a result. His win/loss record for the last couple of years is not particularly impressive at all, no sirree.
Of course, Y2J himself and many others will tell you that he's such a huge star that he can lose as many matches as he likes without ever damaging his "main event" aura – and that may be true to an extent. But I'd prefer midcarders picking up wins over bigwigs like Jericho to be pretty infrequent, and thus sold as a big deal. It's come to the point that many of us are expecting Jericho to selflessly lose in every match he's in because that's just what he does these days.
I'm hoping he bucks the trend here and we witness Fandango's first loss – then the two can have a rubber match at the next PPV (or maybe even Summerslam).
I'm loving the Fandango character incidentally. Johnny Curtis is so funny in the role and has created a comic masterpiece as far as I'm concerned. And Summer Rae is a robo-babe. If you disagree, I'm coming over to your house and taking a whizz on your doorstep. You can't stop me.
Pick: Chris Jericho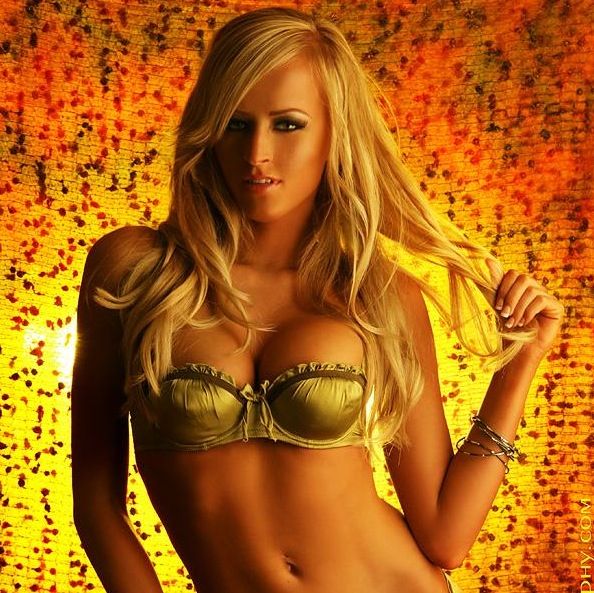 STRAP MATCH: Sheamus v Mark Henry
Ryback losing to Mark Henry at Wrestlemania was one of the weirdest outcomes I've ever witnessed on a WWE PPV. Why the up and coming main eventer Ryback was booked to lose cleanly to an injury-prone veteran – and then shellshock him afterwards anyway – made no sense to me whatsoever. I guess Henry has made some chums in high places during his 57 years with the company.
Sheamus meanwhile is in wrestling limbo. Crowd reactions to him are getting quieter and quieter (possibly due to the crap humour that's been introduced to his character) and he's done nothing of real relevance on TV for months. A lot's been made of Ryback's PPV losing streak, but the Ginger Ninja is on a 6 month no-win streak too. With that said, I'm siding with him for the win – just so it will remind fans that he still exists.
This won't be match of the night… But I've got a feeling it could be surprisingly fun.
Pick: Sheamus

*********************

TAG TITLE MATCH: The Shield v Team Hell No
This surely has to be the night that Team Hell No finally drops the gold. They've had an excellent run as champs and installed plenty of meaning back into the titles, so sincere kudos to them.
What next for Daniel Bryan and Kane? There will probably be a rematch on the cards before the duo split up for good, and beyond that I'm massively hoping for a WWE Heavyweight title feud between Bryan and Ziggler. can you imagine how awesome that would be? CAN YOU?
I think Kane will remain a babyface (audiences will cheer him regardless so there's not much point in turning him heel) but can't see any obvious direction for him – although a rumoured match pairing him with his broski The Undertaker against The Shield at Summerslam would be pretty special if it were to occur-u-late.
Meanwhile, The Shield continue to move onwards and upwards and provide a prosperous insight into the future of WWE. The road out of Extreme Rules is surely paved with gold for the entire trio.
Pick: The Shield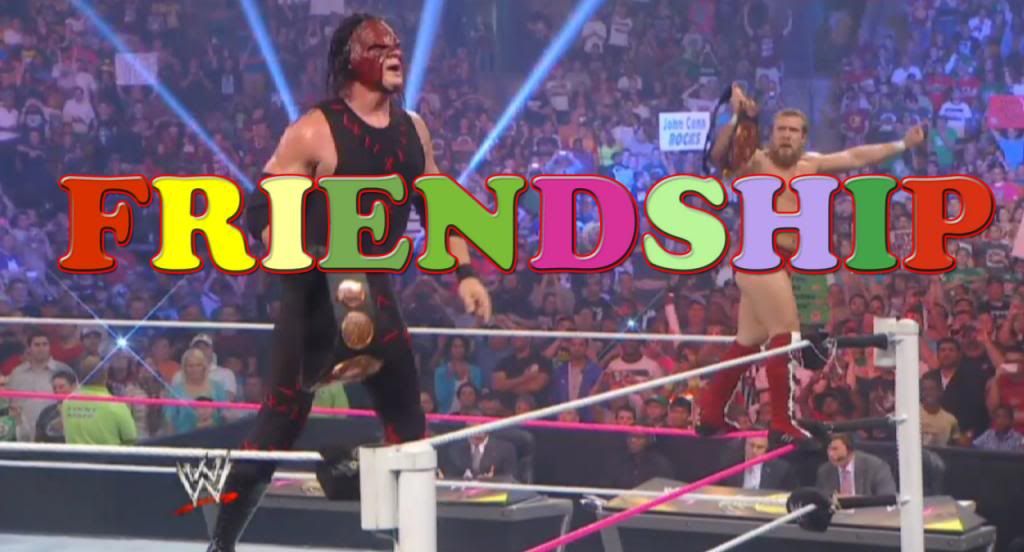 US TITLE MATCH: Darren Ambrose v Kofi Kingston
As my prediction above outlines – I see all three members of The Shield leaving the arena with shiny new bling around their waists this Sunday.
I guess this match-up explains why Antonio Cesaro pointlessly dropped the US Title to Kofi Kingston a few weeks ago – so that Ambrose would have a babyface opponent to win the strap from at this PPV.
I rate all three members of The Shield highly (probably Reigns the least if you wanna twist my arm) – but Ambrose is the stand out guy for me. His demeanour, abilities and ring presence reminds me of Jake The Snake Roberts, and at other times Stone Cold Steve Austin. And that's two of the biggest compliments you can pay any wrestler. When The Shield does disband (I'm talking waaaaay into the future here) then Ambrose will surely be the one in the run for a main event singles push.
On a different note, WWE really needs to overhaul the Kofi Kingston character. He's a talented and charismatic guy – but his CV is just littered with pointless runs with the midcard titles. He's been doing the same schtick since he debuted in the company over 5 years ago (albeit with a different accent) and would surely benefit from a refresh.
Pick: Darren Ambrose
 *********************
Randy Orton v The Big Show
I almost forgot this match was even happening until I checked WWE.com. It's a pretty packed card, and this feud hasn't captured my imagination. At all. I doubt anyone else out there really cares either. Come on. Be honest.
This bout is going to be fought under "extreme rules" so no doubt we'll see an RKO or chokeslam through the announce desk at some point. Let's just hope the pesky thing actually breaks for once.
Orton has been on a roll of late (admittedly that "roll" has mostly involved beating Antonio Cesaro several times) so he's my pick for the win.
That's all I've got to say about this one. Sorry.
Pick: Randy Orton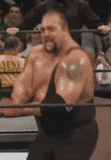 I QUIT MATCH: Jack Swagger v Alberto Del Riiiiiiiiiiiiiiio
It's a mighty, mighty shame that the triple threat ladder match, which surely would have been "match of the night", has been dropped from the card – but head injuries are a serious thing folks, and I'm you'll all join me in wishing Mr Ziggler a sound and speedy recovery. Temporary amnesia sounds like some pretty nasty business to me.
The winner of this is a no-brainer. I had already assumed that Ziggler would battle Del Rio at next month's PPV to extend the feud – and I'm standing by that still happening. It's very unlikely that WWE would put a heel v heel title match on a PPV. Dontcha think?
Jack Swagger is struggling to get his gimmick over (in his defence, it is pretty rubbish), he has a court date on the immediate horizon and now he's put the WWE Heavyweight champion on the shelf with a reckless kick to the head (which I thought were banned anyway?!). To me, this all adds up to a sharp drop down the card for The All American American American over the next few weeks. That'll learn him.
Pick: Alberto Del Riiiiiiiiiiiiio
 ********************
WWE TITLE: John Cena v Ryback
My column from last week (which you can read HERE) outline my reasons for predicting a Ryback win. To sum it up briefly: Cena is injured, ratings are down and WWE needs to establish a new top heel (plus bonus reason: Ryback needs a PPV win).
Of course, Cena looked rather agile this week as he single-handedly defeated all three members of  The Shield (Zzzzzzzz), so maybe the Achilles injury really isn't any sort of big concern. But I stand by my original prediction that Ryback will emerge victorious.
It would be outlandish, it would be unpredictable (a bit) and it would be quite damn exciting I reckon. Which is exactly what pro-wrestling should be.
WWE.com has this week ran a story suggesting that Paul Heyman is looking to add a third man to his stable. Could that third man be Ryback? Could Lesnar (or even a returning Punk) aid Ryback in winning the title on Sunday? It's no secret that Ryback isn't the best talker, so putting him in Heyman's stable and thus having him as his mouthpiece would make perfect sense. It's all food for thought readers, and I advise you to thoroughly feed on it.
Pick: Ryback (Rules)
**********************
STEEL CAGE MATCH: Brock Lesnar v Hunter Hearst Helmsley
It looks likely that this will be the match that closes the event, and I think that's just about the right call. They're both guys that don't feature on every PPV, we don't see steel cage matches very often these days, plus you have to assume that this is a feud ender. SO IT'S A BIG DEAL. Maybe we'll even see a speck of blood or two.
To sum this one up briefly, Lesnar simply HAS to win. Since returning to WWE, Lesnar has won once and lost twice, and, quite frankly, those stats are beyond ridiculous for a monster of his stature. Lesnar has an aura of badassedness that simply can't be replicated, and his combination of size and strength make him seem almost super human. If I was on the booking team, I'd book Lesnar to win every match he's involved in for the next 12 months – then his showdown with The Undertaker or The Rock at Wrestlemania 30 will have the "mega match" resonance that it so deserves.
I get that HHH doesn't want to be destroyed here because he has his own character to protect as well – but there are plenty of ways to creatively end this one with him still looking strong. I think a scenario similar to the end of HHH and Steve Austin's "3 stages of Hell" match would work well here, where both guys crumble into a heap on the floor – but Lesnar just happens to land on top of HHH and thus score the pin. Or if you've read my prediction above, there's always the possibility of Ryback getting involved and helping earn the win for his new stable. One ending I don't foresee however is Lesnar attempting his shooting-star press from the top of the cage.
Whatever goes down, Lesnar winning is the necessary outcome. Let's hope HHH's ego doesn't get in the way of it happening.
Pick: Brock Lesnar
Those are my picks, jabronis. Please add your own below. I love it when you do – it gives me a warm feeling in my man zone.
Over and out