Greeting jabronis.
As the memories of a monumental Wrestlemania fade into the middle mist and the 12 month countdown restarts, the first noteworthy venture as we enter into the new season of WWE is the Extreme Rules PPV.  I always thought it was a tad strange that WWE stuck with the "Extreme" moniker now that all its programming adheres to a PG rating – because there's nothing particularly extreme about hitting someone in the knee with a chair… But hey, here we are.
I'm frowning and grinning at WWE programming in equal measure at the moment, which admittedly kind of makes me look a bit mental. You see, on one hand I'm happy with the lengths that WWE has gone to freshen up its roster in the aftermath of Wrestlemania. Brock Lesnar has been brought back to significantly beef up the main event scene, and we've also witnessed the return of Skip Sheffield and A-Train (who is much fatter and a bit more Japanese than before) to add depth to the midcard. Meanwhile, Christian and Alberto Del Rio are returning from long-term injuries, Titus O'Neil and Darren Young have been promoted to the main roster, and Darren Ambrose, Damien Sandow and Antoni Cesaro are three guys looking to make an impact as youthful newcomers. So bravo to WWE for significantly regenerating the landscape.
But the frustration that resides in me stems from the fact that the Extreme Rules card is pretty much entirely made up of Wrestlemania rematches –  even The Miz and Santino faced-off against each other in opposing tag teams at 'Mania.
I understand that rematches play a hugely significantly role in the world of wrestling PPVs but, for me, Wrestlemania marks the end of the season for WWE programming. Post-Wrestlemania, in the immediate aftermath, WWE should be creating new feuds, new number one contenders and showcasing new characters. Instead, this PPV just feels like a huge recycling of last month's events in Miami. Even the magnificent return of Brock Lesnar to battle John Cena feels very similar to a recent storyline. Lesnar has returned to the company after several years away and has immediately set his sights on John Cena, seemingly upset with the fact that Cena has become the company's flagship face in his absence. Isn't that the exact same sentiments that The Rock expressed?
I'll stop ranting there because I suspect I'm sounding more pissed off than I actually am. It's just a minor annoyance and hopefully, beyond Extreme Rules, WWE will seek to rectify my qualms and bring some originality to proceedings.
Anyhoo.. If you'd care to read my predictions, I wholeheartedly advise to carry on reading. There's a good boy…
The Miz v Santino Marella
This is a pre-show match that WWE is advertising will be shown on YouTube before the actual PPV kicks off. It seems likely that this will become the norm for future PPVs. I like it. Will us UK viewers be able to watch it though?! I know YouTube videos can sometimes have geographical restrictions so I'm not really sure. If anyone can shed some light, please do so below. Alternatively, I'll just find out for myself come Sunday night.
The Miz was heavily featured in the build-up to Wrestlemania as he tried to bag himself a spot on the card. Of course, he managed to achieve his goal and went on to claim the winning pin for Team Johnny at Wrestlemania, so the scene was set for some massive bragging from the must-see superstar. Surely logic dictates The Miz should have been on RAW the very next night demanding that Johnny Ace reward him with a title match of some sort as a thank you for securing him the GM position?! The story writes itself! But instead we get nothing and The Miz has been reduced to an afterthought over the last few weeks. He deserves better.
There's been literally no build up to this match, so I don't foresee there being a title change. It's looking likely that David Otunga has a US title run coming his way (despite being one of the worst in-ring performers in the company) so I see Santino winning here and then dropping it to the musclehead a bit further down the line, allowing him to focus on his new tag team partnership with Zack Ryder. And hopefully WWE can come up with something more meaningful than thus for The Miz in the near future.
Pick: Santino Marella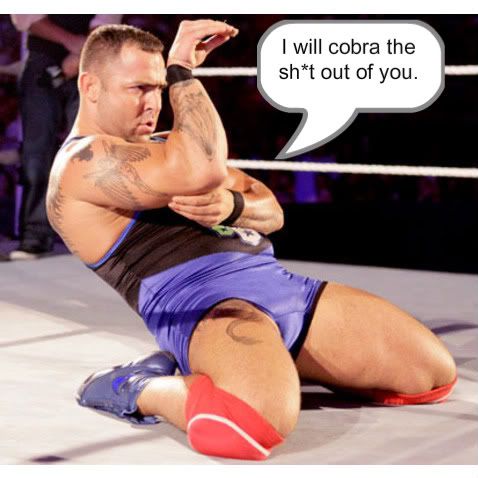 Randy Orton v Kane
There were a fair amount of surprise victories at Wrestlemania – but I think the one that caught me off-guard the most was Kane's victory over Orton. I figured Orton was owed a few ticks in the win column having put Mark Henry over clean on more than one occasion, yet he found himself staring at the lights for the Big Red Machine.
But I guess, in the grand scheme of things, it was pretty irrelevant. Losing to Kane has done no damage whatsoever to Orton's standing on the roster. There's no shame in losing to the veteran, and Orton found himself being held in exactly the same esteem following the loss. Similarly, the Kane character never suffers through his win/loss record. He hovers around the top of the card, main eventing when the need calls for it and putting over midcarders whenever they require a boost. Kane has always been such a company guy that I guess he earned a big win at Wrestlemania.
All that aside though, I hope this showdown marks the end of the feud… mainly because I'm finding it pretty freaking boring. Although I must admit I chuckled a bit at Paul Bearer being locked in the freezer. Abusing the elderly is always fun.
And oh right, yeah, who wins? Ummm… I'll go with Orton. Why not, eh?
Pick: Randy Orton
 *****
The Big Show v Cody Rhodes
Most wrestling fans agree that the future is bright for Cody Rhodes. He has a natural heel swagger, he's a very capable performer, he cuts a good promo and, of course, he shares a bloodline with a reknowned wrestling family– which never hurts in this business that's ever so fond of nepatism. Unless you're related to Buff Bagwell that is (get well soon, incidentally).
Losing to The Big Show was a gigantic step backwards for Cody Rhodes in my eyes – coming 12 months after he'd earned a career-boosting victory over Rey Mysterio at the previous Wrestlemania. So whilst I'd very much like to see Cody Rhodes not lose to the likes of The Big Show on PPV again – I'm all for it if it means he can put the IC title behind him and set his sights on the main event. Del Rio seems to be being groomed to be Sheamus' next feud, but I think Rhodes might just find himself in the second spot of that particular queue.
Pick: The Big Show

Daniel Bryan v Sheamus
Daniel Bryan dropping the belt to Shemus is 18 seconds at Wrestlemania has somehow worked towards him being currently the most over guy on the WWE roster – despite playing a heel. Wrestling can be a funny old business. I'd love to see a Daniel Bryan and Steve Austin face-off in the ring some point in the near future, the dualling "Yes" and "What" chants would be hysterical.
I'm sure WWE's plans for Daniel Bryan have changed in the last few weeks in response to fan reaction to his character and thus he can fully expect to find himself lurking in and around the main event scene for the forseeable future. Which is excellent news for grapple fans.
The plans for Sheamus, however, won't have changed. HHH and Vince McMahon see him as their next mega-star, and they will be looking to establish him on the same level as Orton and Cena over the next 12 months. So The Ginger Ninja will retain here, and is likely set to enjoy a very long title run, says I.
It'll be interesting to see how the Chicago treats Sheamus, as they're reknowned for being home to "smart" fans and thus I think they'll heavily be behind Bryan. Wrestling audiences not behaving like they're supposed to always makes for some good comedy.
Pick: Sheamus
*****
CM Punk v Chris Jericho
Chris Jericho's return to the WWE has been mighty anti-climatic for me. I'm a huge fan of his work and I thoroughly enjoy seeing him on TV every week… But he's achieved pretty much nothing of consequence in the last 4 months.
Many of us (myself included) expected Jericho to win the Royal Rumble – but he didn't. Many of us (myself included) then expected Jericho to win the elimination chamber – but he didn't. Then many of us (myself included) expected Jericho to take the world title from CM Punk at Wrestlemania – but he didn't.
All Jericho seems to have achieved since his return is victories over Kofi Kingston on a bi-weekly basis and a PPV losing streak (yeah, I know he suffered a "concussion" in the elimination chamber, but that still counts as a loss to me. WWE might have thought it was clever booking, but it wasn't).
So without taking into account the direction of this storyline, Jericho's pending Fozzy tour, the fact that the PPV is in CM Punk's hometown or any of that business – I'm predicting a Jericho win here simply to quash the notion that his comeback has been pointless. And no doubt I'll be wrong again.
Pick: Chris Jericho
*****
Brock Lesnar v John Cena 
I'm truly stoked to Brock Lesnar back in a WWE ring. He was a truly immense talent when he first arrived, having classic matches with the likes of Kurt Angle, Eddie Guerrero and The Undertaker (he even managed to have entertaining matches with The Big Show for Gawd's sake!) – and when he chose to depart, it really was a huge loss to the wrestling industry. It's so incredibly rare that a physical specimen as impressive as Lesnar possesses the grace and agility to match their power. Had he remained in WWE for for the last 8 years, I have no doubts that he would have earned the right to have his name spoken out alongside the modern greats such as Angle, HBK and Edge. He may well be a bit of an asshole in "real life" – but a lot of showbiz folk are. That's life, kids.
But now he's back to rectify matters, and at the relatively young age (by wrestling standards) of 34, I feel he could still have plenty to offer the business and, once he's found his way back around the squared circle, surely some more classics are in store. A showdown with The Undertaker at Wrestlemania 29 is top of this writer's want list.
But Brock's first challenge upon his return is a showdown with Super Cena – and the set-up, despite being rather rushed, has produced a midly intriguing storyline. Can Brock really be as dominant as he claims to be? Can Cena lose arguably the two biggest matches of his career in consecutive PPVs? Can RAW really rebrand itself as "Monday Night RAW starring Brock Lesnar"…?! I'd have to answer all of these with "yes sir".
There's just no way I can see Vince forking out millions of dollars to bring Lesnar back only to have him lose his first match upon returning. Lesnar needs to be booked as unstoppable force in a Goldberg-esque manner, and perhaps only ever actually wrestle on PPVs to emphasise the drawing power of his name.
As far as Cena goes, if he is to lose here, I'd like to see a re-invention of his character following major losses to Brock and The Rock. With his confidence shaken and fans forever against him, could the most overdue heel turn in the history of wrestling finally occur? I certainly hope so.
Pick: Brock Lesnar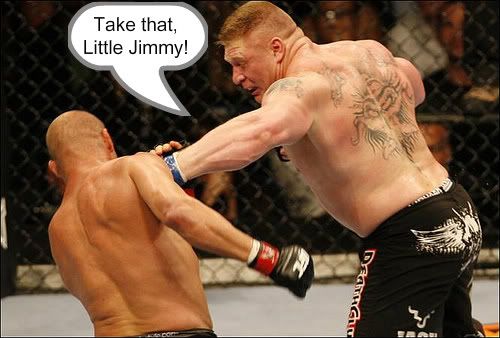 Those are my picks jabronis, please ad your own below. I love it when you do. It give me a warm feeling in the pit of my stomach… Which I maybe should see a doctor about.
Over and out.