Greetings jabronis,
Hell in a Cell is nearly upon us, and its title got me thinking of another potential high-concept PPV. Just by adding the letter "o" to each of the key words in this PPV title, WWE could promote the "Hello in a Cello" event, which would involve WWE superstars trying to cram themselves into various musical instruments. Who wouldn't want to see CM Punk try and squeeze into the back of a piano? Or Cody Rhodes curl up inside a kick-drum? I think it's an idea with definite potential. Let me know what you think.
Yours truly is in the midst of moving house (which legitimately must be the most stressful and soul-sapping endeavour known to man), so my predictions column will be a little snappier than usual this time round as I only have a small window in my painting & demolishing schedule. I hope you can forgive me.
Here be my picks…
PRE-SHOW BOUT, IC TITLE
Curtis Axel v Big E Langston
WWE's love/hate relationship with the IC Title continues. Curtis Axel winning the belt was supposed to make it cool again. Then Curtis Axel became uncool. So I guess the belt has become uncool again as a result of Axel's uncoolness. You cool?
But I guess a pre-show bout is better than nothing for the strap, and I think these two guys will have the chance to tell a decent tale in the ring.
If Big E Langson is our next IC Champion I don't see it happening here. The chase surely has to last longer than a few days for it to be meaningful – so I foresee him perhaps laying claim to it further down the line. Would Big E have to get the IC Title redesigned/adjusted to fit around his mega waist? It's certainly worth some consideration.
I still see Big E picking up the victory here though, albeit via DQ. That Paul Heyman chap is just so dastardly, so he'll likely be to blame.
Pick: Big E by DQ, Axel retains

The Real Americans v Los Matadores 
This match hasn't been confirmed as I type, but Zeb Colter seemingly let slip that it will be happening so I've thrown it into the mix.
The "Los Matadores" gimmick must have El Matador Tito Santana spinning in his grave… If he were dead. Perhaps Mantaur a little too.
Los Matadores are the new kids on the block (despite both being in WWE for more than a couple of years… weird) so they will be the obvious pick for the win here. But hopefully Cesaro gets to giant swing El Torito before this one is all said and done. Throwing midgets around is hysterial, and Vince is well aware of this.
Pick: Los Matadores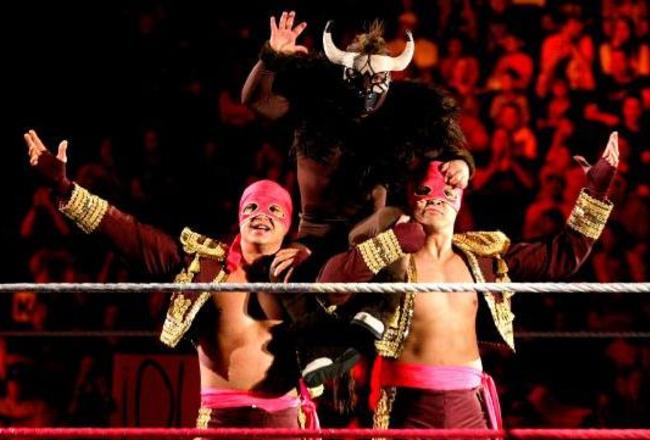 DIVA'S TITLE
AJ v Natural Boobs Bella
I picked Natural Boobs Bella to win the title at the Battleground PPV. I hoped that I would be wrong. And I was.
I'm going to pick Natural Boobs Bella to win again here. And, again, I hope I'm very wrong.
Would WWE like to promote a scenario where both Natural Boobs Bella and her fiancé Daniel Bryan are champions? Certainly seems likely to me. But if I had my way. AJ would hold the title for several months yet. She's da bomb, yo.
Pick: Natural Boobs Bella
 **********
HELL IN A CELL HANDICAP
CM Punk v Ryback and Paul Heyman
I was very surprised indeed that Punk emerged victorious with a clean(ish) victory over Ryback at Battleground. It seemed obvious to all that this feud would extend beyond one PPV, so I assumed CM Punk would be looking to settle the score here. But instead, he's already one up and looking to add to his tally.
I hope the Punk/Heyman feud ends here because, even as massively entertaining as both guys are, I'm finding its starting to outstay its welcome. So it's Punk to win for me, then finally he gets his hands on Heyman and everyone lives happily ever after.
Out of the two HIAC matches, I'm more expectant of this one to feature blood. Despite the WWE's PG policy on crimson, I think Punk will take it upon himself to stink his middle finger up at that rule and blade away.
Pick: A bloody CM Punk

TAG TITLES
Goldust & Cody Rhodes v The Shield v The Usos
Who would've thought that Goldust of all people would be involved in one of WWE's most entertaining feuds of the year… in 2013! It's kerrazy, but I love it, such is my taste for a succulent slice of wrestling nostalgia.
It would have been great to have The Rhodes' feel-good moment winning the titles occur on PPV, but that doesn't really dampen the achievement and I guess they'll have the win on their CVs forever more.
Sadly (if you're enjoying The Rhodes run as champs as much as me) I see it coming to a short end here. The Shield look far more threatening when all 3 of them have shiny belts to show off… So I'm picking them to hastily win back their gold, likely by pinning one of The Usos, and leaving Cody and Goldust feeling rightly hard done by without destroying their momentum.
Pick: The Shield
 **********
WWE TITLE
Randy Orton v Daniel Bryan
 I'm not really sure what WWE hoped to achieve by having the WWE Title vacated for the last 6 weeks. I guess if the goal was to piss off wrestling fans then they went some way towards achieving that.
But we're promised a "new" champion here, and HBK is on watch to ensure that promise is kept. Which, of course, is just marvelous.
WWE often likes to swerve happy endings in case it is accused of executing storylines in a manner that is too predictable for its viewers. But I hope that isn't the case here. 99% of wrestling fans want to see Daniel Bryan have a prolonged run as champion starting here, and I hope WWE doesn't rob us of that moment.
Daniel Bryan emerging on top from their brawl on RAW this week caused me to cast slight doubts over his chances of winning on Sunday… And it would also seem that The Big Show could yet have another significant part to play in how this one unfolds. But at the end of the day, I think what's best for business in a very real sense is to see Daniel Bryan as the WWE Champion. So that's my pick.
Pick: Daniel Bryan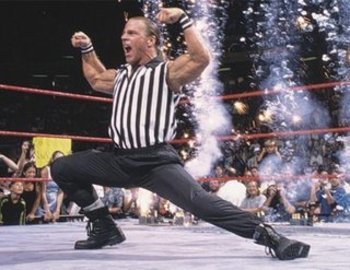 WWE HEAVYWEIGHT TITLE
Alberto Del Rio v John Cena
Wow. Cena is such a hard ass he doesn't even sell surgery! Sucks to be his opponent, right?
I've never made any secret of the fact that I consider myself to be a lightweight member of the Anti-Cena Brigade (I don't totally hate everything he does… But I mostly hate everything he does), but I fully confess this could be a great move by the WWE.
ADR is floundering as champion, and the belt has lost a lot of meaning over the last few months (Not totally ADR's fault as WWE often books him in meaningless midcard matches… But still, he's gotta take some of the blame).
If Cena bags the title, ADR is able to step aside from the limelight and maybe reinvigorate his character whislt the belt is renewed with a sense of legitimacy by being held by the company's number one guy. It all makes sense!
I just can't picture Cena losing his comeback bout, and it's hard to perceive ADR as a serious opponent when he was pinned in a few seconds by Ricardo Rodriguez just a few days ago. Thus all signs point to a new heavyweight champion.
And I've a feeling in my bones (and a couple of organs too) that, in the very near future, WWE will serve us a champion v champion feud in Cena v Bryan – with a Bella in each corner. Won't that be just revolting? Yes it will.
Pick: John Cena
Those are my picks jabronis, please add your own below. I love it when you do. Many expect Bray Wyatt v The Miz to be added to the card before Sunday. If that occurs, I think we're all well aware of who walks away from that one with the victory (Clue: His friend likes to pretend to be a sheep)
Apologies once again for the snappy nature of this column – I'll be reinstalled as a brutish writing force in a couple of weeks. I guaran-damn-tee it.
Over and out.