Greeting jabronis
I think it's a bit overkill to name a PPV "Hell in a Cell" when, in fact, only one match-up on the card will actually take place inside the structure. Couldn't Shemaus and The Big Show work out their issues inside the cell too?! It just seems odd to me to brand the entire event after one match that, in truth, is just a glorified cage match that we've seen countless times before.
Is that a pointless gripe? Perhaps so. I'll shut up about it from her on out. I promise.
Six matches have been announced as I type this. I think we'll likely see a US title match between Antonio Cesaro and Justin Gabriel added on the night, but that's just speculation on my part… And to act on personal speculation would be mighty foolish. And so I shall cast my beady eye over the matches that aren't mere speculation – but cold, hard facts…
IC TITLE: The Miz v Kofi Kingston
Both these guys are important players on the WWE midcard. They have a firm connection with the WWE audience (albeit with different demographics), and are both capable of having a decent match with almost anyone else on the roster. Kofi just needs to up his intensity and promo skills if he ever wants to have a shot at the big time like The Miz had (and hopefully will again in the not too distant future).
The Miz's role in this feud is to put Kofi over as a genuine singles competitor, so he won't be winning back the IC title here. Putting the belt on The Jamaican Sensation (remember that?) is a step in the right direction for his re-evolution, but the character is also going to have to be fine tuned further down the line in order for audiences to perceive him as anything more that a colourful cartoon character. I think we could well see a heel turn from Kofi in the coming months. It certainly helped to change R-Truth's fortunes for the better when he dropped the "What's Up" gimmick… And, in truth, there's little difference between that and what Kofi Kingston does now on a weeky basis. Boom boom boom indeed.
On a different note – I'd like to see a more prominent role for The Miz on WWE TV in the aftermath of this feud. He really is one of the most consistent performers and well-rounded characters on the roster – so he deserves more than a "jobber-to-the-stars" status, says I.
Pick: Kofi Kingston
DIVA'S TITLE: Eve v Layla v Kaitlyn
The diva's division has turned into one long bad joke that started several years ago and has featured multiple cringeworthy punchlines – the talented Beth Phoenix bailing out being the latest. And who can blame her?
If I had to say one positive thing about any of the trio involved here, I will say at least Eve has a minuscule iota of personality and intrigue about her – but she certainly isn't a strong enough character to lead and carry the division. No diva on the current roster is.
I normally fast-forward the diva action when watching RAW and Smackdown, but I think I will take the time to watch this one. Three very mediocre performers trying to perform a cohesive triple-threat match should make for some entertaining botches and miscues… and laughing at other people's mistakes makes me feel big.
I'll pick Eve to win, just because people seem to remember her name more so than the others.
Pick: Eve
**********
TAG TEAM TITLES: Team Hell No v The Rhodes Scholars
Two tag teams with genuine tag team names battling it out on PPV? Oh my! What a rarity!
Daniel Bryan and Kane have unquestionably been the most entertaining guys on WWE TV over the last few weeks. Like Booker T and Goldust a decade before them – there's no real explanation as to why their chemistry is so damn entertaining… It just is.
Similarly, Cody Rhodes and Damien Sandow have been two of the brighter sparks on the roster. Their heelish antics, mocking promos and general showing-off makes them bonafide heat magnets. Oh, and I adore Cody's handshake that leads into a Sandow cartwheel.
I think WWE will want to capitalise on Team Hell No's popularity for at least a couple of more months (do they even have a t-shirt yet?) and it's far easier to keep the focus on them if they keep the belts around their waist – so they're my pick for the win on the night.
This feud won't end here though, and I expect these four guys to continue to tango with one another on a PPV or two beyond this one. And that's no bad thing.
Pick: Team Hell No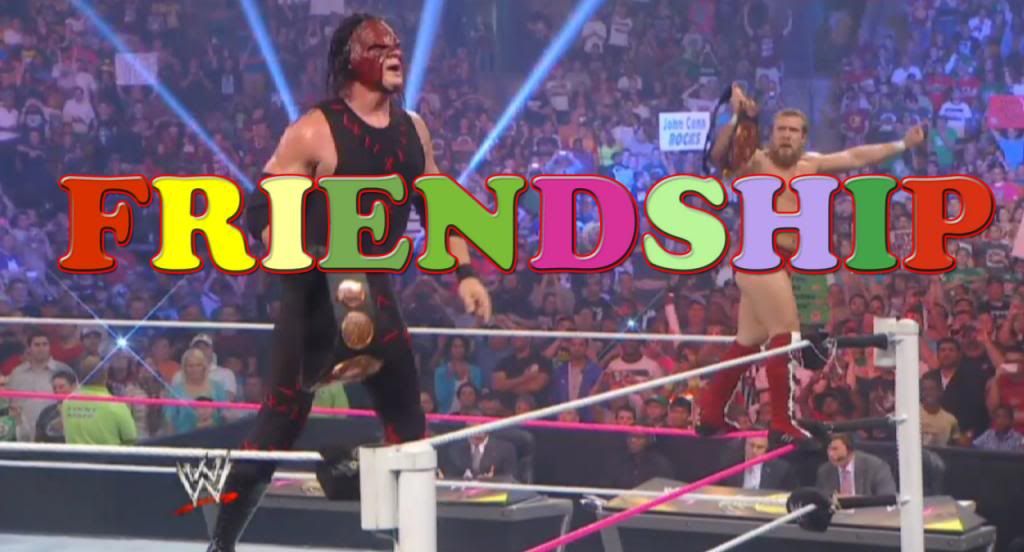 Randy Orton v Alberto Del Rio
Mr Orton has been on part-time duties of late whilst he plays his role in what will surely be an Oscar-nominated flick from WWE productions. As a result, this feud hasn't really been able to capture the attention of wrestling fans. At times, it has felt more like Del Rio is feuding with Randy Orton's Twitter account rather than the man himself.
Has anyone else noticed that all Del Rio's feuds seem to last for three PPVs? I don't see that changing here… So I'm going for a Del Rio win to keep the ball rolling on this one, and Orton will seek his revenge at the Survivor Series.
I hope Ricardo Rodriguez plays a significant role in this one. I'm not shamed to confess he makes me laugh my ass off. Or rather, seeing as this is the PG-era, chuckle my butt off.
Pick: Alberto Del Rio
 **********
WORLD HEAVYWEIGHT TITLE: Sheamus v The Big Show
Poor Sheamus. He seems to be having a run of rubbish feuds of late. His three month snooze-fest with Alberto Del Rio won him no new fans, and feuding with The Big Show isn't going to improve his standing either. The sooner the trigger is pulled on a feud with Dolph Ziggler the better. Ziggler has waited in line for too long now and it's his turn to shine.
I don't see The Big Show becoming champion – not on this night and likely not again for the remainder of his WWE career. Despite his strength and size, audiences seem to react to him better as a midcard comedy character. The Big Show will find himself on jobbing duties in this one to remind the audience that Sheamus has super strength to go with his super rubbish jokes (hey, that description works for Cena too… Eerie.)
Back to Ziggler… I don't think he'll be cashing in his briefcase here. The fact that he's stated several times that he will should warn wrestling audiences that a swerve is coming. I smell that the MITB contract will be used by The Show Off imminently however… perhaps under surprise circumstances on RAW or Smackdown before next month's PPV.
Pick: Sheamus
 **********
WWE TITLE: CM Punk v Ryback
It's a big, big match for several reasons and it's got a lot of people talking… Which WWE will be mighty happy about.
Talk about being chucked in at the deep-end – we've yet to see Ryback wrestle anything more than a 3 or 4 minute match on TV since returning to the WWE 6 months ago, and now he finds himself in the headline match of a PPV where he'll presumably be required to wrestle in a 20 minute plus match. I know I'd be pretty damn nervy if I was him.
As far as predicting a winner goes… That's a toughy.
If you'd have asked me last week, I would have replied with a confident swagger that CM Punk will retain his title – and hold on to the strap until January when he'll face The Rock at the Royal Rumble…
… But, as many of you will have heard, this week RAW has suffered its worst TV viewer number in 15 years. Now, that's a pretty devastating fact for the company – so maybe, just maybe, Vince will be tempted to pull the trigger on a title switch, hoping that a Ryback win will provide an immediate, and much needed, ratings boost.
It's a difficult call to make. Personally, I think CM Punk is pure gold and will cement himself in the history books as one of the greatest WWE champions ever – so to solely blame him for the ratings slide would be ludicrous. But, the fact of the matter is, he has been the WWE Champion for 4 weeks short of a calendar year… And, as the champion, he simply has to shoulder some of the blame for the company under-performing.
Giving the title to Ryback may well give the ratings a boost in the short term, but with the company in a state of transtition roster-wise, I'd be more inclined to plan for the long term.
WWE knows that there is money in a CM Punk v The Rock bout, as well as a John Cena v The Rock rematch… So I'm slightly leaning in favour of CM Punk retaining here to ensure that the first of those two possible match-ups comes to fruition at the Royal Rumble. As much as Ryback has made a name for himself this year, I don't feel that a feud between him and The Rock would generate nearly as much interest. How can someone with no promo skills present himself as The Rock's equal in the build-up for starters?!
Of course, there's always the possibility that Ryback wins the title and drops it back to CM Punk (or Cena) before the Royal Rumble when The Rock returns to clash with whoever is champion… But I think a short title reign would do the Ryback character more harm than good. I'd save that moment for further down the line – when he's earned the right to be champion more, and the fans have grown in anticipation for the reign to happen.
So I think I've talked myself into siding with CM Punk. There's no way that Ryback will lose clean of course and the booking team will undoubtedly create circumstances in which Punk withholds the title in the most dastardly of ways. There's a plethora of talent that could get involved and somehow assist CM Punk in stealing the win – Brock Lesnar, Vince McMahon, John Cena, Vicky and Dolph, Ric Flair, perhaps even The Rock himself… However creative WWE wants to be really.
For me, this is one of the most intriguing PPV title matches in months. Let's hope it delivers.
Pick: CM Punk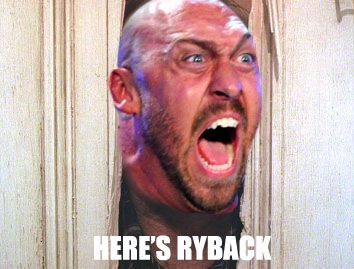 Those are my picks, jabronis. Please add your own thoughts below. I love it when you do. I'm no way expecting a clean sweep with my picks… The chances of a title not changing hands when there are five title matches on the card must be pretty slim… But I can only go with what my gut tells me. And now I've finished writing this, my gut is telling me go and get a cheese sandwich.
To all you UK readers out there, take note that the Hell in a Cell PPV is available to watch for free this Sunday night if you subscribe to Sky Sports. How incredibly fortuitous we are.
Over and out.