Greetings jabronis,
I think it's fair to say that Wrestlemania XXX isn't taking shape in quite the way the majority of the IWC would have desired. Boring "Boo-tista" has one of the top spots on the card against the almost equally revered Randy Orton; crowd favourites such as Dolph Ziggler, Cody Rhodes and Goldust have no meaningful feud set in place; Daniel Bryan is in a predictable match with HHH and not where we'd all like to see him (although this admittedly has new stipulations!); a 30 man battle royal has been shoved onto the card just for someone to win a big Andre the Giant action-figure, and perennial favourite CM Punk is nowhere to be seen…
But, in an attempt to remain positive about this year's extravaganza, I would like to point out to folk just how freaking awesome this year's Hall of Fame ceremony is going to be. It's surely set to be a true slobber-knocker (in as much as delivering speeches can possibly be referred to as a "slobber-knocker").
We have The Ultimate Warrior, Lita, Jake The Snake Roberts and Paul Bearer being inducted into the class of 2014, and if that isn't already scintillating enough  – there should be at least two more inductees joining them – with Scott Hall and Mr T amongst those still rumoured. So why is this line-up so awesome? Allow me to elaborate…
First up, Jake Roberts is truly a man with a story to tell. This is a guy that toyed with the main event scene in both WCW and WWE, working successfully as both a heel and a face during one of the most profitable eras the wrestling industry has ever known. His haunting promos and crowd-working skills are still regularly spoke of incredibly highly by today's superstars, and his in-ring style was as methodical and masterful as they come. He made being a wrestler an art.
But behind the façade of his wrestling guise, Roberts was a troubled and tormented man. A very real addiction to alcohol and drugs (pretty much any kind he could get his hands on) created many demons for him to battle – battles that were often fought in the public eye and have been very well documented – and consequently led to him being estranged from pretty much everyone that ever cared about him. It's somewhat miraculous the man is still alive today considering how many times he's knocked on Death's doors.
But turn around his life he has – aided by his pal DDP (which sounds almost like a wrestling storyline). I'm graciously looking forward to a heartfelt and passionate speech from Jake as he thanks all those who have helped him lead a live that, once again, is worth living. And DDP be will also be on-hand to induct his friend, which is a splendid touch.
Wrestling fans genuinely love Jake Roberts, and I'd better pretty confidently that their passionate response to him on the night means he won't be leaving the podium with dry eyes. No sirree.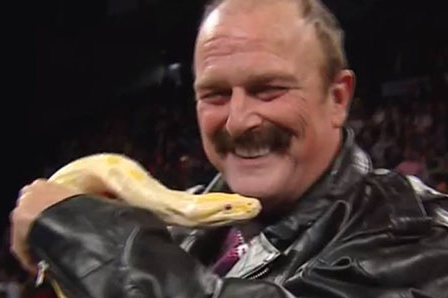 Next up we have Lita, who will have a far more upbeat tale to tell. Along with Trish Stratus, she achieved what seems impossible by today's diva standards by making the WWE women's division both watchable and entertaining.
Sure, Lita was never quite as polished as Trish as an in-ring performer – but her disregard for her own safety as she performed a manner of crazy flips and stunts from stupidly high perches was a joy to behold… even if it was just to perversely enjoy predicting how she would next inflict a career-threatening injury upon herself.
And even if you're not looking forward to Lita's speech, you can always take pleasure on the night in just admiring her cleavage.
William Moody, AKA Paul Bearer, sadly receives a posthumous induction after passing away last year. The man gave so much of his life to the wrestling biz (he was an indie wrestler in the 1970s, looooong before his WWF career) and is honoured with creating one of the most enduring characters the industry has ever known.
The Paul Bearer character effortlessly transcended eras much like The Undertaker himself, meaning as much to old school fans as modern day counterparts. His timing and crowd-working skills were always hugely admirable – and if anyone knew the key moment to throw a look of horror down the camera it was him. Ohhhhh yesssssss.
Whilst Moody's induction will – as it should be – be a celebration of his life, it could also be interesting for an entirely separate reason. If rumours are true that Paul Bearer is to be inducted into the Hall of Fame by The Undertaker, it would be one of the oh-so-very-rare occasions where The Phenom breaks character on TV.
With Wrestlemania happening the next day and The Undertaker being the absolute epitome of "old school", I'm finding it difficult to foresee him inducting his old sidekick. I think the duties are more likely to be handed to Kane, or perhaps even Moody's son(s). But I really hope I'm wrong. Everyone knows that there really should be only one choice to induct Paul Bearer.
And last but not least, in the main event spot, we have The Ultimate frikkin' Warrior! Now, this is undoubtedly the biggest Grade A loon to have ever graced the wrestling industry – and that's saying something. His inane, stream of conciousness promos during his tenure with the WWF are truly the stuff of legend. But outside the industry, he's proven just as cuckoo. Warrior (that's legally his name now) still insists in speaking in riddles that sound like ancient scripture in every day conversation, and he certainly isn't afraid of expressing a controversial opinion. He's openly stated that he believes homosexuality to be wrong ("queering don't make the world go round") and has recently threatened to sue anyone selling Ultimate Warrior merchandise on eBay who neglects to offer him a cut! What a hero!
The fact that WWE are willing to give this guy a live mic in front of an audience of millions (the ceremony will broadcast live on the WWE Network) is almost beyond comprehension! This is a man who once held the company to ransom by threatening a boycott unless he was given a pay-off equal to that of the company figurehead Hulk Hogan… And over the years he's also had pretty unpleasant things to say about Hogan as well as Bret Hart, Shawn Michaels, Kevin Nash, Randy Savage and I'm sure many other WWE legends too. No wonder the company once released a DVD that relentlessly mocked and made fun of The Ultimate Warrior for 2 hours.
To think that The Ultimate Warrior is going to deliver a straight up "thank you" acceptance speech would be massively naïve I feel. Whilst I disagree with his penchant to diss bona fide wrestling legends – and I certainly don't appreciate his views on homosexuality – I'd be hardcore lying if I didn't admit his unpredictable nature entertains the Hell out of me, and I genuinely feel that giving him the podium could go down in wrestling history as one of the biggest mistakes Vince McMahon has ever made. Just to reiterate… This will be live!
In the aftermath of Wrestlemania, a big part of me feels far more talking points will emerge from The Hall of Fame 2014!
So, if like me, you're underwhelmed by the prospect of a Randy Orton v Bootista main event at Wrestlemania XXX, at least we have the saving grace of The Ultimate Warrior headlining the Hall of Fame (with a fine undercard) the night before. This is an event that's sure to deliver.
I'll leave you with these words of wisdom from The Ultimate Warrior himself:
"Load the spaceship with the rocket fuel, load it with the Warriors. With the command of my voice I raise the level of the Warriors to one that can't be reproduced. Dig your claws into my organs, scratch into my tendons, bury your anchors into my bones, for the power of the Warrior will always prevaaaaaaaail."
Over and out.