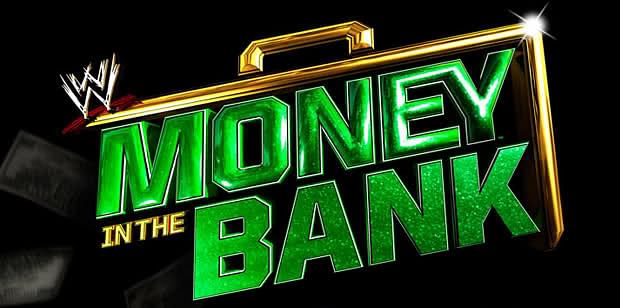 Greeting jabronis,
"Money in the Bank" is an odd term for this PPV if you give it a modicum of thought. You see, firstly there is no money or anything of literal monetary value to be won on the night. And secondly – all of the action will take part solely inside an arena. There isn't a bank in sight. False advertising at its most obscene, I'm sure you'd agree.
I guess "Briefcase Up A Ladder" just doesn't boast enough "zing" to be a PPV title.
It's a packed card with plenty to ponder, so I shall pinch no more of your precious time with my pointlessness and proceed with my predictions… That's alliteration, people.
Be warned that this column contains Smackdown spoilers before you read any further. If that upsets you, please run away and cry now instead of proceeding…
TAG TEAM TITLES: The Shield vs The Usos
It's refreshing to see that the tag titles are featuring prominently on WWE TV in 2013. I think they're more meaningful right now than they have been at any time in the last 6 or 7 years (thanks in part to Team Hell No as well as The Shield).
With that said, this is the pre-show bout on Sunday… but I think it's fair to say that a 1 month push isn't enough to make The Usos credible PPV material, and the outcome of this one is very predictable indeed.
With Air Boom perhaps making a comeback when Kofi and Bourne are fit, Jack Swagger and Antonio Cesaro seemingly primed for tag action, Brett Wyatt having a couple of lackies who look like tag team material, and even a rumour of The Brothers of Destruction returning for Summerslam, the tag division could be getting a depth injection that it needs in the coming weeks.
But for now, The Shield retains – and I think they will face someone who poses way more of a threat to their reign than The Usos come Summerslam… Which rules out Tons of Fun.
Pick: The Shield retains

IC TITLE: The Miz vs Curt Axel
I think The Miz has about of much chance of leaving MITB as the IC champion as The Great Khali has of leaving as the Divas champion.
Curtis Axel's push is really still just beginning, and whilst a loss or two to Jericho doesn't do his stance any harm, a title loss to The Midcard Miz here surely would. It would be counter-productive and uber pointless.
I'm happy to see that Axel's character has started to develop an iota of character this week, after he went berserk following his loss to Jericho and smashed-up a bunch of ringside junk. As I wrote in my column a couple of weeks ago – Curtis Axel needs to  develop more of a persona to make a real connection with wrestling audiences. Simply cutting 80s style promos whenever Paul Heyman lets him talk isn't going to endear him to the masses. Perhaps an "Extreme" Curtis Axel is now being cultivated – which I'm all for.
Pick: Curtis Axel
 **********
DIVAS TITLE: AJ vs Kaitlyn
AJ is just too entertaining to be stripped of the diva's title so soon into her reign. She's a strong character, a confident talker and has a super fine buttocks that I would like to lick whipped cream off… So I'm definitely backing AJ to retain – presumably using a fat joke as a finisher.
AJ: "Yo' momma is so fat, two guys could have sex with her at the same time and never meet!"
Kaitlyn: *taps out*
Pick: AJ

Chris Jericho vs Ryback
Ryback's transformation of late has been truly surreal. Requesting that his match against The Miz be aborted a couple of weeks ago because he had a sore leg was one of the weirdest finishes I've seen on RAW in a long time – and that's saying something.
Of course, it's supposed to be character development and Ryback is evolving into a genuine bitch-tits who always complains about things not going his way… But is that really the right gimmick for a man of this magnitude?! It would work for someone like The Miz or Damien Sandow, but this guy is a freaking behemoth, and should thus be presented as one!
Will we see Vickie Guerrero managing Ryback in the near future? If they want to get the guy more heat then that would certainly be the right way to go about it. I'm still flabbergasted by the deafening level of crowd hate that woman can generate – which is especially impressive considering she's not even been particularly heelish in recent months. Go hate-magnet Vickie!
Ryback's PPV losing streak will surely come to an end here. Jericho's sole purpose on WWE TV these days seems to be to put over younger stars (Axel aside!). Which is very selfless of him… but it's also getting a tad predictable.
Pick: Ryback
 **********
WWE TITLE MITB: Kane vs Christian vs RVD vs Daniel Bryan vs CM Punk vs Randy Orton vs Sheamus
I'd be interested to know what Vince and HHH think a 42 year old RVD can bring to modern day WWE… But I'll be first to admit that crowd responses to his return vignettes have been positively arena-shaking, so maybe the McMahons and their cronies do know a thing or two about the wrestling biz after all (that's sarcasm before you lambaste me, children).
With that said, I don't think he's going to emerge victorious here. It's well documented that RVD will only be working limited dates, and I don't see the point in awarding the briefcase to a part-timer. After a couple months winning streak, I  fully anticipate RVD staring at the lights for the likes of Curtis Axel and Dean Ambrose as he puts over the next generation.
Christian and Kane, the two other veterans involved here, can also be written off as potential winners I feel. Christian is my favourite guy on the roster, but I've begrudgingly accepted that he'll never be a PPV headliner again (in a singles match at least). Vince just isn't a fan and sees him as a midcard act. I'm just happy that Captain Charisma gets to have two World Heavyweight title reigns on his CV. Kane meanwhile is now closer to 50 than 40, and whilst he will always be warmly received by WWE audiences, I don't think he has another title run left in him.
CM Punk can also be crossed off as a potential winner as we all know he will be battling it out with Big Bad Brock at Summerslam.
So… I had whittled my choices down to Randy Orton or Daniel Bryan (Sheamus is just too dull of late to even be on my radar) – with Bryan my clear favourite. But following his ladder-climbing display at the end of this week's RAW, my confidence in him cooled. It almost seems to obvious to give him the briefcase after such a grand display. So there and then, I decided I'd go for Orton. He's been out of the main event picture for a while and the briefcase in his possession could kick-start a feud with Cena and ignite his long-rumoured heel turn.
But then, lo and behold, Orton directly mimicked Bryan's actions to close Smackdown and now I've been put off him too! Oh, the mirth!
Add to this the rumours abound that Brett Wyatt could be replacing the "injured" Kane and my thoughts are in pandemonium. (The injury spot on RAW looked pathetic to me incidentally – the camera angle revealed that Kane was hit square in the face with the GAP in the steel steps. How very comical.)
Could Brett Wyatt step in as Kane's replacement? I feel that would be a bad move. The spotlight should belong to him in his debut match – not shared with 6 other guys. Plus this is the "all-star" MITB match for ex-champs. Wyatt doesn't fit that dress code.
As I write this, Wrestling-Edge has confirmed that Kane will indeed be missing the MITB match on Sunday. I guess being hit in the head with nothing is way more serious that I thought! If Kane does have a replacment then that guy will probably become the favourite to win… But seeing as we don't have that info yet, I'm sticking with Orton as my pick. Until I change my mind again in a couple of hours.
Pick: Randy Orton

HEAVYWEIGHT TITLE MITB: Cody Rhodes vs Wade Barrett vs Damien Sandow vs Fandango vs Jack Swagger vs Dean Ambrose vs Damien Sandown
Putting seven heels in a match seems like some sort of social experiment to see how the kiddies in attendance will react to a match when there are no good guys to cheer for. I just hope it doesn't spectacularly backfire on WWE and result in a near silent crowd having no favourite to cheer for. But I'm sure the Philly crowd will ensure that doesn't happen.
I suspect Fandango, and maybe Ambrose too, might get the crowd on their side more than others. Possibly due to their floppy fringes.
As for the winner, it's wonderfully difficult to predict. I genuinely believe it could be any of the seven involved.
When the line-up was first announced, I fancied Fandango as the winner seeing as he missed out on a seemingly locked-in IC title run last month (after suffering a concussion), plus he's Vince's creation and we all know that Vince loves Vince. But after seeing his display on RAW this week where he was presented as a 2D comic goof who was knocked about by the rest of the entrants for behaving like a ponce – it made me realise he's simply not a main event character.
It looks like a Sandow and Rhodes split is in the works, I think Cesaro and Swagger will become main players in the tag division in the foreseeable future, and Ambrose will be busy with his Shield buddies and a likely feud with Christian this summer.
So, despite suffering a stupid amount of losses this year. I'm siding with Wade Barrett to emerge victorious. Sure, it might not be logical from a deserved perspective, but WWE booking doesn't always pride itself on being logical.
It's not a pick I'm massively confident about, but if you were to twist my testicles and pour hot, melted cheese into my eyes until I gave you a pick, he'd be my guy.
Pick: Wade Barrett
**********
HEAVYWEIGHT TITLE: Alberto Del Rio vs Dolph Ziggler
The heel Ziggler was getting a way more positive crowd reaction than the babyfaced Alberto Del Rio, so WWE has pulled the old switcheroo. That'll teach us for not responding to characters in the way they intended us to.
But I think it's a wise decision. ADR is much more natural as a heel, and Ziggler can now aspire to even higher echelons as a major crowd favourite. I don't need to compare him to Shawn Michaels to make my point about his bright future… The rest of the Internet has already done than enough.
I get the feeling in my cockle area that WWE might hold back on crowning Ziggler champion again until Summerslam where there's more of an "event" feel. So I pick ADR to escape with the victory here  – perhaps via AJ and Big E turning on Ziggler – and we'll see a stipulation rematch next month.
Pick: Alberto Del Rio

WWE TITLE: John Cena vs Mark Henry
It's the same old story we've seen time and time again over the past decade.
WWE builds up a monster just so Super Cena can "achieve the impossible" and knock him down. Then move onto the next one.
Big Show, Kane, Great Khali, Batista, Barrett, Brock Lesnar and even The Rock… They're all lined-up just so Cena can knock them down one-by-one. I got bored of it several years ago and I'm sure you did too.
Mark Henry has admittedly done a stellar job in putting himself over as a worthy contender, and I'm sure they'll be more than a few cheering him on at the PPV, but this won't be his night. Cena will retain so he can go on to, of course, headline Summerslam next month. Deja vu anyone?
Pick: Super Cena
I'll wholeheartedly confess that Money in the Bank is a PPV I am massively looking forward to. The outcome of a few of the bouts Is very unpredictable indeed – which is exactly how I like my wrestling served.
On top of that, you can bet your bagpipes that the Philly crowd will be brilliantly boisterous throughout the night which, for me, always enhances the action.
Let's hope it delivers, jabronis.
Over and out.