Greetings jabronis,
When Ryback was announced as Super Cena's challenger for the WWE Title at Extreme Rules I, like many others of you I'm sure, immediately foresaw it as a straightforward victory for Johnny Boy in what will likely be a pretty lengthy title reign now the strap is back around his waist after a blissful 17 month absence.
But the last couple of days I've been stroking my imaginary beard and giving it some hardcore thought… And I'm beginning to lean towards the idea that Mr Ryback could well cause an upset at the PPV next week, and leave the Scottrade Center as our new brand new, shiny WWE champion. Sure, the guy hasn't won on PPV since July 2012 so has little right to even be headlining, but put that to the back of your cluttered minds for now and allow me to elaborate…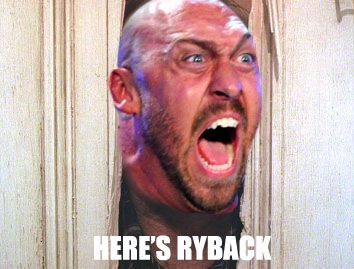 Reason one for my thinking is that Cena's Achilles injury seems very real. We've all heard the rumours circulating the interwebz that it's all part of a storyline to increase intrigue around the PPV match – but I'm of the opinion it is indeed genuine. The fact that Cena is wresting in 6-man tags on house shows, and the fact that he didn't have a match on RAW or Smackdown this week lends wait to this. Dontcha think? Maybe Cena really does need a break from being "super" 24/7? So, with some creative booking, maybe Ryback could "extremely" injure Cena at Extreme Rules and give him the few weeks off that he needs to rehabilitate the injury – which could be better for business in the long run because a damaged Achilles can be a proper bitch.
Reason two for my thinking is simply due to the lack of genuine main event heels on the WWE roster right now. Firstly, CM Punk is on extended leave. Then you have the blubbersome duo of Mark Henry and The Big Show who are both the wrong side of 40 and whose chances of having a decent match are generally about 1 in 10. You've got Brock Lesnar who, of course, is a baby-eating behemoth and an incredible talent – but he wrestles less than 6 times a year. There's Jack Swagger who audiences aren't taking to (that 6 month losing streak last year didn't help), has a limited gimmick – and also has a court date on the horizon for being a naughty boy. And, of course, there's the awesome Dolph Ziggler who seems to illicit more cheers that boos – and is more of a cocky, opportunistic heel – not a monster heel in the Batista/HHH mould.
So, there's plenty of requirement for a fresh mega-tough-bastard heel at the top of the roster. And WWE is only now realising this.
Yes, you could tell me that Ryback's time will come and there's no need for WWE to rush the title on him just a few weeks after Cena's epic victory over The Rock, but that leads me onto reason 3…
Reason three being that ratings are down. Crowd reactions before and after Wrestlemania should have given WWE plenty of warning that a massive (and vocal) portion of wrestling fans did not want to see Cena back as the champ – or at least not a babyface Cena. Defeating heel challenger after heel challenger, month after month in a predictable manner is ridiculously dull and rightfully boils the piss of many adult fans. It's just plain insulting storytelling. But I'll be the first to acknowledge that a ratings slide isn't solely Cena's fault… With both The Rock and CM Punk departing (albeit temporarily) it was inevitable that ratings would dip in the Wrestlemania aftermath. And dipped they have. Figures show that the May 6th RAW received the lowest viewing figures for the show in 2013 so far.
Would making Ryback the champ provide a ratings jump? Of course, it can't be guaranteed, but is it a risk worth taking? I certainly think so.
At 31 years old, Ryback presumably has a long wrestling career ahead of him yet. Why not pull the trigger now and see what happens? Be bold! He's never going to have 4 star matches on a consistent basis like Ziggler, Chris Jericho, Daniel Bryan etc, but nor does Cena – and that's not even necessarily what's required from a monster heel. They just need to look dominant and have the strength and size to perform impressive power moves with ease and, PPVs aside, mostly just need to wrestle short matches. Ryback has all those abilities down to a tee. And hey, if anyone on the roster is due a PPV win, then it's him.

So call me an insane maniac if you like, jabronis… But my money is going to be on Ryback bagging the WWE title next week. And if this column turns out to be a whole lot of nonsense and Cena makes me look like a clueless dork come May 19th (like he's done to countless others in the past) then please feel free to come back here and mock me with care-free abandon.
Over and out.