Greetings jabronis,
There's a noticable amount of negativity circulating and polluting the air pertaining to the imminent Wrestlemania 27 PPV. Many feel – despite The Rock's involvement – that it doesn't boast a card that's quite worthy enough to be chiselled into the Wrestlemania annals.
I'm not saying it's a view shared by all, as that would be awfully presumptuous of me, but it certainly seems to be one shared by the majority… So here today, I'm hoping to put a positive spin on things. I wholeheartedly ensure you that I'm not affiliated with WWE in any way whatsoever, but maybe – just maybe – this column will make you rethink your stance should you currently be of the mindset to save your hard-earned bucks and not order the PPV. (A lot of you Internet savvy types may well be surprised to learn that a plethora of people still actually pay for PPVs…)
So instead of focusing on what the card could have looked like, let's be upbeat about what we've got, and allow me to propose some reasons as to why we should indeed be giddy grapple fans. (Unnecessary side-note: Giddy is a fun word.)
The People's Champion
Okay, none of you needs to be instructed to get excited about The Rock's presence – it's akin to telling Jeff Hardy to get excited about the lack of drug-testing in TNA – but what has got me even more giddy (again! Yes!) in recent days in The Rock publicly stating that he isn't adverse to stepping back into the ring. A-MA-ZING.
As awesome as it's been to see The Rock back on WWE TV, part of me was kind of downbeat over the fact he seemed confined to solely playing a verbal role. When I watch a wrestling show, I like the stars to be actual wrestling wrestlers… you feel me?) But, alas, It seems very likely we could see The Rock layeth some true smacketh down (i.e. in a physical sense) at Wrestlemania… Which already has me anticipating a John Cena vs The Rock match at Summerslam. Am I jumping the gun a little? Perhaps. But they don't call it "speculating" for nothing.
Maybe The Rock wasn't exaggerating to the extent we believed when he told us he would never leave again… After Wrestlemania, I guess we'll have a far clearer picture.
The Hall of Fame
It's possibly the greatest line-up thus far for the WWE Hall of Fame (according to me). HBK's induction will surely feature the most epic video package ever compiled by the WWE (and that's saying something) and will no doubt see The Showstopper deliver an impassioned speech that will cause many in attendance, as well as yours truly, to shed a tear. I'm man enough to admit that. He's the greatest the business has ever known – and he will never be bettered.
It's also great to see Sunny looking healthy again, with her troubled past looking to be way behind here. She totally has the right to be there, and those that are questioning it deserve a foot in the ass. Every diva currently on the WWE roster combined wouldn't even possess 10% of the charisma that Sunny emitted during her WWE run. And how ridiculously orgasmic was the Sunny video package on RAW a couple of weeks ago? What a gal. Hubba hubba.
Hacksaw Jim's induction is sure to be great fun, and we could also expect an appearance from the likeable Road Dogg Jesse James as his father Bob Armstrong is inducted. Add to that Hardcore icon Abdullah the Butcher – I can't even begin to imagine what stories that crazy bastard is gonna tell – and you've got a rather spectacular line-up.
Drew Carey though? I'm not even going to attempt to be positive about that one. I anticipate him being greeted by the fans in the same way Pete Rose was… badly.
The Next Generation
One of the most perplexing issues when it comes to satisfying wrestling fan's desires is the balance of new blood and veterans. Too many veterans and the company is labelled as an "old people's home", and too many young guns and the company is accused of lacking any new star power. It's a tough and tricky balance.
I'm one of those guys that's all for putting young talent in prominent spots (if they're worthy, of course), and those complaining about certain talents being at the top of the card too soon simply don't get what WWE is arduously trying to achieve at the moment.
In the Wrestlemania main events, you have fresh talent in the company's two biggest heels for the next 5 years (I guarantee) in Alberto Del Rio and The Miz. Then you also have the rapidly rising Cody Rhodes being treated as Rey Mysterio's equal, and Sheamus taking on Daniel Bryan in what is also a showcase of two blazing, new(ish) talents.
Add to this expected appearances from The Corre and The New Nexus, and I think you'd have to be partially brain damaged to accuse WWE of having a shallow pool of rising talent.
I do feel mildly sorry for Dolph Ziggler and John Morrison being lumbered in a mixed tag match – but on the plus side, their match will receive plenty of media attention due to Snooki's involvement (I'm assuming she's a pretty big celeb in the US?!) and they will get their opportunity to headline the big one in the future.
Regarding Snooki… How odd was it on RAW for here to label Vicki "fat" when she herself quite obviously carries a lot more weight than Ms Guerrero?! Hornswoggle calling Vicki "short" would be a comparative scenario.
Cometh the hour, cometh the men
And just to remind us that WWE is still a home for veteran talent, HHH will take on The Undertaker is what many are predicting will be the closing match. Is that fair considering how much the two have been off TV for the last few months? Not really… But seeing as the pair have nearly 40 years of WWE employment between them, I think I'm gonna let them off.
I don't think the bout will challenge the quality of the HBK v Undertaker matches from the previous two Wrestlemanias – but I still expect this to be match of the night, and fully anticipate WWE endorsing that fact with around 25-30 min of in-ring action. You think these two guys would let down the fans on the grandest stage of them all? Not a chance.
Also for the fans of old schooledness, there's gonna be action involving The Rock, Steve Austin, Jerry Lawler and Trish Stratus (and Kevin Nash?!) – and with Booker T rumoured to be joined by JR at the commentary table, there's plenty of nostalgia to be savoured amidst the new talent.
Christian… in the main event!?
Many of us long-term wrestling fans have been calling out for a main event push for Captain Charisma long before he ever embarked on his TNA stint. Since returning, he's been wasted in ECW, wallowed in the midcard and suffered a significant pectorial injury. Also, it's widely reported that Vince isn't a fan of his work. – thus it's been a pretty crappy couple of years for him.
But things finally seem to be on the up for one of WWE's most under-utilised talents ever – and again, I might be jumping the gun here – but an abundance of rumours and audible whispers are building to the likelihood that Christian will join Del Rio and Edge to make their dance a triple threat. With no other obvious match for Christian forseeable on the night, and considering the recent booking of the man on Smackdown, I'm gonna throw my hat into the ring and say that it WILL happen.
Edge and Christian are two of the finest all-rounders the WWE has ever produced and have already firmly etched their place in wrestling history. Matt and Jeff take note – this is what you were also destined to become. Instead, that pair combined are the biggest laughing stock in the wrestling industry (albeit for different reasons).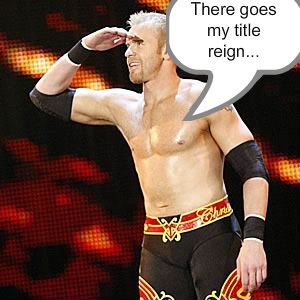 IT'S WRESTLE-FREAKING-MANIA!
Dissing a PPV before it's even happened it's something we've all been guilty of, I'm sure… But folks, come on, this is Wrestle-freaking-mania!
There's no doubt whatsoever in my murky mind that everyone involved in the show will be on their A-game and WWE will do its utmost to present 4 hours of awesome action littered with surprises, stand out Wrestlemania moments and slobberknockers aplenty.
Hey, it's all just a bunch prediction, and if I'm wrong and the PPV sucks I'll be the first to admit it – and I'll welcome you all to come back here and barrage me with Internet insults until your fingers are raw to the bone from hammering your keyboard.
But, for now, I beg of you to not ride the wave of negativity and instead bask in the shimmer of Wrestlemania and enjoy the build-up to the greatest event on the sports entertainment calendar. Save judgement for AFTER the event. That way, it makes sense…. Dontcha think?
I'll be back next week with my predictions.
Over and out.