Greetings jabronis,
Apologies if the images look out of sync in the column, the new site is fresh from the womb and taking a little while to settle.
I'm a big of wrestling matches involving tables, ladders and/or chairs. Sure, they might be littered with shortcuts and contrived stunts – but wrestling shouldn't always be judged purely from a technical stance, and sometimes it's just mighty fun to watch grown men get pushed off ladders and speared through tables.
However… looking at the card, there appears to be only one match that features tables, ladders and chairs in any sort of capacity. Wassupwiddat?! How fun would the 8 man tag match have been if it was an elimination tables match? Or why not give Sandow and Langston the chance to shine in a ladder match? It's been of a let down if you ask me. Last year's TLC PPV featured no less than 4 gimmick matches. Just saying.
WWE has had a bad run of PPVs of late. I hope TLC puts an end to that trend… But with two handicap matches and a title match between two guys I don't care much about, my hopes are not high.
Let's take a closer look at the matches shall we? Yes. We shall.
PRE-SHOW MATCH:
Dolph Ziggler vs Fandango
Poor Ziggler. Despite a (very) short run as World Champion, 2013 can't really be deemed a successful year for The Show Off. He's gone from being one of the 2 or 3 most over wrestlers in the company at Wrestlemania to being jobber fodder and a curtain jerker within just a few months.
I'm absolutely convinced he pissed someone off at the top of WWE by doing or saying the wrong thing… I just hope that whatever he did/said doesn't hinder him for the rest of his career. He's an absolute work-horse in the ring and his matches are always a joy to watch. He deserves better than this Goddammit!
Fandango too has fast become a jobber to the stars since his promising debut, so I guess the question to ask here is: Who is currently the biggest jobber of the two? And my answer to that is Fandango.
Pick: Dolph Ziggler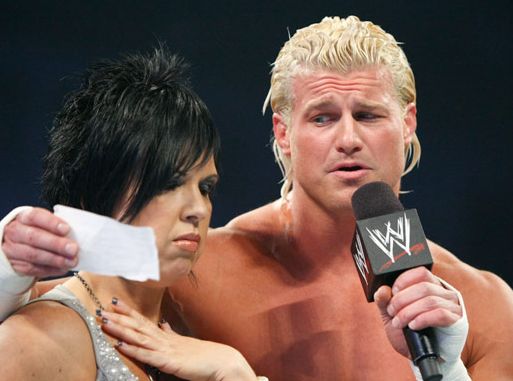 IC TITLE MATCH:
Big E Langston vs Damien Sandow
I don't think it's impossible for Damien Sandow to pick up the victory here, but Big E Langston is obviously the favourite and I'll side with him to leave with the strap.
With there only being one WWE Champion in the aftermath of TLC, I assume WWE will seek to heighten the importance of the Intercontinental title once again (if the damage isn't already too drastic), and that project starts with Big E Langston. Being best buddies with Cena is certainly never going to harm your career.
In an era when title changes are many and frequent, it's crazy to to think that someone as talented as Sandow has yet to hold any WWE Title. His time will come.
Pick: Big E Langston


DIVAS TITLE MATCH:
AJ Lee vs Natalie
I know Natalie has her fans, and she is without question the best wrestler amongst WWE's piss-poor line-up of divas… But I can't help but find her incredibly dull. She's an absolute charisma vacuum.
AJ, on the other hand, gets huge crowd responses (no easy feat for a female in modern WWE) and I don't think it's an overstatement to say she's been WWE's most entertaining diva since Trish Stratus.
AJ should hold the title until at least Wrestlemania – when hopefully someone will have emerged as a genuine and worthwhile challenger to her title. But in reality, we all know it will be a Bella.
Pick: AJ retains
HANDICAP MATCH:
CM Punk vs The Shield
Two handicap matches on one PPV is just plain weird. And these matches don't feel like PPV calibre bouts… They feel more like a throwaway match RAW match, ya feel me?
I'm going for CM Punk to defy the odds and emerge victorious from this one, otherwise the match doesn't really serve any purpose in furthering a storyline. I think more dissent between The Shield will be teased and ultimately cost them the victory… And with the Royal Rumble on the horizon, it's the perfect time for the trio to start getting a little fisty-punchy with one another.
A triple threat match between all three members of The Shield at Wrestlemania would be quite the spectacle, says I.
Pick: CM Punk

ANOTHER HANDICAP MATCH:
Daniel Bryan vs The Wyatt Family
Unlike The Shield, The Wyatt Family do need the win, being the new kids on the block an all – so you'd have to expect them to eventually overpower Daniel Bryan and score the victory.
Bray Wyatt has been begging Daniel Bryan to join his faction (with some truly excellent promos it has to be said), and whilst I wouldn't put it past HHH to try and turn Bryan heel in order to try and cool his popularity, I don't reeeeally envision it happening. Could Daniel Bryan even work as a heel anyway?! I think he's already achieved a level of popularity similar to the likes of Kurt Angle, Chris Jericho and CM Punk before him where he's gonna be cheered regardless of his actions.
I totally understand why The Wyatts want him to join them though. Blokes with beards should always have each others' backs.
I'm hoping this is a short-lived feud, as come January Bryan must be considered a favourite to win the Royal Rumble, and a Wrestlemania 30 main event without him would just seem criminal considering his current level of mega-stardom.
Pick: The Wyatt Family
TAG TEAM TITLES MATCH:
The Rhodes vs Rey Mysterio & The Big Show vs Ryback & Curtis Axel vs The All Americans
I hope this is given plenty of time… And if my hopes ring true, then I think we've got match of the night on our hands. There's such an eclectic mix of talent and styles involved here that I'm already salivating at the thought of some inventive spots and stunts (that would be even better with tables… Bah, humbug). And who's gonna fall victim to the Cesaro Swing? Surely not The Big Show?! That I'd love to see.
Rumours are circulating (and have been for 2 or 3 years!) that Goldust and Cody Rhodes will face off against one another at Wrestlemania, so you'd have to assume they'll drop the tag titles before then. But I don't think that will happen here. The Rhodes brothers are super over at the mo and regularly having the best match of the night, so I think WWE will let them ride this crest of momentum for a few more weeks yet.
I still find the notion of Goldust peaking in 2013 to be madly surreal – but I'm massively enjoying it.
Pick: Goldust and Cody Rhodes retain
TITLE UNIFICATION MATCH:
John Cena vs Randy Orton
Firstly, I'm firmly of the opinion that the TLC PPV will end with one champion. HHH has "guaranteed" it too many times now for it not too happen, and WWE is well aware of the negative reactions to the screwy finishes in its recent spat of PPV main events. Surely they wouldn't be dastardly enough to do it AGAIN?!
I'm slightly in favour of there being just one "main" champion as the World Heavyweight title was dwindling in prestige, and it makes sense for there to only be one champ at a time… But I am concerned that the belt will only be shared amongst the absolute elite 4 or 5 guys in the company. Crowd favourites like Christian and Dolph Ziggler who have enjoyed title reigns in the past are likely to be passed over in the future I fear. Henceforth, Zack Ryder will just have to accept that he'll never hold a top tier title.
John Cena and Randy Orton are obviously Vince's "golden boys" and that's why these two guys are featuring in this unification bout. If one (or both) guys involved was swapped with CM Punk and/or Daniel Bryan then I think fan interest in this match would have been far greater. For me (and I suspect a lot of older wrestling fans), Cena and Orton are both pretty interchangeable and I admit I rarely find either of them entertaining. So the prospects of this match doesn't jiggle my giblets at all.
But this is a prediction column and so a predictions I must make. This week's RAW teased us that Cena would be joining The Authority… But I think a tease is all it was (WWE can be such a slag), and I'm leaning towards the idea of Orton leaving as champion, with Cena somehow being cheated out of the win (which, yes, is a bit screwy – but at least it will leave us with one winner)
Betting against Cena is usually a daft idea though as history has taught me, so I won't be surprised in the slightest if he makes me look foolish once again.
Pick: Randy Orton
Those are my picks, jabronis. Please add your own below. I love it when you do.
I will be watching TLC as it's a free PPV here in the UK. As I previously spouted, I'm not overly enthusiastic about its prospects, but I'm not gonna turn my nose up at a free PPV, and I'll be keeping my everything crossed that WWE can end its 2013 PPV calendar on a high.
This is likely my last column for 2013, so I wish all your jabronis out there the very merriest of Christmases and an equally fortuitous new year.
I'll see you in 2014. Or maybe in 2002 if my time machine project ever takes off.
Over and out.