Greeting jabronis,
I think it's fair to say that the most prevailing face on WWE television in recent weeks has been the bearded one belonging to Daniel Bryan. Yep – he's been getting even more TV time than Super Cena and Mr Punk, which is quite the feat. And you know what? He totally deserves it.
As I scribed in a column a few weeks ago, Bryan's run right now is, to me, wholly reminiscent of Eddie Guerrero's red hot streak in 2003/2004 that culminated in him beating Brock Lesnar for the world title. The crowd reactions for Eddie then and Daniel Bryan now are arena-shaking stuff. You simply can't teach someone how to connect with a crowd like that – you either have it or you don't. And Bryan wrestles with such obvious, unbridled passion – just like the beloved Eddie. It's truly a joyous thing to behold for fans of the grapple game.
With a WWE title match on the horizon for ol' Goatface at Summerslam, and with hordes of wrestling fans supporting the man with vocal abandon, WWE has the chance to deliver a wonderful story around Bryan's ascension to the top.
The story is, of course, a very primitive one. In the land of the giants, the phyically inferior Daniel Bryan feels he has to prove himself to his peers. Quite why Bryan feels he has to prove himself AFTER he's been the World Heavyweight Champion is a bit of a mystery, but be that as it may – the most obvious way for Bryan to overcome his current dilemma is to beat Super Cena at Summerslam and lift the WWE Title. It's the simple tale of the underdog achieving against the odds. Just like Rocky. No wait… Rocky lost in that movie. Let's say Rocky II then.
But, I ask thee, can we be sure that this is the story that WWE will tell? Or do they have a much more nefarious tale to tell?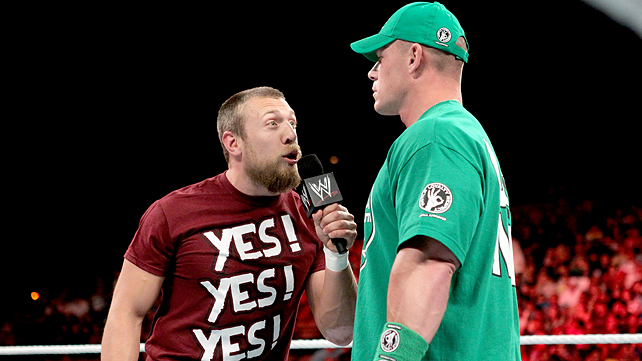 Those whose memories haven't been ravaged by copious amounts of gin will recall WWE constructing a very similar story in the build up to the world title match between Booker T and HHH at Wrestlemania 19.
In a nutshell, babyfaced Booker T was presented as being inferior to the heel champion HHH within the storyline. We were constantly told HHH was the better wrestler and that Booker T was not his equal, and it wasn't until the week before Wrestlemania that HHH suddenly decided that Booker could possibly be a genuine threat to his title. The scene was set for the classic "victorious underdog" narritive, where Booker T would quash HHH for the belt, teach him a lesson for underrating his ability, and give fans in attendance something cheerful to celebrate.
But that didn't happen. HHH won – just like we were constantly told he would (and even waited nearly 20 seconds to pin Booker after hitting the Pedigree just to rub it in). What the Hell sort of storytelling was that?!
I think that serves as a lesson than a title win for Bryan at Summerslam isn't set in stone, despite the obvious direction one might assume the storyline is going. But I hope I'm wrong. Twists are rife in the wrestling world – but twisting our expectations simply for the sake of a twist isn't always best for business.
I think there are 3 possible outcomes on the night. Bryan wins the title; Cena retains; Or – the "twist" option – Bryan wins the title and immediately drops it to Orton who cashes in his MITB contract.
Cena retaining is always likely because, as we've learned countless times in the past, one should never write off the all-conquering Super Cena. But I think the outcome the majority of us are anticipating is the one seeing Bryan win the title from Cena, and Orton cashing in his MITB contract in the immediate aftermath and robbing Bryan of the gold. Would that be a "swerve" that's good for business? This writer says no.
Firstly, it's a fairly predictble swerve. We've all thought of it, and an Orton heel turn is long overdue. Secondly – and more importantly – fans would be robbed of the moment they've longed for these last few months, that moment being the bearded one sitting at the helm of the company with the WWE Title.
What do you think would get bigger rating on RAW the next night: A victorious Daniel Bryan, adored by fans, celebrating his WWE title reign, or Randy Orton, turning heel for the 3rd time and entering the ring as the WWE champion for the 7th time? I'd suggest the former. By a landslide.
If WWE wants to deliver something a little out of the leftfield, here's a scenario I'd like to see at Summerslam: Daniel Bryan wins the title cleanly from Cena in a 20/25 minute epic battle. On being presented with the title, Orton's music hits and he makes his way to the ring and cashes in his briefcase. Orton hits Bryan with the RKO and delays pinning him as he surveys the crowd (who are presumably booing him at this point). He eventually pins Bryan… Who miraculously kicks out. A stunned Orton prepares to hit Bryan with a second RKO, and as he does Bryan reverses it into the Yes Lock and Orton taps out. The crowd goes wild, Orton's heel turn has still happened and Bryan proves himself to be a DOUBLE hard bastard!

It might be a bit too much of a "dream scenario", but maaaan – I think wrestling fans the world over would mark out in a crazy fashion if it were to happen.
The bottom line I'm trying to communicate here though is that Daniel Bryan winning the WWE Title and leaving Summerslam as the champion might be the most obvious ending to this storyline – but it's also the right one. And I hope with all my might that WWE realises that.
Over and out.