Greeting jabronis,
Firstly, I'd like to wish you all a very osgasmic new year indeed. I hope it brings you everything you've ever dreamed of. Unless you've been dreaming of Summer Rae that is. Leave her alone! She's mine!
In my first column of 2014 (which still sounds a bit like the distant future to me), I'd like to cast a glance over twelve performers who could potentially be sailing their boats back to WWE shores this year and stepping back into the ring. As well as speculating over whether they will return or not, I'm also going to assess what sort of impact their return could have. I hope that sounds fun to you!
I've not included guys that are out with injury, such as Christian and Sheamus, as their returns are somewhat inevitable once they've healed. I'll just be looking at folk that have been absent from WWE for a prolonged period after going to play with some other kids in a different street. You catch my drift?
As I commenced writing this column a few days ago Brock Lesnar DID return… But I'm leaving him in here because I'd already scribed it. And I make the rules. Onwards!
Hulk Hogan


I wrote in length about my thoughts on The Hulkster returning HERE a few weeks ago. To summarise – I would most certainly mark out madly to see Hogan back in a WWE ring one more time, and I think it would also be very beneficial indeed for business. Nostalgia is rarely a bad thing.
Of course, Hogan is now veeeery limited in he ring, but in a multi-man tag match at Wrestlemania I think it would be easy to hide his shortcomings. Just one hot tag followed by a few punches and a legdrop is all that's required of him! Hogan's appeal has never been about his wrestling ability, it's all about his presence and working the crowd. And hey, if Snooki can work a Wrestlemania tag-match, then so can a 60 year old Hulk Hogan!
It would seem that WWE and Hogan are close to a deal that would see his return and this excites me greatly. A milestone Wrestlemania like this fittingly should feature Hulk Hogan on the card. It would certainly be a one-shot deal though. If Hogan is going to appear on WWE TV beyond Wrestlemania, then it would be as a non-wrestling performer. The new manager of The Real-Americans perhaps? He's got the tash already after all.
Chances of a return: 70%
Brock Lesnar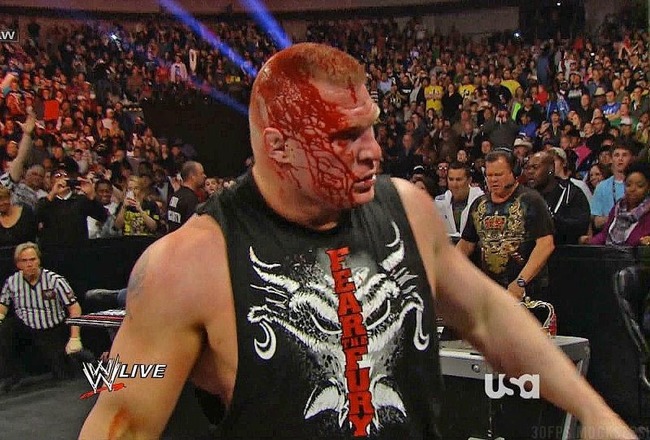 Okay, so even before his return on the first RAW of the year it was pretty much guaranteed that Lesnar would be back for a Wrestlemania feud.
I'm a big, big fan of The Beast, and was thus super happy with his entertaining return segment that saw him smash the crap out of Mark Henry with an impressive display of strength.
I'm don't think that Lesnar will feature as a Royal Rumble participant as I don't really see how his wrestling-style would work in prolonged multi-man environment (can you imagine him selling offence from the likes of Fandango, Xavier Woods or Zack Ryder should the need arise?!)– so I'm more inclined to believe he'll find himself in singles action at the Rumble against The Big Show, where he'll pick up a victory that'll set him up strong as he heads along The Road to Wrestlemania.
Of course, the match we all want to see at Wrestlemania XXX is The Undertaker vs Brock Lesnar , and you have to believe it's the match that Vince wants to promote too. I can't imagine a more epic clash for what would surely have to be the main event.
Chances of a return: He's already back, fool!
Batista
Bastista's return is, of course, already set in stone, but I just wanted to take a look at what type of impact he's expected to make if you'd care to indulge me.
I'll admit I've never been particularly fond of Batista so his return isn't much of a big deal to me. But I admire the way in which he conducts himself (he's certainly no ass-kisser and will always speak his mind) and with his imminent role in Marvel's Guardians of the Galaxy combined with his impressive history in the WWE, he could and should be a genuine draw for the WWE in 2014. So I'm all for it.
He's got to be a favourite for the Rumble, and at this point is probably already the favourite to challenge Orton for the WWE Title at Wrestlemania. Not bad for someone who hasn't set foot in a wrestling ring for 4 years and has dissed the WWE product ever since!
Nobodly really seems sure if Big Dave has signed on for a few months or 2 years … Either way, look for him to be headlining PPVs in the very near future.
Chances of a return: 99% (I guess he could injure himself between now and Jan 20th)
Steve Austin
Which each passing year, the likelihood of a  Steve Austin in-ring return grows weaker. A match with CM Punk is no doubt the most likely scenario to lure The Rattlesnake out of retirement (as he himself is happy to admit), but I don't foresee it happening this year – if at all.
Steve Austin rightly perceives himself as a very big deal in the wrestling world, so if he were to return for one more match, it would have to be at Wrestlemania. But with a Wrestlemania that's already set to feature part-time performers in Lesnar, Undertaker, HHH and possibly even Hulk Hogan on the card, it would be difficult for Austin to secure the star billing he craves.
So maybe a match with CM Punk could happen at Wrestlemania 31. But Austin will be 50 years old by then, and let us not forget that it was a serious neck injury that ended his in-ring career in the first place, and there's no way that has magically healed since he hung up his boots. So I'm sad to say that a return from Austin will likely only ever be a pipe-dream.
Chance of a return: 10%
Chris Jericho


Jericho certainly likes to play the fans, and for that reason we should never write off the possibility that he could be a surprise entrant at the Royal Rumble once again… But I think it's time for him to step aside and let someone else have the Wrestlemania pay-off that he likes to dive in and grab with alarming regularity.
As with most wrestling fans, I'm a fan of Chris Jericho, so I will undoubtedly wear a grin when he does return again… I just hope that he returns with more of vicious streak next time round. Sure, it's highly commendable for a seasoned veteran to come back and constantly put over WWE mid-carders, but I can't help but feel that he's tarnished his own name in recent times with his appalling win/loss record. I'd prefer to see him tearing it up at the top of the card – not losing cleanly to ballet dancers.
I think we will see Jericho back in WWE in 2014. As he has hinted himself though, it will be more likely in the second half of the calendar year rather than during Wrestlemania season. Jericho for Summerslam? It's worth a punt.
Chances of a return: 60%
Shawn Michaels
If Lesnar v Undertaker does take place at Wrestlemania XXX, I firmly believe the only match that could come close to "stealing the show" from the behemoths is Daniel Bryan v Shawn Michaels in a teacher v student clash.
WWE has dropped a few teasers in recent weeks that this monumental match could happen, with Daniel Bryan attacking HBK after his PPV loss to Orton, and then hitting him with the running knee at The Slammy Awards. It certainly had me salivating.
The one question that needs to be asked though is this: Will HBK go back on his retirement promise? … And I think he could. Wrestlers coming out of retirement is not a big deal, it's happened regularly for decades (although 50% of the time it's Terry Funk going back on his word!), so it's not as if HBK can be heavily lambasted for it. Plus Michaels' rather large ego is well documented… Would Mr Wrestlemania really turn down the chance to steal the show one more time if offered? I certainly think he's been giving it some serious consideration of late.
Chances of a return: 50%
Ric Flair


With Flair back strutting his stuffon the "old-school" RAW he's seemingly worked his way back into WWE's good books… Until the next time he gets drunk in public and decides to shake his bare ass at a bunch of disabled children or something.
Make no mistake about it, Flair himself would love to make an in-ring return (for the money if nothing else), but I don't ever see it happening in a WWE ring. His Wrestlemania send-off with HBK was absolutely perfect and the WWE history books can easily pretend his TNA run never happened. Plus, following Lawler's heart attack, there's no way Vince wants to put a 64 year old man into a wrestling ring… Unless it's himself.
Chance of a return: 15%
The Rock
It's fair to assume that a global superstar as big as The Rock would only return to WWE for a Wrestlemania pay-off. Anything else would just be pocket money to The Great One, and wouldn't even pay him enough to raise The People's Eyebrow.
There's always the possibility that the Rock may make a one-off appearance on RAW through his now patented live satellite link-up, but it seems a tad late now for him to be involved in a Wrestlemania storyline, especially when also considering his 2014 Hollywood schedule.
I don't believe we've seen the last of The Rock as an in-ring performer though, but I'd pencil in Wrestlemania 31 as a more likely scenario.
Chance of a return (this year): 25%
RVD


It's been widely reported that RVD has a rolling contract with WWE that sees him ride with the company for 3 months then take a vacation before returning for another 3 months as and when he pleases… So if he's got an ounce of intelligence left in his ECW-battered noggin, he'll return pretty sharpish in order to pick up a Wrestlemania bonus.
Credit where credit is due – RVD's run in WWE last year was pretty successful. Despite doing the exact same set of moves over and over again for the last 12 years or so, audiences reacted to him mighty positively, and he had some rather entertaining matches with the likes of Chris Jericho, Alberto Del Rio and, er, Darren Young.
I think it's safe to assume that RVD will be an entrant at the Royal Rumble (where he'll point at himself with his thumbs on a minimum of three occasions) and then I expect him to be involved in some sort of multi-man match at Wrestlemania.
With there now being only 1 top title in WWE, RVD's flirtatious relationship with a main event spot is likely well and truly over however.
Chance of a return: 95%
John Morrison
Whenever John Morrison interviews pop up on wrestling gossip sites, he's always keen to point out how well his acting career is doing and how he's making waves in Hollywood – and for that you gotta respect him. It's a very commendable thing to turn your back on a profession that guarantees you fame and a healthy income in order to test yourself and try something new.
But, what I will say to JoMo, is that I've yet to see him bag a part in anything worth seeing. Getting small roles in meaningless webisodes and student productions does make you a successfully actor, as harsh as that sounds.
Morrison is pushing 35, so if he does intend to return to the WWE, I advise him to do it sooner rather than later. I can't see him still being able to maintain his high-flying style as he hones in on the big 40, no sirree.
I happily confess I genuinely miss Mr Morrison in a WWE ring. He's a fantastic talent and I'd love to see him back. Can you imagine how awesome matches with him against the likes of Dolph Ziggler, Daniel Bryan or Sin Cara could be? CAN YOU?
Chance of a return: 45%
Kurt Angle
In recent days, Kurt angle has signalled that he has 8 months left on his TNA contract and beyond that, he's not sure what will happen.
In all honesty, I'm fed up with getting my hopes up regarding a WWE return for Kurt Angle. It seems that every year or so he starts banging his drum when his TNA contract is running low in order to get Vince's attention. Then he goes and does something really frikking stupid like stalk an ex-girlfriend, get busted for drink-driving or steal a monkey or something similar – thus forcing Vince to in no way consider him for his PG-friendly product.
At 46 years old, time is surely almost up on Angle's wrestling career, so this really could be now or never for our Olympic Hero. I hope he's able to keep his nose clean for the next 8 months, and if he is able to present himself as a rebooted model citizen then I definitely think WWE would be interested in bringing him back for one for more run. And that would make yours truly one very happy chappy indeed.
If not 2014, then perhaps we could expect Angle to be a surprise entrant at the 2015 Royal Rumble. If you're reading this God (and I know that sometimes you do), please make it happen.
Chance of a return: 35%
Goldberg


Would Goldberg return to wrestle as someone as limited as Ryback? Naaaaah. I think he'd be well aware that the two of them would likely put on an absolute car crash of a match – and that's not something that's gonna tempt him out of retirement.
Goldberg thinks of himself as being in the same league as The Rock, Steve Austin, The Undertaker etc – so he's not gonna take kindly to being offered a match against someone who is now very much a midcard fixture. And can you blame him?
Goldberg would prefer a one-off return match against the likes of Batista, The Rock or Cena. And you think any of those guys would entertain the prospect of carrying him through a match? Not a chance.
Chance of a return: 10%
That's it from me for now, jabronis. I'll be back soon with my thoughts on this year's Royal Rumble PPV. Surely it's gotta be JTG's year to win.
Over and out.