Greeting jabronis,
So Wrestlemania is once again nearly upon us as WWE brings us its annual groin-grabbing, ass-slapping extravaganza. WWE has called in old pals such as Hulk Hogan and Steve Austin to help out with the occasion (blowing up balloons perhaps?), whilst HHH, Brock Lesnar and The Undertaker will all be making rare in-ring appearances to encourage us all to fork out our hard earned wages for the privilege of witnessing their frolics. And, of course, all eyes will be on Daniel Bryan as he attempts to capture the World Heavyweight Title(s) for the umpteenth time.
If truth be told, at glance, it's not an incredibly strong card… Certainly not possessing the magnitude of something we'd expect for Wrestlemania XXX I suspect. And with just 7 matches on the main card, I'm fearing the 4 hour event could well be packed out with backstage skits just so the likes of Mene Gene and Ron Simmons can say make an appearance and say something dumb. As a comparison, the last three Wrestlemanias had 8 matches, whilst Wrestlemania XX had a whopping 12 bouts. Value for money? It seems not.
But let's be thankful for what we do have. Daniel Bryan could well feature in two "match of the night" contenders, whilst another showdown between The Undertaker and Brock Lesnar has been on the wishlist of many grapple fans – yours truly included – for a loooong time. And I'm sure Vince has a few aces up his sleeve to ensure Wrestlemania XXX is as euphoric as possible.
My predictions lie below. If you don't believe me, just look.
PRE SHOW BOUT
TAG TEAM TITLE MATCH
The Usos v Los Matadores v Ryback & Curtis Axel v The All Americans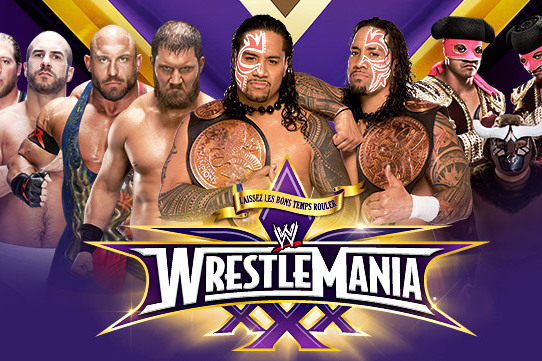 So this is now officially the "pre-show" bout (is it also official that at least one match has to be bumped from the main card every year now?).
I feel bad for The Usos and The All-Americans – particularly Cesaro – as they totally deserve a spot on the main card… But I'm not surprised to see this one dropped to the pre-show. It just doesn't have any sort of Wrestlemania aura to it. I think we can blame Los Matadores for that.
I expect The Usos to retain in a fairly straightforward fashion. And so do you.
Pick: The Usos
WINNER ENTERS THE MAIN EVENT
HHH v Daniel Bryan
There's a strong chance this match could go on first seeing as one of these chaps will have to wrestle a second lengthy match later in the night… But WWE could risk peaking crowd interest way too early, so it'll be interesting to see how they decide to line things up. Well, mildly interesting at least.
It's an absolute 100% given that Daniel Bryan will not be losing here. No sirree. WWE bigwigs are still reeling from the hugely negative reaction from the live audience that practically killed the Royal Rumble, and there's noooo way they'll risk having their whole event tainted again by "Daniel Bryan" chants throughout the night were he to lose. Also, you have to consider the fact that having a triple threat main event at Wrestlemania featuring three heels would just be plain stoopid, despite what Harley Race might think.
One outcome that perhaps hasn't been talked of much is the match potentially ending in a draw (double DQ, double KO… however creative they wanna be) thus resulting in both Daniel Bryan and HHH being installed into main event that will essentially see Daniel Bryan taking on three quarters of Evolution.
I think it's food for thought, but the far more likely outcome is a clean victory for Daniel Bryan, ensuring the crowd is appeased for the rest of the night knowing their goat-faced hero will be back for the main event.
Pick: Daniel Bryan
30 MAN ANDRE THE GIANT MEMORIAL BATTLE ROYAL
The Miz, Dolph Ziggler, Big Show, Justin Gabriel, 3MB, Goldust, Sheamus, Cody Rhodes, Kofi Kingston, Big E, Christian, Rey Mysterio, Wade Barrett, Sin Cara, Darren Young, Brodus Clay, Titus O Neil, ADR, Brad Maddox, Zack Ryder, Santino, Fandango, Mark Henry, R-Truth, Great Khali
Whilst it's a splendid way to get everyone on the card and ensure all the talent receives a healthy Wrestlemania pay-off, I think it's pretty difficult to get excited about the battle royal. And the fact that the winner gets a huge Andre the Giant action figure doesn't really make it any more prestigious.
With three unconfirmed entrants we can expect a couple of surprises here – possibly in the shape of Rowdy Roddy Piper to bridge the first Wrestlemania with the 30th, and the likes of Rob Van Dam or even Chris Jericho could make a cameo (just because he says he won't be there doesn't mean a thing!)
WWE of course wants us to perceive The Big Show at the favourite to win here, as the commentators have recently told us this every 30 seconds whenever The Big Show is on screen. Fellow babyfaces Sheamus, Dolph Ziggler, Mark Henry and Big E will also be sold as potential winners. But I foresee a winner emerging from the Darkside (or a "heel" if you want to be technical about it).
My pick to win is Alexander Rusev, entering as one of the aforementioned unconfirmed entrants. He's a huge guy and, following his impressive Royal Rumble outing and subsequent 371 promos, you'd have to assume that WWE has big plans for him. I see those big plans receiving a major kick up the ass here – likely via lastly eliminating The Big Show to win the match. And in Lana he even has someone to carry to Andre the Giant statue for him for the foreseeable future. So long as she isn't gonna be a bitch about it.
It'll be interesting to see how modern wrestling audiences respond to Rusev's 1980s-style gimmick (whether he's victorious here or not). He's like someone straight out of Rocky III. Hopefully WWE has bigger plans for his character beyond "being from another country".
Just a quick side note: I genuinely thought I was being super clever and thinking outside the box in picking Rusev as the winner. But after seeing the Wrestlemania betting odds, I realise several hundred thousand people must have had a similar thought. I'm so lame.
 Pick: Alexander Rusev
SIX MAN TAG MATCH
The Shield v Kane, Billy Gunn and The Road Dogg
I've let it be known before that I am a huge mark for The New Age Outlaws and I get a resounding kick out of their nostalgia-tinged exploits. But even I will admit that their participation here in a big match will surely have ruffled the feathers of others. Whereas the hard-working, ever-present likes of Dolph Ziggler, Damien Sandow and Alberto Del Rio are merely given a spot in a yawnsome battle royal, The New age Outlaws get to take on The Shield at Wrestlemania… Where's the fairness is that I ask? It's not a if there aren't enough part time veterans on the card already.
Some rumours have suggested that The New age Oulaws requested the match themselves, and were thus granted said request by their buddy HHH, but I don't buy that at all. I refuse to believe that The Outlaws have any backstage pull whatsoever. These are two guys that mocked Vince for years in TNA (VKM anyone?) and have also, particularly in Billy Gunn's case, spoken extremely negatively of HHH in the past. Far from having any pull, I think the pair are just thankful to have a job – and will keep their mouths well and truly shut, walking the straight and narrow, to ensure their current employment lasts as long as possible.
Therefore I think it was WWE creative's decision to throw this match together. And I guess, storywise, it does work as a classic battle between the old school and the new school… But that doesn't take away from the fact that plenty of other chaps on the roster will feel hard done by.
It seems very apparent that The Shield won't be splitting just yet after all – and are going to embark on a face run. And why not, eh? Wrestling audiences are well and truly behind them, and a happy audience is a merchandise-buying audience. Believe in The Shield's ability to sell t-shirts.
I see no reason for The Shield to be the losers here. I'm predicting a win in convincing fashion, and Kane will be the one to take the pinfall from the ever-rising Roman Reigns.
Pick: The Shield
DIVA INVITATIONAL
AJ v Summer Rae v Fake Boobs Bella v Natural Boobs Bella v Nattie v Tamina Snuka v Your Mom v blah blah blah
Like a couple of other matches on the night (tag titles, battle royal), this has just been thrown together last minute to give a bunch of folk on the roster something to do. It certainly has no "Wrestlemania' aura whatsoever, and that is mighty depressing indeed.
It's well documented that 80% of the female "wrestlers" in WWE have about as much wrestling skill as an aardvark… And that makes me feel like I'm being mean towards aardvarks. So quite why WWE thinks it's a good idea to cram every single one of them into what will surely be a botchfest of the highest proportions on the grandest stage of them all is way beyond me.
I'm picking Natural Boobs Bell to win, simply because I read she's getting married next week and the ceremony will be filmed by WWE (classy!), so it would be a fitting way for the company to promote the belt in the mainstream media. Especially if her hubby also has a world title belt to show off.
As I write this, nobody yet seems to know what type of match this will be. Let's hope it's a "flash your breasts" match. Then they'll have my attention.
Pick: Natural Boobs Bella
SUPER CENA SHOWCASE
John Cena v Bray Wyatt
This has got to be the toughest pick on the card – it could easily go either way. And ya know what – the build for this has been rather great. Cena has largely ditched his dorky persona of late and is treating Wyatt as a serious threat – something he rarely does… And subsequently the feud has real meaning. Who'd have thought it? Cena stops behaving like a 9 year old and he becomes bearable!
However, you'd have to believe that Vince and co aren't happy with how audiences are reacting to this storyline. Wyatt has been attacking Cena after labelling him a false idol, and wants to essentially punish Cena's "legion of fans" for adoring him. But in pretty much every arena the WWE visits, the cheers for Wyatt are much louder than those for Cena! WWE must really hate how "smart" fans are becoming the norm.
As much as it pains me to write, I'm siding with Cena with the victory. The way the story has been told, it seems there's no other option but to have Cena go over. WWE builds up a monster and Cena knocks them down… That's the way it's gone for the last 10 years so it shouldn't come as a surprise to anyone at all should Cena leave here as the victor. If Wyatt does score the win, then we know full well that Cena will win the rematch at the Extreme Rules PPV. Because Cena always emerges as the winner.
It's interesting to note how Cena is only really in a midcard match here, and how WWE's poster boy is being kept far away from the title picture in its showcase event. Was the company too aware of how badly a "smart" Wrestlemania crowd would have reacted to Cena had he been in the babyface main event slot? That's certainly my thinking.
Pick: Super Cena
CHALLENGING THE STREAK
The Undertaker v Brock Lesnar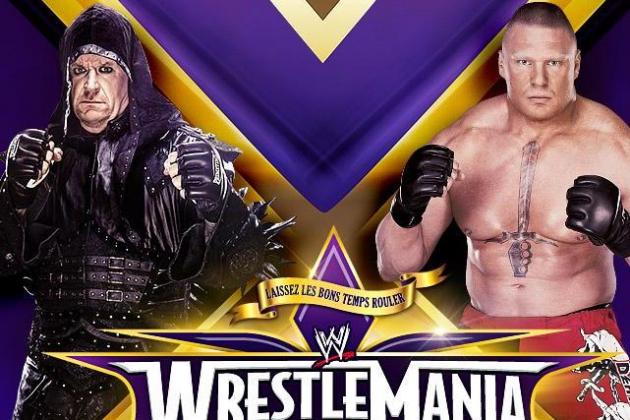 Yes, the winner is obvious, but that doesn't stop me from believing this will be an hellacious slobberknocker of the highest order. These guys are genuinely going to pummel the living sh*t out of each other – so much so that I think The Undertaker is genuinely going to need his annual 11 month break after this.
Will The Undertaker v Sting happen at Wrestlemania 31? I know most of us are fed up of hearing the Sting rumours every year for the last decade or so… But it seems that this year the rumours could be weighted with more truth than ever before. We could get our answer as soon as the post-Mania RAW.
Pick: The Undertaker
WORLD HEAVYWEIGHT TITLE MATCH
Randy Orton v Batista v TBD
I'll put "TBD' for the sake of being factually accurate… But as I babbled earlier, I think we're all fully aware Daniel Bryan is gonna play a part in this match. I expect him to sell a harsh beating at the hands of HHH – likely emerging for this match with bandages aplenty to further sell his heroic spirit.
I was of the opinion until veeery recently that Batista would win the title at Wrestlemania, and Daniel Bryan would (finally) win it from him in one of the next two PPVs… With my reasoning being that Vince could well be fearing that once Bryan does win the title then the chase is over and a whole bunch of viewers will tune-out having seen what they wanted to see – especially as a lull traditionally follows 'Mania.
But I've changed my wee mind now… The chase has gone on long enough and Bryan needs to win the title at Wrestlemania XXX. Fans will surely riot if their icon is thwarted again, and WWE really doesn't want 75000 disgruntled fans (several thousand of which will be drunken Brits!) to contend with as the show closes.
Looking at it from a marketing stance, I  feel that the highlights of a Daniel Bryan victory could and will surely be used as a key selling tool for the company for the rest of time – that is to say they don't want a stadium full of fans booing the sh*t out of their main event result. But with 75000 fans chanting "yes" in unison – and doing the arms thing – whilst Bryan celebrates with the title, they'll have reams of amazing footage that can be used in montages until it's as famous as Hogan slamming Andre, HBK superkicking Ric Flair or Al Snow beating up Chester McCheesington.
So it's a Daniel Bryan victory for me, and Wrestlemania XXX will be the night when wrestling fans can finally sleep free of nightmares.
Pick: Daniel Bryan
Those are my picks jabronis, please add your own below. I love it when you do.
I hope you all enjoy Wrestlemania and attend some top notch grapple parties in the process. I'll be desperately trying to avoid spoilers here in England on the Monday and hooking up with a few chums straight after work to watch the event. We've all spent the last 7 months growing Daniel Bryan style beards in honour of the spectacle, so it'll be a relief to all be able to shave in the aftermath – and we'll be donating our beard hair to charities in Africa.
None of that beard stuff is true of course. But I wish it was.
Over and out.