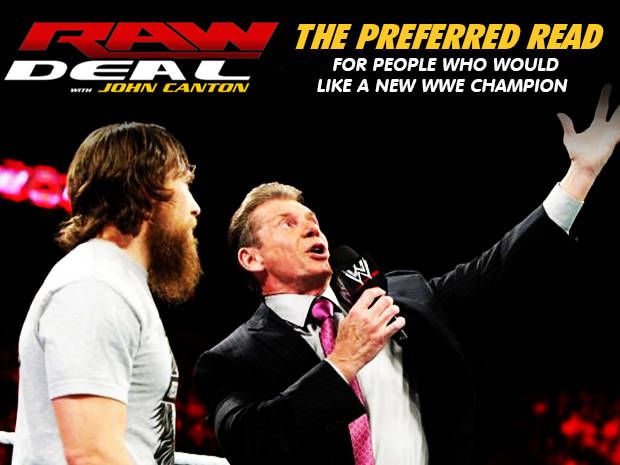 Live (actually taped) from Hidalgo, Texas this is the Raw Deal for episode #1053. Follow me on Twitter @johnreport. If you're on Facebook please "Like" this post as well. Thank you.
As mentioned above, this week's Raw was taped last Tuesday. The WWE roster is on tour in Australia, South Africa and China. I read the spoilers, but it won't affect how I watch it. It's the execution that matters to me.
The opening video package focused on Daniel Bryan and John Cena on the road to their matchup at SummerSlam. The announcers for the show are Michael Cole and Jerry Lawler. No JBL there this week.
WWE Chairman Vince McMahon and Raw GM Brad Maddox came out for a promo. McMahon went over the things that Maddox said about Bryan last week, which were things that McMahon likely told Maddox to say.
Daniel Bryan made his entrance to a huge ovation and many "yes" chants as usual. He said that even though Maddox said those words, he believes that the words were dictated by McMahon. McMahon told Maddox to leave.
McMahon brought up respect, so Bryan mentioned that McMahon hasn't respected him despite all the hard work he's done for WWE. McMahon asked if Bryan respected Cena. Bryan said he did especially because he picked Bryan as his SummerSlam opponent. McMahon called Cena a master manipulator and said that Cena was making Bryan look foolish because he didn't really believe in Bryan. McMahon said that Cena knows, just like he knows, that Bryan can't beat Cena…or Kane later on Raw. McMahon said that Bryan didn't have Ruthless Aggression like Cena. McMahon didn't really want Bryan or Cena to be WWE Champion. McMahon called Bryan a troll that would be an embarrassment if he was WWE Champion. McMahon said he hopes that Cena and Bryan spontaneously combust so that neither man is the WWE Champion after SummerSlam.
Bryan said if Cena is lying to him he'll have hell to pay. Bryan stood on his tippy toes for McMahon to make himself look taller. Bryan liked that McMahon was honest with him, but it didn't matter what McMahon thinks – it matters what they (the fans) think. Huge "yes" chants for that. Bryan said that it sounds like they (the fans) want a new WWE Champion at SummerSlam. He suggested that McMahon listen to the WWE Universe. "Do you want a new WWE Champion?" Loud "yes" chants in the arena. That sounds great to me! Bryan's music played as he left the ring while McMahon looked on with a blank expression.
Analysis: That was a fun opening segment. While we've heard McMahon talk about how he didn't want a certain person to be WWE Champion (think of Steve Austin in early 1998), it's been a long time since they did something like that. Bryan going out there to confront him was the right thing to do. He came off as a positive guy that the fans believe. Hearing the fans chant "yes" while McMahon was there made me smile because that's exactly the reaction that WWE wanted. Also, based on McMahon's speech my immediate thought is that Randy Orton will cash in the Money in the Bank briefcase to win the WWE Title at SummerSlam while turning heel. He could be the champion that McMahon wants. It makes sense. Then again, a lot of other scenarios make sense too. That's why I like the current WWE Title scene so much.
The Shield made their entrance. Vince McMahon was out of the ring by the time they got there. They are in a match against Mark Henry and The Usos after the break.
(Commercial)
The Shield (Dean Ambrose, Roman Reigns & Seth Rollins) vs. The Usos & Mark Henry
The face team was in the ring as we returned to action. Henry dominated the action early on. Henry yelled "who wants some" to his partners as he tagged in Jey. Henry got back in and he prevented a Shield double team. He gave Rollins & Ambrose a double clothesline over the top to the floor. He threw Reigns outside the ring too. The Usos each hit a dive outside the ring to take out all three members of The Shield. The vintage floor to commercial break occurred five minutes into the match.
Analysis: That was a really good sequence. Henry looked outstanding as The Shield guys were bumping all over the place. The crowd loved it too.
(Commercial)
As they returned from break, The Shield isolated Jey in their corner. The announcers mentioned Vince McMahon was trending, which makes me think they were calling this from a studio since it was taped last Tuesday. Rollins prevented a tag, but then Jey gave Rollins a back body drop. Henry received the hot tag. He knocked Ambrose down and a clothesline on Rollins. Reigns attacked with a Spear. Tag in by Jimmy Uso, who hit a cross body block for two. He went to the top to finish off Ambrose, but Ambrose got his knees up to counter the splash. Ambrose hit his Headlock Driver face first DDT on Jimmy to get the pinfall win after about 12 minutes.
Winners: The Shield
Post match, Henry recovered to throw all three members of The Shield out of the ring.
Analysis: **1/2 It was an entertaining six man tag match like most of The Shield's tag matches are. Henry was awesome as the power guy in the match while The Usos also got their moments to shine. It was also encouraging to hear how much the crowd liked the match. The rumor is Henry teaming up with the returning babyface Big Show to face The Shield at SummerSlam in a 3 on 2 handicap match. That means Big Show returns next week most likely.
There was an "earlier today" segment with Ryback going up to the food table where three random people were standing. Ryback was in his wrestling gear. He intimidated a guy against the wall. He threw food in his face. Ryback said that was the kind of table he was going to put John Cena through later in the night. Ryback slammed him through the table. Thanks to my buddy Brandon Stroud for letting me know the guy that got through the table was Texas wrestler Ricky Starks.
Analysis: That was pretty random. It was almost funny in a bad way. At least it didn't look like that famous "wall segment" of the past where Heidenreich raped Cole…or at least it sounded like that. Let's just move on.
(Commercial)
There was a video package about the Wyatt Family. It was awesome as usual.
GM Brad Maddox was in his office when Kane showed up. Kane wanted to know where the Wyatt Family was. Maddox didn't know, but suggested Kane can send the Wyatts a message during his match against Daniel Bryan. Kane didn't say anything. He had a serious look on his face.
Rob Van Dam made his entrance to a good reaction. He's in action after the break.
(Commercial)
Fandango made his entrance with Summer Rae. The announcers also mentioned that the October 6th PPV in Buffalo is called Battleground. I don't think the names matter too much, but that's a new one.
Rob Van Dam vs. Fandango (w/Summer Rae)
RVD nailed Fandango with a sidekick and then a moonsault off the apron while Fandango was on the floor. Fandango used a Summer Rae distraction to hit a kick to the head followed by a leg drop to the back of the head for two. Fandango missed a knee drop off the middle rope, which led to RVD on offense including the Rolling Thunder. RVD hit a standing side kick off the middle rope to put Fandango down. RVD wanted the Five Star Frog Splash, but Fandango rolled to the floor. Fandango left to lose the match via countout. It went about four minutes.
Winner: Rob Van Dam
After the match, Fandango was on the stage with a microphone as he told us "It's Faaaan-daaaan-gooo!" Then he danced to celebrate his countout loss? Okay then.
Analysis: * The match never got going. I don't like the deliberate countout victories. It doesn't help either guy. Sure, it gets heat on Fandango, but it's the kind of heat that will make people turn his matches off because they know he's just going to walk away. I would book a countout finish once in a while. I wouldn't do it as much as WWE does. It hurts more than it helps.
Backstage, AJ Lee was talking to Big E Langston. She went from being angry to laughing within three seconds. She said that Big E liked her because he never knew what she would do next. Then she went skipping down the hallway to end the segment.
(Commercial)
Kaitlyn was in the ring for a match against AJ Lee. You could tell the crowd noise was piped in as Kaitlyn waited in the ring. Putting the women in the top of hour two spot is not something we see very often.
AJ Lee (w/Big E Langston) vs. Kaitlyn
This is not for AJ's Divas Title. AJ attacked the left arm of Kaitlyn. Kaitlyn tried to come back, but AJ knocked her down with a knee to the head. Kaitlyn came back with a clothesline as well as a backbreaker. AJ hit a knee to the face of Kaitlyn for a two count. Lawler made a Carlos Danger reference, which was the alias that Anthony Weiner used (Google it). AJ hit an armbreaker by driving her knees into Kaitlyn's arm. Kaitlyn hit another clothesline and then she hit a Spear to win the match after five minutes.
Winner: Kaitlyn
Analysis: * It wasn't one of their better matches, but it was fine for the time given. It was basically AJ working on the arm for the majority of it, then Kaitlyn hit a few clotheslines a Spear to win. I don't know why they keep booking this feud in a way that will lead to another Divas Title match between them. I think we've seen enough title matches from them.
After the match, AJ's ex-boyfriend Dolph Ziggler showed up at the ramp with a microphone in hand. Ziggler wanted a match with Langston right now. His music started to play as they went to break.
(Commercial)
Dolph Ziggler vs. Big E Langston (w/AJ Lee)
Langston hit a nice belly to belly suplex to counter the speed of Ziggler early on. Big splash by Langston got two. Langston hit two backbreakers. The first four minutes of the match were all about Langston on offense until he hit his shoulder against the steel ring post. Langston made a charge, Ziggler ducked it and Langston went flying to the floor outside the ring. With Ziggler alone in the ring, AJ ran into the ring to attack him for the DQ finish. It went about five minutes.
Winner: Dolph Ziggler by DQ
Post match, AJ pulled the hair of Ziggler until the referee pulled her off. Ziggler left while Langston wondered what AJ was doing. Then Ziggler went back into the ring to hit the Zig Zag on Langston.
Analysis: * It was a quick match that saw Langston in control for much of it and Ziggler never got going. This will likely lead to a singles match between them at SummerSlam where Ziggler will be victorious.
In the locker room, John Cena was on the phone when Daniel Bryan showed up to him. Bryan wondered if McMahon was telling the truth – Cena told him not to believe a word that McMahon said. Bryan said McMahon has always been honest with him. Cena wondered if Bryan was calling him a liar. Bryan said nothing as they had a stare down. Cena left.
Analysis: Nothing wrong with a segment like that. They're the WWE Title match for SummerSlam so it's important to put them in backstage segments once in a while.
(Commercial)
Back from break, Cole told us that JBL wasn't there because he was in Switzerland preparing to climb another mountain. Check out SevenSummitsForKids.com for more info.
Christian made his entrance for his match against Alberto Del Rio. It's not for the World Heavyweight Title of Del Rio. This Friday on SmackDown, Del Rio gets to reveal his SummerSlam opponent. That show has already been taped, so if you want to know who it is you can find it elsewhere on the internet.
Alberto Del Rio vs. Christian
As mentioned previously, this is not for Del Rio's World Title. Del Rio was on offense in the early going with a suplex that got him a two count. Christian gave Del Rio a back body drop over the top rope to the floor. Outside the ring, Del Rio sidestepped Christian and that sent Christian into the steel steps. Del Rio hit a dropkick to the arm as it was up against the stairs. They went to break four minutes into the match.
(Commercial)
Del Rio was in control of the action after the break as he focused on the left arm of Christian. Christian hit an awesome Tornado DDT out of the corner for a two count. Christian hit a missile dropkick off the middle rope for a two count. Christian got a nearfall off a rollup, but Del Rio countered with a clothesline. After some brief offense from Christian, Del Rio hit a backbreaker for two. Christian chased Del Rio outside the ring and when they went back in, Del Rio hit a side kick to the head for two. Excellent nearfall there. Del Rio missed a kick to the head, then we went for the Cross Armbreaker, but Christian countered it into a pinfall that was good enough for the three count. It went 14 minutes.
Winner: Christian
Analysis: *** I like both guys, but it was pretty boring in the early going before the exciting finish. Christian did a nice job of selling the arm injury. Del Rio's offense always looks good. Obviously the non-title win (the second one on the show) opens the door for a feud between them with Christian bragging about the fact that he won clean on Raw.
There were replays of last week's gauntlet of matches for Daniel Bryan as he beat Jack Swagger and Antonio Cesaro. Then Bryan beat Ryback by disqualification after Bryan was put through a table. All of that is leading to Cena vs. Ryback in a Tables Match later on Raw.
(Commercial)
Wade Barrett was in the ring awaiting his opponent Cody Rhodes. They showed the events from Smackdown when Rhodes stole Damien Sandow's briefcase. Rhodes ended up throwing the briefcase into the Gulf of Mexico water outside the arena in Corpus Christi, Texas. Sandow freaked out in a classic way. It was awesome.
Cody Rhodes vs. Wade Barrett
Barrett dominated early on as he hit a butterfly suplex. Barrett hit a backbreaker for a two count. The announcers were laughing at Sandow almost drowning in the water on Smackdown. Be a star, guys! Rhodes hit a moonsault off the top rope onto Barrett, who was standing. Rhodes hit a running knee to the face for two. Barrett wanted a slam, but Rhodes countered with the Cross Rhodes to win the match after five minutes.
Analysis: *1/2 The right guy won since Rhodes is likely in a SummerSlam match against Sandow while Barrett doesn't have a whole lot going for him. The crowd is still getting used to babyface Rhodes, which is why there were times when they were dead.
Post match, Sandow showed up to complain about his briefcase being in the Gulf of Mexico. He said he filed a complaint to management about this. Sandow said Rhodes came from a family of clowns that he should go back to his carny family. Then he left to end the segment.
Analysis: Even though he doesn't physically have the briefcase, he's still able to cash in the Money in the Bank contract. I think Sandow vs. Rhodes could be really good at SummerSlam. It's the kind of fresh midcard feud that WWE needs to do more often.
Kane and Daniel Bryan were shown walking backstage as they get ready for their match up next at the top of hour three.
(Commercial)
There was a replay of the McMahon/Bryan promo segment from earlier in the show. Then we saw the backstage segment between Bryan and Cena.
Big ovation for Daniel Bryan on his entrance like usual. Kane also got a favorable reaction as usual.
Daniel Bryan vs. Kane
Kane knocked down Bryan with a boot to the face and then a suplex got him a nearfall. Kane dominated the first four minutes including when he used a long choke hold. Bryan made the comeback with a series of kicks followed by a clothesline. Bryan used his feet (and the top rope) to drag Kane outside the ring to the floor. Bryan hit his running knee attack off the apron onto Kane on the floor. They went to break with both guys outside the ring five minutes into the match.
(Commercial)
Back from break, Kane had Bryan in a chinlock. Bryan came back by tripping up Kane in the corner and then Bryan hit a missile dropkick. Bryan hit three corner dropkicks in the corner for a two count. He went to the top again, but this time Kane caught him with a punch. Sidewalk Slam and top rope clothesline by Kane. Bryan fired back with a few kicks to the chest. Kane came back wanting the Chokeslam, but Bryan countered and he won the match with an inside cradle. It went about 12 minutes.
Winner: Daniel Bryan
Post match, Kane gave Bryan a chokeslam.
Analysis: **1/2 It was obvious that Bryan was going to get the win since he's in the bigger match at SummerSlam. The win gives Bryan a big victory over his former tag partner who is still a friend and somebody with a lot of credibility. Bryan's offense was good when he was able to do it, but for the most part he was on the receiving end of Kane's attack. I don't think the chokeslam means Kane is going heel or anything like that. It was simply done because Kane is so frustrated and angry about all of his troubles of late.
After Bryan left, Kane wanted to do his fireworks display when the lights went out and the Wyatt Family showed up: "We're Here."
The lights in the arena went out as the Wyatt Family made their way to the ring. When the lights went on, Kane went after Bray Wyatt, but Luke Harper and Erick Rowan prevented that. Kane fought off the two big guys until Harper took him down. Harper hit a huge clothesline on Kane to put him down. Wyatt slowly made his way into the ring. He dropped Kane with his finisher.
Post match, Wyatt said he heard that Kane was the Devil's favorite demon, but Wyatt told him that Kane isn't a demon. Wyatt told Kane he has to be careful who he says his words in front of because you never know who might be listening. He dropped the microphone to end the segment.
Analysis: It's similar to their attacks since they debuted a few weeks ago. This will likely lead to Wyatt vs. Kane at SummerSlam, which is cool with me. I think it will be a fun match and Wyatt will likely emerge victorious.
(Commercial)
They replayed the Bray Wyatt attack on Kane.
Brie Bella vs. Natalya
Neither woman got a televised entrance. Prior to the match, a backstage clip aired where the Bella Twins called Natalya an ugly duckling from Total Divas. Natalya was on offense at the beginning, but Brie came back with a choke hold. After a leg drop, Brie applied another choke hold. Brie hit a DDT for two followed by another chin lock. Natalya came back with a body slam and dropkick. Natalya hit her discus clothesline for two. The crowd was not into this very much. Nikki Bella showed up at the top of the ramp blowing into something that made a duck noise into the microphone. Brie used the distraction to get a rollup for the win after four minutes.
Winner: Brie Bella
Analysis: 1/2* Not a good match. Bad finish too. The story is that the Bellas are mean to Natalya because she's not as good as them. Not as good at what? Being pretty? That's stupid. Natalya is pretty. She's also a way better wrestler than both of the Bellas combined. By the way, my use of "blowing" as I mentioned Nikki was on purpose. Just saying.
Paul Heyman was shown walking with Intercontinental Champion in the backstage area. Axel's in a match after the break.
(Commercial)
R-Truth was in the ring for a match. Before it could begin, Paul Heyman gave a promo talking about himself. He mentioned that Brock Lesnar will end the career of CM Punk at SummerSlam. It's "The Best vs. The Beast." Heyman also heaped praise on Axel. Axel said his dad won the IC Title in Texas and despite that he went on to be Mr. Perfect. Axel said he was more perfect than perfect. It's certainly better than hearing about the Genesis of McGillicutty.
Curtis Axel (w/Paul Heyman) vs. R-Truth
Truth hit a jumping side kick and then a front suplex. Axel came back with a dropkick. The crowd chanted "CM Punk." Axel hit a neckbreaker. Punk ran down to the ring. He threw Axel out of the ring. That ended the match.
Match Result: No Contest
Punk went after Heyman at ringside. Before he could get his hands on him, Axel came back to save Heyman. That allowed Heyman to leave while Punk knocked down Axel with a clothesline.
Analysis: The match didn't matter. This was just a segment to tease Punk going after Heyman. He wasn't able to get him here, which is smart booking. Save that big moment for SummerSlam when Punk will likely hit the GTS on Heyman at some point.
Triple H and Stephanie McMahon were shown walking backstage. John Cena vs. Ryback in a Tables Match is up next.
(Commercial)
Backstage, Triple H was talking to his father-in-law Vince McMahon. Hunter wondered what McMahon was doing. McMahon wanted somebody to beat John Cena that was like Triple H, but that was 20 years younger. Poor old Triple H. Stephanie McMahon showed up to suggest that they need to give Daniel Bryan a corporate makeover. Vince said "good luck with that one" and Hunter said it was worth a shot.
Analysis: That reminds me of Steve Austin doing the makeover in 1998 and then he kicked Vince McMahon's ass. Classic Austin moment.
There were some really excitable young fans in the building as WWE Champion John Cena made his entrance. Ryback made his entrance to boos.
Tables Match: John Cena vs. Ryback
Cena gave Ryback a clothesline over the top to the floor. There were tables in the aisle. Cena grabbed a table from under the ring even though there were plenty of them in the aisle. He's the same guy that buys the woman a new car on a "reality show" so I can't explain it either. Ryback threw Cena into the steel ring post. He charged with a table in hand, Cena moved and the table broke against the ring post. They went to break with both of them going back into the ring. It was an awkward commercial break.
(Commercial)
Back from the break, Ryback hit a belly to belly suplex. Outside the ring, Ryback threw Cena into the steel steps. After Ryback put the steel steps into the ring, Cena had time to recover and drive Ryback back first into the side of the ring as well as the barricade at ringside. Cena set up a table between the ring apron and another set of steel steps so that it was like a platform. Ryback hit a suplex outside the ring. Back in the ring, Cena applied the STF. Ryback crawled outside the ring. He hid under the ring, then showed up on the other side to hit a Spear on Cena. They set up another table platform against the side of the ring. They had a duel outside the ring as Ryback broke the table with the steel steps. Cena picked up the other steel steps. They each threw the steps and went back in the ring to brawl. Cena gave Ryback the back suplex onto another set of steel steps in the ring. Five Knuckle Shuffle by Cena. Ryback came back with a slam. He set up the table so it was against the turnbuckle. Ryback hit the Meat Hook Clothesline. Cena ducked an attack and gave Ryback the Attitude Adjustment through the table in the corner to win the match. It went 16 minutes.
Winner: John Cena
Analysis: **1/2 It feels like I've seen the match before because it reminded me of most of Cena's gimmick matches in his career. It also felt like his house show matches. If you've seen one of them you've seen them all. Ryback did fine here, but it's not like anybody believed he was ever going to win. They told a good story with some big bumps. The crowd was into it for the most part. I just think it felt flat at times despite going 16 minutes.
After the match, Daniel Bryan went down to the ring. He grabbed the WWE Title from the timekeeper. He went into the ring with the WWE Title. He went to give Cena the title, but then he pulled it back. Then Cena aggressively grabbed the title from Bryan. The show ended with Bryan chanting "yes" in Cena's face.
Analysis: It wasn't a thrilling conclusion to the show, but it showed that Bryan had a lot of confidence heading into the WWE Title match at SummerSlam.
—-
Three Stars of the Show
1. Daniel Bryan
2. Christian
3. John Cena
The Scoreboard
5 out of 10
Last week: 6.5
2013 Average: 5.77
2013 High: 8 (April 8)
2013 Low: 3.5 (January 28)
Last 5 Weeks: 6.5, 6.5, 7, 4.5, 6
After looking at my spreadsheet, I realized that in the last 11 weeks I have only given two episodes of Raw a score that was under 6 out of 10. That shows me that in the last three months Raw has consistently been an above average show. This week was a bit of a downer.
Final Thoughts
That's the first below average score in four weeks. I think Raw was hurt by being a taped show this week. Yes I knew the results going in, but that's not what hurt it. It lacked a freshness that the previous three weeks of Raw had.
There were no compelling promo segments either. I didn't mind the McMahon/Bryan promo to start and I like that Bryan got to be in the ring with the boss like that, but will we remember the promo long after Raw is over? Nope.
The matches were fine. They put ten matches out there. Some were compelling, a few had repetitive rollup finishes and some were booked poorly. None were that memorable.
I missed CM Punk in a match. I missed Antonio Cesaro. I'm wondering why Dean Ambrose has the US Title if he barely defends it. I did like the six man tag, but shouldn't he have title matches once in a while?
It just felt like WWE knew they had to tape four days of TV in four days, so they just threw ten matches out there and none of them really meant anything. It was as if WWE was telling us that this show didn't matter because it was taped.
Next week's show should be much better. This week's show was pretty forgettable.
——
Check out my column looking at if three hour Raw is the best thing for WWE. I actually don't mind it as much as I used to. Better quality shows certainly help.
Please visit TJRWrestling.com because our team of writers are always providing you with great, free content on a daily basis. Also check out my exclusive columns on LayfieldReport.com throughout the week.
Until next time, thanks for reading.
John Canton – mrjohncanton@gmail.com
Twitter @johnreport
Personal Facebook and TJRWrestling.com on Facebook