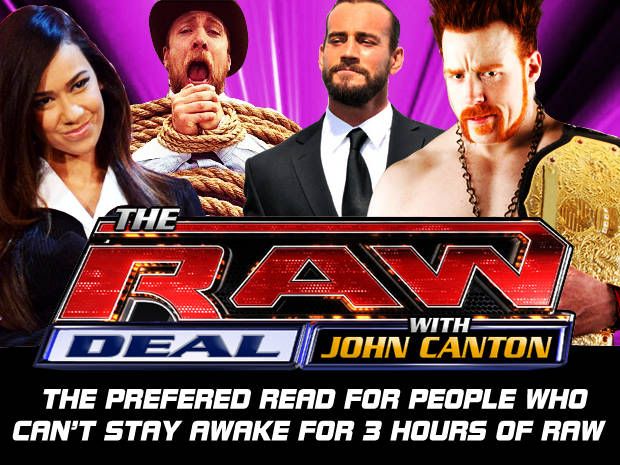 Live from Cincinnati, Ohio this is the Raw Deal for episode #1001.
We were welcomed to the show by Michael Cole and Jerry Lawler. They informed of us a fire that erupted on the stage when they were testing the pyro before the show. It was legit in case you didn't hear about it before the show. They had to let the fans out of the building as they were filing in, but they got back into the building in time for the start of the show. At least it looked like most of them did.
They followed that up with the video package highlighting key happenings from last week's Raw 1000 show. I'm not sure if that was on the original script or they wanted to buy an extra five minutes to organize things backstage because it was likely hectic following the fire, but that's how the show began.
The WWE Champion CM Punk walked out to reaction of mostly cheers as the announcers pointed out that Punk has been silent on Twitter since his actions last Monday when he attacked The Rock. Punk brought up Jerry Lawler's comments last week when he said CM Punk turned his back on the WWE Universe by attacking The Rock. Punk went over to the announce table, sat on it and talked to Jerry Lawler. Punk said Rock showed him – the WWE Champion – a lack of respect. He said Rock interrupted, which nobody should ever do. He complained about Rock barely acknowledging him last week and how he was gifted a WWE Title match. Punk said Rock was lucky he didn't hurt him then and there. He said at the end of the night, Rock tried to make the show all about him and Punk showed him the kind of man he was dealing with. "This is the WWE and I am its champion." That drew a big pop from the crowd. He said we haven't heard from Rock for a week, but when he was battling John Cena you couldn't shut him up. He said Raw 1000 ended like every Raw should end with the focus on the WWE Champion – the best wrestler in the world.
The music of the Big Show started up as CM Punk looked upset that he was interrupted. Show credited himself for CM Punk still being the WWE Champion. He said he knocked out Cena and Punk still couldn't beat him. Punk was about to tap out to the STF and Show saved him. All of that is true actually. Show made a vow that he would be the next WWE Champion. Punk said Show couldn't beat Cena at No Way Out or win the briefcase at Money in the Bank, so the only one that is winning anything in WWE is CM Punk.
John Cena ran down to the ring. He brawled with Big Show. Show shoved him off and bailed to the floor. CM Punk watched it all. Punk looked upset that Cena was there.
Ring announcer Justin Roberts: "Please welcome the new GM of Raw, AJ Lee." They remembered her last name because I guess that sounds more professional. She was wearing a business suit with pants. No Eve-like short skirts for her in the role. I miss Eve in those skirts. AJ announced the main event for Raw as Big Show vs. John Cena. The winner of that match will go on to face CM Punk at Summerslam for the WWE Title. Her "Light It Up" song played twice. I don't mind her at all, but that song is so annoying.
Analysis: That was a good opening segment, I thought. Punk was more of a heel than he was a face, but it wasn't the kind of heel that ripped on the fans or blamed them for things. He was the kind of heel that wanted the attention to be on him because he's carrying around the WWE Title. I can see some people thinking he's not a heel because of it, but to me there's a definite change in his character and I think it will be a gradual change over the weeks to come.
Coming up later a review of the Triple H/Lesnar storyline from last week.
(Commercial)
The "Did You Know?" was WWE kissing their own ass about social media success.
Backstage, Daniel Bryan almost knocked on the locker room door of the Raw GM AJ Lee. Instead he walked away.
Santino vs. Alberto Del Rio w/Ricardo Rodriguez
This was non-title for the US Title of course. Because defending the US Title would mean that they give a damn about the title, but we all know they don't by this point. Del Rio didn't get his car entrance due to the fire by the entrance before the show. Santino knocked Del Rio to the floor and that led to the vintage floor to commercial spot.
(Commercial)
Back from break, Del Rio regained control. Santino ended up getting the advantage, brought out the Cobra and Del Rio ended up countering it by working on the left arm. He threw him into ring post and then slapped on the Cross Armbreaker for the win. The match went about seven minutes or so.
Winner: Alberto Del Rio
Post match, Del Rio bragged about destroying the US Champion. He said Santino is beneath him (literally) and Sheamus is beneath him. All of us people are beneath him too. He said if it's not a World Title match he will not compete. He said starting today he will not compete until Summerslam. Except for house shows of course. I added that last part.
Analysis: *1/2 We only saw about four minutes of in-ring action. I'm not sure why they decided to give Del Rio another title shot at Sheamus when he lost convincingly at Money in the Bank. I know he won a Number One Contender's match on Smackdown, but is there nobody else? Fans don't believe in Del Rio as a World Title caliber performer at this stage of his career. He was last year. Not this year. As for the US Title, they need to get it off of Santino. Put it on somebody that doesn't lose non-title matches all the time. It's a prop. Not a title.
Backstage, we got another shot of Daniel Bryan being nervous about knocking on the door of GM AJ Lee.
A reminder that Big Show vs. John Cena is coming up later.
(Commercial)
Back from break, Brodus Clay was in the ring dancing with the girls. He was interrupted by Vickie Guerrero. She went into the ring and starting dancing badly like Elaine on Seinfeld 15 years ago. Seinfeld is the greatest comedy show ever in my opinion, but Elaine did it better. Vickie was funny, but not that funny. Thankfully this was interrupted by Damien Sandow, who I enjoy watching very much.
They replayed the attack from last week when DX attacked Sandow. Once the video ended, Sandow attacked Clay with a "vicious assault" according to Cole. He broke Clay's necklace over his knee. He left Clay in a heap after his barrage of punches and kicks.
Analysis: Is this a possible feud for Clay? Perhaps. Sandow would be the right opponent for him. Hopefully Sandow wins that feud clean. He has much more potential as a top star.
There was a video recapping the Ziggler/Jericho feud that started last week on both Raw and Smackdown. Jericho is now a babyface. This led to the announcement of a tag match with Jericho & Christian going against The Miz & Ziggler. It's Team Canada (or Bacon Land) versus Team Cleveland.
(Commercial)
After the break, Daniel Bryan finally went into AJ's locker room. He asked her if she was insane. She told him to shut up. "I'm your boss," she told him. She saw a bunch of guys in white coats walking around backstage and she thinks they were from a mental hospital to have her committed. Bryan claimed they were his groomsmen. She told him that she put him in a match against one of his favorite opponents, Sheamus. He asked if it was for the World Title. Her response? No, no, no, no and the crowd cheered on.
I should point out here that "Tonight is the Night" is the new Raw theme song. No more Nickelback. Thank you WWE.
We got a recap of the Triple H/Brock Lesnar angle from last week. It wasn't the first time we would see that video.
For the Sheamus/Bryan match we got to choose on Twitter (not me since I didn't watch live) what type of match they would have: #NoHolds (No Holds Barred), #fallscount (Falls Count Anywhere) and #StreetFight (Street Fight). My immediate reaction this is that they are essentially the same match with slightly different rules, but essentially they are the same because weapons are allowed. Welcome to RAWActive folks where you get to decide match stipulations except the choices they give you are very similar. It's fun for all!
Backstage, Josh Mathews talked to Sheamus. Sheamus thanked AJ for letting the fans vote on what type of match he'd have. After his initial words, he asked Mathews if he was alright because he looked a little nervous. That was odd. They didn't really follow up on that although maybe they will on Smackdown or Raw.
Analysis: The first hour of Raw had seven minutes of in ring action total. Since three minutes of it was during the break, there really was only four minutes of in-ring action. Thankfully it got better as the show went on.
(Commercial)
We were reminded of the fire that broke out by the stage prior to the show beginning. That's why there wasn't any pyro on the show.
Daniel Bryan entered the arena for his match. Bryan grabbed the microphone and told the fans to stop chanting "yes" because only he had the right to do it. The fans kept doing it, so he yelled "no" repeatedly until the music of Sheamus ended that promo. That was a clever promo because now when the fans chant "yes" the announcers can point out that it angers Bryan rather than supports him. In other words it keeps him heel.
As Sheamus entered, they showed clips from Smackdown four weeks ago when Del Rio slammed the hood of a car against the Sheamus. Of course they leave out the part where Sheamus beat Del Rio clean at Money in the Bank. It's "creative remembering" by WWE as usual.
Jerry Lawler stood up to let us know what the match type would be based on the Twitter vote. It was 73% Street Fight, 14% No Holds Barred and 13% Falls Count Anywhere. Do you think anybody that voted NHB or FCA are upset that it lost when we essentially got a match that's similar in rules anyway? No. That's why the voting aspect is a colossal waste of time.
Street Fight Non-Title: Sheamus vs. Daniel Bryan
The fans chanted "yes" from the beginning. Apparently this is a "RawActive" match. Sheamus hit a backbreaker early. Bryan tried to come back, but Sheamus knocked him out to the floor. Sheamus threw Bryan into the security wall. Sheamus gave Bryan a backdrop onto the steel entrance ramp. Sheamus threw Bryan into the WWE sign at the top of the stage. Bryan came back with a dropkick to the knee followed by hard kicks and then a dropkicks that knocked Sheamus down hard. Bryan hit a running knee off the stage where Sheamus was standing and that connected into the head of Sheamus. They went to break with Sheamus out by the ramp while Bryan was in control.
(Commercial)
Back from break, the "RawActive" match continued with Bryan in control in the ring by putting Sheamus in an armbar. Bryan hit a running knee to the gut of Sheamus and then knocked him out of the ring. Bryan went for an attack while jumping off the ring apron, but Sheamus caught him and threw him into the security wall. Sheamus gave Bryan the TEN CLUBBING BLOWS TO THE CHEST (my way of writing it unless I forget next time) and then a suplex. Bryan went into the ring. Sheamus grabbed a chair and kendo stick, but Bryan threw them out of the ring. Sheamus gave Bryan a clothesline over the top to the floor. Bryan came back with the kendo stick. He destroyed Sheamus with it. Remember the Punk/Bryan Money in the Bank match with the awesome use of the kendo stick? That was great stuff. Bryan wedged the steel chair in the turnbuckle. Sheamus grabbed the kendo stick. He attacked Bryan. Bryan was able to avoid it and then he gave Sheamus a dropkick that led to Sheamus' head crashing into the steel chair. That looked like it hurt. Chair shots to the head aren't allowed, but bumping into a chair is allowed. Bryan got a two count out of it. Out on the floor, Sheamus came back with a shoulder block on Bryan followed by a chair shot. Bryan countered a charge by shoving Sheamus into the steel post. Bryan brought the steel steps into the ring. Sheamus recovered quickly, they fought over the kendo stick and then Sheamus set up Bryan for the White Noise on the steps. Bryan shoved him off, but that allowed Sheamus to bounce off the ropes and he came back to knock Bryan's head off (not literally) with the Brogue Kick for the win after 14 minutes of action.
Winner: Sheamus
Analysis: ***1/2 That was a great brawl. I think Bryan is the best opponent that Sheamus has ever had. They have had some really awesome matches with this one and the Extreme Rules match standing out the most to me. I doubt many fans thought that Bryan was going to win this. Bryan's become a guy that has lost a lot of matches of late similar to Ziggler and Jericho (when he was a heel) in the recent past, but that's part of the business. Heels lose. The babyfaces in WWE are so strongly booked that it's the philosophy of the booking team to have the heels lose so much. I don't particularly love the idea, but that's how it is these days in WWE.
There was a replay of CM Punk's promo from earlier when he was talking about The Rock, who was not on this show.
Another reminder of John Cena vs. Big Show coming up later.
(Commercial)
In the ring, Daniel Bryan was complaining about how he hurt his neck and he needs a doctor. He said he wasn't leaving until he talked to a doctor. The referees were trying to calm him down. He wasn't listening to them.
We got another replay of CM Punk's promo from earlier when Big Show and John Cena had a brawl, which led to AJ announcing the main event. Three hour Raw episodes mean a hell of a lot more replays than normal and even on two hour episode they had a lot of replays.
Bryan was still in the ring complaining about his injuries. Kofi Kingston's music started up. He walked out along with R-Truth, who of course held the ropes open for Little Jimmy. Truth said Bryan had to leave because they had business to handle. Bryan talked to Little Jimmy. Then he kicked Little Jimmy and R-Truth jumped out of the ring as if it was legitimate. Nice selling job, Killings. Bryan: "What's wrong with me? You're consoling an invisible child. He doesn't exist. You're consoling an imaginary child. You are out of your mind. You don't belong here." The "guys in white shirts walked out to take care of R-Truth and Kingston. AJ's music started up again (Light It Up for third time) and she told the guys in the white shirts that they should escort Bryan out of the ring. He would be undergoing a psychiatric evaluation. Some of these local indy wrestlers in white shirts are even smaller than Bryan. There's Light It Up for the fourth time.
Analysis: This was silly, but also it was fun. Bryan has shown a lot of depth as a performer of late. A year ago who would have thought he would be a part of so many non-wrestling segments? He's on fire right now. You can argue that he's the best performer in all of WWE. I'd say it's between him and CM Punk.
(Commercial)
Back from break, Michael Cole let us know that Vince McMahon would be on Smackdown to announce a GM of Smackdown. That's a shame. I was hoping there would be no GM because the last few episodes of Smackdown were especially good due to there not being a GM on the show. My guess would be that the new GM is a heel. Perhaps it will be Eve? I have no idea.
They aired some Tout's from fans talking about the CM Punk situation from earlier in the show. Some fans agree with him and some fans don't agree with him. I don't have a Tout account. I'm a writer. I'm not a "look into a camera and talk before the time runs out in 15 seconds" kind of guy. If I worked for WWE I would love it though. Don't blame the performers for pushing it. It's their job.
Kofi Kingston w/R-Truth vs. Titus O'Neil w/Darren Young & AW
Before the match, Truth sat Little Jimmy into a chair at ringside. It hurt my brain just writing that. O'Neil dropped Kingston with a backbreaker. AW was miked up as always and said something really stupid early into this match. He said: "Titus O'Neil is like Kobe Bryant in a hotel in Colorado – he's unstoppable." That's a rape reference since Bryant allegedly raped a woman in Colorado in 2003, which was settled out of court. Rape jokes to get heat? Not a good idea. O'Neil went for a slam, but Kingston countered with a spinning DDT. Kingston came back with a dropkick, clothesline and the Boom Drop to a big pop as usual. Young and Truth brawled, so AW distracted Kingston and that allowed O'Neil to finish off Kingston with the Sky High for the win after 3 minutes.
Winner: Titus O'Neil
Analysis: 1/2* A below average TV match. I assume this will lead to another title shot for the Primetime Players at Summerslam although that wasn't officially announced.
Backstage, CM Punk talked to John Cena in the locker room. Punk thinks Cena would have done the same thing during the match last week when Show attacked Cena. Punk said he had no issue with Cena. He said he respected and liked him. Punk doesn't wish Cena or Show luck for their match later because he doesn't care who wins. Punk said that he knows Cena was upset because he did to Rock in one night what Cena couldn't do to Rock for a full year.
Analysis: That was a full fledged heel promo by Punk. He was a jerk in terms of how he talked to Cena there. He came off as very arrogant and cocky in what he said.
(Commercial)
The "Did You Know" was about how Raw beat every other cable TV show last Monday.
The announcers apologized for AW's rape joke. It even got picked up by TMZ too. If it reaches the mainstream media that could be very bad for WWE. I would imagine AW gets in some heat for this. I doubt that line was approved if they made a point to apologize after the break.
There was a replay of Punk's comment to Cena where he bragged about what he did to The Rock.
Heath Slater was in the ring. There was a video from last week when Lita and her giant boobs beat Slater thanks to the help of some friends, who were WWE Legends. Slater said he was there to challenge any CURRENT WWE superstar to come out there to lose to the one man band. Who will it be?
"I hear voices in my head, they counsel me, they understand, they talk to me." Randy Orton. The six-time WWE Champion, three time World Champion is back after his 60 day suspension due to his second Wellness Policy failure. Of course there was no mention of that suspension or why he was gone in the first place. The ovation for Orton was very big. I don't think a lot of people expected him to be there, so to see him back in action was a welcome sight to the fans. Orton had a slightly different look because he was rocking a bit of a mohawk and there was no more facial hair for him.
Randy Orton vs. Heath Slater
Orton hit some clotheslines followed by his quick powerslam. Orton hit the vintage DDT off the ropes. He finished off Slater with the RKO. The match went about one minute.
Winner: Randy Orton
Analysis: That was fun. It was the perfect way to bring back Orton from a two month absence. It will be interesting to see who he feuds with on Smackdown. I thought it might be Daniel Bryan, but something happened later on this show that changed my mind on that. I'll say this too. That was one of the loudest sustained reactions that Orton has ever received. He got the biggest pop of the night.
In a room backstage, Daniel Bryan was talking to a doctor that was a psychiatrist. He asked him questions about his name, where he's from, if he's a former World Champion, if he's a vegan and then Bryan kept yelling "yes" repeatedly.
Analysis: It was done in a comical way. It got to be annoying by the end, though. There would be follow up segments of course.
Chris Jericho & Christian vs. Dolph Ziggler & The Miz is next.
(Commercial)
Chris Jericho & Christian vs. The Miz & Dolph Ziggler w/Vickie Guerrero
It's Team Canada vs. Team Cleveland, so of course I like Team Canada more. It's a Canadagasm as well. It's the reunion of Vitamin C! Jericho & Christian were tag team champions in the past and they also had a memorable feud in 2004, but the announcers didn't really mention their history. Ziggler didn't want to face Jericho, so he brought in Miz. Eventually they faced off with Jericho knocking Ziggler and also Miz out to the floor. Christian hit a cross body block to take out both guys on the floor. They went to commercial with Miz and Ziggler on the floor for the vintage floor to commercial break.
(Commercial)
Back from break, the heels were in control of Jericho. He tagged in Christian, who went after Ziggler with fast paced offense. Christian's so good in the ring whether heel or face, as is Jericho. That's why they're two of my favorites. Ziggler drove Christian back into the corner where Christian had to deal with Miz and Ziggler ended up dropping Christian with a perfect dropkick for two. That led to the heels isolating Christian for a few minutes. They teased the hot tag a few times. Eventually Christian was able to tag in Jericho. Jericho hit a dropkick on Ziggler while he was on the apron and then he hit a facebuster on Miz. Jericho hit a Lionsault on Miz. Wow he actually connected on a Lionsualt! I guess he can hit it while a face. Christian hit a Spear on Ziggler. Miz drove Christian shoulder first into the turnbuckle. Jericho went for the Walls of Jericho on Miz, but Miz fought out and kicked him in the head. With the ref looking elsewhere, Christian poked Miz in the eye without the ref seeing it and Jericho dropped Miz with the Codebreaker for the win at 14 minutes.
Winners: Chris Jericho & Christian
Post match, the ref raised Jericho's hand. While he was celebrating, Dolph Ziggler hit Jericho with the briefcase in the back of the head.
Analysis: *** That was a very good tag match with all four guys getting a chance to shine. The finish was fantastic because on Smackdown we saw Miz beat Christian by poking him in the eye to get the pinfall. It was a great way to get payback. The announcers mentioned it a little bit, but they didn't expand on it enough by explaining it. I would expect a Jericho vs. Ziggler at Summerslam. It should be outstanding as long as they get 10-15 minutes of in-ring time.
Another replay of the fire that started pre-Raw.
Back to Daniel Bryan with the psychiatrist. He showed him three pictures. He asked Bryan to identify them. After he was done asking, he put the papers down and the three papers together combined to make something resembling a goat face. Bryan yelled at the doctor. He told him he's not a goat face. He said the only thing goat about him is that he's the Greatest Of All Time (GOAT). Bryan asked if Charlie Sheen put him up to this. He said he was the one who was winning. That ended that segment as they closed in on the goat face on the paper.
Analysis: The goat face on the paper was pretty creative. I laughed. Maybe I'm easily amused.
(Commercial)
More Tout reactions from fans.
Tyson Kidd vs. Tensai w/Sakamoto
Kidd got an entrance. Tensai did not. That surprised me. I'm not complaining. There's no bigger Tyson Kidd fan than me. Tensai attacked with power moves early. Kidd came back with a jumping side kick and then a rollup for two. He dropped Tensai with a kick to the face followed by a Blockbuster off the top rope. He covered for two. Tensai came back with the double chokeslam and then the Senton Splash for the win after two minutes. Post match, Tensai continued the attack. He dropped some elbows on Kidd. He followed it up with a backbreaker on his shoulders. The referee reversed his decision and awarded the win to Tyson Kidd via disqualification.
Winner via disqualification due to referee's decision: Tyson Kidd
After that ruling, Tensai slapped Sakamoto in the face. Then he threw him out of the ring.
Analysis: I don't like finishes like that. I thought it should have ended when Kidd hit the Blockbuster off the top rope. Why not have Tensai kick out right after three and then he could have done the attack post match? Having a guy win a match, then lose to referee decision doesn't do much for either guy in the long run.
In the room with Daniel Bryan and the doctor, the doc told him that even though he was angry with a weird obsession with Charlie Sheen (the doc didn't watch Raw last week I guess), he finds Bryan to be 100% sane. Bryan said he was sane. The lights in the room went red. Kane said he was his anger management therapist. He threw him into the wall and into the table. Then he left.
Analysis: As I wrote in my Canton's Corner column on Sunday, I expected there to be a Bryan/Kane match at Summerslam with Charlie Sheen getting involved in the same way Mickey Rourke did with Chris Jericho at WrestleMania 25. I think Kane's better as a heel personally, but he turns face and heel every few months anyway so it's not like it matters. Bryan was fantastic even in these cheesy segments. Like I said earlier, he's in a zone right now in the ring and out.
(Commercial)
The "Did You Know" was about how WrestleMania is still the #1 sports selling DVD in America, continuing to outsell the Superbowl DVD. They spelled Super Bowl that way. That's incorrect. It is two words. Also the Super Bowl had over 100 million viewers. WrestleMania did great numbers, but it didn't even get close to that. Finally, people still buy DVDs? They need to end these "Did You Know" things. They are rarely good or informative.
We got the same Triple H/Brock Lesnar video package from earlier in the show that featured highlights from last week's segment. We get it Triple H, you're important. I was hoping Lesnar would be on every Raw on the road to Summerslam. I guess not. Hopefully he's on next week. I'm a Lesnar fan. Deal with it.
CM Punk made his entrance. It's announcing time! Yep. It's not clobbering time because his role this week is to sit at the announce table.
(Commercial)
Back from break, CM Punk joined Cole & Lawler at the announce table. Punk wasn't wearing an announcer jacket sadly. That's a shame. Lawler said he didn't have a problem with him.
John Cena vs. Big Show in a #1 Contenders Match
On commentary, Punk was ripping on The Rock. They are clearly making it seem like Punk's issue is solely with Rock rather than anybody else. The crowd was doing the "Let's Go Cena/Cena Sucks" chant. Show dominated the action early. Punk ripped on the announce team saying that nobody cared about their opinions and that they should only call the match. Cena gave Show a reverse chinlock, which drew a big reaction. The crowd was awesome all night. The announcers kept arguing with Lawler telling Punk when it comes to The Rock, CM Punk couldn't electrify a toaster if you threw it in a fish tank. That was almost funny. The idea behind the super long chin lock by Cena was that it wore down Show. It led to a pinfall attempt, which show kicked out of by pushing Cena out of the ring to the floor. There's your vintage floor to commercial spot.
(Commercial)
Back from break, Big Show was in control in the ring. He hit a move and then he yelled at the fans. That's the Big Show match formula. Show squashed Cena in a corner with a back splash. Punk pointed out that Show was yelling at him, which made his point because he says he deserves attention and that's what The Rock didn't give him. It's an interesting way to look at things. That's for sure. Cena blocked a Show corner charge by getting his feet up and then he dropped Show with a bulldog variation off the middle rope. Punk kept jawing at Lawler. Lawler said the Championship itself should be respected, but not necessarily the person holding it. That's again a comment you wouldn't hear a babyface announcer say unless he was talking to a heel, which Punk now is. Show gave Cena a bearhug. Cena went for a slam, but Show is too fat so Show fell on top for a count of two. Show went for a clothesline. Cena countered with a DDT. That's an impressive bump by Big Show. That's not easy to do when you're that big. Show came back with a side slam. Show went to the middle rope, for a splash of some kind and of course Cena moved out of the way. Cena came back with a shoulder tackle followed by his spinning slam and the "you can't see me" fist drop. Show popped up easily. He nailed Cena with a Chokeslam. Cena kicked out at two. That was an excellent nearfall. They brawled on the floor. Cena was able to shove Show into the steel post. Moments later, Cena charged at Show, Show avoided it and Cena went flying over the announce table where he went crashing into CM Punk. Show rolled back into the ring while Cena crawled back in before the ref's count reached ten. They were on the floor for nearly a minute yet the ref only counted at the end there. That's called "selective counting" I think. Show went for the KO punch, but Cena avoided it. He put Show on his shoulders for the Attitude Adjustment. That led CM Punk running into the ring. He knocked Big Show down. Then he followed that up with a hard kick to the face of Big Show. The match went 16 minutes.
No winner due to the interference of CM Punk
Analysis: ** The first half of the match wasn't very good. After the break the action picked up, both guys played their roles well and the finish was entertaining even though it was predictable with neither guy getting a decisive win.
Post match, CM Punk grabbed the microphone: "And your winner of this contest is…nobody. They're both losers." He dropped the microphone and left the ring with the WWE Title on his shoulder. It's a scene similar to last week.
The GM of Raw AJ Lee appeared at the top of the ramp as Punk walked by her. AJ said Punk was wrong. "They're not losers. They're both winners. Which is why CM Punk will defend his WWE Championship at Summerslam against the Big Show and John Cena in a triple threat match."
CM Punk walked back out as the camera closed in. We could hear CM Punk yelling at her: "You can't do this to me! I'm the WWE Champion!" She said she's the GM. Punk ended it: "I'm the WWE Champion. Show me some respect. Show me respect!" That's how the show ended with no major overrun. It was right around three hours.
Analysis: CM Punk came off as a conceited jerk to end the show. Of course if you think about what he's saying he makes a lot of sense because there should be a lot of focus on the WWE Champion. It's the way he says it that makes him a heel. That's what you have to look for in wrestling. It's not always about what you say. The way you share your message with the audience is usually the most important factor.
As for the triple threat match at Summerslam, it doesn't surprise me. I think logically it's silly though. Cena won the Money in the Bank. He cashed in the briefcase. He had his match. He lost the match due to Big Show interfering. You shouldn't reward Big Show with a chance at a title shot. Now he ends up getting a shot along with Cena at the same time even though Show technically won nothing to earn it. Considering AJ is a babyface GM she's awfully considerate towards a heel like Show. That doesn't mean she's heel. It's more of a case of flawed logic in the booking, which is a theme that's all too common.
————–
Three Stars of the Show
1. Daniel Bryan – He was phenomenal all night.
2. CM Punk – It's a slow heel turn. I like that. Shades of grey are good.
3. Sheamus – The other half of the best match of the night.
The Scoreboard
7 out of 10
Last week: 6.5
2012 Average: 5.82
2012 High: 9 (January 30)
2012 Low: 3 (July 9)
Last 5 Weeks: 6.5, 7.5, 3, 6, 4.5
Final Thoughts
I give it a 7, which is slightly above what I gave the show last week. It was a different kind of show than last week because there were actual meaningful wrestling matches on this one, which is what I want to see. That's the third above average show in a row. Let's hope that is a recurring trend.
This week on Raw there were 56 minutes of wrestling, 48 minutes of commercials, 13 minutes of entrances & 6 minutes of Brock/HHH promos. The other 57 minutes were spent on other stuff like the opening segment going 15 minutes, video packages, backstage skits and so on. Thanks to my friend "The Stats Man" Matt Davis (@MattDavis70 on Twitter) for the info.
While I am still not a fan of the three hour concept, the pacing of the show was pretty good. My biggest gripes are with all of the video packages we have to sit through showcasing stuff from last week and also all the replays from things we saw earlier in this week's show.
I am disappointed by the lack of divas, however. This has been a common theme on Raw and Smackdown over the last month or two. While AJ is the GM and Vickie gets to be a manager, the other women are not seen at all. Shouldn't a female GM want to give women the chance to be on the show more? Obviously AJ is not booking the show and we all know that, but from the mark perspective she's calling the shots. It's not like they lack time for them. It's a creative issue. It's a damn shame too because women like Beth Phoenix and Natalya especially deserve TV time.
The good thing is there were more time for the matches with three of them getting over ten minutes. There was also some time dedicated to some midcarders, so that's nice to give them that kind of exposure.
My last point is to applaud the Cincinnati crowd for being very loud for the entire three hours. It's not easy to keep a crowd hot for that long, but they were certainly making a lot of noise during the broadcast. Hopefully they are rewarded with more television shows or PPVs down the road because they deserved it with that performance.
————-
That's a wrap for this week. Let's bring it home with some quick plugs.
Check out TJRSports.com for articles covering all sports. Once NFL season starts I'll be posting my weekly picks with two other friends and it will be a lot of fun I'm sure.
If you're looking for a good place to talk wrestling, sports, entertainment, beer reviews (!) and anything else on your mind then check out my friends at The-Oratory.com.
I'm not sure if I'll be doing a Canton's Corner column on the weekend. I have some plans this weekend for the Civic Holiday long weekend here in Ontario, so not sure if I'll have the time to write. Next week's Raw Deal will be written live most likely.
Until next time, thanks for reading.
John Canton – mrjohncanton@gmail.com
Twitter @johnreport
Facebook TJRWrestling.com on Facebook