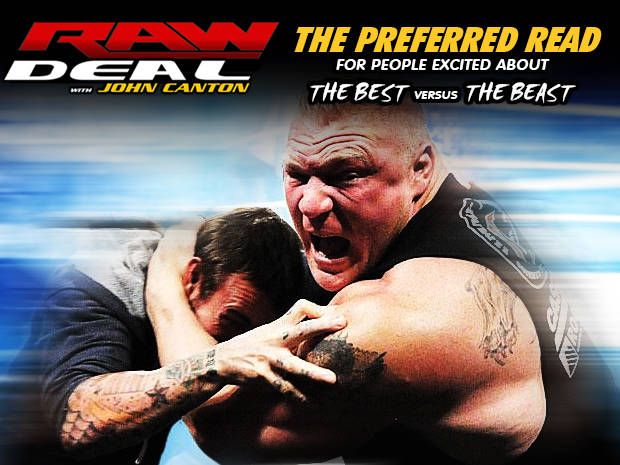 Live from Sacramento, California this is the Raw Deal for episode #1055. Follow me on Twitter @johnreport.
Before we begin, check out my 20 Questions & Answers about SummerSlam column that I posted late Sunday night that covered a lot of the stories heading into next Sunday's big event.
Raw started with Daniel Bryan making his entrance to a big ovation. Wade Barrett was in the ring for a match. It was announced that Raw GM Brad Maddox would be the special ref for their match. The announcers for the show are Michael Cole, John Bradshaw Layfield and Jerry Lawler. A match to start the show? Wow. What a concept!
Wade Barrett vs. Daniel Bryan
As I mentioned, the special ref for this match is Raw GM Brad Maddox. Bryan was on offense early on, but Barrett took control outside the ring by throwing Bryan into the barricade. Barrett threw Bryan into the steel steps. Bryan made the comeback with a couple of clotheslines and then the Flying Goat dive outside the ring onto Barrett on the floor. Back in the ring, Bryan hit a missile dropkick. Bryan hit a series of kicks, then went for a roundhouse kick to the head, which Barrett ducked and then Barrett rolled up Bryan. Maddox did a really fast count, so Barrett won the match due to the fast count. It went about seven minutes.
Winner: Wade Barrett
Post match, Bryan went after Maddox, but he left and went up the ramp to end the segment.
Analysis: *1/2 The match was fine, but nothing special. Maddox didn't do anything to go against Bryan until the end of the match with the fast count. I'm not sure why they thought it would be a good idea to screw Bryan out of a win with a fast count, but it pushes the idea that Maddox wasn't supportive of the idea of Bryan in the WWE Title match at SummerSlam.
Later in the show it's Miz TV with Daniel Bryan and John Cena. It's also CM Punk vs. Paul Heyman. Randy Orton vs. Damien Sandow are up next as they are shown walking backstage.
(Commercial)
Cody Rhodes was at the commentary table. Damien Sandow had a new Money in the Bank briefcase (debuted it on Smackdown last week) and he cuffed it to a turnbuckle cable to make sure that Rhodes couldn't steal it. It's Sandow vs. Rhodes at SummerSlam.
Randy Orton vs. Damien Sandow
Orton hit a suplex early on for a two count. Sandow tried to come back, but Orton hit a dropkick while Sandow was on the apron. That sent Sandow to the floor, so it was time for the vintage floor to commercial break a couple of minutes into the match.
(Commercial)
Back from break, Sandow was in control as he shoved Orton off the apron leading to a hard landing for Orton outside the ring. This Sacramento crowd is pretty quiet. Knee to the ribs by Sandow, then a Russian legsweep and the Elbow of Disdain got a bit of a reaction as he got a two count. Sandow avoided an Orton powerslam and hit a neckbreaker for two. That was a good nearfall. Orton hit his powerslam and then the DDT off the middle ropes to a big reaction. Orton wanted the RKO, but Sandow shoved him off. Outside the ring, Sandow threw Orton into the steel ring post. Back in the ring, Sandow got a two count. Rhodes tried to get the briefcase free from the handcuffs. Sandow yelled at him to stop doing that, so Orton popped right up and hit the RKO to win the match after 14 minutes.
Winner: Randy Orton
Analysis: **1/2 It was an average match. They were given a good amount of time, but the match wasn't that exciting until the last few minutes. Orton tried really hard to get the crowd into it and eventually they woke up. I don't blame Orton. They seem like a quiet crowd at this point. At least they reacted to his signature spots. I'm not sure if Sandow losing here will mean a win at SummerSlam, but I think it's certainly possible.
Rob Van Dam was stretching backstage. There's a 20 Man Battle Royal later in the show where the winner gets a shot at Dean Ambrose's US Title at SummerSlam.
The Shield delivered a promo into the handheld camera. Seth Rollins and Roman Reigns said if there are two men to challenge them for the tag titles at SummerSlam they should step up. Dean Ambrose said everybody runs from him because he's the best champion and he's not worried about who might win that battle royal. Ambrose tried saying that his title was the most important, which is a nice attempt on his part although I doubt any viewers would agree.
Analysis: It was a weird promo because Cole was trying to mention the battle royal and then it just cut quickly to The Shield talking. There wasn't enough of a break in between what Cole was doing and when The Shield began their promo. Perhaps that was intentional to put over the idea that The Shield does what they want.
(Commercial)
They aired the Brock Lesnar promo talking about CM Punk that originally aired on Smackdown. It was really well done with Lesnar using the same tone during the whole promo. No yelling. Just trash talk. I liked it a lot.
In the locker room, Josh Mathews interviewed CM Punk. He mentioned last week when Lesnar told Heyman to say something stupid that led to Heyman's challenge against Punk. Punk said "if you come at the king you best not miss." That's a line from Omar of The Wire, which is my favorite dramatic TV show of all-time. Punk assumed he would see Lesnar later in the night. Punk pointed out that Lesnar said that the beast (Lesnar) was the best. Punk didn't agree: "When everything is on the line, the best is the best."
Analysis: Quick promo. He made his points well. Using a line from The Wire certainly helps. I know he's done it before, but I don't mind. It's always good to me.
The Great Khali, Natalya & Hornswoggle entered the ring for a mixed tag with Khali & Natalya teaming up. They went to break there.
(Commercial)
The Great Khali & Natalya (w/Hornswoggle) vs. Big E Langston & AJ Lee
Natalya got a clothesline on AJ early on. AJ hit a spinning back kick on Natalya while we saw Dolph Ziggler and Kaitlyn watching the match on a monitor backstage. AJ was able to score a couple of nearfalls as Hornswoggle slapped the mat to get the crowd into it. Natalya applied a Sharpshooter, AJ tapped and the referee didn't see it. Natalya thought that was the end of the match, but the ref didn't call for the bell. They repeated the spot with Natalya applying the Sharpshooter and AJ tapped out. It went about four minutes.
Winners: The Great Khali & Natalya
Analysis: Up until the finish the in-ring work was fine, but the finish was poorly done. Clearly the referee (not sure of his name) screwed up the finish there. It looked really bad. If there's a positive it's that Natalya making AJ Lee tap out could lead to a Divas Title match down the road. The match was about the girls.
Post match, Langston hit Khali in the back with a forearm shot. Langston threw Hornswoggle outside the ring. Khali chopped Langston. That sent him outside the ring.
Analysis: Big E and AJ did not look good here at all. Poor booking for them going into SummerSlam on Sunday. Khali handling Langston so easily doesn't really help anybody. If it was Ziggler that dropped Langston then that's fine, but Khali of all people? Weird booking.
Vince McMahon was shown walking backstage. He was headed to the ring for a promo at the top of hour two.
(Commercial)
Check out my exclusive columns on LayfieldReport.com including my recent pieces about Owen Hart vs. Bret Hart at SummerSlam 1994 and Undertaker vs. Edge at SummerSlam 2008. I'll be adding more columns throughout the week over there including five thoughts on Raw and Smackdown as well as NFL related pieces too. It's a cool site with a lot of content, so check it out now!
The US Title match is the SummerSlam Kickoff Match meaning that's on the pre-show. It's a shame the US Title wasn't booked better.
WWE Chairman Vince McMahon entered the ring. He urged the crowd to cheer more. He must not like the crowd reactions either. Vince called out Raw GM Brad Maddox to the ring. Maddox entered and he was still in his referee gear. He told Vince that he wanted to maintain order in the match. Vince mentioned the fast count and Maddox replied by saying that he did the best that he could. Maddox asked Vince for a second chance. He told Vince that he would like to be the referee in the Cena vs. Bryan match at SummerSlam for the WWE Title. Vince asked the fans if they wanted that. They said "no" loudly. Vince asked Maddox if he would be a fair ref and of course Maddox answered everything the way that Vince wanted. Maddox said he would be impartial, he was confident, he crossed his heart, scouts honor and Vince was ready to make it official when the music of Triple H started up.
The WWE COO Hunter Hearst Suit McMahon Helmsley made his entrance in a suit to a big ovation. He said he wasn't there to air dirty laundry, but he agreed with Vince that he needed somebody to take control of the WWE Title match at SummerSlam. Hunter said they needed somebody to call the match right down the line. Hunter said that Vince didn't need somebody like Maddox in that role – he needed him (Triple H). Hunter gave Maddox a Pedigree to end the segment. Vince left angrily while Hunter celebrated. Apparently that makes it official that Triple H is the referee for Cena vs. Bryan at SummerSlam.
Analysis: The segment went about ten minutes and the crowd liked seeing Triple H come in as the babyface executive that made a popular decision. I don't think Cena vs. Bryan needs a special ref, so I'm starting to think that Triple H might turn heel at SummerSlam after Bryan wins the WWE Title. Then Orton comes in, cashes in the briefcase and we find out that Hunter was with Vince all along in not wanting Cena or Bryan to be WWE Champion. I don't want that to happen. I want Bryan to leave SummerSlam as WWE Champion. I'm just saying with Triple H involved now it wouldn't surprise me if he ended up turning heel.
(Commercial)
Kane entered the ring for a match against Titus O'Neil. Before the match started, a video package aired about the Bray Wyatt/Kane feud. Cole said the fire would be on the perimeter of the ring, which might mean it's outside the ring rather than on the ropes like an Inferno match used to be. We'll see it on Sunday.
Kane vs. Titus O'Neil (w/Darren Young)
Kane dominated the match with O'Neil barely getting any offense. Young went on the apron, Kane kept O'Neil in his grasp and gave him the Chokeslam to win the match. It went about one minute.
Winner: Kane
Analysis: A very quick squash match as expected.
After the match, the lights went out and Bray Wyatt showed up on the screen to tell us that they were here. It's so nice of them to tell us where they are. When the lights came back on, Luke Harper & Erick Rowan were in the ring. Kane wasn't there. He was at the top of the ramp. Kane set the fireworks off in the ring as Wyatt laughed at ringside. They went to break.
Analysis: How do you avoid an attack? Get the hell out of the ring. Simple concept. Neither guy gets an advantage going into SummerSlam from this segment although I'll likely pick Wyatt to win that match.
(Commercial)
Backstage, Josh Mathews interviewed Nikki & Brie Bella – the stars of Total Divas. There was a video that showed us when Natalya slapped Brie backstage last week. The Bellas said they were in control of the Divas division. Natalya challenged Brie to a singles match at SummerSlam, which Brie accepted. Eva Marie and Nikki will be in Brie's corner while the Funkadactyls will be in Natalya's corner. Natalya remarked about the slap she gave Brie last week, which led to Brie hitting Natalya with a hard slap to end the segment.
Analysis: It makes sense that they would do that match at SummerSlam since they are pushing Total Divas so much and it's drawing good ratings for WWE on E! Network as well. I can't remember the last time Natalya had a singles match on a PPV, but I'm glad it's happening.
Alberto Del Rio vs. Kofi Kingston
This is not for Del Rio's World Title. About a minute into the match, Del Rio hit a reverse suplex off the top rope for a good nearfall. Del Rio missed a charge while Kingston was in the ropes. Kingston came back with a dropkick and leaping clothesline. The crowd was not into this very much as Kofi hit the Boom Drop. Del Rio came back with a backbreaker for two. Kingston came back with the SOS for a two count. Kingston got another two count on a rollup. Boots to the face by Kingston and then he went for a springboard crossbody, but Del Rio got his knees up to break it. It almost looked like a Codebreaker. Del Rio slapped on the Cross Armbreaker, Kingston tapped out and that gave Del Rio the win after six minutes.
Winner: Alberto Del Rio
Analysis: ** A decisive victory for Del Rio, which is nice to see considering he lost clean to both Rob Van Dam and Christian last week. A champion winning a non-title match is such a welcome change considering they lose so many times in those situations.
Mark Henry was shown stretching backstage in preparation for the battle royal coming up later on Raw.
(Commercial)
There was a video package about Christian's career that highlighted a lot of his championship wins. It's amazing to me that he was healthy earlier this year and they kept him out because they didn't have a story for him. He's a guy that has good matches with everybody, so I'm glad he's in a high profile match at SummerSlam.
In the interview area, Renee Young interviewed Christian. Christian spoke with confidence as he said all he ever needed was just one…more…match. Del Rio walked up to him. He spoke in Spanish and then walked away. No brawl. Nothing. Cole said that what Del Rio said is that after SummerSlam there will be no more matches for Christian.
Analysis: I'm not sure who I'm picking in the Del Rio/Christian match on Sunday. I like not knowing. I'm leaning towards Del Rio, but I could always change my mind when it's time to do the preview column on Friday or Saturday.
Zeb Colter entered along with Antonio Cesaro and Jack Swagger for a tag match. Colter did one of his promos that ripped on the fans. I like his promos, but sometimes I tune out a bit. It's not his fault. I'm Canadian. I don't care too much about American political complaints. Their tag match is after the break.
(Commercial)
There's a SummerSlam press conference on Tuesday at 2pmET on WWE.com and other places. If I'm bored I may write about it.
The Usos vs. Jack Swagger & Antonio Cesaro (w/Zeb Colter)
The heels isolated one of the Usos in their corner right from the beginning, which would suggest a short tag match. Cesaro hit a nice uppercut for a two count. Jey finally made the hot tag to Jimmy who hit Swagger with a superkick and then a Samoan Drop. He hit the running butt attack on Swagger for a two count. Cesaro saved his partner, which led to the Usos hitting dives over the top onto Cesaro & Swagger on the floor. That woke the crowd up a bit. The Usos worked together to prevent the cheating of the heels and Jey made a blind tag, which led to a rollup on Swagger for the win. It went about five minutes.
Winner: The Usos
Analysis: *3/4 Solid tag match. Neither team is involved in SummerSlam in any way, but it was a nice win for the babyface team to give them some momentum. As JBL said during the match, both teams are future tag champs. Of course to get to that point you have to book actual tag team title matches more than WWE currently does. Tag team title feuds would be nice to see.
Miz TV hosted by The Miz with Daniel Bryan & John Cena as guests is up next.
(Commercial)
Miz TV with Daniel Bryan and John Cena
The Miz was in the ring with couches and chairs with him. He introduced Daniel Bryan, who was greeted with many "yes" chants from the crowd. The WWE Champion John Cena made his entrance last. Bryan had on his "The Beard is Here" shirt to counter Cena's "The Champ is Here" shirt. It's now official with Triple H as the referee for the WWE Title match at SummerSlam.
The Miz asked Bryan and Cena their thoughts on Triple H refereeing the WWE Title match at SummerSlam. Bryan was glad that somebody stood up to McMahon so now they can give the fans the match they deserve. Cena said he liked Triple H as the ref because he will make sure order is restored. Miz asked Cena what his real issues are with Bryan. Cena said there's nothing like that – it's about the WWE Championship. Cena picked Bryan because he respects him as an athlete and a competitor that will put up one hell of a fight on Sunday. Miz said that means that Cena obviously doesn't believe Bryan is a worthy competitor. Bryan told Miz to shut up or else he was going to punch Miz in the face. The crowd chanted "yes" at that. Miz is a face, remember. Bryan was offended by "put up one hell of a fight" comment by Cena and he told Cena not to interrupt him. Bryan said that somebody like Cena is in it for the glory and fame rather than being in it for the wrestling like Bryan is. That's why Bryan doesn't have a TV apparently. Bryan said his shirt is a parody of Cena because he thinks Cena is a parody of wrestling. Bryan said he didn't want to be a parody. Bryan said he didn't want to be WWE Champion for the fame or glory, but to prove that when he steps into the ring there is nobody better than Daniel Bryan.
Cena took off his shirt and put the WWE Title on one of the couches. Cena told Bryan he was not a parody. Cena said that the fans believe in Bryan, which is why they chant for him. He claimed that when somebody believes in you that's what drives you to succeed. He put over the fans having the choice to cheer who they want. Cena said his shirt represents loyalty and that he fights for the people that are loyal to him. Cena went all serious on Bryan because he didn't like the way Bryan was talking to him. He referenced "We've Cena Enough" and "Five Moves of Doom" in the promo. Cena mentioned that he showed up every day for the past 12 years for the kid in the crowd with his dad (he pointed a kid out at ringside) and the Make-A-Wish kid named Dakota that he met earlier in the day. Cena told Bryan that he is red hot right now, but he will always have critics. He said Bryan should be proud of himself, but he should know that Cena is proud of who he is and what he has become. What he's become is a man who has spent the last 12 years WRESTLING around the world. Sometimes they cheer, sometimes they boo and for the past 12 years he has stood up to everybody in his way. Cena said he's beaten everybody that has doubted him. He mentioned Triple H, Shawn Michaels, Batista, Randy Orton, CM Punk, The Rock and Bryan cut him off. Cena said that Bryan may be on his way to greatness, but he doesn't belong in that class yet. Cena told him that respect isn't given, it is earned. He told Bryan that if he gets the WWE Title then he earns Cena's respect.
Bryan said that Cena just proved he doesn't respect Bryan. He claimed that Cena didn't respect Bryan the way he respected those guys. Bryan told Cena he can't understand how hungry Bryan is. For Cena this is just another SummerSlam, but "for me this is the biggest match of my life" according to Bryan. Loud "Yes" chants from the crowd. Bryan spoke about something they did in Japan to get people psyched for big matches by slapping somebody hard in the face. He wants to do that to Cena, but he can't because Cena is not a wrestler and he didn't deserve it. Cena wanted Bryan to do it. Cena slapped Bryan in the face. Bryan told Cena that he didn't deserve it.
Triple H's music started up and he marched down to the ring. With Triple H standing in between both guys, Randy Orton's music started up as he stood on the ramp with the Money in the Bank briefcase in his hands. That ended the segment.
Analysis: That was an outstanding segment that went about 20 minutes. I hope my recap did it justice because it's hard to capture everything they said. Both Cena and Bryan were given plenty of time to get their points across. Cena was actually booked the way he should be as he gave a serious promo talking about how much he cared about being the WWE Champion because of the fans that believe in him. It felt personal when he brought up meeting a Make-A-Wish kid before the show too. Wrestling is at its best when it feels real. Cena's words felt that way. It's certainly better than his manufactured promos with bad jokes and silly smiles. He took this promo serious and it worked perfectly.
As for Bryan, I loved his promo as I'm sure most internet fans did as well because he made it a point to mention that he was a WRESTLER rather than a guy that was just an entertainer like he believes Cena to be. I liked how he made a point to say that Cena couldn't relate to Bryan because this is just another SummerSlam for Cena while Bryan would be competing in the biggest match of his life. This was a MONEY promo by both guys. WWE already has my money for SummerSlam, but I think this promo is going to help convince those who may have been on the fence thinking about it. I don't rate promos using star ratings. However, I think this was outstanding and as good as any pre-match promo segment in a very long time. Both guys did a tremendous job.
It's CM Punk vs. Paul Heyman later.
(Commercial)
Back from break, Fandango made his entrance. Before he could finish his dance in the ring, R-Truth's music started up as he made his way into the ring. Fandango's music began again as he danced with Summer Rae. R-Truth did a dance of his own to his song. R-Truth attacked Fandango with punches and then a jumping side kick. Fandango grabbed a microphone, said "it's Fandango" and then his music played while he was outside the ring. There was a ref in the ring, but there was never a match.
Analysis: A waste of two minutes. Filler. Perhaps they were supposed to wrestle for a few minutes, but due to the previous segment they had to cut it back a bit. I'm not sure. Neither guy is involved in SummerSlam, so not a big deal either way.
Ryback was shown walking backstage to take part in the 20 man battle royal.
(Commercial)
In the locker room, Paul Heyman told his client Curtis Axel that he was having second thoughts about the match against CM Punk. That was a quick segment just to show that Heyman was looking nervous.
There were entrances for the Battle Royal with the winner getting a shot to wrestle Dean Ambrose for the US Title prior to SummerSlam: Rob Van Dam, Brodus Clay, Tensai, Heath Slater, Drew McIntyre, Jinder Mahal (I have a fantasy NFL team named Don't Hinder Jinder!), Ryback and then they went to commercial.
Analysis: Multiple segments for a match that won't even be on the actual SummerSlam pay-per-view event.
(Commercial)
The ring was full of superstars when Mark Henry's music started up. He was the last entrant in this match. He received a WWE Title shot last month at Money in the Bank. Now he's competing to be on the pre-show. That's a big fall down the ladder.
Twenty Man Battle Royal for US Title Match at SummerSlam Kickoff
Ryback quickly eliminated Justin Gabriel, Darren Young and Tensai. 3MB eliminated one of the Usos. For about three minutes there were no eliminations until R-Truth eliminated Fandango. Fandango went back into the ring to eliminate R-Truth. RVD threw Fandango out again. It never made sense to me that you could get eliminated, then go back in and throw somebody out. That should be illegal. It's not a big deal. Anyway, five minutes into the match they went to commercial with about 14 people left.
(Commercial)
Back from break, there were several eliminations as all three 3MB guys were eliminated as well as The Great Khali by Ryback. Cesaro & Swagger eliminated one of the Usos. The people left right now are Mark Henry, Jack Swagger, Antonio Cesaro, Titus O'Neil, Rob Van Dam, Wade Barrett, Ryback and Kofi Kingston. RVD eliminated O'Neil with a kick and then a clothesline. Kingston did a sunset flip over the top and held onto Cesaro to make sure he didn't get eliminated. Swagger worked with Cesaro to eliminate Kingston with a clothesline. The replay showed the Kingston spot and it was very impressive. Ryback destroyed RVD with a clothesline. Henry eliminated Cesaro and Swagger at the same time.
The final four are Ryback, Mark Henry, Rob Van Dam and Wade Barrett. Henry quickly eliminated Barrett by throwing him over the top. Ryback and Henry faced off. Henry put Ryback on the apron, RVD got a kick in and then Henry knocked Ryback off the apron to eliminate him. It was down to RVD and Henry as the crowd cheered these two fan favorites. RVD went to the top, Henry tripped him up and RVD was on the apron. Henry charged in, RVD ducked and Henry went over the top to the floor. RVD won the match after 14 minutes. The crowd liked that.
Winner: Rob Van Dam
Analysis: ** It was a basic battle royal. Very slow and boring early on. The pace picked up. RVD was the most popular guy in there. That entire thing counting the pre-match intros took about 20 minutes that will ultimately lead to a 7-10 minute pre-show match that has less than a week of build. It would be nice if they did this match a week earlier so they could actually create a feud building to RVD vs. Ambrose. It reflects a lack of long term planning to me.
Post match, Henry bumped fists with RVD as a sign of respect. The Shield's music started up as Seth Rollins, Dean Ambrose and Roman Reigns made their entrance through the crowd. RVD and Henry stood side by side in the ring. The music of the Big Show started up. Rollins had a look on his face as if to say "oh shit" as Show slowly made his way down to the ring. Show stood in the ring with Henry and RVD. The Shield left through the crowd.
Analysis: Show's return was rumored online for a few weeks. I don't know if it will lead to a match at SummerSlam because the card seems pretty full at this point. It looks like they're building up a Henry/Show alliance to go against The Shield. Big Show turns every year, so now he's back to being a babyface after turning heel last year.
CM Punk vs. Paul Heyman is up next.
(Commercial)
Paul Heyman made his entrance to no music. He wore pants, a vest and a dress shirt. Heyman taped up his hands/wrists too so he could look the part of a wrestler, I guess. He walked out alone. It's 11pmET as Heyman was handed a microphone. Heyman blamed the WWE Universe for what's happened between Heyman and Punk. He says Punk used to live for Punk's respect, but now he lives for our (the fans) acceptance. "You took CM Punk away from me." He said that he was going to take our worship of CM Punk away from the fans. Heyman admitted that this was a trap like we all expected it to be. Heyman claimed that it was a conspiracy with a co-conspirator, which led to Heyman introducing us to his best friend in the world: Brock Lesnar.
Brock Lesnar made his entrance to the ring. Before we got to see their plan take effect, Heyman presented a video package for his best friend Lesnar. The video showed the brawls between Lesnar and Punk over the last month. Heyman credited Lesnar for coming up with this idea. Heyman said he was willing to fight CM Punk right now in a 1 on 2 handicap match against Heyman and Lesnar. Heyman called Punk a stupid hero if he came down there to fight. If Punk didn't show up then he would disappoint each and every one of the fans. Punk had to decide if he wanted to be a "smart coward" or "stupid hero" as Heyman put it.
CM Punk's music started up and he made his way through the crowd. Punk grabbed a camera from a cameraman on the apron and he hit Lesnar in the face with the camera. He hit Lesnar in the back with the camera. Lesnar was outside the ring when Punk hit a dive outside the ring that took down Lesnar. Punk hit Lesnar in the back with two chair shots. Punk turned his attention to Heyman in the ring as Heyman looked scared at the sight of Punk with a chair.
Heyman went up the aisle where Curtis Axel showed up to take a beating from Punk. Punk threw Axel into the screen at the top of the ramp. Punk hit Axel with the GTS at the top of the ramp. The crowd chanted "CM Punk" as Punk stared down Lesnar from the top of the ramp. Punk said he was the best in the world as his music played and Raw ended with Punk the victor in this battle.
Analysis: It took them a while to get to the physical part of the segment, but when they got there it worked. I don't know if Heyman needed to talk for ten minutes and if they needed to do a video package. However, once Punk jumped into the ring it really worked well. Lesnar did an awesome job of selling the attack. He didn't pop up at any point. As Punk celebrated at the top of the ramp, Lesnar was down at ringside feeling the effects of the attack. That's important because it shows that Punk can weaken him.
I'm surprised that Punk ended up with the upper hand because I figured that he would go over on Sunday. Now I'm not as sure because then I would have to abandon my "lose or get beat up on TV, win on PPV" theory and I really don't want to do that. Punk should win and he should hit Heyman with the GTS. Will he? I'm not so sure.
Also, if you actually thought Heyman would wrestle Punk then you really haven't been watching wrestling long enough. I don't know what else to tell you.
—-
Three Stars of the Show
1. Daniel Bryan – Money promo.
2. John Cena – Serious Cena is outstanding at selling a big match.
3. Paul Heyman
The Scoreboard
7 out of 10
Last week: 6
2013 Average: 5.81
2013 High: 8 (April 8)
2013 Low: 3.5 (January 28)
Last 5 Weeks: 6, 5, 6.5, 6.5, 7
Final Thoughts
I'm not sure if that 7 out of 10 is going to be viewed as too high or too low by the people reading this column, but I think the promos were excellent throughout the night. The last Raw before a PPV is about selling the event and in my opinion this week's Raw did a wonderful job of getting us ready for SummerSlam.
The two major feuds in WWE right now are John Cena vs. Daniel Bryan and CM Punk vs. Brock Lesnar. I thought both of them were furthered in this program.
I don't really like Triple H as the ref in the Cena/Bryan match at SummerSlam. As soon as I heard it my immediate thought was "angle alert" because it's likely going to lead to something to further this storyline.
The reason this week's Raw didn't get higher than a 7 is because the matches really didn't add much. I won't remember any of the matches five minutes after I post this because they really didn't matter. Maybe we've been spoiled by great matches on Raw so much this year that I expect to be able to talk about one or two matches that were excellent, but this week it wasn't about that.
I think some of the midcard feuds could have been furthered a bit better. Dolph Ziggler and Kaitlyn had no role other than watching on a monitor backstage. Christian didn't appear except in a video package as well as a very short backstage promo. We don't really know if there's a tag title match at SummerSlam or if it was an empty challenge. The US Title story was thrown together this week. Natalya vs. Brie Bella was just added this week too. I know that on Smackdown they will have a chance to further some of these stories, but I'm not sure why they needed filler segments throughout the show instead of pushing the people actually involved in SummerSlam matches.
Ultimately, that's all a minor gripe. It was an above average edition of Raw that set the stage well for SummerSlam. I'll have more thoughts on everything later in the week with the SummerSlam preview.
——
I'll be back with the SummerSlam preview along with Andrew & Christian likely on Friday afternoon or Saturday morning if we feel the need to wait until after Smackdown has aired. Then on Sunday night I'll write about SummerSlam live on TJRWrestling.com and post it on other sites Monday morning too. I have some other big columns in the works that I'm already starting on, so it's going to be a busy couple of weeks for me. I hope you're as excited about it as I am.
Please visit TJRWrestling.com because our team of writers are always providing you with great, free content on a daily basis. We also have revamped and re-staffed TJRSports.com with writers that cover like MLB, NFL, tennis, NASCAR and plenty of world football/soccer too.
Until next time, thanks for reading.
John Canton – mrjohncanton@gmail.com
Twitter @johnreport
Personal Facebook and TJRWrestling.com on Facebook
TJRWrestling.com and TJRSports.com