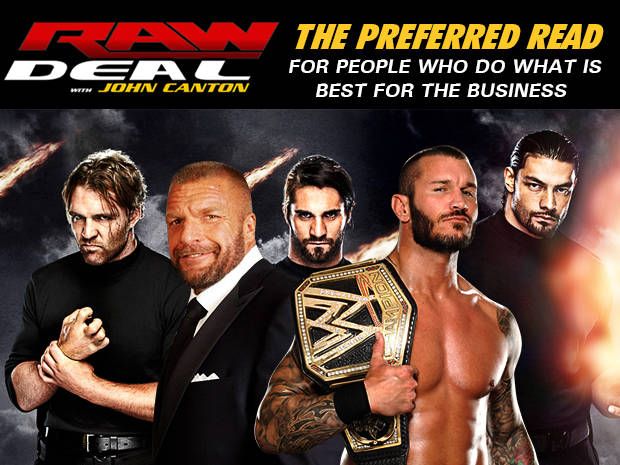 Live from Phoenix, Arizona this is the Raw Deal for episode #1057. Follow me on Twitter @johnreport.
WWE COO Triple H entered the arena to start the show. The Shield were standing outside the ring as security. The announcers for the show are Michael Cole, John Bradshaw Layfield and Jerry Lawler.
Triple H showed us a video of what happened at SummerSlam and also Raw. He said what happened at SummerSlam was business, but what happened at Raw was personal. Hunter claimed that Bryan made it personal last week on Raw when he insulted his wife Stephanie and his family. He said that he was willing to work with Bryan. Hunter talked about the ratings being "through the roof" last week. Every indicator that they have shows that business is booming and that is all due to one man: Randy Orton.
The WWE Champion Randy Orton made his entrance to mostly boos from the crowd. Hunter told him that he had a gift while the crowd chanted "no" to that idea. Hunter said the gift was a Cadillac Escalade. The car showed up by the entrance ramp. It's a very nice car. For some reason they played Triple H's music during that car reveal. Orton thanked Hunter for having the business acumen in realizing that Orton was the right choice for WWE Champion and face of the WWE.
Daniel Bryan showed up on the stage. He said the Escalade was much nicer than Bryan's Honda Fit. Good line. Bryan thanked the WWE Universe for believing in him because he's not the prettiest like "twinkle toes" Orton. They chanted "yes" as Bryan also thanked John Cena for giving him the opportunity to wrestle for the WWE Title at SummerSlam. Lastly, he wanted to thank Triple H for ending the charade and showing his true colors at SummerSlam. He called Hunter a "sellout in a suit" even though he was a rebel against authority earlier in his career. Orton told Bryan not to talk like that to them. Bryan said at Night of Champions when he gets his rematch the face of Orton will be re-arranged. Bryan said Hunter's vision will be re-arranged because Bryan will be WWE Champion and everybody chanted "yes" for that.
Hunter mockingly sang "when you wish upon a star" while telling Bryan he was not an A player like Orton – he's just a B at best. Last week it was B+, so he's downgraded? Triple H just made Bryan vs. Seth Rollins for later in the show. If he beats him then Bryan gets Dean Ambrose. If he gets by Ambrose then he gets Roman Reigns. It's a Gauntlet Match against The Shield. Hunter said he believes this is what is best for business. That ended this 18 minute opening promo.
Analysis: It was a long promo especially when Triple H was rambling on, but that's something he always used to do when he was wrestling as a heel too. I didn't hate it, though. It all made sense. Orton didn't talk too much, which is fine. Bryan showed a lot of fire like usual in delivering the babyface promo that saw him suck up to the crowd and throw in some sarcasm to the heels. I'm a big fan of the Gauntlet Match too. Daniel Bryan wrestling more than once is always fine with me.
CM Punk vs. Curtis Axel coming up later. Vote for the stip on the app: No Heyman at ringside, Heyman special ref, if Punk wins then Heyman has to go in the ring with Punk.
Analysis: My immediate thought was the third one will win. That's the one that favors the babyface the most. At least it's better than their usual stipulations.
(Commercial)
Fandango (w/Summer Rae) vs. Cody Rhodes
Damien Sandow is on commentary. Rhodes beat Sandow clean twice last week, but apparently the feud is still going on. Rhodes hit a front suplex and then Fandango kicked him in the face. Fandango's music started up, The Miz showed up with a dancer (Rosa Mendes) and then Rhodes rolled up Fandango to win. It was one minute.
Winner: Cody Rhodes
After the match, Sandow ran in the ring to attack Rhodes. Miz ran in to save Rhodes. GM Brad Maddox made the obvious tag match. He called himself DJ Maestro Maddox. Cue the Teddy Long tag match jokes. They went to break.
Analysis: That whole thing felt rushed, but it was done to set up the tag match.
(Commercial)
Cody Rhodes & The Miz (w/Rosa Mendes) vs. Damien Sandow & Fandango (w/Summer Rae)
Miz has Fandango-like pants. Rosa is looking lovely in a red dress. Sandow hit the Elbow of Disdain on Rhodes. Rosa was jumping outside the ring, which was a phenomenal idea and should be a three hour television show. Miz tagged in to get a nearfall for his team. Dropkick to the knee by Miz. Fandango walked up the ramp with Summer Rae because that's what he likes to do. Rhodes tripped up Sandow so Miz gave Sandow the Skull Crushing Finale to win the match. It went about four minutes.
Winners: Cody Rhodes & The Miz
Analysis: *1/4 Short match. Fandango's a horrible partner like usual (he loves to walk out of matches) and the good guys were able to get the victory. Both rivalries look like possible matchups at Night of Champions although none of them are holding titles.
Post match, Fandango said "it's Faaaaan-daaaan-goooooo" and then his music played even though he walked out on the match.
Analysis: Way to pay tribute to the loser, guy in charge of music.
They recapped the poll for Punk vs. Axel with Lawler saying he wants to "see" our vote meaning he wants "C" to win for Punk to get Heyman in the ring.
(Commercial)
I was informed that Antonio Cesaro vs. Dolph Ziggler took place as part of the Superstars taping earlier in the night, so I will definitely seek out that match later in the week.
There was a video package for Los Matadores, who are Primo & Epico in new gimmicks.
Christian was interviewed by Josh Mathews. He was asked about Triple H's direction for WWE. Christian says he lived through the Attitude Era, but before he could get through his promo Randy Orton walked up. He said he's going to beat Christian tonight. Christian said that Triple H liked to play with sledgehammers, but now he's found a new tool. In other words, he called Orton a tool.
Analysis: Orton vs. Christian round 473? Fine with me. They had what was arguably the feud of the year in 2011 with several great matches. I'm a fan of their matches.
Backstage, Paul Heyman and Curtis Axel were complaining about the vote. Why would a heel GM set up a poll to favor a babyface? Axel said Punk can't outwrestle him. Heyman was nervous while Axel was confident. Lawler reminded us about the stipulation. The match is next.
(Commercial)
Curtis Axel entered the ring alone. No Paul Heyman with him. CM Punk received a big ovation like usual. Heyman showed up on the stage. The poll results are in as revealed by Jerry Lawler: 81% voted that Heyman has to go in the ring with Punk if Punk wins the match.
CM Punk vs. Curtis Axel
Punk was the aggressor early on. Heyman remained at the top of the ramp. Congrats to "Los Matadores" for trending. Punk ran after Heyman, but Axel cut him off. They went back to the ring where Punk had the advantage again. Axel went to the floor, so Punk took him down with a dive through the ropes. They went to break there for the…wait for it…vintage floor to commercial break.
(Commercial)
Heyman looked worried at the top of the ramp as Axel hit a clothesline to Punk's back. Punk hit a cross body block for two as Heyman got closer to the ring. JBL mentioned Chris Brown and Rihanna getting back together, so maybe Heyman can with Punk. Odd silence by the other announcers. Axel hit a couple of back suplexes as we hit the top of hour two. Punk came back with a spinning neckbreaker for two. Punk hit a top rope elbow for two. Axel hit a one handed neckbreaker of his own for a two count. Axel stood over Punk, so Punk came back with a GTS to win the match after ten minutes.
Winner: CM Punk
Post match, Punk stared at Heyman with a big smile on Punk's face.
Analysis: **1/2 The match was fine. I don't think anybody believed Axel had a shot, which is why his nearfall attempts didn't garner much of a reaction. Every time Punk came close to winning the crowd was into it because they want to see Punk kick Heyman's ass. Punk getting the win with the popup GTS was a nice finish out of nowhere.
Heyman tried to leave, but two referees made him go into the ring. Heyman ran to the back again and security guys brought Heyman down to the ring. Heyman said he was sorry. Punk threw Heyman into the ring. As Punk got his hands on Heyman, Axel nailed Punk with a low blow. Loud "ooooohhhhh" from the crowd on the replay. Heyman gave Axel handcuffs, so Axel cuffed Punk's hands behind his back. Heyman slapped Punk repeatedly. Punk destroyed Axel with a kick to the head. Punk kicked Heyman in the legs a few times before Axel came back with a chair shot to Punk. Axel grabbed a kendo stick from under the ring. He gave the kendo stick to Heyman, so Heyman hit Punk in the back with the kendo stick. Heyman said he loved Punk, he martyred himself, said Punk was everything to him and with all his words he destroyed Punk with kendo stick shots to the ribs after Axel held him up against the ropes. Outside the ring, Heyman hit Punk with more kendo stick shots. Heyman to Punk: "I gave you my heart – you broke my heart. I loved you!" After several minutes finally Punk was tended to by doctors and referees while Heyman walked away with Axel.
Analysis: That was pretty damn great with Heyman in particular doing an awesome job of showing the right emotion. He's such a dirty, slimy heel. Fans hate him. Great character. Axel gets his heat back after the loss. It sets up a match at Night of Champions between them even though Punk is obviously above the Intercontinental Title. The post match attack took nearly ten minutes. The security guys were there to bring Heyman into the ring, but they weren't there to break up any fights. Heyman was great in yelling at Punk as he destroyed him with the kendo stick. Axel did fine, but everybody knows the real feud is Punk vs. Heyman. I don't know if the fans really believe in Axel because he doesn't have enough big wins yet. Punk did a good job of getting his ass kicked. Last week he had the upper hand. This week it was Axel and Heyman's turn. Even booking.
(Commercial)
Punk was shown getting helped from the ringside area.
Jojo from Total Divas is the guest ring announcer for the divas match. It's Natalya with the Funkadactyls against Brie Bella with Eva Marie and Nikki Bella.
Natalya (w/The Funkadactyls) vs. Brie Bella (w/Nikki Bella & Eva Marie)
It's a Total Divas rematch from SummerSlam, which was won by Natalya. Brie got a chinlock, but Natalya fought out of it quickly with the Sharpshooter. Nikki helped her while Eva Marie distracted the ref. Brie came back with the X-Factor to win the match in about one minute.
Winner: Brie Bella
Analysis: Very short match. Maybe five moves total. I figured Natalya would get another win so she could be AJ's opponent for the Divas Title at Night of Champion, but instead Brie got her win back.
Divas Champion AJ Lee showed up on the ramp to recap Total Divas by ripping on all of the girls. "It's the end of the world and it's only Sunday nights on the E Network." All the women were still in the ring and at ringside. AJ said they were cheap, expendable, useless women and said they weren't gifted to be actresses or talented enough to be champions. AJ said she's done more in one year than all of them in their careers. AJ said she gave her life to this while the others were just handed 15 minutes of fame. Of course Natalya and Brie are former Divas Champions, but maybe we shouldn't remember that. AJ claimed that she earned the championship while those women won't be able to lace up her Chuck Taylor's (shoes). She called them all worthless women that will never be able to touch her. That's the reality. She dropped the microphone as if it was a pipe bomb. During the whole promo, the Bellas were yelling from ringside. They were very annoying.
Analysis: That was a strong three minute promo from AJ. Better than most diva promos, that's for sure. She covered a lot, it didn't drag on and a lot of it made sense. There were even some cheers from the crowd who might be sick of all the Total Divas plugs that WWE does. Some of the promo was a bit off because women like Natalya and Brie have won the Divas Title while being in WWE for many years, but I get the point that AJ was trying to make. We still don't know what her match is for Night of Champions, but a match involving multiple women certainly seems possible. I liked how AJ dropped the microphone similar to a CM Punk "pipe bomb" promo. Nice touch to end it. My only gripe is that the audience was cheering some of it meaning she was too much of a "cool heel" and not getting enough heel heat from it. Perhaps they should have had Natalya fire back with a comment because the seven women at ringside all looked dumb as they listened in to this. Then again maybe it was better for it to go as it did because as I write this early Tuesday morning there's definitely a buzz on the internet about it.
It's Rob Van Dam vs. Alberto Del Rio after the break.
(Commercial)
They got their full entrances with Ricardo Rodriguez introducing Rob Van Dam as his new buddy.
Rob Van Dam (w/Ricardo Rodriguez) vs. Alberto Del Rio
RVD hit Del Rio with a kick that sent Del Rio to the floor. One minute into the match they went to break for the…wait for it…vintage floor to commercial break.
(Commercial)
Del Rio was in control as the announcers told us that Brad Maddox made the decision that if RVD beats Del Rio here then he gets a World Title match at Night of Champions. If you can't figure out the finish after that you need to think harder. Del Rio did some ridiculous stalling, which led to a RVD kick to the face. RVD hit the Rolling Thunder for two. RVD hit the split legged moonsault for two. Jumping side kick by RVD. Del Rio tripped up RVD on the top and hit the enziguiri kick to the back of the head. The pace was picking up here. Rodriguez stood on the announce table encouraging RVD chants, which distracted Del Rio. That led to RVD rolling up Del Rio using his legs and that was enough for the victory after ten minutes.
Winner: Rob Van Dam
Analysis: **1/2 I liked the pacing of the match towards the end. It really picked up as both guys got some great nearfalls in there. Del Rio didn't really work on the arm for the Cross Armbreaker, though, which made it obvious that RVD was going to win. Of course the Maddox announcement plus the match being non-title also made it obvious. I looked it up and RVD beat Del Rio three weeks ago on Raw too. I'm tired of seeing champions lose so many non-title matches. It makes the champions look like losers. This was the second champion that lost a non-title match on the same show.
There was a recap of John Cena's arm injury that required surgery on his torn triceps. There was a pic of Cena after surgery with Dr. James Andrews. Cena tweeted that therapy is underway. He will be out 4-6 months and plans on coming back "stronger than ever."
Analysis: I don't think he'll win the Rumble, but I think a Cena return at the Rumble makes a lot of sense if he's able to make it back in time. That's also the time when Sheamus could be back from his shoulder surgery. Two big names are out. Time for others to step up.
(Commercial)
Backstage, Ryback bullied Josh Mathews as Josh tried to interview him. He grabbed him by the face, then dropped him. He told Mathews he found a way to shut him up as he shoved him to the ground. There's Lawler with the "Be A Star" campaign mention like he always does.
Analysis: They rarely book Ryback in matches of late. He just gets these bullying segments. Hopefully there's a point to all of this very soon. My guess is that they'll have him bully a "rookie" backstage that ends up being a guy from NXT that debuts that way. I hope it's Sami Zayn. He's incredible. But I really don't know what the plan is.
There was a recap of the Punk/Heyman/Axel segment from earlier with another replay of Punk's injured back.
The lovely Renee Young interviewed Heyman and Axel in the backstage area. Axel said what happened is something that Punk will never forget. Heyman said Punk is like a petulant child that needs to get punished. Heyman looked like he was crying. He said he felt like a man who put his prodigal son in place. "Now my prodigal son CM Punk will learn that Paul Heyman is the last person he should ever come up against." They got into a car and left.
Analysis: Heyman's promo delivery is outstanding. I say it every week, but it's worth repeating. He's incredible at everything he does in terms of his promos. He even had tears in his eyes as he delivered that promo. It was perfect.
Christian made his entrance for the match against Orton. They went to break there.
(Commercial)
The WWE Champion Randy Orton heard voices in his head as he made his entrance at the top of hour three.
Randy Orton vs. Christian
This is not for Orton's WWE Title of course. Orton wanted the DDT off the ropes, so Christian gave him a back body drop over the top to the floor. In the ring, Christian hit a reverse DDT for two. Orton took control to get some nearfalls and even busted out a headbutt for a two count. Orton grabbed the chinlock a couple of times, which is not something he did as a face. It's more of a heel move to get the crowd into it as the babyface fights back. In Orton's previous heel run he used to do the chinlock too often, but he's better in the ring now. Christian was going for a move off the middle rope when Orton shoved him over the top to the floor for the vintage floor to commercial break.
(Commercial)
Back from break, Orton had Christian in another chinlock. Christian went to the top, but Orton cut him off and hit a superplex off the middle rope. Christian got a quick inside cradle for two. Orton hit a clothesline, but then Christian stunned him on the top rope and Christian hit a cross body block for two. I love how Orton leaped ever so slightly to make it look even more impressive. They each got a couple of nearfalls. After they countered some holds, Christian hit a Tornado DDT that looked like it hurt more than it should as Orton landed hard. After a Christian punch outside the ring, Orton hit the DDT off the ropes. Christian shoved Orton as Orton went for the RKO. Christian hit a Spear for a great two count. The crowd bought into that one. Christian wanted the Killswitch, but Orton shoved him into the turnbuckle where the ref was. With the ref momentarily stunned, Orton gave Christian an eye poke. RKO by Orton gave him the victory after 16 minutes.
Winner: Randy Orton
Analysis: ***1/2 These two always have great matches and this was no exception. In 2011 their feud was the highlight of that year (along with the Summer of Punk) with Christian in the heel role while Orton was the face. This time the roles were reversed, but the chemistry was there. I complain about the booking of champions in non-title matches a lot because they are made to look weak when they constantly lose. In Orton's case, he looked strong as the crafty heel that used the eye poke to get the win.
After the match, Daniel Bryan appeared on the screen in front of Orton's new car. He said it was a pretty car for a pretty man. He revealed that he had spray painted the word "yes" all over it. The crowd chanted along with Bryan as he read every instance of "yes" on the car.
Analysis: That was a fun babyface segment. We've seen things like that in the past like when Kofi Kingston threw paint on Orton's car or Cena and Cryme Tyme doing it to JBL's limo. Also many instances with Steve Austin tormenting guys like Vince McMahon and The Rock. It's fine to recreate angles like that as long as you don't do it too often. Bryan has to get his heat back once in a while, so that's a good way to do it. Some were calling it a "Yescalade" after it happened. That's too cheesy even for me.
(Commercial)
In the backstage area, Brad Maddox told Hunter and Randy Orton that people in the locker room were laughing when they saw this. Hunter said this was his personal property because he gave it to Orton. Hunter ordered Brad to tell the locker room they had to stand on the ramp to watch what happened to Bryan later. If they tried to get involved later then they would personally be fired by Hunter. Brad left. Randy told Hunter that Daniel was going to pay for this.
Analysis: It was a good setup for the main event later. The other wrestlers would be at the top of the ramp during the main event. Would they interfere? It's a good reason to tune into the main event.
Prior to the next match, Zeb Colter cut a promo ripping on the Prime Time Players.
Titus O'Neil (w/Darren Young) vs. Jack Swagger (w/Antonio Cesaro & Zeb Colter)
Swagger hit a running knee to the gut. He hit a back suplex for two. Titus hit a back elbow followed by a couple of shoulder blocks as well as a fallaway slam. Swagger came back with a shoulder block to the left leg. He applied the Patriot Lock, but O'Neil countered. Swagger got a boot up leading to a nearfall that was aided by his foot on the ropes. Young shoved Swagger's foot off the ropes. Swagger bickered with Young, then walked into Titus and fell victim to a Spinebuster. That was enough for the win after about four minutes.
Winner: Titus O'Neil
Analysis: * It was very average. The crowd didn't care too much although it was fine for the time they were given. Last week, the PTPers beat the Real Americans. On Smackdown, Young beat Cesaro. Now that O'Neil beat Swagger I guess this brief rivalry is over.
We were reminded that the Wyatt Family abducted Kane at SummerSlam.
(Commercial)
There was a Bray Wyatt promo telling a story about Sister Abigail. It was up on WWE.com late last week. That's the name of his neckbreaker finishing move. The story is that she taught him a lot about life and the way that he is now. This gimmick is damn good in terms of its creepiness and freshness compared to everybody else on the show. It works because it's different. I hope that Wyatt gets a feud in the near future because he should be doing more than these crazy promos.
There were replays of the segments involving Triple H, Orton and Bryan from earlier in the show.
In the GM's office, Brad Maddox was talking to Dr. Sampson, who told Maddox that Punk refused medical attention. Punk walked in as the doctor left. Punk wanted a match with Heyman. Maddox came up with a Handicap Elimination match with Punk vs. Axel & Heyman at Night of Champions. If Heyman backs out of it then we won't see him again. Punk said that's fine and that if Heyman does back out then he (Punk) will go after Maddox.
Analysis: No word on if the Intercontinental Title is on the line at Night of Champions. It doesn't appear to be. I thought Night of Champions was supposed to have every title on the line? That's what the rule was in past years. Perhaps that is changing.
Members of the WWE roster came out to stand at the top of the ramp for the main event.
(Commercial)
There was another video for Los Matadores. This time they appeared on the screen with masks on their faces as well as hats. As mentioned earlier it's Primo and Epico although they will likely have different names. The video ended by saying that they would be coming soon.
Daniel Bryan made his entrance to a big ovation. The Shield made their entrance. Renee Young tried to interview Big Show at the top of the ramp, but he didn't say anything. She tried to talk to Dolph Ziggler. He also said nothing. She almost got something from The Miz. He was about to finish a thought when he chose to stop before he said anything that could cost him his job.
Daniel Bryan vs. Seth Rollins (Gauntlet Match Part 1)
Bryan quickly applied the surfboard submission. Bryan sent Rollins outside the ring with a clothesline, but he couldn't capitalize with members of The Shield stalking him at ringside. Rollins shoved Bryan back first into the barrier. Back in the ring, Bryan hit a running clothesline followed by three kicks to the chest. Rollins avoided the kick to the face. Rollins came back with an attack off the top, but Bryan countered it into a half Boston Crab. That was great. After Rollins made it to the ropes, Bryan hit the Flying Goat dive outside the ring that sent Rollins crashing over the announce table. They went to break there.
(Commercial)
Back from break, Rollins hit a running forearm in the corner. Rollins hit it twice. Rollins went for it again, but Bryan came back with a running dropkick in the corner. The crowd chanted "yes" for Bryan's comeback. There were more "yes" chants as Bryan kicked Rollins repeatedly and then they each got some nearfalls in. Rollins got a jumping kick to the head and an inverted suplex for two. They took the battle to the top rope where Bryan ended up crotching Rollins on the top turnbuckle. Bryan climbed up and hit a German Suplex off the top rope! Wow! That was an amazing spot. You don't see moves like that very often in WWE. Rollins sold it by landing on his stomach. Bryan hit the running knee attack to the face, but the director missed it because they were showing the crowd. Wow. That's rare that they would miss it. Bryan won after 12 minutes.
Winner: Daniel Bryan
Analysis: ***1/2 I never get tired of seeing these two wrestle. I remember they had an awesome match on Raw a couple of months ago. It was very good just like this one was. I say all the time that Rollins is the best in-ring performer out of the members of The Shield, but Ambrose is very capable as well and Reigns is more of a power wrestler. I loved the big spots in the match especially the German Suplex off the top rope. That one really surprised me. You don't expect moves like that very often, so when they happen it comes off like a big deal and is one of those things that fans will be talking about the next day.
As soon as that match ended, Bryan got attacked by Ambrose to begin their match.
Daniel Bryan vs. Dean Ambrose (Gauntlet Match Part 2)
Ambrose got in some kicks early. Bryan was able to free himself and he applied the Yes Lock. Roman Reigns ran in to the break it up, so the referee DQ'd Ambrose. It didn't even last one minute.
Winner: Daniel Bryan via DQ
Bryan quickly gave Reigns the Yes Lock and then Ambrose broke that up. That was the end of the match with Reigns, which I'm not even going to mention as a match. The ref just walked out of the ring as if to say "screw you guys I'm going home" (Cartman reference from South Park). Way to restore order! Ha.
Reigns destroyed Bryan with a Spear. Triple H's music started up as the WWE COO stood by the Superstars at the top of the ramp. He had a staredown with Big Show as well as some of the others. The Shield gave Bryan the Triple Powerbomb. Orton's music started up as the WWE Champion made his way down to the ring. Orton dropped Bryan with a RKO. The crowd was chanting "Big Show" during that. Show was staring at Triple H looking angry.
Orton walked back up the ramp to stand with Triple H while The Shield stood over Bryan. Hunter asked the guys on the ramp: "You wanna laugh? Do you wanna laugh?" Nice added touch there. They stepped aside as Triple H and Orton walked backstage. Raw ended with The Shield standing over Bryan in the ring.
Analysis: I loved it. Huge heat. The crowd was rabid during all this because they wanted somebody to save Bryan, yet nobody could. They did a very good job of putting over the idea that nobody could save Bryan too. That will come in handy next week or down the road when they decide to have somebody to come to Bryan's aid. Seeing a guy get his ass kicked two weeks in a row to end Raw is an excellent way to add fuel to the fire. Eventually there will be some kind of babyface comeback that will be a huge deal.
The one thing they missed with this final angle is that last year they beat us over the head with the idea that Big Show signed an "iron clad" contract with John Laurinaitis that meant he could never be fired. Perhaps they could get out of it by saying that Triple H had the power to rip it up or change it, but they didn't mention it at all.
I know that the crowd was chanting for Big Show in that final segment, but if Ziggler went after Orton/HHH it would be huge for him. He really needs a boost right now, so hopefully he gets involved somehow. Perhaps it could lead to something where Triple H decides not to fire him as Ziggler tries to prove that himself by taking beatings, yet always finding a way to come back for more. Whoever steps up to help Bryan will be a big deal. I'm just saying it would benefit Ziggler the most. He wrestled on Superstars against Cesaro prior to Raw, which was said to be a great mach. But Ziggler moved down to Superstars? That's not a good sign for him.
Hot segment to end Raw. Heel Triple H is so refreshing after his boring babyface act earlier this year. Orton's very good as a heel. Bryan is the perfect underdog babyface. The Shield looks very strong as Triple H's henchmen and like I said whoever ends up helping Bryan will be a big deal too. I love the direction of WWE right now.
—-
Three Stars of the Show
1. Daniel Bryan
2. Randy Orton
3. Paul Heyman
It's one of those weeks where I could have listed a bunch of people like CM Punk, Christian, AJ Lee, Seth Rollins and others too. Awesome show. Tough to pick just three.
The Scoreboard
8.5 out of 10
Last week: 6
2013 Average: 5.82
2013 High: 8.5 (August 27)
2013 Low: 3.5 (January 28)
Last 5 Weeks: 6, 7, 6, 5, 6.5
Final Thoughts
Best Raw of the year with the 8.5 out of 10. Strong matches. Some awesome promos. It was an entertaining wrestling show.
As for Bryan, he was the star of the show again. The match with Rollins was excellent. His promo to start Raw w as really good. The main event angle was strong. The man is absolutely on fire right now. I'm fine with people joking by calling him "Stone Cold" Daniel Bryan because that is who he's like although obviously without the vulgarity.
Like I said above, so many people gave great performances. The first hour dragged a bit at times, but the last two hours were very good for the most part.
Just because I love you (in a Brother Love sort of way) here's a video of the end of the Bryan/Rollins match with the finisher by Bryan that the director missed. Amazing selling by Rollins as usual.
If the video gets taken down, blame WWE. Trust me it was awesome. Thanks to my buddy Martin for that.
The WWE product is hot right now. If you aren't enjoying it then you're in the minority. I'm not sure what to tell you. I really like it and writing about it is a blast.
———
To wrap it up, I've mentioned going to WrestleMania 30 a few times. It's in New Orleans. Some buddies and I already reserved a hotel because it's never too early. Here's the info.
Baymont Inn and Suites Marrero
6589 Westbank Expressway
Marrero, LA
It's apparently a 10-15 minute cab ride to downtown New Orleans where everything is, so not too far and about 1/3 the price of the downtown hotels. We got it for $120 per night for the room. Go for it and be sure to let me know if you use it so we can have a beer or six.
I'm starting to work on a major column that I do every year that I hope to have ready to post for next Monday morning most likely. Other than that, I brought Canton's Corner back on the weekend so look for another one of those columns this coming weekend.
Keep checking out TJRWrestling.com for all the great columns and reviews from our awesome team of writers. Also check out TJRSports.com as well because we cover everything we can in the wide world of sports too. It's almost NFL season, so I'll be writing a lot about that every week starting in September.
Until next time, thanks for reading.
John Canton – mrjohncanton@gmail.com
Twitter @johnreport
Personal Facebook and TJRWrestling.com on Facebook
TJRWrestling.com and TJRSports.com