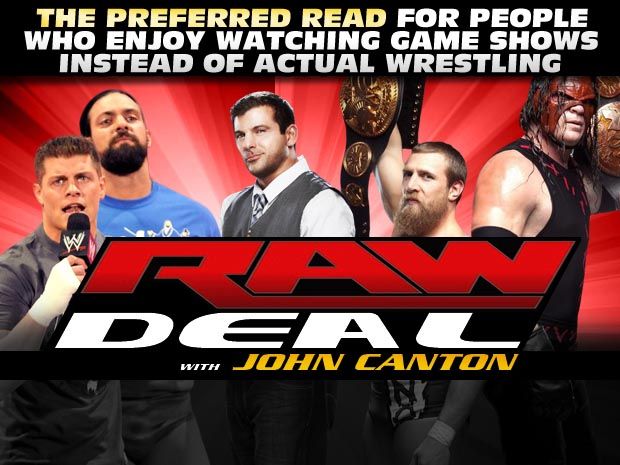 Live from East Rutherford, New Jersey this is the Raw Deal for episode #1013. Follow me on Twitter @johnreport. Note for the unaware: The banner is sarcastic. Thanks Melo Man, as always.
The announcers are Michael Cole and Jim Ross.
Instead of the usual show opening promo, it's a swerve. A match! They mentioned a tweet that Raw GM AJ Lee sent out about a big meeting with WWE executives.
Number One Contenders for Tag Team Titles: Rey Mysterio & Sin Cara vs. Team Rhodes Scholars (Damien Sandow & Cody Rhodes)
There were brief clips showing how each team made the finals of this tag team tournament. The announcers were really pushing the mentor/protégé story with Mysterio & Cara, which is smart. Mysterio went for the 619 on Sandow early, but Rhodes saved Sandow. Sin Cara hit a dive on Rhodes while Mysterio seated senton on Sandow while on the apron. The tag champs Daniel Bryan and Kane were shown watching on at ringside. Mysterio tagged in Sin Cara, who hit a springboard moonsault into a two count. Sin Cara missed a cross body block, so the heels took control with Rhodes hitting a delayed front suplex. JR did a good job of putting over the importance of winning this match, which is what a good announcer is supposed to do. The heels continued to isolate Cara with quick tags and basic holds keeping him in their corner. Sin Cara hit an enziguiri on Rhodes. They went to break with both Rhodes & Sin Cara down in the ring.
(Commercial)
Back from break, Rhodes worked on the ribs of Sin Cara. Russian legsweep by Sandow followed by the Elbow of Disdain by Sandow. The crowd actually reacted to it loudly, so it's nice to see the move becoming more recognizable. Rhodes tagged in, he put Sin Cara on the top and then Sin Cara hit a perfect spinning DDT off the top. Hot tag to Mysterio, who took out both guys with his usual offense including a nice headscissors on Rhodes. Moonsault by Mysterio got two. Mysterio set up both guys for the 619 and he connected with it. Mysterio dropping the dime with the splash off the top onto Rhodes. One…two…and Sandow broke the cover up by sliding his body under the referee's hand. Haha that was great! Sin Cara knocked down Sandow with a kick. Mysterio kicked Sandow out of the ring and that allowed Rhodes to get back up. He hit the Cross Rhodes on Mysterio for the victory after 11 minutes.
Winners: Cody Rhodes & Damien Sandow
To celebrate, Rhodes led Sandow into his picture perfect cartwheel.
Analysis: *** That was a very good tag team match with a hot finish. The crowd really came alive when Mysterio tagged in and everybody was in the right place for the exciting finishing sequence. I thought the way Sandow broke up the pin by sliding under the ref's arm was unique and works for his character as an intelligent wrestler. The right team won. I think we all knew they'd win this tournament and that's what happened.
Post match, Kane & Daniel Bryan appeared on the big screen. They said "hell no" to Rhodes/Sandow's chances of winning the tag titles. Kane performed magic by shoving Bryan behind him. Then Kane did his signature lighting of the ring posts. Those powers work backstage? I guess when you work somewhere for nearly 20 years you build connections.
Analysis: Not the greatest Kane/Bryan segment. A little trash talk is alright, though.
(Commercial)
They showed pics of Zack Ryder from the Smackdown tour that was in Egypt this past weekend. A lot of the wrestlers that were there were tweeting pics. It's the first time WWE has ever gone there, so I'm sure they had a lot of fun.
Kofi Kingston came out for a match. The Miz was at commentary. They replayed last week's KO kick by Kingston on Miz. Then on Main Event last week, Kingston won the Intercontinental Title because they wanted to do a title change on that new show. Miz said that he'd take back the IC Title in six days at Hell in a Cell, so there's your obvious rematch.
Kofi Kingston vs. Michael McGillicutty
Non-title of course. McGillicutty doesn't get a televised entrance. McGillicutty hit a back suplex that Cole called a "throw" when it was simply a suplex. Backbreaker by MM followed by a headlock. Miz was saying he would win back his IC Title on Sunday. Kingston avoided a charge into the corner and then hit the Trouble in Paradise for the win after about two minutes.
Winner: Kofi Kingston
Analysis: * Not much to the match. It was basically about Kingston hitting the Trouble in Paradise out of nowhere. I'd like to see McGillicutty in an increased role because he's improved a lot in the last year or so. If you watch NXT like I do then you would know that too.
There was a recap video of last week when it was announced that Ryback would face CM Punk at Hell in a Cell. Vince McMahon didn't really pick Ryback. Cena stepped aside to give Ryback the chance.
Up next is promo time with John Cena.
(Commercial)
Did You Know: Last Saturday regarding social media, Saturday Morning Slam was the #1 show on cable and broadcast television. If you say so, WWE.
There were players from the New York Giants there. They had a nice win on Sunday and I liked it even better that the Washington Redskins covered the spread, so nice to see them.
John Cena made his entrance. Good reaction as always. Cena pointed out the Giants in the crowd and that next year's WrestleMania is right next door at MetLife Stadium. He said WWE presents "Hell in the Cell" on Sunday. It's Hell in "a" Cell, John boy. Not the. Cena mentioned that Punk has been WWE Champion for 337 days. He talked about Punk mentioned "change" before he was the WWE Champion. Cena said this Sunday we will see change in the form of 6'3″ and 291 pounds in the form of Ryback. Then Cena led the crowd in "feed me more" chants. Cena said Ryback stands for destruction. He said the face of the WWE will change. There was barely a reaction for this. CM Punk's music started up.
Analysis: It's John Cena, the hype man.
CM Punk along with his representative Paul Heyman stood at the top of the ramp. Punk told the fans that the Giants suck and said he's a huge Giants fan, saying the Giants of San Francisco. That's baseball for those that don't know. Punk said he's been WWE Champion for 337 days, which means Cena hasn't been Champion for a lot longer than that. Punk said that when he makes a promise he means and he promises that he'll walk out of Hell in a Cell still the WWE Champion. I sure hope so. Punk said that Cena standing out there as Ryback's cheerleader is Cena's way of admitting that he can't beat Punk. Cena said that he is officially medically cleared as he flexed his right arm to show that his right elbow is healed. Cena said he won't mess up the HIAC match, but that Cena would give him an ass-whipping right now. Punk thought about going to the ring while Heyman suggested that they leave. Heyman was reminding Punk that "you've got Ryback on Sunday." Punk stood on the apron. Then he left.
Analysis: I'm not sure if Cena is legitimately cleared or not. It's smart for WWE to not rush him back into action since he's still recovering from the arm injury and they can keep Punk vs. Cena a rivalry going forward. Basically the whole point of this segment was for Cena to put over Ryback once again because the belief is that if Cena thinks Ryback will beat Punk then more fans will feel that way too. Punk and Heyman were perfect in their role as well, as usual.
From earlier, Raw GM AJ Lee tweeted that she was called to an emergency meeting with the WWE Board of Directors at WWE Global HQ.
Later on the show is Big Show vs. Kane.
(Commercial)
Antonio Cesaro vs. Justin Gabriel
Non-title match and no entrance for Gabriel. They had a match last week too. Cesaro spoke in a foreign language (I believe it was Swiss), so Gabriel hit a springboard attack over the top rope while Cesaro was on the floor. Cesaro regained control in the ring with a nice uppercut. Gutwrench suplex by Cesaro. He grabbed a headlock. Gabriel made a comeback attempt, but Cesaro threw him with the back of his head into the turnbuckle. Gabriel used his speed to put Gabriel down with a neckbreaker variation. He went to the top rope only for Cesaro to crotch him on the top rope. They fought on the top rope, which Gabriel won with a jumping kick to the side of the head. To the top, Gabriel hit the 450 Splash for the win after about four minutes.
Winner: Justin Gabriel
Analysis: *1/4 Okay match. The crowd was pretty dead for it. I liked the finish where they fought on the apron for a bit and then Gabriel ended up hitting the 450 for the win. I would assume this leads to a US Title match perhaps at Hell in a Cell although it wasn't announced yet. I don't expect Cesaro to lose the US Title to Gabriel. This was just a simple way to create a feud by having the champ lose a non-title match, which is something WWE regularly does in terms of creating feuds. At least the announcers don't talk about Cesaro's nipples like that nipple fetish guy John Cena.
In the parking lot, a limo pulled up. It was Vince McMahon along with Raw GM AJ Lee.
(Commercial)
Back from break, Vince & AJ are in the ring. Vince said that AJ met with the dreaded Board of Directors earlier in the day about her role as the GM of Raw. AJ said because of allegations of her fraternizing with a superstar on the roster, she is resigning as the GM of Raw. Big crowd reaction to that in a negative way.
Analysis: My immediate reaction? The right move. She's not great in the GM role. She can be great as a regular character and perhaps she could add some spark to the "divas division" if there is one.
She said the allegations were completely false. AJ said she could have been fired for attacking Vickie or Heyman, so that's why she agreed when she was asked to resign. She said while some people would consider her mentally unstable, some people like a crazy chick. Loud "yes" chant from the crowd. I know too many women that are crazy chicks. AJ said she grew up 15 minutes from that building in Jersey and she grew up with nothing. She lived in cars and motels. She mentioned how she went from being homeless to being the boss. AJ thanked the fans for the support. She thanked Vince for giving him the opportunity that nobody else would have ever given her. She gave Vince a hug.
Paul Heyman entered the arena. He walked down to the ring. Heyman said he was unaware of AJ's touching life story. He said there needed to be a new GM on Raw. Heyman suggested somebody with class, education, dignity and ruthless aggression when the time is right. Heyman suggested that if the Board of Directors needed him, then the next GM of Raw should be him. Vince looked at Heyman: "No."
Vince McMahon introduced the person that was not the GM. Not the interim GM. He said this person was the "Managing Supervisor" of Raw. It's Vickie Guerrero. She walked down to the ring. McMahon left the ring while Heyman and Lee remained.
Analysis: So AJ was fired as GM for fraternizing with a wrestler while Vickie manages a wrestler in Ziggler, yet she gets the job. She's also been "married" to Edge in the past as well.
Vickie thanked the Board of Directors for giving her the opportunity. The crowd booed loudly while she tried to talk over them. Heyman cut her off. Heyman said he gives her his vote of confidence. Typical Heyman sucking up to somebody. Heyman wanted Vickie to change the Punk/Ryback match. She said that match won't change. Vickie announced the main event of Raw would be CM Punk vs. Sheamus. She also announced that it would be the largest Lumberjack match in the history of Raw. Heyman freaked out. He left.
Analysis: This very long segment continues on.
Vickie told AJ that she wasn't right for the job while Vickie has the experience for the job. Vickie said the allegations were not only fraternizing with a talent, but that she had an affair. She said that AJ disgusted her. Vickie told her to leave. AJ did her crazy eyes face and then she tackled Vickie to a huge reaction. They had a CATFIGHT (hey Joey Styles) and the crowd loved it. Vickie was able to get away.
Analysis: I'm fine with AJ being out as GM. Like I said, use her in the ring. It's the role best suited for her. They didn't say she was fired. It's just that she's not the GM anymore. She's a trained wrester, so let her do her thing and maybe the fans will care about the divas division more. I'm not sure why they feel the need to shy away from the "General Manager" title with Vickie and are instead calling her the "Managing Supervisor." I would have preferred somebody else in the role since we've seen Vickie do it before, but obviously they wanted a heel in charge of the show because traditionally that's what usually happens.
(Commercial)
Ryback made his entrance. He's up against The Miz.
Ryback vs. The Miz
Miz was reluctant to have the match, so Ryback threw him into the ring. Miz tried to run away. Ryback blocked a kick. Boot to the chest by Ryback. Ryback missed a clothesline. Miz used the top rope to stun Ryback by draping his head across the rope. Miz went to the top, Ryback caught him and gave him a spinebuster. Loud "feed me more" chants as Ryback dropped Miz with a clothesline. Shellshocked finished it off.  Match went about three minutes.
Winner: Ryback
Analysis: A squash win for Ryback to give him more momentum heading into Hell in a Cell. Miz lost to Kofi on Raw and again on Main Event. He also lost to Randy Orton on Smackdown and now Ryback. Miz is on a losing streak, to say the least. It will be interesting to see the Ryback/Ziggler match on Main Event to see how they book that. Is it going to be a squash win for him or will they book it for ten minutes?
Clips of WWE people at a "B A Star" rally in Hartford.
Coming up later is CM Punk vs. Sheamus in the largest lumberjack match in history.
(Commercial)
Backstage, Eve was talking on the phone while the camera was on her. Wait, the camera isn't on her in this instance right? Kaitlyn walked up to her. Eve said she had nothing to do with Kaitlyn's attack at Night of Champion. Kaitlyn showed a pic of Eve's iPad. Eve was shocked by this. Kaitlyn told her to stop the nice girl act. Kaitlyn attacked her backstage. Layla broke it up for some reason. Why would she break it up? They fought by a table with some food. Refs broke it up.
Analysis: If Eve watched Smackdown she could have seen the iPad incident. I guess we're supposed to believe that nobody watches the show they are on. I don't think this angle is working very well and I have my doubts about an Eve/Kaitlyn match. I assume they'll throw Layla in to make it a three way match. It's not that compelling in terms of a story, though. That's my polite way of saying: "This was pretty bad." I'm polite like that.
In the locker room, Josh Mathews had the "brawling buddy" of Sheamus and in walked the World Champion saying those things are great. Sheamus talked about the Lumberjack match later on Raw. Big Show showed up. He punched the brawling buddy out of Sheamus' hands. Show said that the same thing will happen to Sheamus on Sunday when Big Show takes his championship at Hell in a Cell.
Daniel Bryan made his entrance. He ripped a fan's "yes" sign. Then he ripped up a "goat face" souvenir that fans can buy. Even though he considers himself a heel he's pretty much a face at this point.
(Commercial)
Dolph Ziggler made his entrance. Bryan vs. Ziggler? Hell yeah!
Daniel Bryan vs. Dolph Ziggler
No Vickie Guerrero with Ziggler because she's now the Managing Supervisor of Raw. Bryan went for a roundhouse kick, but Ziggler avoided it by sliding out to the floor. Bryan got a boot to the face. Ziggler ended up hitting the best dropkick in the business to take control. Neckbreaker by Ziggler. Bryan applied a surfboard like submission to work on the knees of Ziggler followed by a leg whip. Ziggler drove Bryan back into the turnbuckle. Bryan took down Ziggler into the Figure Four Leglock. The crowd was yelling "woo" in honor of Ric Flair. Ziggler was on the apron. He gave Bryan a suplex all the way to the floor. That's a very dangerous spot you don't see very often. Bryan was favoring his knee. Kane's music started up and he made his way down to the ring.
Analysis: It should be noted that Raw is in Charlotte next week. Flair country. I'd expect him back in WWE any day now, but that lawsuit filed by TNA is holding it up. By the way, not a fan of Kane's music starting up during a match. I'll always complain about that. Can't he just walk out without the music?
(Commercial)
We returned to action with Ziggler in control. Bryan came back with a clothesline followed by his running dropkick in the corner. I think Ziggler sold that move better than anybody ever has. That's no surprise. Bryan hit a series of kicks to the chest of Bryan. He missed the head kick. They each got a pinfall attempt. Ziggler went for the sleeper, Bryan fought out and then Ziggler hit a picture perfect leaping DDT to take control again. Cole read a tweet from Vickie Guerrero saying that she had a surprise for Team Hell No. Bryan was in the corner. Ziggler charged, Bryan ducked and Ziggler bumped his head into the ring post while landing out on the floor. What a crazy bump that was! Ziggler's such an amazing athlete. That looked like such a risky spot though. Bryan hit a dive to the floor between the middle and top rope while driving the back of Ziggler into the security wall. There was a "this is awesome" chant. The crowd is right. Bryan went to the top. Ziggler climbed up quickly and hit a top rope X-Factor for the two count. Great spot! Bryan came back with a dropkick to the knee of Ziggler. Bryan hit Ziggler in the head with a hard kick. Kane encouraged the crowd to chant "yes." Bryan didn't like that. He yelled "no" at Kane. With Bryan standing on the second rope, Ziggler jumped on the back of Bryan and brought him down with the Zig Zag for the pinfall victory after 14 minutes.
Winner: Dolph Ziggler
Analysis: **** This was an outstanding wrestling match. That's four stars out of five in case you don't know the rating system. I loved the back and forth nature of it. You didn't know who was going to win. Ziggler has lost a lot in recent months, so I'm glad he got the win even though the way the finish was set up was a bit silly due to the "yes" chants by Kane. Slow pace early on, but they really turned up the intensity and the second half of the match was really well done. They did a lot of cool spots. The chemistry is certainly there considering they haven't worked together that much aside from a few two years ago. As JR and Cole pointed out, this could be a fantastic rivalry down the road. It's my pick for a WrestleMania 29 match with Ziggler defending the World Title against the babyface Daniel Bryan. In my roster evaluation earlier in the match, Bryan was my #1 ranked wrestler and Ziggler was my #3 (Punk was #2), so any time you can get two of the top guys in the ring together you know it's going to be good. This match did not disappoint.
Post match, Cole said that Ziggler planned to cash in the Money in the Bank briefcase at Hell in a Cell whether it was on Sheamus or Big Show. Ziggler left after his brief celebration.
In the ring, Daniel Bryan argued with Kane. The crowd chanted "hug it out" to them. Matt Striker came out with a microphone. He was instructed to go out there by Managing Supervisor Vickie Guerrero. He was there to host the "Newly-tag Game" which is like the Newlywed Game. Striker said their opponents would be Team Rhodes Scholars. It's after the commercial.
Analysis: My immediate thought? Trainwreck potential.
(Commercial)
There was a shot of Met Life Stadium in New Jersey, which is the site of WrestleMania 29. I'm not going to this WrestleMania, but tickets are on sale Saturday November 10th if you're interested.
There was a recap of earlier when AJ resigned as Raw GM and then Vickie Guerrero was brought out as the Managing Supervisor of Raw. Then they showed when AJ attacked her.
The Newly-Tag Game
Kane and Bryan were in the ring sitting on chairs. Awful game show music started playing. Daniel said he is a former World Champion, he doesn't have a goat face and he is the world's toughest vegan. Most importantly he's the tag team champions. Kane said he's a Scorpio (so am I – November 4 represent), he enjoys walks on the beach, rainbows and puppies. Striker asked if that was true. Kane said hell no. Bryan said Kane loves rainbows. Barely any reaction to any of this.
Team Rhodes Scholars made their entrance. Damien Sandow complained about this game saying they will not be participating in this activity. He used much bigger words. Then Rhodes said Kane and Bryan will get to know Rhodes/Sandow at Hell in a Cell in their tag team title match. They left the stage.
Kane said the game was a bust. Striker announced them as the winners. Bryan celebrated the win as if it meant something. Kane went after Striker, but Matt left the ring. Striker said he didn't wish Kane and Bryan luck on Sunday. Big Show showed up. He threw Striker down while they were on the stage. Time for Big Show vs. Kane after the break.
Analysis: "Kane said the game was a bust." Completely accurate statement.
(Commercial)
Big Show vs. Kane
The match was already underway during the break. I don't mind that we missed some of this one. This match has happened too many times and it's rarely good. I don't mind either guy. I just don't want to see them against eachother. Big Show hit a spear on Kane. Cole and Ross said that they've never seen Big Show this serious before. Bryan watched on at ringside. He slapped the mat repeatedly to get the crowd into it, but that didn't really work. Show got a body slam on Kane followed by an elbow to the chest. JR called Show an "athletic 440 pounder" during the match. That's creative on his part. Show put Kane in the bearhug to kill the crowd even more. They just saw Bryan vs. Ziggler in a fast paced match. Now it's bearhug time. Kane went for a body slam, but Show fell on top of him. Show whipped Kane into the ropes. Kane came back with a DDT. Kane hit the top rope clothesline that doesn't even get a reaction anymore. Team Rhodes Scholars stood at the top of the ramp. Kane turned his head towards them. Big Show KO'd Kane with the punch to the head. Match went five minutes.
Winner: Big Show
Analysis: 1/2* That wasn't pretty. It was two large men in their 40s. I'm glad it's over. Kane has been wrestling for 15 years (as Kane) and he loses his focus over two guy standing on the ramp 30 feet away from him? Okay then. The finish was basically the same as the Bryan/Ziggler match with a distraction.
Post match, Rhodes & Sandow attacked Bryan outside the ring. They went into the ring where Rhodes gave the Cross Rhodes to Bryan, which left him lying in the ring next to Kane. "You're welcome," said Sandow.
Analysis: We'll be doing the PPV preview on Friday. I'll probably pick Bryan & Kane to retain the titles especially after this. I'm not 100% sure. I like the build to the match despite that awful game show segment.
Backstage, Santino told AJ that she did a good job as GM. John Cena walked up to AJ as Santino left. Cena said if there's anything she needs that she should let him know. AJ said regarding the allegations that they were referring to Cena. Cena mentioned that they had a "business dinner" together. That's all it was. AJ said she doesn't know what to do. Cena gave her a hug. He said he'd take care of it.
Analysis: Maybe they can make Ladies Man 2 starring John Cena? Sorry Tim Meadows. I know that's a dated movie reference of a Saturday Night Live sketch, but dammit I went there.
(Commercial)
In the backstage area, John Cena caught up to Vince McMahon as he was about to leave. Cena complained about things. Vince said it wasn't the time or the place. Vince said there was incriminating evidence. Vince pointed out that AJ was probation. Vince said that Vickie's position is an interim position and that she's the Managing Supervisor – "I don't even know what that means," said Vince. Then Vince said: "It is what it is." Vince left. Vince is such a fan of three hour Raw episodes that he leaves during the show. What a guy.
Analysis: I'm not a fan of the "it is what it is" phrase. And Vince saying he doesn't even know what a Managing Supervisor is really doesn't put over this new direction very well. If the Chairman of the company doesn't know the role of the person in charge then how are the fans at home supposed follow these storylines?
Alberto Del Rio vs. Zack Ryder
Ryder didn't get a TV entrance. How many TV squash match victories can Del Rio get? They happen far too often. Ryder missed the Broski Boot. Del Rio went after the arm. He finished off Ryder rather easily with the Cross Armbreaker after about three minutes.
Analysis: 1/2* Del Rio wins a TV match rather easily. It's not new. Meanwhile on Twitter, Ryder complained about not getting a TV entrance. At least it's better than being thrown off a stage in a wheelchair and then continually getting booked as a loser.
Post match, Del Rio was talking trash by calling Ryder "Randy" and he applied the Cross Armbreaker again. Then Del Rio did the Orton pose on the ropes.
Analysis: Del Rio vs. Orton on Sunday. Orton tweeted that he's done filming the movie "12 Rounds: Reloaded" this week, so I'd expect him back on Raw next week. He has been on nearly every Smackdown episode in the last month.
Backstage, John Cena walked into the office of the Managing Supervisor Vickie Guerrero. Cena was mad at her. He told Vickie that he had a business dinner with AJ. Vickie said perception is reality. She said that he asked AJ out on Raw and they had dinner, so Cena cost AJ her job. Cena left.
Analysis: I'm already tired of writing out "Managing Supervisor" every time. Writing "GM" was so much easier. What about me? What about Canton? Yeah, that's all I got for this one.
Main event lumberjack match is next.
(Commercial)
The "Did You Know" told us that Summerslam continues to be the #1 Sports DVD in America.
Speaking of DVDs, my review of CM Punk's outstanding DVD is up right here if you missed it. It's outstanding. I'm speaking of the DVD. My writeup is pretty good too. Cue Horowitz-like pat on the back.
Backstage, Josh Mathews talked to Dolph Ziggler. Ziggler said he always thought AJ was a good egg. He said you can't put your hands on somebody like Vickie Guerrero. Ziggler said you can't have actions without consequences. Ziggler said there was one person to blame for all of this: John Cena. He said he hopes Cena is happy for himself. He ended by saying you would think AJ would have better taste.
Analysis: Could this lead to a potential Ziggler vs. Cena feud in the near future? I wouldn't be against it. Neither is booked at Hell in a Cell, for the record. I don't think they would add that match last minute, though.
Cole and Ross mentioned Hell in a Cell. They only spoke about Punk vs. Ryback inside the Hell in a Cell. It's the only HIAC match on the card. Then there was a Ryback video package. Look at all those jobbers getting beat up. My favorite name was Stan Stansky for the record. At least that's a more creative name than Kelly Kelly.
Backstage, Punk and Heyman talked backstage. Punk complained about having to be in a Lumberjack match. Heyman said that next Monday on Raw CM Punk will still be the WWE Champion. He said everybody would still know that Punk is the best in the world.
The lumberjacks made their way down to the ring. Cole said there were nearly three dozen men out there. Some are shirtless. Some have shirts. That's all I have to describe this group to you. I also noticed the Three Man Band out there, so that's good. No air guitar?
(Commercial)
The WWE Champion CM Punk made his entrance along with Paul Heyman. Sheamus made his entrance. He was in a Lumberjack match on Smackdown against Barrett that he won. I guess Lumberjack matches are the new "it" thing in WWE. At least for a week.
Lumberjack Match: CM Punk vs. Sheamus
This is the second time they've done this match in the past month. Punk beat Sheamus on Main Event a few weeks ago. The babyface lumberjacks are facing the hard camera while most of the heels have their back to the camera. Punk threw Sheamus outside the ring where some of the heels were. None of them attacked Sheamus. Sheamus hit an atomic drop and threw him out where the heels were. They threw Punk back into the ring. I guess the idea is that Punk has no friends. Sheamus grabbed a headlock as the camera focused on Big Show at ringside. Punk hit a headbutt to the ribs. Sheamus hit a back elbow to knock down Punk followed by a body slam and elbow drop. He needs some more disdain with that elbow. Thanks Sandow. I'm welcome, I know. Sheamus gave Punk a clothesline over the top. Mostly babyface guys over there. They rolled Punk back in. Sheamus got a cover for two. Sheamus hit two blows to the chest of Punk and then Punk prevented more by dropping Sheamus' neck on the top rope. Punk hit a springboard clothesline for two. Punk threw Sheamus outside the ring where the heel lumberjacks stomped on Sheamus. They rolled him back in. Commercial time.
(Commercial)
During the commercial, Sheamus smashed the ring post with his shoulder after an attack into the corner. Lumberjacks attacked him while he was out there. In ring, Punk neutralized Sheamus with a headlock. Sheamus tried to make a comeback, so Punk threw Sheamus by the heels again. The heels attacked Sheamus again. Brodus Clay and other babyfaces saved Sheamus. Then they rolled him back into the ring. Punk hit a neckbreaker in the center of the ring followed by a double axehandle off the top rope. Another double axehandle off the top. This is some Randy Savage-like offense here. The third try missed as Sheamus punched Punk in the stomach. Punk got a knee to the ribs.
For such a big match, the crowd wasn't that loud for it. It was slow paced, though, so that could be why. Punk went to the top rope. He was going for the elbow, but then he jumped down and gave a regular elbow to the chest of Sheamus. Neckbreaker by Punk got two. Sheamus came back with his forearms to the head followed by a clothesline in the corner. Rolling Senton by Sheamus. Sheamus hit the ten clubbing blows to the chest of Punk as the crowd chanted along with him. Sheamus gave Punk a suplex back into the ring for two. Punk came back with a spinning heel kick to the head of Sheamus. Punk avoided the White Noise. Sheamus went for the Cloverleaf, but Punk fought out of that. Punk hit the running knee in the corner followed by a clothesline for two. Sheamus came back with a top rope superplex for two. Now the pace was picking up a bit. Punk got a drop toe hold that led to the face of Sheamus hitting the middle rope. Hard kick to the head by Punk for two. Punk missed the Flying Elbow off the top. Sheamus hit the Irish Curse Backbreaker for two. The crowd got a bit louder for that one too. Sheamus went for the Texas Cloverleaf, but Punk fought out of it. Sheamus went flying over the top rope to the floor where the heels were. Sheamus avoided the attack. He hit the White Noise on Punk. Sheamus signaled for the Brogue Kick, which the crowd supported by chanting for it. Antonio Cesaro in the ring – Brogue Kick for him. Jinder Mahal in the ring- Brogue Kick for him. Big Show on the apron. Ref didn't see it because he was on the other side of the ring. Punk avoided the Brogue Kick, so Show hit Sheamus with the Chokeslam. CM Punk covered. That was enough for the pinfall victory after 18 minutes.
Winner: CM Punk
Analysis: ** Basic match. Even though they got a lot of time, they worked a really slow pace and that effected the quality of the match. I'm not that mad about it. You shouldn't give away this match with a clean finish on free TV with no build. It was booked in a smart way. I'm not all about star ratings or match quality. If it fits the story then it works. This one worked. I have no doubt that if these two worked a different style they could have an amazing match. One day they will. This wasn't it.
Post match, CM Punk's music didn't play. Instead it was the music of Ryback as the #1 Contender to the WWE Championship made his way down to the ring.
Ryback chased after Punk, who tried to run away. Lumberjacks threw him back into the ring. Ryback hit a powerslam on Punk. Punk left again, but more lumberjacks threw him back in. They did a really cool spot as Ryback grabbed him by the neck, then he put Punk on his shoulders and dropped him down with a stiff powerbomb. That looked very impressive. Punk tried to leave again. Lumberjacks threw him back into the ring. Ryback held Punk over his head and then he threw Punk onto some of the heel lumberjacks at ringside.
The show ended with Ryback leading the crowd in "Feed Me More" chants while Punk retreated up the ramp with Paul Heyman. Cole and Ross gave one last plug for Hell in a Cell. That was it for Raw this week.
Analysis: Hot finish to the show. I would assume this is the last confrontation between Punk/Ryback before Hell in a Cell unless they do something on Main Event or Smackdown. Ryback clearly has the advantage going into the match. Punk is being booked like an underdog even though he's been the WWE Champion for nearly one year. I would say that's good booking because Ryback is new to the main event scene yet here he is looking like a monster.
Three Stars of the Show
1. Dolph Ziggler
2. Daniel Bryan
3. CM Punk
The three best performers in WWE, in my opinion. That's not the order that I would rank them (I had them as Bryan, Punk, Ziggler in the roster evaluation), but they were the three best this week. It's pretty simple. If you feature them a lot it's going to be a good show. That's not a surprise to me. 
The Scoreboard
7.5 out of 10
Last week: 6
2012 Average: 5.94
2012 High: 9 (January 30)
2012 Low: 3 (July 9)
Last 5 Weeks: 6, 8, 6, 7, 6
Final Thoughts
It was a very good episode for the most part. Like usual with the three hour shows there were some parts that dragged on too long, but I enjoyed how things went.
I liked the ending of the show. The lumberjack setting was effective in terms of building up Hell in a Cell because it gives off that "no escape" type of feel.
There were some lowlights like the "Managing Supervisor" idea that Vince McMahon put over by saying "I don't know what that is." Great job by the boss there. I could have done without that awful Show/Kane match too. That wasn't a good showcase for anybody. The game show was pretty bad too.
Obviously the best part was that Ziggler/Bryan match. They are so skilled in the ring and I'm glad they got 15 minutes to show their stuff.
You know what else I enjoyed? Starting the show with a meaningful match that determined the number one contenders to the tag team titles. That's what needs to be done more often. It makes fans think that tuning in right away is important rather than watching the usual promo to start the show.
There were six weeks of Raw between Night of Champions and Hell in a Cell. I think that for the most part things are heading in the right direction. There's a fresh new main event for HIAC. The tag division was focused on a lot more in the last month. Both midcard titles got a bit of a "push" in the last month. I like where things are headed.
————-
The Hell in a Cell PPV preview comes your way this weekend. It will likely be posted on Friday after Smackdown or maybe Saturday morning. I still don't know who I'm picking for some of the matches. On Sunday I won't be watching the PPV live. I'll be watching the NFL game. Then I'll be back on Monday morning with the PPV recap. Then Tuesday morning with the Raw Deal. Lots of writing coming your way.
Keep checking out TJRWrestling.com for extra columns from me and the wonderful work of the TJR staff as well. We have weekday headlines column plus an assortment of other columns reviewing the relevant shows of the week and offering opinions on everything going on in WWE as well. Also at TJRSports.com we're covering the NFL from all angles. I'm writing weekly picks. Others are writing analysis of the games. We've also got NBA previews going up. We're all over it. Thanks for all the support!
Until next time, thanks for reading.
John Canton – mrjohncanton@gmail.com
TJRWrestling.com and TJRSports.com
Twitter @johnreport
Facebook TJRWrestling.com on Facebook