For this column, I going to look back at a few situations that have happened in WWE, some that people may remember, some that not many will, and some that had potential that went absolutely nowhere.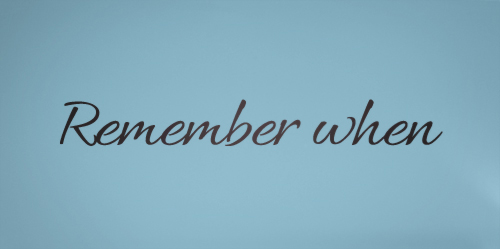 Remember in WWE when-AJ Lee was the general manager of Raw? This started on the 1000th episode of Monday Night Raw and only lasted three months. The storyline that led to her dismissal was an alleged affair with John Cena. Eventually, AJ sided with Dolph Ziggler and now is the current Divas champion. Not many references to her run as GM are mentioned, but she has brought a sense of credibility back to the Divas Championship.
Remember in WWE when-Drew McIntyre was the chosen one? In 2009, McIntyre debuted on Smackdown and was pushed hard from the beginning as the next big superstar. He had an impressive first six months, going undefeated, but never got over as WWE hoped he would. Today, he is one third of 3MB, which is more or less a group of jobbers. If you watch him today, and then watch re-watch his debut matches, it's hard to believe it's the same guy.
Remember in WWE when-Dolph Ziggler was Chavo Guerrero's caddy? Probably not, because most people are trying to forget the "Kerwin White" gimmick. It's worth noting though, that Ziggler went from a caddy to a forgotten gimmick, to a former World Heavyweight Champion, how is title run went leaves a lot to be desired, but he went from pretty much nothing to a former World's Champion.
Remember in WWE when-Batista quit and said WWE would go bankrupt in six months? Well, Batista has been gone for three years and WWE is still in business. Batista has gone on to appear in a couple films and even had an MMA fight last year which he won. Will he ever return? Time will tell, but the WWE shouldn't be going bankrupt anytime in the near future.
Remember in WWE when-Smackdown was relevant? This was years ago, back during the brand split. Smackdown was a separate roster from Raw, and at times, was the superior show in terms of quality. Now, Smackdown is basically re-matches from Raw, meaning if you miss it, you haven't really missed anything groundbreaking.
Remember in WWE when-Ryback was super over? This time last year, Ryback was the fastest rising star in WWE, now, he has turned heel, lost momemtum, and is apparently now Heyman's lacky. It's a shame how a superstar could have so much momentum and have it ruined. Maybe he'll recover, but it may be too late.
I'm sure there are many more, but I don't want to make this article too long-winded. These examples just show you how much things change, for better of worse, in the WWE.
Until next time readers, remember the random things.
-Nick