Welcome to Talking Theatrics. Last week I started to look at characters that are heightened versions of themselves, an area I'll continue to explore in this column, as promised. The previous article focused on Vince McMahon and was reasonably short so if you wish to read it quickly now, you can do so by following this link: http://www.wrestling-edge.com/talking-theatrics-vince-mcmahon/
Originally, I intended a much longer article but I decided to release the article in three smaller pieces – one on Vince, another on Triple H and finally, Brock Lesnar, who will be my subject today. Before I jump in, I just want to say that if you have any comments or feedback, it would be much appreciated. I post on Wrestling-Edge so I'm more likely to respond to any questions over there. Alternatively, you can contact me via the Talking Theatrics Facebook page: https://www.facebook.com/talkingtheatrics
If you're enjoying the columns, please click the Like Button, it'd be nice to know there's more than 4 readers out there.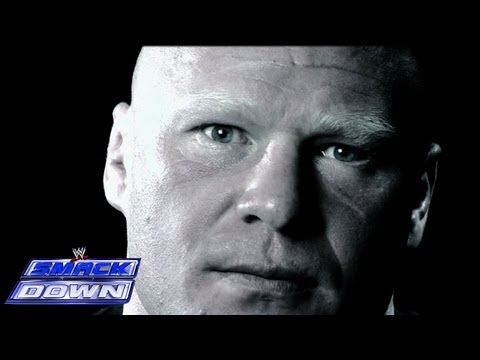 Acknowledging particular wrestlers as heightened versions of themselves can be a little problematic in itself. Vince McMahon is an egotistical and power driven tyrant but unless you know the man personally, there's no way of knowing if the performer has similar traits to the character he portrays. All we know for certain is that Vince McMahon is the owner of a highly successful business. The same could be applied to a number of other professional wrestlers, for instance, we know Andre The Giant was a giant, because it was pretty obvious. But do we know if Andre was the bully or villain he portrayed? No. Reports actually suggest the opposite in that Andre was quite the gentle soul but as a fan, we can never answer whether the men in the ring act in such a way in reality. Then, there's Brock Lesnar.
Lesnar has always been portrayed as a man that you wouldn't want to meet in a dark alley late at night – for lack of a better analogy; he was always presented as one bad arse. Upon returning to the company in 2012, he was still shown as such. He was still the freakishly strong and imposing individual that departed the company years prior and he was still a bad arse. However, in contrast to his earlier run with the company, Lesnar is no longer presented as a bad arse, because he is legitimately someone who you would not want to fuck with.
Brock's time in the mixed martial arts world proved successful as he went on to win the UFC Heavyweight Championship – furthermore, he became known as a genuine fighter, competing against some of the world's toughest men. Whilst a few wrestlers have dipped their toes into the MMA pool, none have been as successful as Lesnar – without getting into the semantics over wins and losses that is. Alberto Del Rio had a reasonable MMA career but his history is rarely, if ever acknowledged. The only other full time performer with a history in MMA is Ken Shamrock but he was never put over as a 'big deal' in the industry of professional wrestling. Brock however, was 'the' big thing in professional wrestling, that's why he continued to be acknowledged as such upon his return.
Characterizing Lesnar as a heightened version of the performer himself is incorrect because he isn't such a character. The character of Brock Lesnar quite frankly, is Brock Lesnar. In contrast, Mark Henry is a legitimate strong man but acts like a man with anger issues and a pleasure for inflicting pain. Brock doesn't act; in fact, his character has hardly said a word since arriving back at the WWE – the exception of which is the promo heading into Summerslam 2013. Still, it wasn't a traditional wrestling promo, if anything it was closer to the words of a fighter, which Lesnar is. Whilst he is performing in a scripted sport, everything about Brock is authentic and as a result, each contest he has been involved in since returning has a genuine 'Big Match' feel.
The expression 'there is only one' gets thrown around often when discussing wrestlers – Hulk Hogan, The Undertaker, Vince McMahon and Steve Austin are just a few examples of men who receive such praise. However, for every major star, there are a handful of creations who were modeled in the same manner – Lex Lugar, Kane, Triple H (2013) and Shark Boy. Lesnar on the other hand is a unique entity in professional wrestling because as the man himself said, there is nobody like him.
Until NXT Time…..