Way back in the 1990's the WWE fell into a big hole which lead to them eventually falling behind WCW to become only the second biggest company in the professional wrestling industry. A big reason was that the WWE lost Hulk Hogan and Randy 'Macho Man' Savage to WCW, and while it had some solid middle to upper-card wrestling talent, there was no-one near ready to fill Hogan's and Savage's shoes. This happened as the majority of the WWE marketing, promotion, merchandise, major storyline etc. were based around these two superstars.
What the WWE didn't have a chance to do at the time, because of Hogan and Savage's suddened departure, was build up any of these upper-card talent to main event superstars, as all major stories and championships centring on Hogan and Savage. It had failed to groom one or more superstars for the role of main event star. This meant the WWE had no replacements ready when Hogan and Savage jumped ship and was left in a transitional period that lasted nearly 10 years.
I believe the WWE was heading down a very similar path, with John Cena. The majority of their marketing, promotion, merchandise, major storyline etc. are based around him. Even when he wasn't the WWE champion he was still headlining PPV's, which was showing us fans that the WWE held him at a higher value and more important than the then WWE Champion CM Punk. Now I strongly believe John Cena will never jump ship to a rival company, but he is getting older and as we have now, injuries can happen at any time.
I am not big John Cena fan, nor do I hate the wrestler or what he brings to the WWE, I understand his importance and influence especially on our younger fans. But John does cast a huge shadow (just like Hogan and Savage did), which unfortunately does hide the talent that is in the WWE locker-room. If left as is, this would send the WWE down a similar path if John Cena has to leave or retire (like Edge) very quickly. Luckily (not for Cena), we have the situation now where John Cena is out for 4-6 months, and it has been reassuring to see that the WWE has used this time to prepare itself for the non-John Cena era, by giving us fans, since Summer Slam, some great programing, storytelling and allowing a variety of WWE superstars a chance to shine. The WWE programming over the past month has left many of us fans saying John who???
If we look back to the first Monday after Summer Slam up to the Smackdown before Night of Champions, there has not been a RAW or Smackdown I have not enjoyed or wanted to miss due to the Bryan / Orton / Triple H / The Big Show storyline. These four superstars have taken the huge hole left by John Cena and to a lesser extent Sheamus, and made it their own. I usually only order the big 4 PPV's (due to financial issues), but have been saving this month just so I can order Night Of Champions, just to see what is going to happen.
While many have voiced their disappointed with the fact Daniel Bryan has been left lying on the ground in every show since and including Summer Slam, or argue that Triple H is on another power/ego trip, the fact is we are all talking about on line and tuning in to every episode just to see what happens next and hopping to see that day or moment (like the way RAW ended this week), that Daniel Bryan does end up getting the better of Orton and Triple H, and hopefully, eventually gets HIS WWE title back.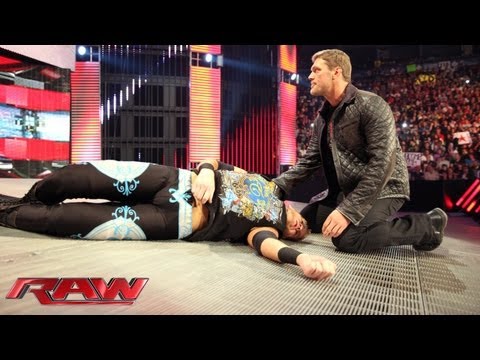 Beside those four superstars we have the likes of Dolph Ziggler, The Miz, Cody Rhodes and Kofi Kingston lifting their performances in and out of the Ring. The WWE is repackaging Ryback (although I still do not agree with the bullying character) and slowly building him back to the major unstoppable heel he should be, and The Shield, especially Dean Ambrose, are re-emerging as the force they were after a couple of quite months. All of these superstars have 'stepped up' and shown us exactly what they can bring to our viewing.
We have the CM Punk and Paul Heyman feud which may or may not end at Night of Champions, with both Punk and Heyman showing us the talent they have on a weekly basis. There is a slow rebuild of both tag teams and Diva competition, and most hardcore fans know a strong tag team and diva/women's division is really a must for a major wrestling company. There even is a entertaining non-title based mid-card feud between The Miz and Fandango, something that has been a rarity in WWE programming over the past years.
It hasn't all been great work from the WWE, with The Worlds Heavyweight Champion Alberto Del Rio, RVD, and Christian not given much to work with in relation to storylines, but are saving the WHC due to their ability and performances in the ring. The likely WHC replacement, MITB winner Damien Sandow, is fairing not much better by losing too many matches, so when he becomes champion, he will look like a week champion. And finally some of the commentary 'arguments' between Michael Cole and JBL are actually hindering the enjoyment of matches.
The great thing about the past month on the WWE is that sites like this one are talking about Daniel Bryan, Randy Orton, Cody Rhodes, The Big Show, The Shield etc. There is very little written (except for this article) on that John person.
However, the big test to see if the WWE has really learnt its lessons from what happened when Hogan and Savage left is what they do when John Cena returns. Personally I feel his return should be a huge event, however he should not be thrown straight into a WWE championship story line, or be portrayed as the only saviour to the Triple H regime. He should return with his focus on a match-up with The Undertaker at Wrestlemania. A very simple storyline based on his time off he has reflected on his career, achieved everything he could possible do, and there is only 1 more major challenge left, The Streak.
A story like that would keep him as a major player in the WWE, which he is, in a major main event storyline /feud leading up to Wrestlemania which he should be in, but allowing those superstars who are shining in his absence now to continue to shine and be the new leaders / main event stars when the full non-John Cena era hits.
Hooroo and see you next week.
Like me, and contact me at https://www.facebook.com/authorCraigHigham
Or get my book at all good online bookstores (Amazon, Barnes and Noble, Books a Million or Powell's Books)
http://www.amazon.com/Stop-Telling-Its-Fake-Wrestling/dp/1489585508
http://www.barnesandnoble.com/w/stop-telling-us-its-fake-mr-craig-n-higham/1115848816?ean=9781489585509
http://www.powells.com/s?kw=stop+telling+us+its+fake&class=
http://www.booksamillion.com/p/Stop-Telling-Us-Its-Fake/MR-Craig-N-Higham/9781489585509?id=5788500481133