Today on my 42nd Birthday I just would like to reflect on the last 12 months, and the impact wrestling has had in my life, or maybe more accurately the impact I have had in the world of wrestling in that time .
18 months ago I returned from my honeymoon, in which on the many flights and train rides through France, Switzerland and Italy I got a chance to finally read Mick Foley's Countdown to Lockdown: A Hardcore Journal. Now I have been a big reader of many of Mick Foley's work as well as many other wrestling biographies. Starting with Mick's best seller Have a Nice Day!: A Tale of Blood and Sweatsocks, I then have read books by The Rock, Kurt Angle, Shawn Michaels, Hulk Hogan, Ric Flair and Chris Jericho to name a few.
After reading these great books, I often pondered whether if written, would anybody read a wrestling autobiography about a fan's wrestling journey. Putting it off for many years due to a lack of confidence, I decided on my return to Australia from my honeymoon enough wondering, I would put pen to paper and see what would happen. Just over 12 months later I have a (self) published book of my (a fan's ) wrestling journey, something that I am very proud of finishing and achieving, and yesterday even though it was only for a day, got to see my book at 45th of the top selling wrestling books on Amazon. ("Stop Telling Us It's Fake: A Wrestling Fans Journey 1977-2012" exclusively at Amazon Books)
From contacting many wrestling sites to ask to help promote my book, I have met (online) Marek Indyka, one of the founders of Wrestle Hustle.com. Wrestle Hustle is Australia's best wrestling websites, in that it not only does it discuss what is happening in the world of the WWE, and TNA, but also looks at the many local companies around Australia. They do a regular podcast and have an online magazine, and I feel very honoured to have joined the writing team with my weekly Smackdown report. (http://www.wrestlehustle.com/)
Early this year, I took my wife on a romantic weekend away, which included tickets to see Mick Foley on his comedy tour. It is a show I recommend every wrestling fan goes and see, as it is a night full of humour, reminiscing and a chance to ask Mick questions about his career, (just do not ask him about THAT Hell in A Cell match against the Undertaker!). After the night I had a chance to meet Mick, although only briefly (2 minutes), and even then our time was interrupted by other people, it is still a great highlight of my wrestling life.
Last month I was able to take my nephews to their first ever live WWE show in Sydney. Along with my four oldest kids, (who I have already dragged to live WWE shows in Sydney), my sister and brother-in-law, the 9 of us had a fantastic night, and I sure we will be looking at doing it all again next year. Just as exciting as seeing a live WWE show, is watching and seeing your kids enjoy the show, and the looks on my nephews faces, the excitement in their eyes is just as enjoyable to witness as John Cena outing Ryback through a table. It is why professional wrestling is such a huge global sensation as it has appeal to such as wide audience base. If you have never been to a live show, then I would recommend you but it on your bucket list and go.
While my main focus in my wrestling viewing is the WWE, over the past couple of months I have been following the US debut of one of Australia's best Wrestlers Tyson Gibbs. I happened to work with Tyson's father, so we spend a bit of time talking about how his son is going at trying to break into the tough US wrestling market. Tyson has just come home (due to low funds) and from all accounts had a pretty successful time with Ohio Valley Wrestling, under the name of "Kangaroo" Jack Dundee. Keep an eye out for him.
(https://www.facebook.com/kangaroojackdundee)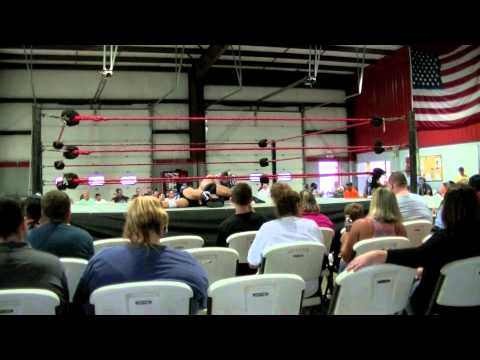 Finally, being an avid reader of Wrestling-edge.com for many years now, I was excited to see a position advertised for writers on their opinion page. I am very thankful to Amish Patel for giving me this opportunity to share my thoughts and views on the world of professional wrestling. I have enjoyed reading people's feedback, whether they have agreed with my article or not, and look forward too many more wrestling debates with readers of Wrestling-Edge.
Thanks for being a part of my wrestling Journey this year.
Hooroo and see you for this weeks "View from down under"