With the disqualification finish to the World Heavyweight championship at Night of Champions we are looking at another month of Alberto Del Rio and RVD/Ricardo Rodriguez feud. Which means that ADR is going to be headlining the World Heavyweight Championship for a few more months to come.
A few weeks ago I spoke about how the World Heavyweight Championship MITB winner was being treated, and how that was affected the prestige and importance of the World heavyweight title, well I believe the constant booking of Alberto Del Rio as either champion or fighting for the title has also affected how the title has been received by fans. The problem with this decision……outside Mexico (his targeted fan base) no-one cares about him. This has nothing to do with his skills in the ring as he is one of the most talented in-ring performers currently in the WWE, the issue, since he debuted in August 2010, is his character has never been accepted by the majority fan base of the WWE. He recent face run did not take, and his heel run, dare we say is more X-Pac heat, then heel heat. I believe the way ADR has been booked has affected his acceptance in the WWE and here are a few reasons why I think this is so:
The Rich Arrogant Heel is not a new concept for a heel, and unfortunately for Alberto Del Rio, prior to his debut, another rich arrogant heel had just recently left the WWE, a John Bradshaw Layfield (JBL). He had just done a fantastic job as this type of heel, that many felt that ADR is just (excuse the pun) a poor man's copy. ADR's rich arrogant character heel stereotype is also up against possibly the best every rich arrogant heel I have ever enjoyed watching, in The Million Dollar Man Ted Dibiase. When you compare the charisma, presence and crowd reaction of ADR to the Million Dollar Man  you can start to understand why his rich heel character is a distance third.
His Original The Car Entrance just like his heel character, was also seen a not only a copy of JBL, but also a copy of WWE fan favourite the late great Eddie Guerrero. Just like Ted Dibiase, and JBL did the rich arrogant character better, Eddie Guerrero did the coming to the ring in a car with more style and charisma then unfortunately ADR has been able to portray to us fans. JBL had his trade mark horned limo, which became a source of many wrestlers amusement in destroying, I fondly remember The Undertaker choke slamming JBL through the top of the limo. Eddie Guerrero had his low riders which we all loved to see bouncing their way into the ring, now I am not a huge car lover but I would rather see what Eddie Guerrero would come out in, rather than expensive Porches, Lamborghinis, Bentley's and Ferraris, many of which were unappealing cars.
No Catch phrase Whether we love or love to hate a wrestler, one of the things that assist us in showing our affection (or hatred) is by drawing their catch phrase on our signs, saying, singing or cheering along to one of their catch phrases. Whether it's YES! /NO! ; WHAT! ; REST IN PIECE; I HAVE 2 WORDS FOR YOU, AUSTIN 3:16 or FEED ME MORE, a catchy saying helps the fans connect with the wrestler or at least allows the WWE to make and sell a decent T-shirt. How much did we love it when The Rock used to say "This is not sing-a-long with The Rock…." it only made us yell his catch phrases louder. Unfortunately for ADR, he has nothing that connects with the fans. Now many might say what about his entrance of Albertoooooooo Del Riooooooooo…well I believe that is more of a Ricardo Rodriguez saying rather than Alberto Del Rio's, and he has now lost that with Ricardo Rodriguez now with RVD.
A Poor finishing move, The cross armbreaker…(in the words of The Miz), really, really REALLY. There have been some great submission finishing moves, from Bret Hart's Sharp Shooter, Ric Flair's figure four, and my personal favourite Chris Beniot's crippler Crossface. But the choice of this submission hold as a finishing move has never sent me leaping off my lounge when I see it. For me a move that (many years ago) The Undertaker was teaching to (his then) wife Sara to use on Diamond Dallas Page, should not be the finishing move of choice for a main event WWE superstar.
Quick heel/face/heel turn in the space of 6 months ADR went from being a heel battling Sheamus for the World Heavyweight Championship, to then being a face battling The Big Show for the title, then back to a heel in battling Dolph Ziggler. I know there are superstars like The Big Show and Kane who swap between heel and face regular but not in such a short time. Do we boo, cheer or boo ADR, confusing us fans like this doesn't help his character.
And even this latest heel turn to be that of a hero of his people (the Latinos) has been done better with the likes of Brett Hart (Canadians) and William Regal (Great Britain) just two that stand out for me
Didn't pay his dues On July 17th 2011 ADR won the WWE money in the Bank brief case. He had been in the WWE for 13 months, had already won the (40 man) Royal Rumble, headlined Wrestlemania against Edge, and had been battling for the World Heavyweight Championship constantly after only 6 months with the WWE after completing only one major feud against Rey Mysterio. Many like myself felt that ADR hadn't earned the right or deserved to win as much as he did over that quick time period while other established WWE superstars who had "paid their dues", like the likes of Christian, Kane, Mark Henry, Kofi Kingston, John Morrison and Matt Hardy, continued to battle away in the mid-card level. This made it hard for us to respect him, as it felt like the WWE was forcing us to believe he was this main event star.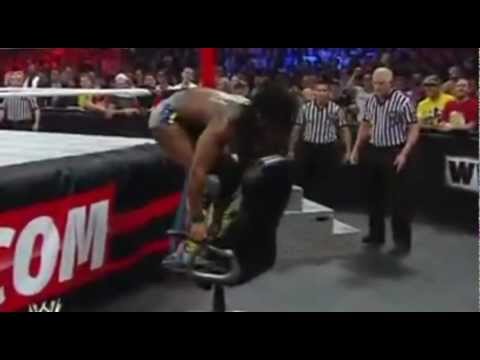 Constantly in the title picture since winning the WWE title at Summer Slam in 2011, ADR has for the past 2 years constantly been battling for either the WWE Championship or (for the majority of time), the World Heavyweight Championship. John Cena has been accused of holding WWE talent back, but having ADR reign at the top of the Smackdown brand has held back the likes of Dolph Ziggler, Cody Rhodes and Wade Barrett, all of who have deserved a run at either the World Heavyweight Championship or at least the number 1 contender. Constantly being in the title picture is also linked to my last point of… 
To Many Lacklustre feuds Thinking back over Alberto Del Rio's 3 year run in the WWE, besides his first feud with Rey Mysterio, there is no other feud that stands out for being must see, memorable or even enjoyable to watch. How many of us pleaded with the WWE to put an end to the ADR and Sheamus feud last year, his run against John Cena was over quickly, and even Randy Orton couldn't get the crowd excited when they battled it out towards the end of 2012. Just recently a very quickly put together 1 month feud with Christian leading into Summer Slam, and now a feud with RVD/ Ricardo Rodriguez which if something doesn't happen soon will drag like the Sheamus feud. These lacklustre, no planning, and quickly put together feuds over the World Heavyweight Championship has helped place the Championship in its declining prestige.
Alberto Del Rio needs a break from TV, a re-invented character and to earn our respect as a WWE superstar and not be shoved down our throats. The World Heavyweight title scene needs fresh faces battling it out, as ADR is obviously not the answer to lifting its profile. Now I know the WWE sees something in ADR that we fans don't, but I hope they stop pushing him onto us soon, and we can see the likes of Damien Sandow, Cody Rhodes, Dolph Ziggler, Mark Henry, Christian, or even Ryback rule Smackdown.
Hooroo and see you next week.
Like me, or contact me at https://www.facebook.com/authorCraigHigham
Or get my book at all good online bookstores (Amazon, Barnes and Noble, Books a Million or Powell's Books)
http://www.amazon.com/Stop-Telling-Its-Fake-Wrestling/dp/1489585508
http://www.barnesandnoble.com/w/stop-telling-us-its-fake-mr-craig-n-higham/1115848816?ean=9781489585509
http://www.powells.com/s?kw=stop+telling+us+its+fake&class=
http://www.booksamillion.com/p/Stop-Telling-Us-Its-Fake/MR-Craig-N-Higham/9781489585509?id=5788500481133