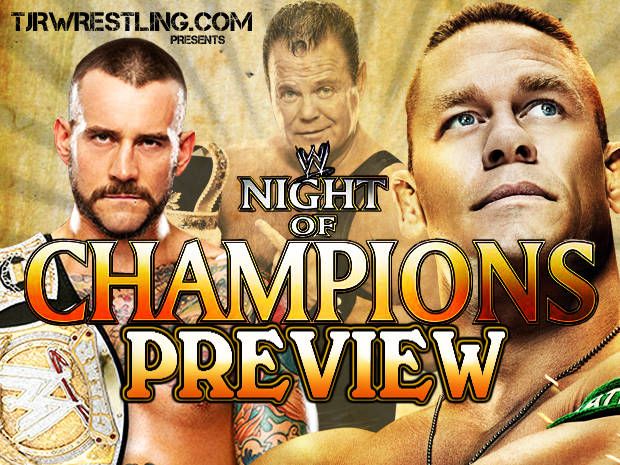 This Sunday's WWE Night of Champions is a a historic event. Why? Because this could be the first WWE pay-per-view in 2012 where the WWE Championship match actually goes on last. It's unbelievable that it hasn't happened yet, but here we are. It's inevitable at this point.
As we watch this PPV on Sunday, I'm sure a lot of us will be thinking about Jerry Lawler. Thankfully after suffering a heart attack on Monday he's doing a lot better and could be going home to Memphis soon to continue his recovery. His absence means somebody else will get to announce the PPV with Michael Cole. I would assume they go with Smackdown announcer Josh Mathews although I'd be pleased if it was somebody new like William Regal. I also think Jim Ross would do a fantastic job in a tough situation filling in for his close friend. There are a lot of options, so we'll see what happens.
Joining me for these previews are usually TJRWrestling's Andrew Johnson and Christian Michael, but both of them were unable to write this time. There wasn't enough time to find replacements, so I'm doing this solo. They will both return for the Hell in a Cell PPV preview in October.
The match order isn't listed in terms of how I think they will appear on the show. Usually the World Heavyweight Title match is on in the first half of the show. The order this is written in is based on the importance of the match from least important to most important.
Battle Royal for a shot at United States Championship (Pre-show)
I think doing battle royals in the pre-show are a smart move because it's a way to get a bunch of people onto the card that otherwise would have had nothing to do. Obviously since the US Champion is a heel in Antonio Cesaro then it's likely that a face would win this. On Smackdown they had my favorite Tyson Kidd and Brodus Clay confront Cesaro. That makes me think that Clay will win this. What I would do, though, is have Ryback win and then have him win the US Title. I don't think it's likely to happen because I think Cesaro will have a good run with the US Title. For this match I'll pick Brodus Clay.
Winner: Brodus Clay
WWE Divas Championship: Layla vs. Kaitlyn
I'm worried about how this match will do in front of the live crowd. While I think Kaitlyn is an improved performer over the last year, I wonder about how well she can do in a face vs. face match that has an average build. Sure, she went over the best in-ring divas like Natalya & Beth Phoenix on TV leading up to it, but she still has a long way to go in terms of having good matches.
What traits does Layla have as a babyface? She smiles a lot. Oh and she throws in some random dancing during matches now. That's really it. I think the crowd will be dead for this match and the best thing they can do is keep it under five minutes. The longer it goes the worse it will be. I wouldn't be shocked either if Eve's fake nice routine ends here as she attacks both of them after the match to set up her vs. Layla so they can put the title back on Eve again. At least she has a character. She's one of the few divas in WWE that does.
Winner: Layla
WWE United States Championship: Antonio Cesaro vs. ????
Let me go back to my earlier point regarding the battle royal. What about Ryback in this spot? He could dominate in the battle royal. Then he could beat Cesaro for the US Championship in dominant fashion. The title could be on somebody the fans are reacting to more and more by the week. It's nothing against Cesaro. I just think the title would mean more if it was on a potential future main event player like Ryback. It hasn't been built up at all, but I'm sure it would generate more interest than picking somebody else.
I'm picking Brodus Clay as the opponent. I think it will lead to a scenario where Cesaro either wins by cheating (pulling tights, feet on the ropes, etc.) or he gets counted out or DQ'd as a way to keep the title. I don't think he'll lose it yet unless they go with the Ryback plan I suggested. I think Cesaro will win by cheating.
Winner: Antonio Cesaro
WWE Intercontinental Championship: The Miz vs. Rey Mysterio vs. Cody Rhodes vs. Sin Cara
The most interesting aspect of this match is that for the first time on WWE TV we'll be able to see Rey Mysterio and Sin Cara as opponents. They've had some moments at house shows in battle royals and things like that, but up until now they've yet to be against eachother in a match. By the way, how can you stop the Sin Cara lighting effect? Have a match with more than two people. That seems to be the only way to cure it.
The Miz has done a good job as IC Champion in the sense that he carries the championship with a lot of pride and he puts it over well when he talks about it. That's all I ask. Well, that and an actual good feud revolving around the title. In this case it's more about the Rhodes/Mysterio/Cara three way feud, which got inserted into the IC Title picture. It won't be a bad match. They'll get 10 minutes, plan it out well, have some great spots and likely build to a hot finish like they usually do. I like The Miz to retain his title in this match. He hasn't had it long enough to warrant a title change. If he doesn't keep it, I can see Sin Cara winning it as a way to give him some more momentum.
Winner: The Miz
WWE Tag Team Championship: Kofi Kingston & R-Truth vs. Kane & Daniel Bryan (Team Friendship?)
I'm not sure if the long term plan was to put Kane & Bryan into a tag team all of those months ago, but it's working. I fully support the idea of them getting a tag team title match because they have done such a great job together. As foes they have had good matches. When they've been put in sketches they have delivered. It's all working for them.
All of these Anger Management segments over the last month have been entertaining. While silly to some, to me they are very worthwhile. This is the story that is turning Daniel Bryan into a babyface, which long term may the best thing about this angle because of his potential as a top guy long term. Even though he's clearly one of the best heels in the company, there are suddenly a lot of heels near the top of the roster these days and a bit of a void on the babyface side behind John Cena. I think Bryan will fill that void sooner rather than later.
As for an outcome for this match, I think we'll see new tag team champions. I think the idea of two main event level wrestles as tag champs is a bad thing long term, but it's good in terms of giving tag team wrestling a bigger profile. The fact is that Kane & Bryan are very entertaining together. It would be foolish to end it so soon. Strike while the iron is hot. Put the tag team titles on them.
Winners: Kane & Daniel Bryan
Randy Orton vs. Dolph Ziggler
If they get 15 minutes or more this could be the match of the night. I don't know if they will get that much time or if it will reach that level, but I'm looking forward to it. They have fantastic chemistry together. They have become two of the best in-ring performers in WWE over the past couple of years. Whenever a match is presented where two guys of this caliber have a hot feud against eachother it's going to draw my interest.
As for the outcome, there are so many scenarios that could play out. Orton's scheduled to start filming the movie "12 Rounds Reloaded" in a couple of weeks, so he'll likely be out of the ring through all of October. They could do something where Orton wins this match and then Ziggler cashes in the Money in the Bank briefcase on the World Champion Sheamus later in the show so that Ziggler can come off as a winner even after he lost. Or they could do something where Ziggler cashes in on Sheamus early in the show and then has to defend the World Title against Orton. Orton himself talked about a lot of these scenarios on Smackdown. If one of those things were to happen it would make this match even bigger than it already is, which is fine by me.
If the World Title is on the line in some way then I expect Ziggler to win or at least retain that title. Since I am not officially predicting that the World Title will be on the line, I'll go with Orton to win the match. They will likely have to write Orton out of the story at the end of this month, so it could be a scenario where Ziggler takes him out. Then when Orton comes back in November perhaps Ziggler could be holding the World Title and then that would lead to a feud between the two with the idea that Orton already beat him at Night of Champions. The story writes itself, right? I think it would work perfectly. No matter what happens storyline wise, this should be a fantastic match and I'm looking forward to it.
Winner: Randy Orton
World Heavyweight Title: Sheamus vs. Alberto Del Rio
It's the feud that will never end. Sheamus beat Del Rio clean at Money in the Bank. Then at Summerslam he won even though Del Rio's foot was on the ropes. Now Del Rio gets another shot at Sheamus with the stipulation that the Brogue Kick of Sheamus is a deadly move that is now banned by Smackdown GM Booker T. In addition to that, Del Rio has David Otunga as an ally along with Ricardo Rodriguez. The "deck is stacked" against Sheamus. Will he win?
Yes. Sheamus will win. After three straight PPV matches, Sheamus will overcome the odds (don't be surprised if there's a ref bump) and move on from Del Rio. They've done a good job of putting over the Texas Cloverleaf as a new submission finisher for Sheamus, so I think the fans will pop big for it when he uses it to win the match here. I think we'll see Wade Barrett pushed as the next opponent of Sheamus. It could be Dolph Ziggler as well. They could have Barrett injure him post match and Ziggler could cash in right after. There are so many possibilities when the Money in the Bank briefcase is in play.
The point is that Sheamus can move on to a new opponent after three months of dealing with the same guy. There are some fresh opponents out there for him, so I look forward to seeing what's next for him. I like Sheamus. I just want to see a new rivalry for him.
Winner: Sheamus
WWE Championship: CM Punk vs. John Cena
I think John Cena will leave Night of Champions as the WWE Champion. Stop booing me! I'll make sense of this, I promise.
I love the rivalry between CM Punk and John Cena. They had the best match of the year in 2011 at Money in the Bank and they followed it up with an equally great match at SummerSlam. That was when both guys were working as babyfaces, though. Now it's heel vs. face. Punk has been the WWE Champion for 300+ days, he's looking for more respect and Cena is telling him that you can't go begging for respect; you have to earn it. Their face to face promo on Raw was brilliant. Cena showed the kind of fire that fans want to see out of him.
If that wasn't enough to interest you in this match, add in the fact that it's being held in Boston, Massachusetts, the home town of John Cena (or close enough to his home town). While Cena has been booed in Boston before, I would expect a lot more cheers this time around after his fantastic promo on Raw.
Could CM Punk leave with the title? Of course. There could be a DQ finish involving Paul Heyman. Perhaps we could see Big Show appear, form some kind of alliance with CM Punk and help him defeat Cena that way. I don't think it would be a clean finish. The shady finish makes a lot of sense because a rematch at Hell in a Cell is very likely. However, I'm not picking Punk to win.
I'm going with Cena because last year when Punk needed to be elevated to top guy status he had to beat Cena. He did twice. The first time, at Money in the Bank, was clean. The second time, at SummerSlam, was mostly clean. On the 1000th episode of Raw I thought Cena would get his win back. Instead, he lost. Punk turned heel. The next level of this rivalry is about good vs. evil and how you, the viewer, determine who falls on what side.
Cena winning the WWE Championship on Sunday doesn't alter my belief that CM Punk will defend the WWE Championship against The Rock at Royal Rumble. There's plenty of time for Cena to drop it back to Punk. Just because Cena wins the title on Sunday doesn't mean that he has to hold it for 300 days like Punk has done. A two month reign would allow enough time for Punk to get his title back and walk into the Royal Rumble for his big showdown with The Rock. Then at WrestleMania 29, The Rock would return the favor to John Cena by dropping the WWE Title to him. I think that's where we're headed long term.
Personally, I like both guys a lot. I like Punk more. He's my favorite performer in WWE right now along with Daniel Bryan. I am not a Cena hater, though. I'm a fan of his. When he is in that ring with Punk he proves why he is a lot better than some people think. In a big match setting he usually delivers. I don't see it being any different on Sunday. I'm expecting 20-25 minutes of fantastic wrestling from these two. I also think we'll get a rematch next month at Hell in a Cell. To get there, Cena will win the WWE Championship on Sunday.
Winner: John Cena
Who will leave WWE Night of Champions as WWE ChampionHere's the awesome Punk/Cena video that was on Smackdown.
Final Thoughts
I think this will be one of the better WWE PPVs of the year. The main event is a rematch of the best match in 2011 this time with a heel vs. face storyline. The Orton/Ziggler contest features two elite in-ring performers. I think the tag title match will be a lot of fun even with some of the likely comedy spots. The World Title and Intercontinental Title matches could be very good as well if they get enough time. Add in the possibility of a Money in the Bank cash in by Ziggler and this could be an awesome event all things considered.
I'll be watching and writing about Night of Champions live at TJRWrestling.com. Usually I watch the NFL game live on Sunday nights, but this PPV is intriguing to me and I want to give it a look. Plus, I think the San Francisco 49ers will crush the Detroit Lions on Sunday Night Football, so I will be okay with having it on in the background and glancing at it occasionally.
Thanks for reading. Enjoy Night of Champions.
John Canton – [email protected]
TJRWrestling.com and TJRSports.com – NFL week two picks are here.
Twitter @johnreport
Facebook TJRWrestling.com on Facebook