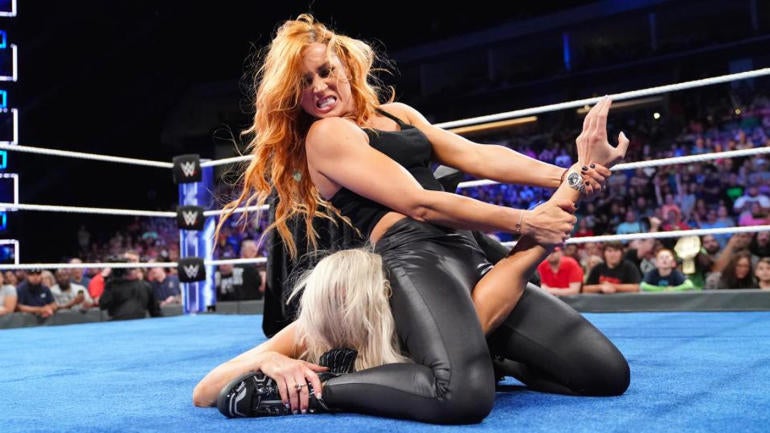 4. Becky Lynch (SD Live Women's Champion)
ALL HAIL HEEL BECKY LYNCH!!!! One of, if not the, most entertaining storylines in WWE is the heel turn of one of the most popular superstars in the company. After losing a triple threat match to her "best friend", Charlotte Flair, at Summerslam, Becky embraced Charlotte. However, the mutual respect soon turned to rage as Lynch then slapped Flair across the face and attacked the new SD Live Women's Champion.
A few weeks of pull-apart attacks with the two former best friends at each other's throats led to a match between the two at Hell in a Cell, for the extremely coveted SD Women's title. The match was fantastic, as the two went back and forth with one another and each woman barely escaping defeat. However, Charlotte went for a spear at the end of the match, but it was seamlessly reversed by Lynch into a DDT. Becky rolled into a quick cover, and three seconds later became the new SD Women's Champion.
After the match, Flair offered a peace offering to Lynch, extending her hand for a handshake. However, Lynch declined to shake her hand and instead raised the title in victory claiming the moment she's deserved for years now. On Smackdown Live two days later, a celebration was scheduled for the new champ. However, Lynch called out Flair and seemed more interested in embarrasing her former best friend. After Charlotte refused to raise Becky's hand in victory, put Lynch's title around her waist, or refer to the new champ as "The Queen", another brawl ensued.
The two ladies will be able to get their hands on each other again in a few weeks at the Super Show-Down. If Becky bests Charlotte again, she could climb even higher in our Rankings.