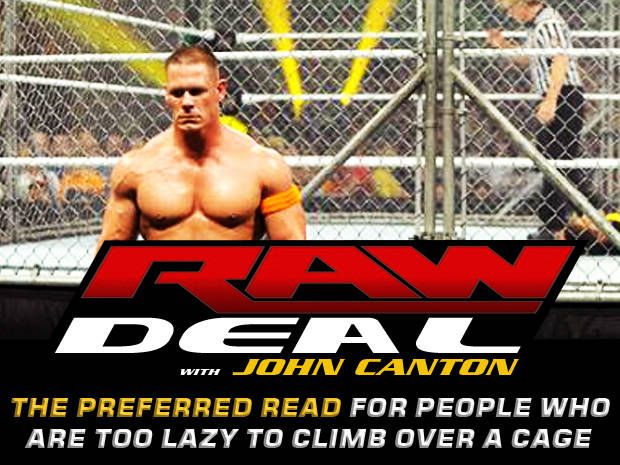 If you missed my two articles from the weekend here's a Chris Jericho article about him being a winner and a column about why it's a good thing that Rey Mysterio is working with Sin Cara these days. It's especially good reading during all the video packages that air during a typical episode of Raw.
Live from Chicago, Illinois this is the Raw Deal for episode #1006. Follow me on Twitter @johnreport.
Raw opens with a video package about last week's Raw when Jerry Lawler wanted an apology from CM Punk and that ended up with Punk destroying Lawler in a steel cage match.
Michael Cole was shown at the announce desk. He threw a video package that saw CM Punk attack Jerry Lawler backstage before he was scheduled to make his way out to the announce table. Lawler was left laying.
The "Tonight is the Night" Raw intro song played. They followed that with a live shot of the always outstanding Chicago crowd as ring announcer Justin Roberts introduced Sheamus. Cole is still alone at the announce desk. Sheamus was delivering a promo. He mentioned his Night of Champions opponent Alberto Del Rio, but he couldn't get very far because WWE Champion CM Punk's music started up.
CM Punk received a loud reaction from his hometown crowd in Chicago. There was a loud "CM Punk" chant. He told Sheamus not to try to talk to the people in his hometown. Punk was in a t-shirt and jeans by the way because he's not going to wrestle this early in the show. Punk said that Lawler attacked him from behind so he was defending himself. He delivered this line: "When you come at the king, you best not miss." That's an Omar line from The Wire, by the way. My favorite dramatic television show ever. He complained about how Lawler attacked his integrity. Punk spoke about how a "white knight" got involved and that John Cena was who was calling a white knight. The crowd booed Cena's name.
Punk said this all started because Lawler said he turned his back on the WWE Universe. "So I ask did I turn my back on you?" The crowd chanted "no" repeatedly. He said that by helping Lawler that means he agreed with him and that means that Cena was disrespecting the WWE Champion. He bragged about how he was the WWE Champion for 288 days. Punk said that Cena has turned his back on the WWE Universe because he was disrespecting the champion.
Sheamus cut him off. Punk was mad that Sheamus interrupted. Sheamus claims this is similar to when Punk said Rock disrespected him. Sheamus said at least Rock stepped in the ring while Punk was all the way at the top of the stage. Punk claimed that Sheamus was "at best the second best in the world. You're right behind me, so shut your mouth." Sheamus continued to talk back at Punk.
"Light It Up" started to play as Raw GM AJ Lee made her way out. She stood beside Punk at the top of the ramp. She announced John Cena vs. Alberto Del Rio and Sheamus vs. CM Punk. It's a non-title match. Then AJ skipped all the way around the ring and up the ramp. What a GM.
Backstage, Randy Orton was shown walking backstage. Cole told us that he would face Dolph Ziggler after the break.
Analysis: I think they should have advertised Punk vs. Sheamus beforehand if you're going to do champion vs. champion in a non-title match. It would have been something for fans to look forward to. I think it will be good, but some promotion for it would have been a smart move. As for Punk's speech, he was great. I liked the Omar line especially. Punk isn't going to get booed in his hometown, so why try to force it? He's a face on this week's Raw.
(Commercial)
The "Did You Know?" was about WWE offering US Military Personnel free tickets to WWE events.
Vickie Guerrero introduced Dolph Ziggler. They aired a clip of Smackdown when Orton beat Ziggler in the main event. Very good match, of course.
Randy Orton vs. Dolph Ziggler w/Vickie Guerrero
Orton took control early. He dumped Ziggler to the floor. I thought it was time for a commercial, but instead he threw him into the security wall twice. Orton hit a clothesline while they were out on the floor. Now they went to commercial for the vintage floor to commercial spot three minutes into the match.
(Commercial)
Back from break, Orton was still in control in the center of the ring. Nice "I Miss Lita" sign in the crowd. Well she does have a wonderful pair of…eyes. Yeah. Orton missed an attack, so Ziggler dumped him out to the floor and he threw him into the security wall as revenge from earlier. If you're wondering Michael Cole is still on commentary. Please, somebody save us. I can't endure this for three hours. In the ring, Ziggler did his headstand headlock spot to cheers from the appreciative Chicago crowd. Ziggler buried a knee to the ribs of Orton, but then he missed an elbow drop because Orton moved. Ziggler went up to the top. Orton countered it by hitting the top rope, so Ziggler got crotched on the ropes. Orton hit a superplex off the top, which is a move he does all the time very well. Orton hit his clotheslines followed by a snap powerslam to a big ovation. Ziggler fought out of the off the ropes DDT, but Orton hit his backbreaker variation for two. Ziggler came back with a leaping DDT for two. Ziggler missed the Fameasser. Orton pulled him over to the ropes and hit his DDT off the ropes. The crowd was going crazy while Orton signaled for the RKO. Ziggler shoved him off. Orton went for a rollup. Ziggler rolled through that, he grabbed the tights of Orton and referee Scott Armstrong counted the pinfall victory for Ziggler. The match went 13 minutes.
Winner: Dolph Ziggler
Ziggler quickly left the ringside area. All of a sudden the music of Intercontinental Champion The Miz started up. Cole quickly reminded us of Cena vs. Del Rio and Sheamus vs. Punk later. Miz sat down at the announce table and welcomed us to "Monday Night Miz" so he's going to be commentating for a little bit.
Analysis: *** Really good TV match. They booked it in a way where neither guy had full control for too long. It was a back and forth match that was exciting from start to finish. I didn't know what they would do for an ending because Orton doesn't lose clean a whole lot despite a recent loss to Del Rio. I liked the idea of Ziggler getting the win via the tights. Orton won on Friday and Ziggler won here. Round three at Night of Champions? Works for me.
(Commercial)
The announce team of Cole and Miz threw it to a video package of the Anger Management class. These are new clips rather than a repeat of last week.
They were in the same class as last week. Dr. Shelby asked them to show their "Anger Collage" drawings that they made. Bryan's said "yes" and "no" all over his. He complained about the people saying "yes" at him while he yells "no." The doctor asked Kane to show his anger collage. Kane held up a blank piece of paper. Doctor said he was supposed to show them how he felt inside. Kane threw a paper into a trash can. Then he did his thing where he lit the trash can on fire as a woman in the room screamed. Kane sat down. Bryan looked at Kane: "Teacher's pet."  Kane had a smile on his face. Dr. Shelby said that was great, so now they're going to talk about their families. They faded out so more of that later.
Analysis: Best part was Bryan's line at the end when he called Kane a teacher's pet. I'd expect the funniest part in the last segment just like last week.
Sin Cara and Rey Mysterio were shown walking backstage together. They aired a clip from Smackdown when Sin Cara saved Mysterio from a Cody Rhodes attack and then Sin Cara put a mask on Rhodes. They will be in a tag match next.
(Commercial)
As Rey Mysterio made his entrance, Miz was happy at the announce table because he gave Mysterio a concussion at Summerslam a few weeks ago. Sin Cara made his entrance second as Cole plugged it as the first time they are teaming together on Raw, which is true.
Rey Mysterio & Sin Cara vs. Cody Rhodes & Tensai w/Sakamoto
I was hoping for Damien Sandow to team with Rhodes again, but that's okay. Thirty seconds into the match they went to break with Rhodes facing off with Sin Cara. Neither guy was on the floor either. Crazy!
Analysis: That's the 5th commercial in the first 53 minutes of Raw, in case you're wondering.
(Commercial)
Back from break, the heels were isolating Sin Cara. Rhodes was trying to rip off his mask. Tensai tagged in to grab away at the neck of Cara because that's what he does for offense. Rhodes tagged in, but Cara was able to free himself for a tag. Mysterio tagged in. He gave Rhodes a headscissors followed by a shoulder to the gut and then a Senton off the top got two. Dropkick got two as Tensai broke it up. Mysterio dropkicked him in the knee and then gave Tensai the 619. Sin Cara hit a missile dropkick on Tensai. Rhodes came back with a front suplex on Mysterio for two. Rhodes went for a Powerbomb, Mysterio countered into a headscissors and then hit a 619 on Rhodes. Sin Cara hit a Senton Bomb (or Swanton Bomb) on Rhodes for the pinfall win after 7 minutes.
Winners: Rey Mysterio & Sin Cara
Analysis: ** It was a good way to showcase this Mysterio/Cara alliance. The fans loved it. They could really electrify the tag division if they get a push as a team.
Back to Anger Management class, the chairs were removed as everybody stood in a "circle of trust." Dr. Shelby asked Bryan and Kane to demonstrate for them. Shelby told Bryan to fall backwards and for Kane to catch him. When Kane was told he had to catch Bryan he said: "I will?" Bryan fell backwards. Kane caught him. Then he shoved him. Shelby told them to work together so that they caught Harold. They each pulled their hands away. Bryan and Kane asked eachother if they knew they were going to do that. Bryan: "I think I finally understand you Kane." Meanwhile, Shelby deduced that Harold needed some medical attention.
Analysis: That was funnier than the previous segment. This could lead to Bryan turning face and these two becoming a tag team. Stranger things have happened.
Sheamus made his entrance. CM Punk entered in his t-shirt and jeans. Punk said the fans understand him and that a match like this should be a WrestleMania main event. He said you don't just parade CM Punk out at the 8 o'clock hour (that's Central). Punk said that it's Labor Day and he wanted to take a day off of work just like the people in Chicago that respect him. Then he left. Sheamus grabbed the microphone. He said the fans wanted to see this match.
The camera caught up to CM Punk. GM AJ Lee walked up to him. Punk told her to check his contract because he had personal days. Matt Striker showed up to interview her. She wondered who he was. So she's crazy and stupid then? Okay. She said to tell Sheamus to stay in the ring because she would find him an opponent. She walked away.
Analysis: That's how you get hometown fans to hate Punk. I'm not saying all of them will, but by leaving the building he's being a jerk. I'm sure we'll see him again in the remaining two hours of the show, though.
(Commercial)
Back from break, Alberto Del Rio entered in his ring gear along with Ricardo Rodriguez. No car. I guess the rental place in Chicago didn't have any luxury cars left.
Sheamus vs. Jack Swagger (Non-Title)
Cole pointed out that Swagger has a "nine month losing streak." Check the record books. Just kidding. Seriously. Don't. Alberto Del Rio joined the commentary table. Sheamus dropped Swagger with a shoulderblock. Swagger came back by attacking the knee of Sheamus. Sheamus came back with the clubbing forearms followed by a shoulderblock. Swagger actually got some offense in by ramming Sheamus into the  turnbuckle and then hitting the Swagger Bomb for two. Sheamus decked Swagger. Sheamus put Swagger in the Texas Cloverleaf. Swagger tapped out after three minutes.
Winner: Sheamus
Post match, Del Rio attacked Sheamus. Sheamus dominated that battle. He went for the Brogue Kick on Del Rio, but he moved and Rodriguez is the one that ended up getting kicked.
Analysis: * Now Sheamus has a submission finisher. The Texas Cloverleaf was used in American wrestling by former WCW/WWE performer Dean Malenko, who is now a backstage agent in WWE and has been for about a decade. As for Sheamus, he not only won the match, but he won the post match attack too. Sheamus has been built up incredibly strong. Swagger lost again. His losing streak continues. Does anybody with the losing streak gimmick get over? Not usually.
After the attack on Rodriguez, doctors were checking on him to see if he was okay.
We were reminded that John Cena vs. Alberto Del Rio would be happening later.
(Commercial)
The "Did You Know" told us that Raw was watched by 5 times as many people compared to Major League Baseball on ESPN.
Eve vs. Kaitlyn
Divas Champion Layla joined the announce team. Kaitlyn hit a running crossbody for two. Kaitlyn hit an armdrag. Then the girls started rolling around catfight style as the fans didn't seem interested in what they were seeing. Eve took her down with a drop toehold. Miz was doing a great job of putting over Eve as a villain. He was arguing with Layla, who had "LOL" on her dress across her chest. That's awkward positioning of that phrase. Eve hit a knee to the ribs of Kaitlyn. They were selling it like Kaitlyn was hurt. Kaitlyn got back up and Eve hit her snap neckbreaker for the win after three minutes.
Winner: Eve
Post match, Eve shook Kaitlyn's hand. Then Eve went out to Layla at the commentary table. Miz told Layla to shake her hand. Eventually, Layla shook her hand. Eve just walked away. The idea is that Eve is showing good sportsmanship now.
Analysis: 1/2* It was just okay. It looked like there was a spot where Kaitlyn messed up, or something was mistimed poorly. I'm not really sure though. The outcome makes me think they might add Eve to the Divas Title match to make it a triple threat match at Night of Champions. That would be a wise move because I think if it's just Layla vs. Kaitlyn it could be pretty bad.
Backstage, Jack Swagger was shown walking away. GM AJ Lee asked him where he wa going. Swagger said he was taking some extended time off. Lee said he can't leave because Lesnar, Jericho and now Punk has left. She said everybody is leaving her. Swagger just said: "Sorry." He left. They went to break.
Analysis: It looks like Swagger will be written out for some time and then be repackaged. That's a good idea. Might I suggest a face turn? It would be different for him. It could work. Either that or find him a permanent tag team partner.
(Commercial)
Back to Anger Management class. Dr. Shelby congratulated the group for successfully completing the program. Bryan said he wanted to give Kane a chance for a rematch after Bryan beat him at Summerslam. Kane said he may not eviscerate him if they have that match. Bryan questioned why Kane thought he could eviscerate him in the first place. Harold told them to take it easy. They both said: "Shut up Harold!" Bryan kept arguing with Kane. Shelby was freaking out: "Oh my God you guys learned nothing!" Then he ran out of the room angrily. There was no brawl between Bryan and Kane, but it was close.
Analysis: Not as good as the last segment last week. It also makes the rematch likely for Night of Champions although that wasn't confirmed here. "Shut Up Harold" was pretty funny, though.
Michael Cole stood up at the announce table. He said AJ Lee put it up to the WWE Universe to determine what's next for Daniel Bryan: #WWEMatch for a match, #WWEtag for a tag match or #WWEHug for them to "hug it out."
Analysis: I tweeted #WWEHug for the record.
Matt Striker caught up to Alberto Del Rio outside the Trainer's Room to update the status of Ricardo Rodriguez. Before Del Rio could say anything, David Otunga walked out of the room to say that on behalf of his client there would be no comment at this time.
(Commercial)
The official theme song for Night of Champions is called "Champions" by Kevin Rudolf. They sure love this guy don't they? Cole and Miz love the song. Of course they do.
Striker talked to AJ Lee. He said the show was falling apart and asked her what she was going to do. She told Striker that John Cena vs. Alberto Del Rio is now a "Falls Count Anywhere" match.
Daniel Bryan entered in his "No No No" shirt while the crowd chanted "yes" at him. He was encouraging them not to do that, of course. Kane entered the ring. They replayed what happened on Smackdown when Kane lost to Alberto Del Rio and then Kane took his anger out on Josh Mathews with a Chokeslam in the center of the ring. Cole said that Smackdown GM Booker T has fined Kane an "undisclosed sum" of money.
The results of the Bryan/Kane poll? Michael Cole stood up to reveal it. Hug was 55%, tag was 27% and match was 18%. Loud "yes" chant from the fans. Bryan was yelling no at them.
In all my years of writing, this is the first time I've had to write about a "hug it out" in the center of the ring. The crowd chanted "hug it out" at them. They were hesitant to do it. Bryan was freaking out, yelling "no" while the crowd chanted "yes" at him. This gimmick is working very well. Miz called it the most awkward and weird thing he's ever seen. Bryan went up to Kane. They did a chest bump. The crowd booed while referee Mike Chioda told them they had to hug. Miz went over the rules of a "hug it out" by saying you had to lock arms and admitted he was making up the rules. That was pretty funny. Now a "hug him back" chant from the crowd. Eventually they hugged, but it wasn't enough. So the ref made them go again while Cole & Miz said they had to actually embrace in the ring. Finally, they embraced in a long hug in the center of the ring as the crowd cheered them.
Bryan shook Kane's hand. Bryan gently tapped him on the arm. Then Kane did. Then Bryan hit Kane harder on the arm so Kane did it back. Then they each did a shove. Then it turned to a brawl. Bryan hit him with some kicks, but Kane countered with the big boot to the face. Bryan avoided a charge, so Kane went flying over the top rope. Kane took control on the floor with an uppercut. He followed that up by throwing Bryan into a security wall. Kane hit him in the ribs with a steel chair. Back in the ring, Bryan gave Kane a Chokeslam. Kane put Bryan's head between a chair. Other refs ran out to the ring to stop Kane from continuing the attack. Bryan recovered and hit Kane in the leg with the steel chair. Bryan left.
Analysis: I thought it was pretty funny. Silly? Sure. But I thought it was funny to see a large man like Kane taking five minutes to hug his rival Daniel Bryan. The crowd started that "hug it out" chant, which was unlike anything I've ever seen in wrestling before. Obviously the post match attack will lead to another match between them, which will likely take place at Night of Champions.
Here's an email in support of Daniel Bryan:
Hi John. I believe you definitely should give Daniel Bryan your #1 spot on your annual roster evaluation column coming up shortly. The last time I remember doing a wrestler's taunt in my living room while watching RAW was the DX chop. I was a teenager. I'm a grown man and I «Yessed» when I heard Bryan's music tonight. In front of my wife! He's got to be doing something right
Pierre from Quebec
It might happen. That column will be ready at the end of September. Bryan is doing great.
There was another reminder that John Cena vs. Alberto Del Rio is happening in a Falls Count Anywhere match later.
Santino was shown preparing for his match backstage.
(Commercial)
There was a "Did You Know" bragging about Smackdown ratings.
United States Title: Antonio Cesaro w/Aksana vs. Santino
Pre match, they had Cesaro say the word "success" in five different languages. Santino went for the Cobra early, but Aksana distracted him so he had trouble striking. Cesaro hit a gutwrench suplex as Cesaro stomped on the Cobra sleeve on the mat. Santino went for the Cobra sock. Cesaro was able to counter it however and he hit his finishing move for the win after a two minute match.
Winner: Antonio Cesaro
Post match, Aksana gave Cesaro a kiss. Good for him.
Analysis: 1/2* Just a squash match basically. The finisher is called The Neutralizer because Switzerland was neutral in World War II. Clever huh? Hopefully this is the end of Santino in the US Title hunt. Night of Champions is supposed to have every title on the line, though, so Cesaro will need a new opponent.
There was a new "Be A Star" commercial featuring some celebrities like James Durbin, David Arquette and Perez Hilton, who is quite the reach if you're looking for celebrities. Alicia Fox just said "stand tall" in it, but they took out her "they called me…a boy" line.
Plug time. NFL season is here. Every year we have TJR Pick 'Em Groups for straight up and point spread. I would use Yahoo, but they have a max of 100 teams per league and I know we will get more than that, so we are going with ESPN. I've put up a post with detailed instructions at TJRSports with info on how you can sign up. We also have an Eliminator/Survival league as well. On another NFL note, here's my preview of the AFC. The NFC part of the preview will be posted by Tuesday night.
(Commercial)
Zack Ryder vs. Heath Slater
They pushed that this match was set up via trash talking tweets between them. They mentioned Slater's losing streak gimmick. Don't confuse it with Swagger's losing. Slater was doing his usual job of celebrating after every move. Ryder came back with a dropkick off the middle rope. Ryder hit his Broski Boot in the corner. Ryder went for the Rough Ryder, but Slater countered it. Ryder came back with a X-Factor and then hit the Rough Ryder for the win after three minutes.
Winner: Zack Ryder
Analysis: 1/2* It was like a Superstars match, but at least those matches get more time than this. It's nice to see them getting TV time at least. Better than nothing, right?
Post match, Vickie Guerrero made her way down to the ring. Ryder and Slater left the ring because they're barely above jobber status these days. Guerrero complained about Raw GM AJ Lee. She asked for a chair. She sat down the center of the ring waiting for AJ to come out. They went to break.
Analysis: So the people that spent a lot of money to go to Raw are watching a woman sit in a chair for three minutes during this commercial. I like house shows better, personally. I'll be at one in a few weeks.
(Commercial)
Vickie Guerrero was so mad with AJ Lee that she threw it to a video of what happened last week when AJ Lee attacked Vickie. Vickie wanted to talk to AJ. Instead, she talked to the empty chair that she said AJ was sitting in. Vickie to the chair that was supposed to have AJ in it: "You have failed to deliver on your promises. It is time for you to leave." That's the Vince McMahon way of putting over the Republican National Convention when Clint Eastwood "talked" to Barack Obama who he claimed was in a chair. Thankfully this "talk" ended quickly.
"Light It Up" time as AJ walked down to the ring.  She said that the Board of Directors told her that she is not allowed to put her hands on a superstar, manager or anybody else ever again. The Board wants her to apologize. She said "I'm sorry" although she didn't look at Vickie while she said it. Vickie wanted AJ to apologize to her face. The crowd was chanting "slap her" as AJ looked at her. AJ: "Vickie. I'm sorry." Vickie wanted her to apologize and for it to mean something. AJ said it again. Vickie slapped her in the face. AJ wanted to pounce on her, but Vickie reminded her that she can't touch her. Vickie slapped her one more time. Vickie skipped her way out of the ring while AJ looked angry in the center of the ring. The crowd didn't know how to react, so they chanted "yes" repeatedly. AJ slammed the chair into the mat three times. Then she threw the chair outside the ring before screaming like a wild woman. On commentary, Cole said that she was having a nervous breakdown.
Analysis: Last week, Lawler wanted Punk to apologize. Now Vickie wants AJ to apologize. Whoever wrote these angles must have wished for more apologies as a kid. They are telling the story that AJ is losing her mind due to all of the things that are happening since she's become the GM. I'm not sure where this whole thing will end up, but I would imagine that her run as GM doesn't last until WrestleMania. That's just a guess, though. Whatever writer came up with the "Clint Eastwood chair bit" probably earned some points from the Republican Vince McMahon during a writer's meeting. Either that or Vince thought about it himself and thought it was hilarious.
Up next is John Cena vs. Alberto Del Rio in a Falls Count Anywhere match.
(Commercial)
Back from break, there were highlights of CM Punk attacking Jerry Lawler from earlier in the show. There were also highlights of CM Punk walking out of his match against Sheamus.
Quick rundown of Night of Champions: CM Punk vs. John Cena for the WWE Title and Sheamus vs. Alberto Del Rio for the World Title. That's where the hype stopped. All Miz said was the he would be in a match there because he is the IC Champion and he would beat whoever his opponent is.
John Cena made his entrance for the main event. Some fans booed. A lot were cheering. Now Alberto Del Rio found his car. Justin Roberts did the intro because Rodriguez is injured. He was driving a red Ferrari. Cole didn't tell us how much it cost, so I'll go with $250,000 just for the hell of it.
Before the match, they aired a Tout from David Otunga saying that after talking to his client (Ricardo Rodriguez) they have decided to take legal action against Sheamus this Friday on Smackdown. Why would a guy get sued for kicking a guy that's around the ringside area all the time? Because this writing team loves lawsuit angles.
They went to break before the bell rang.
(Commercial)
Falls Count Anywhere: Alberto Del Rio vs. John Cena
The match began during the break. Del Rio was in control with a body slam followed by a chin lock. Del Rio hit the Back Stabber on Cena for two. Cena came back with the shoulder blocks followed by the spinning suplex and then the Five Knuckle Shuffle. Del Rio grabbed the ropes when Cena went for the Attitude Adjustment, though, so he was able to gain the advantage again. Del Rio whipped Cena into the steel steps. It's Falls Count Anywhere, so of course it's legal. Fans were chanting "Let's Go Cena/Cena Sucks" as we usually here. Cena got a clothesline on the floor for two. Cena went to clean off the announce table, so Del Rio dropped him with an Enziguiri kick to the back of the head. Cena went for the Attitude Adjustment, but Del Rio countered by shoving Cena face first into the steel post. Cena threw Del Rio over the security wall and into the crowd. There was a guy in full Randy Savage gear that got a good pop when he was shown on TV. Cena put the steel steps beside the announce table. He climbed up the steps and he went for the Attitude Adjustment. Del Rio countered into a back suplex through the table. He covered for two. That was a good spot right there. They went back in the ring, so Del Rio grabbed the microphone to say that Cena was beneath him. He said the entire roster is beneath him. He said Chicago was beneath him. Del Rio said he was going to break Cena's arm. He dropped the microphone, but Cena countered the armbreaker into the STF. Del Rio grabbed the microphone and hit Cena in the head with it. Good spot there too. Del Rio charged Cena while he was against the ropes. Cena moved. Del Rio went crashing to the floor. Del Rio gave Cena a suplex on the ramp for two.
The fight ended up going backstage.  Cena threw Del Rio into a a screen where they do interviews backstage. Del Rio went for the Cross Armbreaker, but Cena was able to counter with the Attitude Adjustment onto a container in the backstage area. All of a sudden, CM Punk showed up. He kicked Cena in the head. Del Rio covered for the victory backstage after 13 minutes.
Winner: Alberto Del Rio
Analysis: *** I enjoyed the match in the sense that they worked hard, had good chemistry and had some strong near falls towards the end. Cena got all of his big spots in, they broke a table and even though the conclusion was obvious with CM Punk interfering it's not like I'm going to complain about Cena losing a match.
Post match, Punk picked Cena up and he dropped him face first in the GTS position so that Cena's face hit the hood of the car. Punk stood over him and said: "Respect." Punk got into the passenger seat of a car. Before he got in, he held up the WWE Title. The driver of the car rolled down the window. It was Paul Heyman. Mark out for that Punk/Heyman association. That's how Raw ended with Cena knocked out on the cement.
Analysis: Awesome ending. Perhaps this is the "big angle" a lot of us have been waiting for with CM Punk and Paul Heyman working together. Heyman has been a mentor of sorts to Punk from when he was booking OVW while Punk was there and they have a lot of respect for eachother. It will be interesting to see where it goes.
————–
Three Stars of the Show
1. Dolph Ziggler – Excellent TV match.
2. Randy Orton – Same as above.
3. The Miz – Did a really good job on commentary. Did better as the show went on.
The Scoreboard
6.5 out of 10
Last week: 4
2012 Average: 5.82
2012 High: 9 (January 30)
2012 Low: 3 (July 9)
Last 5 Weeks: 4, 7, 4.5, 7, 7
Final Thoughts
This was another episode where three hours really seemed to drag.
There were two pretty good matches with Orton/Ziggler and Cena/Del Rio. A lot of other stuff was pretty average or bad.
The ending was fantastic. CM Punk and Paul Heyman together. What's going to happen next? I'm intrigued.
You know what I didn't miss? A Raw Social Media Ambassador. We don't need them.
I'm shocked that there were no Triple H videos either. Thank you for that.
————-
That's a wrap for this week. Let's bring it home with an announcement.
This is the last live edition of the Raw Deal until January. During NFL season I watch the Monday night NFL game live and Raw on the DVR. That means that my Raw Deal column will be a Tuesday morning or afternoon posting. This is my fourth year in a row doing it this way. I never miss a week. Do I lose sleep? Sure. But that's what naps are for.
Keep checking out TJRWrestling.com for extra columns from me and the wonderful work of the TJR staff as well. Thanks for all the support!
Until next time, thanks for reading.
John Canton – mrjohncanton@gmail.com
Twitter @johnreport
Facebook TJRWrestling.com on Facebook