Greeting jabronis,
Like many of you, I was left feeling pretty bummed out after Wrestlemania 29. The biggest wrestling event of the year felt stale, rehashed and, above all else, massively predictable (a weird Mark Henry victory aside).
The three main events that were presented to us (Cena v Rock, Taker v Punk, Brock v HHH) had been common knowledge to the IWC for several months – and the outcome of each match was knowledge that was almost equally as common. I assumed that WWE was well aware of this fact and, as a compensating factor (considering the influx of "smart" fans that traditionally populate the PPV), there would be a massive shock on the cards – an outcome or occurrence in one of the 3 main bouts that nobody would have predicted, and thus WWE have patted themselves on their collective back for keeping its product fresh and exciting. But this surprise never came… and the matches were as predictable and straightforward as the majority of us had feared many moons ago.
But putting my frustrations aside, I guess at the end of the day I can't have beef with Taker's streak remaining intact, and I can't really have any major beef with Cena pinning The Rock as that was the natural direction of the story (although more controversial circumstances would certainly have been appreciated).
What I definitely can have beef with though, dear readers, is the HHH v Brock Lesnar match and feud – and just how badly WWE has handled the return of the former UFC badass. Allow me to elaborate…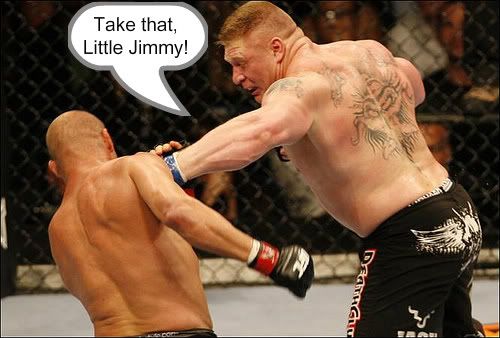 Lesnar returned to WWE television the day after Wrestlemania 28 and immediately threw himself into a feud with company figurehead and crap-joke enthusiast John Cena. In his 8 year absence from
WWE, Lesnar managed to keep his name meaningful via a failed NFL career, a pretty successful stint in New Japan and, most importantly, by becoming the undisputed UFC champion. A "sports entertainer" earning the title of the world's best Ultimate Fighter?! Make no mistake about it, that was a big, big deal – and thus his return to the company that made him famous (and who he turned his back on) was an ever bigger deal.
From the outset, it was public knowledge that Lesnar had signed a part-time deal and thus wouldn't be a weekly fixture on WWE programming. But he had enough dates in his contract to work a few feuds and have some salivating matches – and the mere fact that he was back in pro-wrestling made the likes of me whoop with joy and triple-somersault off my sofa in delirium.
For me, there has never been a performer like Lesnar in WWE. His size and strength coupled with his baffling speed and agility genuinely make him seem superhuman – and he has a freakish intensity constantly etched upon on his face that makes you truly believe that he could be the baddest man on the planet. Sure – he's not a great talker so he's not the total package – but when you've got the physical attributes that he possesses it's fine to overlook that. And besides, that's what Paul Heyman is for.
Feuds with the likes of The Undertaker, CM Punk and Ryback were surely in the pipeline for Brock, and that was a jolly exciting prospect.
But Lesnar's first match upon returning would be against John Cena. Fair enough I thought… What better way to exploit the return of this monster than have him take on the company's number one guy on PPV?
Getting Lesnar back wasn't cheap for the WWE. He's easily amongst the top 5 earners on the roster – which is pretty spectacular considering his previously mentioned limited schedule. Thus the naive me thought there was no way in hell that WWE would fork out an insane amount of money to get their man back only for him to lose his first match in 8 years. How incredibly wrong I was.
Cena pinned Lesnar clean (within the rules of the match) at the Extreme Rules 2012 PPV after delivering an AA onto the steel steps, and wrestling fans (bar the under 12s) was silenced. Sure, Lesnar was made to look strong and dominated long periods of the match – but the history books will forever show that he lost the match, and that's the only thing that people remember in the long-term.
To say I was shocked was an understatement. To say I as flabbergasted beyond f*cking comprehension would be slightly more accurate. If Lesnar had to lose to Cena, why not have him win a few matches along the way?! Instead, his momentum was immediately thwarted with stupid booking and his name value had plummeted in an instant.
Lesnar got no return match with Cena, and upon his return to TV, the wheels were set in motion for a feud with HHH culminating at Summerslam. Whilst that feud wouldn't have been top of my list, I can understand why it was perceived be a box-office draw and it was a fine headline bout to have on a Summerslam card.
Lesnar picked up the victory in a pretty terrible match which led to HHH, in storyline mode, contemplating retirement (which audiences didn't give a hoot about).
Right away, wrestling news sites started reporting that HHH was happy to lose to Lesnar at Summerslam as he would win the rematch on the bigger stage at Wrestlemania. Again, I was being massively naive, but I couldn't accept that this would happen. Why would WWE book one of their most valuable assets to lose on their most watched PPV of the year? And if he was going to put anyone over, surely it wouldn't be part-time 43 year old who has nothing left to achieve?
Again I was very very wrong, and clearly underestimated the size of HHH's ego. Skipping over a whole bunch of nonsense storyline that involved Lesnar breaking Vinnie Mac's hip, HHH defeated Lesnar at Wrestlemania 29 in a rubbish rematch that precisely nobody wanted to see – and Lesnar was made to look like a massive chump in the process. Seriously, what sort of former UFC champion allows himself to be put into the same submission hold 4 times in a row without any sort of counter?! It was pathetic storytelling.
So Brock Lesnar's stats after 12 months of being back in the company read like: Wins 1 Losses 2 … I don't think that you need me to point out that a 33% win record over the course of 1 year isn't very impressive at all. No sirree
I get that Lesnar's dates are limited and he can't be wrestling on RAW regularly or every PPV, but I think that not having him earn victories over lesser talents has been a mistake. Beating up the likes on Heath Slater or Vince McMahon on TV is good fun and all – but again, it's wins and losses that audiences remember and what builds a performer as a force. This is why the likes of Taker, Cena and Punk are pinned on very rare occasions.
Constantly booking Lesnar against wrestling behemoths like Cena and HHH makes him look like their equal in comparison. If WWE wanted us to truly perceive Lesnar as the insuppressible monster they constantly tell us that he is, I think he should have been booked in at least a couple of totally one-sided PPV matches, showcasing his strength whilst annihilating established midcarders such as Kane or The Miz. Sure, the matches would have cost the WWE big bucks in appearance fees – but it would make the prospect of Lesnar facing a bigger and better opponent on PPV even more enticing further down the line. You dig?
To my surprise Lesnar appeared on RAW this week (due to The Rock and CM Punk being injured, he's come to plug the "main event" gap according to the dirtsheets) and he will be getting a third match against HHH at the Extreme Rules PPV next month.
Again, pretty much nobody enjoyed their first 2 matches (there really is no chemistry there), so why the pair are having a third PPV match is a tad confusing – but at least it's a a chance for Lesnar to emerge from the feud as a victor. Whether HHH's ego will allow that is another matter. I'd be very surprised indeed if WWE would book Lesnar to lose on consecutive PPVs… But history has taught me to expect the unexpected when it comes to booking Big Brock.
I truly believe that WWE should book Lesnar on an uninterrupted winning streak between now and Wrestlemania 30. To consider anything else would be stupid. If he can earn victories over the likes of Orton, Sheamus and even Del Rio over the course of the next 12 months, with Heyman constantly plugging his greatness on TV and putting him over as an unstoppable force, Lesnar can go into Wrestlemania as THE main event, rather than being in a worthless rematch that nobody wanted to see in the first place.
Like the majority of you out there, I'd love to see Lesnar challenge The Undertaker's streak in New Orleans next year – or if that doesn't come to fruition, a match against The Rock of even a WWE title match against Cena would make a mega bucks main event, and provide a match that people would genuinely be willing to fork out their hard-earned cash to see.
When your schedule is a light as Lesnar's – he will likely wrestle less than 6 times between now and April 6th 2014 – booking him strongly needs to start right now.
At the risk of making this sound like a gushing love letter – Brock Lesnar is a very special talent and I hope WWE does its utmost to establish him as an ultimate badass in the next 12 months. It would be most depressing indeed to look back at Lesnar's return in 10 years time and imagine "what could have been". WWE needs to create history now. Putting over part-time veterans should not be Lesnar's forte.
If Lesnar does indeed lose again at Extreme Rules, I'll be the person you can hear from thousands of miles away screaming in frustration as I rip the hair from my skull.
Over and out.