Greetings jabronis,
I'm in a bad mood, dear readers. Not constantly, you understand, I generally have a cheery disposition… But just right now as I gather my thoughts to write this column. I'll confess off the bat that I believe the Survivor Series card looks rather piss-poor, and I can't for the life of me even begin to understand how WWE has so epically dropped the ball in recent months.
I think that first and foremost, the WWE product should be perceived as a TV show. Sure, it's an entertainment empire with house shows, video games, magazines, toys, reality shows and the rest… But it's flagship TV shows (RAW and Smackdown) are its real bread and butter.
Now, like any other serialised, scripted TV show, the duty is to entertain your viewer and engage them with intriguing stories and characters. If the audience reacts positively to a particular character, then it's the writers duty to make that character more prominent in the show – thus giving the audience what they desire and enjoying an increased viewership. You don't shunt popular characters into the background, it doesn't make any business sense. There are many examples of this over the years – where small-ish characters are pushed to the forefront due to popular demand. Ben Linus in LOST, Jesse in Breaking Bad, Omar in The Wire … There are likely countless other instances you can think of.
So I simply cannot fathom why Daniel Bryan, currently the most over guy in the company by a longshot, has been pulled from the main event picture (and replaced with The Big Show of all people) and on this occasion has been thrown into a midcard tag team match. Why would WWE want to curtail his momentum when there is obvious money to be made in riding his current crest of superstardom?! It's clearly what they fans want to see, and it's surely obvious to even to a deaf, dumb and blind man. Has Vince decided he has enough money in the bank maybe, and now he's just trying to crumble his empire? If so, he's certainly going the right way about it.
Sure, Daniel Bryan could yet win the Royal Rumble and be in the Wrestlemania XXX main event… But I have serious doubts about that. It seems WWE is more eager to throw its veterans into the main events and ignore the desires of its audience. Right now, I'm honestly feeling the most disengaged with the WWE product than I've ever been in over two decades. That isn't an overstatement, it's simply the truth.
Just had to get that out of my system. I'll henceforth proceed with my predictions, but be forewarned that I'm still pretty grumpy, so this won't be a particularly positive read…
PRE SHOW BOUT
The Miz v Kofi Kingston
So The Miz babyface experience comes to and end, and I'm sure we're all in agreement that it's for the best. His entire demeanour and stupidly smug face make him a far more natural heel character, and Im sure he'll be as relieved as everyone else that he can go back to amping up his obnoxiousness.
I expect a clean win for The Miz and a mild push up the midcard. I always enjoyed the heel Miz, so it'll be good to have him back.
The Kofi kingston character really needs to be reinvigorated. The most relevant thing he's done in the last 4 years is a handstand.
Pick: The Miz
ELIMINATION MATCH
7 divas v 7 divas
This is certain to be car crash television at its finest. But, maginificently, wrestling fans are blessed with having to pay to witness it! What a lucky group of people we are!
This will undoubtedly be the swiftest elimination match in wrestling history – expect to see a barrage of small packages and botched finising moves one after another until the ring is left with a handful of chicks who actually have a modicum of wrestling ability. But even then nobody will care. TV viewers will be making a ham sandwich and those in attendance will be at the merchandise stands buying Yoshi Tatsu t-shirts.
I will say one positive thing about this one though: Summer Rae is smoking hot.
Pick: YOUR MOM! Oooooooh! Sick burn!
IC TITLE MATCH:
Big E Langston v Curtis Axel
Why Big E Langston won the title on RAW this week and not at the PPV seems a bit daft. Now all Survivor Series gets is a rather pointless rematch – and we all know that 99.9% of the time titles never change hands in a rematch.
Big E Langston is a pretty entertaining performer considering his size (and certainly when compared to the likes of Ahmed Johnson, Ezekiel, The Warlord and other musclebound freaks from WWE annals), so I'm all for him getting a prominent spot on the roster. I just wish WWE would let him talk more often, as he can be surprisingly entertaining on the mic.
Curtis Axel must be expecting a demotion back down the card from here on out. Kudos to WWE for giving him a push but it has pretty much been a failure. Konnan's comments on him a few days ago were right on the money – Axel might be an admirable in-ring talent but he simply has zero presence or charisma. Which is odd considering his lineage.
It's surely a routine clean victory for the big man here.
Pick: Big E Langston

**********
ELIMINATION MATCH
Goldust, Cody Rhodes, The Usos & Rey Mysterio v The Shield & The All-Americans
It's always funsome to see a traditional elimination match on the Survivor Series card. I fully expect this to be match of the night (Goldust and Cody Rhodes are fast developing a habit of stealing the show) and it should be loaded with some innovative spots.
I'll side with the good guys to win, with the returning Rey Mysterio surely being one of the last men standing (if his knees don't explode during the match).
Pick: The babyface team… I'll go with Rey Mysterio and Cody Rhodes as the survivors. Just for fun.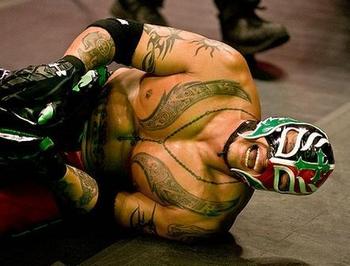 CM Punk and Daniel Bryan v Luke Harper and Erick Rowan
I fully expect this to also be an entertaining match up (which isn't a particularly controversial opinion considering with Punk and Bryan involved?!), but it just doesn't have a "big match" feel to me. It's more like a RAW or Smackdown match. We've already seen Harper and Rowan lose clean to The Rhodes Brothers on Smackdown, and consequently they've lost a little of their monster aura.
I assume the intention was originally to put Punk and Bryan in a handicapped match against all three members of The Wyatt Family – but with Bray currently nursing a leg injury it had to be vetoed.
I'm backing The Wyatt Family for the win here – only because they need it way more than Punk and Bryan if they're going to be pushed as a top tier group. Perhaps the long rumoured fourth member of the family will make his/her presence known and provide the assist.
Pick: Harper and Rowan
**********
HEAVYWEIGHT TITLE MATCH
John Cena v Alberto Del Rio
Does Alberto Del Rio really stand any chance at all? John Cena's arm could have fully exposed bone and be on fire and there's still no way he would ever tap out to the dreaded arm-lock. It's an incredibly dull main-event match for what is considered to be one of the top 4 PPVs, and it's one of the many factors that makes me so disinterested in the PPV.
Cena retains, and likely continues to make other top tier stars look like jobbers until a meaningful feud is set in motion for Wrestlemania XXX.
Pick: John Cena
WWE TITLE
Randy Orton v The Big Show
This is the match that has pissed me off the most. Please raise your hand if Randy Orton taking on The Big Show would have been your pick for the main event of Survivor Series 2013… Nobody? Just as I suspected.
It's not just the fact that I have desire to see these two guys fighting over the company's top prize – it's also that the build up has been boring, contradictory and, ultimately, just plain stupid.
Just a few weeks ago, The Big Show was a big, nasty heel who loved punching the crap out of smaller guys. Then suddenly, with no build up or storyline reason whatsoever, he becomes a guy who cries in the middle of the ring when his boss asks him to knock out Daniel Bryan. What the Hell is that all about?! The Big Show hates Daniel Bryan ever since he cashed in the MITB briefcase on him!
And how can anyone buy into the "Big Show is broke" story? Firstly, they did it with HBK just 4 years ago and it was stupid then and secondly, The Big Show has an IRON CLAD (storyline) contract! HHH and Steph even acknowldegd this on air, yet 2 weeks later they were back to threatening him with the sack if he didn't carry on punching people for them. I guess their definition of "iron clad" is very different to everyone else's.
Then to make the story even more bizarre, David Otunga files a lawuit against WWE for being mean to The Big Show or something.
Meanwhile, Randy Orton has been going around acting like a pussy who can't win matches unless someone lends him a hand. Shakespearian storytelling it ain't.
Who emerges from all this nonsense with the win though? I can't foresee a scenario where The Big Show leaves as champion – so Orton will find a way to screw him over. Hey, a screwy ending to a PPV, what a novel concept that will be!
Pick: Orton retains
As you've long worked out by now, I am not looking forward to the Survivor Series in the slightest and have no intentions whatsoever of paying for the event (or even obtaining through "less legal" means).
I just hope with all my might that the buyrates are absolutely rotten for the event. Hitting Vince in the wallet is the only way he's going to take notice of the fact that he is presenting an extremely crappy product of late, and the majority of fans desires are being outright ignored.
I'll try my best to be in a better mood next time. But I promise nothing.
Over and out.