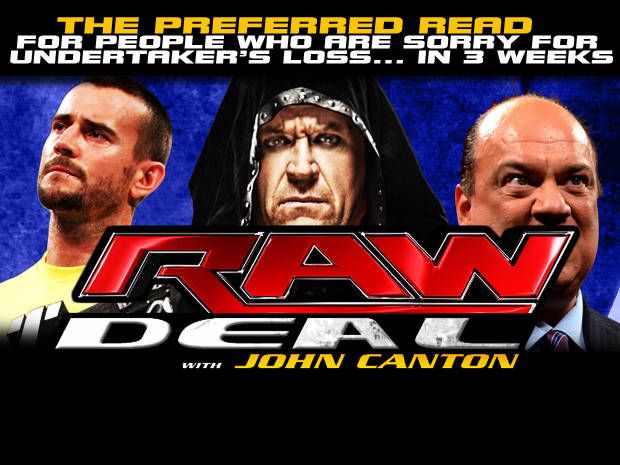 Live from Pittsburgh, Pennsylvania this is the Raw Deal for episode #1034. Follow me on Twitter @johnreport.
Just so we're clear the banner made by my good friend Steve Melo is in relation to CM Punk's promo last week on Raw rather than our prediction for the match. I'll be picking Undertaker! Also if you're interested in writing about wrestling at TJRWrestling.com we have a writer search going on, so make sure you read all the details at the end of this column.
The opening video package focused on the story between Triple H and Brock Lesnar heading into WrestleMania 29. The other story they focused on involved CM Punk's distasteful interruption last week on Undertaker during the Paul Bearer tribute. Of course Raw ended with Punk hitting Kane with the urn and then leaving with the prized possession.
The announcers for the show are Michael Cole and Jerry Lawler.
Raw begins with John Cena entering the building in a new shirt (again) that's yellow and blue. This guy must love these new t-shirts every few months. Maybe he needs to buy some more cars. He got the sense that there were some Rock fans in the building. We have twenty days left to pick a side, according to Cena. There's a "We've Cena Nuff" sign right on camera. Cena talked about how 2013 has been a tidal wave for him. Yes he won the Royal Rumble, but should I remind him that he wasn't on the victorious team at Elimination Chamber? Guess not. He said he wasn't going to guarantee a WrestleMania victory, but he is focused.
Cena was interrupted by The Prime Time Players – Titus O'Neil & Darren Young. Titus was dressed in an afro saying his name was Rufus Pancake Patterson. Cena sucked up the crowd by mentioning the Steelers and Penguins. He also said some Pittsburgh doctors could help O'Neil with his split personality. Young said that they put the "E" in WWE Entertainment while Cena thought there were too many E's there. I'm sure the writers thought that was funnier than it actually was. Then they did the "Millions of Dollars" dance as they stood outside the ring. Cena said they're entertaining, but their timing is wrong. O'Neil said the fans don't want to see Cena – they want to see the Prime Time Players. O'Neil mentioned that Young looks like Cena. He wondered if Young should be on Cocoa Pebbles since Cena is on Fruity Pebbles boxes. O'Neil volunteered Young to have a match with Cena. They said Cena will lose just like at last year's WrestleMania. Cena said he'd show them what it means to be ready for the main event of WrestleMania. That sounds like code for "easy win for Cena."
John Cena vs. Darren Young w/Titus O'Neil
Cena hit a running bulldog on Young quickly. He went for the STF, but O'Neil pulled him out of the ring. That led to the vintage floor to commercial break.
Analysis: It wasn't a great segment, but it had its moments. O'Neil is a guy with a lot of personality, so I'm glad that he got a chance to show it. The problem is the PTPers don't win a whole lot, which means it's hard for fans to buy into their trash talk. Cena's promo really wasn't going anywhere. That's why I was cool with the PTPers interrupting it. I'd love to see the PTPers with a bigger role going forward.
(Commercial)
Back from break, Cena hit the Five Knuckle Shuffle. Then he put Young on his shoulders and he hit the Attitude Adjustment for the win. The match went four minutes. We saw about a minute.
Winner: John Cena
Analysis: If they're only going to get four minutes then why stick a commercial break in there? Odd. It's not like I expected it to be a long match. I figured it would be two minutes instead of four. They had action for 30 seconds, then a three minute break and back to the conclusion of the match for 30 seconds. That's not a common thing.
There was video from Smackdown when Ryback faced Mark Henry. Before it could really start, The Shield ran out there and took out Ryback. Then Henry attacked Ryback with the World's Strongest Slam multiple times.
Ryback was shown walking backstage.
Analysis: Two commercials in the first twenty minutes. There used to be no commercials in the first twenty minutes. It's definitely a different way to start Raw.
(Commercial)
Ryback vs. David Otunga
I don't miss Otunga matches. He didn't get an intro. Ryback did. Ryback attacked him in the corner with punches, Otunga made a brief comeback and then Ryback came back with a powerslam. Spinebuster by Ryback. In the past the crowd would pop for everything he did. Meat Hook Clothesline by Ryback. Shellshocked earns the win for Ryback after one minute.
Winner: Ryback
Analysis: Obvious booking. No surprise. WrestleMania season means a lot of squash matches.
Post match, Ryback talked about how he was going to team with Randy Orton & Sheamus to take apart The Shield. Ryback said he'd cross paths with Mark Henry again and when that time comes it will be feeding time. "Feed Me More" chants.
Mark Henry entered the arena. Vickie Guerrero and Teddy Long stopped Henry from going to the ring. Guerrero said she was taking Ryback out of the six man tag match at WrestleMania. She gave him the match at WrestleMania against Mark Henry. Then Ryback gave Otunga the Shellshocked finisher again.
Analysis: It was expected that they would take Ryback out of the six man tag, so I'm glad they got it out of the way early. Big Show is the obvious replacement.
Triple H and Brock Lesnar contract signing later. Triple H loves contract signings.
There was a Fandango video saying he's up next.
(Commercial)
Fandango made his entrance with his ballroom dancing friend. There was a Fandango light display in the ring when he finally got in there. His entrance took as long as Undertaker. The Great Khali entered with my favorite diva Natalya, who is one of the most poorly used performers in all of WWE. She's fighting through it, but this really is a waste of her skills. There was a replay of Smackdown when Khali couldn't say Fandango's name correctly. English isn't his first language, so let's laugh at Khali. Be a star, WWE.
Before the match could start, Fandango called Khali "stretch." He wanted Natalya to try to say his name right. Instead of saying the whole name, she told Khali to get him. Fandango jumped out of the ring. Then he left. The crowd booed. Fandango said that tonight was the night we almost got to see the debut of Fandango. Loud "you can't wrestle" chant from the crowd.
Analysis: The trolling of Fandango continues. Yawn. I understand they're doing it to get heat. I'm not sure if it's going to get the kind of heat they're going for, though. If I was watching this on DVR I would have hit FF through all of that. At least the crowd tried to make it lively with the chant.
Later in the show it's Wade Barrett vs. The Miz vs. Chris Jericho for the IC Title.
(Commercial)
Damien Sandow vs. R-Truth
I missed about a minute of this one, but came back when Sandow hit his patented Elbow of Disdain. Truth came back with some clotheslines followed by a hard punch to the jaw of Sandow. Truth hit a jumping side kick followed by the Lie Detector scissors kick. Sandow rolled out of the ring because he's a smart guy. He walked away. Truth won by countout. It went about three minutes.
Winner: R-Truth
Analysis: This was another brutal match and segment. They book that "heel walks out of the match" finish at least once every month. Usually it's more than that. I'm not sure what the point of the match was or why R-Truth is being protected against a guy like Sandow, who should be ascending.
Post match, the Bella Twins were playing with Cody Rhodes' mustache. Kaitlyn walked up to Cody saying she had a thing later so they couldn't hang out. She told the Bellas they could have the mustache and he could have theirs.
Analysis: So the "thing" with Cody & Kaitlyn that was never really a "thing" is already over. Or is it? Does anybody care? Let's move on.
Up next "Undertaker returns." I like the guy, but he was on last week too. So it's not really a return is it?
Analysis: This first hour was brutal. Really bad.
(Commercial)
The Undertaker made his entrance to a nice reaction. The MMA gloves always look awkward to me when he's doing a promo, but I guess it makes his look consistent at all times.
Undertaker said he's going to hurt Punk and he's going to hurt him bad. He gave Punk one chance to save his own soul. Undertaker wants that urn back.
On the video screen, Punk had the urn. He was saying "oh yes" in Paul Bearer's voice. Punk said that Bearer's loss wasn't just a personal loss – it was a professional loss as well. He said that if Undertaker gets counted out or disqualified then it's a loss for him. Punk claimed that Undertaker hasn't met anybody like Punk at WrestleMania. He was juggling around the urn. Punk called himself a higher power. He said he was the one man in the world that can shoulder the burden that comes with ending The Streak. Punk claimed that he was the one that would end the undefeated streak at WrestleMania. He said that he was going to make Undertaker go 20-1 at WrestleMania. Then he dropped the urn on the cement. The top didn't come off. Undertaker simply stared at him. That was the end of the segment.
Analysis: That's it? I was hoping for something more out of them. Instead it was just a quick Undertaker promo, then Punk doing a monologue while acting like a jerk to get some cheap heat. All Undertaker did was stare angrily towards the screen. A five minute segment wasn't enough for me. You have a three hour show. This is one of the biggest matches at WrestleMania. You can't find a way to make a segment last longer than five minutes involving talents as good as these two? That's weird to me.
Later it's Triple H vs. Lesnar contract signing. At least this time they played a Triple H song. Earlier they played Lawler's music for some reason. Maybe instead of hitting "King of Kings" somebody hit the music of "The King" Jerry Lawler. Oops.
Are you interested in writing about wrestling at TJRWrestling.com? We have a Writer Search going on. Read all about it here and apply this week because the deadline is Sunday night. The post went up on Monday. There are some great submissions already. If you think you have what it takes don't be shy. Send it in.
(Commercial)
We got a replay of Punk's promo that just aired.
Team Hell No (Kane & Daniel Bryan) vs. Primo & Epico w/Rosa Mendes
The tag titles are not on the line. Bryan didn't do the "yes" routine on the way to the ring because Kane is serious due to the Punk promos about Bearer. Bryan took down Primo with a knee to the ribs followed by a series of kicks in the corner. Hard kick to the chest by Bryan got a two count. Bryan took down Epico with an arm drag, who was now the legal man. Bryan hit a back body drop. The heels distracted the ref, which allowed Epico to give Bryan a knee attack that sent him to the floor. That led to the portion of the match where Primo & Epico isolated Bryan in their corner as the babyface in peril. Cole said that on the WWE App you can see a video about Bryan measuring his beard. That's one of the most awkward advertisements I've ever heard. And Bryan is my favorite wrestler in the company. The heels kept working over Bryan in their corner. Bryan fought out of the corner and tagged in Kane five minutes into the match. Kane unleashed on Primo with a back body drop followed by a corner clothesline. Kane hit a sidewalk slam. There's a punch for Epico just because he's mean. Kane hit a clothesline off the top rope. All of a sudden, AJ's music started up. She made her way down to ringside where she skipped around the ring. It didn't really distract Kane and Bryan because Kane ended up hitting Epico with a Chokeslam to win the match. The match went about seven minutes.
Winners: Kane & Daniel Bryan
Post match, crazy AJ just stared at them. Then she left.
Analysis: *1/2 Basic tag match. Crowd wasn't into it because Primo & Epico are booked like losers, so they had no heat at all. The reason AJ did that distraction is because they're going to do Bryan & Kane vs. Ziggler & Langston for the tag titles at WrestleMania.
Backstage, Chris Jericho mentioned that he has held the Intercontinental Championship nine times, which is more than anybody in WWE history. He said he could then carry the IC Title into WrestleMania. Fandango walked up to him. He said his name to Jericho. Jericho said Fandango's name incorrectly a number of times in a very entertaining way. Fandango told him it was funny, but then said that Jericho will learn to say his name correctly. Jericho then said he had movie tickets to order because Fandango is a movie ticket ordering site in the US (not in Canada where I live).
Analysis: It was in the Wrestling Observer last week that Jericho may face Fandango at WrestleMania, so it looks like that's the direction they're going in. The Jericho mockery of Fandango's name was pretty funny. Worth checking out if you missed it.
Later it's Randy Orton & Sheamus vs. 3MB. Also Cody Rhodes vs. Alberto Del Rio. If you have to think about who will win those matches then you don't watch this show often enough.
(Commercial)
There was a video package focusing on the recent trip of Alicia Fox & Natalya visiting people in Rwanda. They went there to give hope to the people there as well as to raise awareness for malaria disease. Go to Nothingbutnets.net to make a donation. It's a very good thing that WWE did there. I wish both of those women had a bigger role on the weekly television shows.
Rhodes entered first. Del Rio's music was altered a bit. It was a remix of his old song, but I don't think it was necessary.
Alberto Del Rio (w/Ricardo Rodriguez) vs. Cody Rhodes
Rhodes hit the punch while on his back just like his brother Goldust is known for. Rhodes whipped Del Rio into the turnbuckle. Del Rio came back with a hard kick to the face and then Rhodes hit a suplex for two. Del Rio hit a back body drop, but then when he charged into the corner Rhodes moved out of the way. Del Rio really hit the ring post hard because you could hear a "ding" sound when he hit it. Del Rio came back with a hard kick to the back of Rhodes and then a dropkick that knocked Rhodes outside the ring. That led to the vintage floor to commercial break four minutes into the match.
(Commercial)
Back from the break, Rhodes gave Del Rio a front suplex. Del Rio has a bandaged right knee from an attack on Main Event, so was selling that injury. Rhodes was then working on Del Rio's left knee for some reason while Cole tried to justify it saying that he wanted to weaken both knees. They did a spot out of the corner where Del Rio hit a front suplex on Rhodes. Del Rio tried to make the comeback with clotheslines followed by a tilt-a-whirl backbreaker. He hit a side kick for two. This Pittsburgh crowd is dead, but they woke up a bit there. Rhodes came back with a moonsault off the top rope for a two count. Some guys were chanting "USA" as the announcers talked over it. Back Stabber by Del Rio got a two count. Crowd was still dead. Del Rio slapped on the Cross Armbreaker for the submission win after 13 minutes.
Winner: Alberto Del Rio
Analysis: ** Some crowds are really hot for Del Rio as a babyface. This one was not. Whenever he tried to fire up the crowd they just didn't care. Obviously Pittsburgh's not going to have as many Spanish speaking people as Florida, Texas or California for example. They had an average match where it was obvious that Rhodes had no chance of winning, which is how most matches are on the road to WrestleMania. I don't get why Rhodes was working on the wrong knee. Maybe he just messed that up. It's not a big deal, really.
Post match, Jack Swagger attacked Del Rio from behind. Rodriguez tried to intervene, so Swagger threw him over the top rope. Del Rio tackled Swagger outside the ring. Del Rio threw Swagger into the security wall. Del Rio turned his attention to Zeb Colter at ringside. That allowed Swagger to come back with an attack to the back of the head of Del Rio. Swagger threw Del Rio into the steel steps. Swagger threw  Del Rio over the announce table. "Welcome to Jack Swagger's America." There was another "USA" chant. I don't think the crowd cares that the heel is from America. While they were on the other side of the ring, Swagger gave Rodriguez a clothesline. Swagger applied the Patriot Lock on the ankle of Rodriguez. Swagger twisted it swiftly with the idea that he broke the ankle. Rodriguez was screaming in pain as he sold the idea that it was broken. Doctors tended to Rodriguez as they went to break.
Analysis: Nice attack by Swagger. It was very intense. Rodriguez did an awesome job of selling the injury that will help Swagger in the sense that it will make his Patriot Lock a more devastating submission move. That will go a long way in terms of making the fans react loudly whenever Swagger applies that move in the future. Segments like this help Swagger more than Colter doing his promos where he rambles on about immigration or things that don't really matter to wrestling fans.
(Commercial)
During the commercial (on the WWE App) they showed Del Rio getting loaded onto a stretcher. His left ankle is the one that is apparently broken. The announcers used their SERIOUS VOICES~! to talk about it.
The next inductee in the WWE Hall of Fame is Booker T. I figured they would wait for a Texas WrestleMania event or for one with less high profile names. He was a part of the Harlem Heat team, so that's the NY connection, but he's a Texan. Obviously he's a very deserving performer and when he was in WCW he was one of my favorite guys there. His WWE career was very successful as well. What's cool about Booker T is that he has a training school these days where he helps young wrestlers get their start in the business. That's an example of giving back. I would guess that Booker's brother Stevie Ray (his partner in the Harlem Heat tag team) is the one that will induct Booker T into the Hall of Fame. Makes sense.
That means that the Hall of Fame class is Bruno Sammartino, Mick Foley, Bob Backlund, Trish Stratus, Donald Trump and Booker T. In terms of career accomplishments it's the best Hall of Fame group ever. I thought Booker would appear on the stage or something like that to get a nice ovation. He wasn't there, though.
Randy Orton made his entrance as they went to break.
(Commercial)
The announcers told us that Ricardo Rodriguez has a broken ankle. Yeah sure he does. They replayed the part where Swagger put more torque on the move.
Randy Orton & Sheamus vs. Heath Slater & Drew McIntyre (w/Jinder Mahal)
Orton hit a knee drop on McIntyre. Sheamus hit his ten forearm shots to the chest of McIntyre followed by a shoulder block. These two are really close friends, by the way. I'm sure they enjoy working together. Slater distracted Sheamus, so McIntyre hit a clothesline. Sheamus broke free out of the corner after about one minute. A very short heat spot there. Orton got the hot tag and hit a powerslam on Slater followed by the DDT off the ropes. Sheamus ran in to give a Brogue Kick to McIntyre and then one for Mahal too. Orton hit the RKO on Slater. It went about four minutes.
Winners: Randy Orton & Sheamus
Analysis: It was a short, squash tag match as everybody expected.
The Shield made their entrance through the crowd. Roman Reigns, Dean Ambrose & Seth Rollins surrounded Orton & Sheamus in the ring. Before they could get in the ring, Big Show ran in to face off with them. The Shield never entered the ring. They left without any kind of fight. Big Show pointed at the WrestleMania sign. Then he left.
Analysis: Obviously this will set up Randy Orton & Sheamus teaming up with Big Show to take on The Shield at WrestleMania. I hope that Show isn't a babyface in the near future because he's way more effective as a heel. It will probably lead to babyface Show, though. My prediction is The Shield wins because Orton ends up turning on Sheamus although he wouldn't be a part of Shield. He would just turn because he doesn't get along with Sheamus. Plus, Orton needs to be a heel. It's more natural for him.
There were some clips from The Rock's new movie "GI Joe Retaliation." That's why he's not at Raw. He's promoting the movie in England. The movie was supposed to be released late last year, but they pushed it back until March 28. I'm guessing if they didn't push it back then we would have seen Rock last week and this week. Apparently he'll be back next week and the following week to promote WrestleMania.
More hype for the Triple H/Lesnar segment that's going to end the show.
TJR Radio returns for episode #26 on Tuesday at 10pmET/9pmCT. We have a guest this week as former 20 year WWE referee Jimmy Korderas joins us to talk about his new book "The Three Count: My Life in Stripes as a WWE Referee" and current happenings in WWE as well. Join Frank The WWE Clown, The Ace and myself for two hours of wrestling talk on the Road to WrestleMania. If you miss it live just listen to it anytime right here or find it on Wednesday on iTunes as well.
(Commercial)
Dolph Ziggler (w/AJ Lee & Big E Langston) vs. Kofi Kingston
This match has happened dozens of times on television over the years. It's likely taken place hundreds of times on house shows too. I like both guys, but it doesn't have a new feeling. Kingston missed a corner charge. Ziggler hit the best dropkick in the business for a two count. Ziggler missed a splash in the corner as the crowd continues to be very quiet. Kingston hit a Russian legsweep. Springboard cross body splash by Kingston got a two count. Kingston did his Boom Drop to no reaction at all. This sounds like the Impact Zone. Kingston got the boots to the face, which was AJ's cue to jump on the apron. That led to Big E Langston knocking down Kingston outside the ring. They went back into the ring where Ziggler hit the Zig Zag to win after four minutes.
Winner: Dolph Ziggler
Analysis: *1/2 Usually they get more time for their matches. Not this time. The booking was predictable and obvious, but it did a good job in terms of putting over Ziggler's friends as allies that get the job done for him.
After the match, Daniel Bryan & Kane appeared at the ramp. Bryan said they're on the page now. Kane wanted to see what Langston can do inside the ring. Kane challenged Ziggler & Langston to a match against Team Hell No. AJ accepted the challenge if they put the tag titles on the line at WrestleMania. Bryan replied with multiple chants of "yes" of course. At least the crowd woke up for that.
Analysis: That's a good way to get Langston in a match in a big way. It was obvious they were going for this match from a few weeks ago, so it's nice to see that it's official. What's interesting that when I wrote about what matches I wanted to see at WrestleMania I had said Bryan vs. Ziggler in a singles match. That's not happening. But at least two of my favorite guys are in the same match. I'm trying to look at this in a positive light. Trying damn hard.
Up next is a video for John Cena vs. The Rock at WrestleMania. They did this last week too.
(Commercial)
We got a recap of the Undertaker/CM Punk segment from earlier in the night.
They aired the same Rock/Cena video that was shown last week. I like both guys, but do we really need to see the same thing two weeks in a row? You employ about 80 wrestlers, half of whom are never on the show. You could give them TV time that would help their careers. I understand putting on a video package once. This is your main event. But the same exact thing two weeks in a row? I think it's too much.
The Miz made his entrance for the triple threat match.
(Commercial)
Wade Barrett made his entrance. Chris Jericho entered last. It's our main event that's not really a main event because there's another segment later.
Intercontinental Title: Wade Barrett vs. The Miz vs. Chris Jericho
It's a match where at title is on the line. That's rare on Raw. Jericho hit a slingshot dive over the top onto Miz and Barrett. In the ring, Jericho hit a dropkick on Barrett. Miz came back with a couple of two counts on Barrett. Corner clothesline by Miz to almost no reaction. Keep in mind he's a babyface. Barrett hit a knee drive to the chest of Miz. They did the Tower of Doom spot out of the corner (Jericho gives Barrett a powerbomb as Barrett gives Miz a suplex). They went to break with all three guys out in the ring at the five minute mark.
(Commercial)
Back from break, Jericho hit a cross body block on Barrett for a two count. Miz was outside the ring. Jericho hit a bulldog. As he went for the Lionsault, Miz pulled him out of the ring. Miz gave Barrett his backbreaker, but Barrett came back with the Winds of Change (Bossman Slam) for a two count. Miz hit a dropkick to Barrett's knee. That led to Miz applying the Figure Four Leg Lock as the crowd chanted "woo" for that. Jericho hit a Lionsault on Miz for a great nearfall. Jericho applied the Walls of Jericho on Barrett. Miz broke it up. He dumped Barrett to the floor. Jericho got a great two count on Miz with a cradle. Jericho hit the Codebreaker. He was too hurt to cover. Barrett covered. Jericho pulled him out of the ring and then he threw Barrett into the security wall. Miz kicked out of a two count because the Codebreaker wasn't that recent. Miz hit a DDT for a two count. At least we have a good match on this show finally. Jericho avoided a Miz charge and then he gave Barrett a dropkick that sent him to the floor. Miz hit a hard kick to the face of Jericho for another good nearfall. Jericho got a cradle on Miz for a two count. Miz hit the Skull Crushing Finale on Jericho. Barrett ended up rolling up Miz for the victory after 14 minutes.
Winner: Wade Barrett
Analysis: ***1/2 That was a very entertaining triple threat match. My assumption was (and I did tweet this out) that Fandango would interfere to cost Jericho the match while Barrett would retain. That didn't happen. Instead we got a clean match with a lot of great nearfalls that actually woke the crowd up. That's what the people of Pittsburgh actually wanted – a wrestling match! Is that too much to ask every week? They did a really good job of putting the match together with all three guys hitting signature spots and then it ended on a simple rollup by Barrett. I'm surprised he didn't win with his finisher. Jericho was incredible. The other two kept up with him, but it was definitely Jericho running the show in this match.
There were clips from the WWE Films movie The Call that was released on the weekend and actually did good business. It's not like WWE was the only producer of the movie, but it's still their most successful film.
They aired some fan Tout videos talking about Triple H vs. Brock Lesnar.
Triple H was shown walking backstage for the main event promo. It was 10:56pmET, so the last segment would start right at the top of the hour.
(Commercial)
Contract Signing for Triple H vs. Brock Lesnar
Triple H made his way down to the ring. Of course he stared at the WrestleMania sign on his way down there. The ring had a table as well as two chairs. They love the contract signings for Brock Lesnar matches don't they? Paul Heyman walked to the ring along with security guards, who of course are indy wrestlers.
Triple H wondered why Lesnar wasn't there. Heyman said Lesnar is fearless. Heyman said Hunter had two choices, which is letting down the fans or choosing to fight Lesnar without knowing what the stipulations are. Heyman thinks Triple H is frustrated and he doesn't want him to take out the frustrations on him. That's why he has security. Triple H said these guys were "quality" as a joke. Heyman had a paper that Lesnar has already signed. If Hunter signs it then Heyman will tell him the stipulations at WrestleMania. Hunter said he'll kick Lesnar's ass at WrestleMania. He wanted the contract.
Heyman said he was going to really enjoy this. He played a clip of what happened three weeks ago on Raw when Triple H saved Vince McMahon. Lesnar got busted open when he hit the ring post. The screen went black and white because they don't like showing blood. Lesnar was left to walk away from that attack. Heyman wondered how Triple H would top that. At WrestleMania it's Brock Lesnar vs. Triple H and HHH is blindfolded? No. He wants Triple H to look into Lesnar's eyes. He also suggested Hunter's hands cuffed and ankles cuffed, but it's not that either. Lesnar said that Heyman can pick the stipulations.
Heyman suggested a stipulation: "Brock Lesnar vs. Triple H and the winner of the match gets Stephanie McMahon." Heyman said that wouldn't work because it would be more fitting if the loser gets Stephanie. Uh oh. Triple H pulled Heyman over the table. The security guys tried to protect Heyman, but Hunter threw them out of the ring. The third guy just took off before Hunter could even attack him. Hunter put Heyman on the table and he was slapping him in the face. Heyman was screaming for Lesnar to help him. Hunter hit Heyman hard in the chest with forearm shots. He signed the contract on Heyman's chest. Hunter told Heyman to call his monster. He kicked Heyman out of the ring. The crowd wasn't that loud for this.
Brock Lesnar's music hit. The crowd woke up. Lesnar had a steel chair. He smashed it against the ramp a few times. Hunter grabbed a sledgehammer that was taped to the contract table. Lesnar threw the chair into the ring. Heyman tried to calm down Lesnar saying that Hunter won this round. Lesnar pointed at the WrestleMania sign. What a good part-time employee he is.
Heyman and Lesnar were at the top of the ramp. Heyman said the beating was worth it to get him to sign the contract. It will be Triple H vs. Brock Lesnar no countout, no disqualification, no stopping the match for any reason because it will be a No Holds Barred Match. The added stipulation is that Triple H's career is on the line. The announcers barely said anything as the show ended. They were in shock that Triple H unknowingly put his career on the line.
Analysis: That was a 15 minute segment to bring it home. Heyman did a good job. Hunter showed good intensity. I think the stipulation pretty much guaranteed that Hunter is going to win the match at WrestleMania, which is what I expected going into it. It's not like Hunter is a full-timer anymore anyway. He only wrestles a couple of times per year, so in a sense the stipulation is a bit weak. However, when Flair and Michaels lost retirement matches in recent years they never wrestled again so in that sense this retirement stipulation has some merit to the average fan. (When I say never wrestled again I meant in WWE in Flair's case.)
It would have been nice to see Lesnar do more. They pay him all this money and he was only out there for a few minutes. I get that they are saving him up for the match at WrestleMania, but perhaps if a guy with Lesnar's presence was on Raw for a longer period of time it would help the quality of the show.
Three Stars of the Show
1. Chris Jericho
2. Wade Barrett
3. The Miz
Clearly the best match, so they are the stars of the show. Heyman did well too.
The Scoreboard
4 out of 10
Last week: 4
2013 Average: 5.23
2013 High: 7.5 (February 25)
2013 Low: 3.5 (January 28)
Last 5 Weeks: 4, 4.5, 7.5, 4.5, 5
Final Thoughts
I think my 4 out of 10 may be generous. I didn't love this show. That's for sure. Two 4's in a row and a 4.5 before that. Not a good sign.
The main event angle was hyped up so much. It was good. Not great. It took such a long time to get to the point.
Best part of the show was the IC Title match. I wish this week's Raw had other great matches because it could have really used it. Instead we got the squash matches that normally happen on the Road to WrestleMania. They're fine, but fans lose interest when you book such predictable matches every week.
I liked that this week's Raw set up some matches for WrestleMania. These two matches were added to WrestleMania: Mark Henry vs. Ryback and Daniel Bryan & Kane vs. Dolph Ziggler & Big E Langston.
Meanwhile, it looks like we can pencil in Big Show teaming up with Randy Orton & Sheamus vs. The Shield. That will probably be official at Smackdown. I also think Chris Jericho vs. Fandango and Wade Barrett vs. The Miz are possible for WrestleMania as well.
My question is where is Antonio Cesaro in all this? He's not a guy that should be left off the WrestleMania card. I understand he could get added on the pre-show or some other kind of match, but he's a guy that deserves more. You should use WrestleMania as a chase to showcase midcard talent more. Instead he might not even be on the show. That's a damn shame.
Lastly, the Pittsburgh crowd wasn't very loud. Do we blame them or the lack of a quality show? I think it's a bit of both.
—————–
We'll bring it home with some of the plugs you saw in the column because they're important.
Are you interested in writing about wrestling at TJRWrestling.com? We have a Writer Search going on. Read all about it here and apply this week because the deadline is Sunday night. The post went up on Monday. There are some great submissions already. If you think you have what it takes don't be shy. Send it in.
TJR Radio returns for episode #26 on Tuesday at 10pmET/9pmCT. We have a guest this week as former 20 year WWE referee Jimmy Korderas joins us to talk about his new book "The Three Count: My Life in Stripes as a WWE Referee" and current happenings in WWE as well. Join Frank The WWE Clown, The Ace and myself for two hours of wrestling talk on the Road to WrestleMania. If you miss it live just listen to it anytime right here or find it on Wednesday on iTunes as well.
Finally if you're a fan of NCAA college basketball I've set up a tournament challenge bracket on ESPN.com that you can join right here if you're interested.
That's all I got for now. I have columns to read.
Until next time, thanks for reading.
John Canton – mrjohncanton@gmail.com
TJRWrestling.com and TJRSports.com
Twitter @johnreport
Personal Facebook and TJRWrestling.com on Facebook