Below is the mission statement from Be a STAR (a joint initiative from The Creative Coalition and WWE)
The mission of Be a STAR is to ensure a positive and equitable social environment for everyone regardless of age, race, religion or sexual orientation through grassroots efforts beginning with education and awareness. Be a STAR promotes positive methods of social interaction and encourages people to treat others as equals and with respect because everyone is a star in their own right…..

…..In an ongoing effort to spread the word about tolerance and respect, WWE Superstars and Divas visit two – three schools or community centers per month to speak with students about bullying issues including sharing their own personal stories
Last Friday on Smackdown during a backstage interview WWE superstar Ryback, intimidated, bullied and attacked a stage hand. He also did this on the 29th of July 2013 episode of RAW. And on the second biggest pay per view event of the year he was shown bullying and picking on a caterer bag stage. Even Jerry Lawler made reference to Ryback not being able to be involved in the 'Be a STAR' program.
Now we all know his heel 'character' he is currently portraying is that of a mean, nasty, bully that wants to dominate those who are not as strong as he is. He is portraying that of a monster heel who feels, due to his size and strength, that he is allowed to treat those weaker than him with contempt. While this type of character is not new to wrestling heels, I feel to be promoting this type of heel character, whilst trying to promote an anti-bullying message, is actually sending a mixed message to our younger viewers. It would be like the John West Company saying there is no dolphin in our cans of tuna…..but here is a great new product – canned dolphin.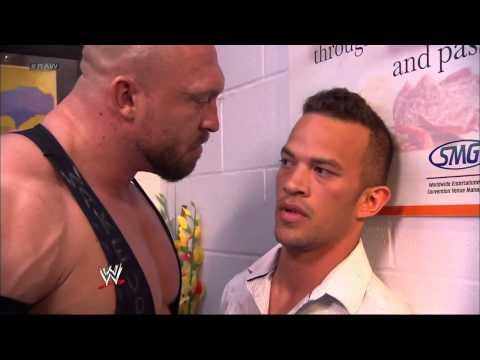 Image Ryback walking into a school to promote Be a STAR…..he can't. Not at the moment anyway. In fact how can any WWE superstar walk into a school to promote tolerance when on the show they represent a man who is bullying someone who is smaller, weaker and not a wrestler. There is a difference between Ryback heading out to the ring and putting Kofi Kingston through 3 tables compared to pouring soup over a caterer. Kids expect that because he is a wrestler, Kofi Kingston may be hit by a chair, kendo stick or put through a table. Kids do not understand that the arena workers shown are also actors/wrestlers and just see a larger man picking on a smaller man. Even on RAW this week, whilst the person he 'bullied' was another wrestler, it was done not in the ring as part of a match, but in the locker rooms where the young wrestler had his property destroyed and made to feel inferior.
Heel wrestlers are meant to be mean and nasty people, and in a way they will always show bullying qualities in what they do, Damien Sandow putting people down who are not as smart as he is, The Shield (3 people) picking on one person, Alberto Del Rio attacking his weaker, non-wrestling friend and ring announcer Ricardo Rodriguez. The issue I have with the current Ryback character is that the WWE is bluntly promoting him as a bully, and if they wish to do that then I feel they cannot then turn around to their younger fans and say do not tease, pick on or attack those who are weaker than you.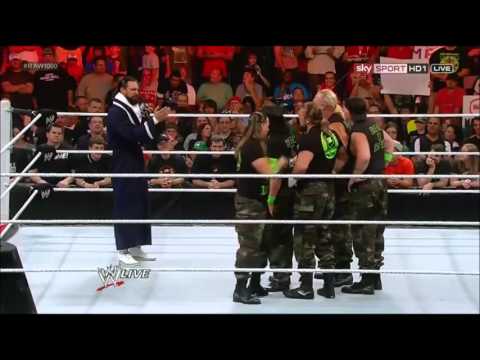 I do not have an issue if Ryback is out there dominating 'jober' wrestlers like he used to, as all he is doing is beating up other wrestlers, but the WWE needs to look and tread very carefully in what direction they are heading with him. As a teacher and father or 5 kids I am very aware of what bullying can do to kids, it something I do not tolerate in my classroom, and something I do not tolerate being done to my or by my kids. I have seen people forced to leave their jobs due to being bullied by managers and co-workers. I therefore cannot then sit back I condone this type character on the WWE. Hopefully after Summer Slam this can be addressed.
Hooroo, and see ya next week
Don't forget to check out my book "Stop telling Us It's Fake : A Wrestling Fan's Journey"
http://www.amazon.com/Stop-Telling-Its-Fake-Wrestling/dp/1489585508