Batista's final run in WWE before his retirement was against Triple H that culminated at Wrestlemania 35 a couple of years ago. One of the most popular lines during that feud saw Batista telling Triple H to give him what he wanted over and over again. Batista was also supposed to be inducted into the WWE Hall Of Fame last year but due to timing issues and scheduling conflicts, it did not end up happening. WWE also paid huge money for the return of Batista. 
Rhea Ripley was called to the main roster earlier this year and she immediately challenged Asuka for the RAW Women's Championship at WrestleMania 37 last year. On Night Two of WrestleMania 37, Rhea Ripley squared off against Asuka for the RAW Women's Championship and after a very hard-fought match, she would end up defeating The Empress of Tomorrow for the title.
Since then Ripley has won the WWE Women's Tag Team Championships with Nikki A.S.H. and lost it too. She is currently in a tag team with Liv Morgan. Batista's iconic entrance in WWE saw him stomping his right foot before pretending to fire machine gun shots at the same time that pyrotechnics went off. Rhea Ripley also does something similar with her entrance.
Batista commented on an Instagram video where Ripley and Morgan made their entrances, sending them a bold message stating it looked 'familiar.' Batista joked that Ripley copied his WWE entrance.
View this post on Instagram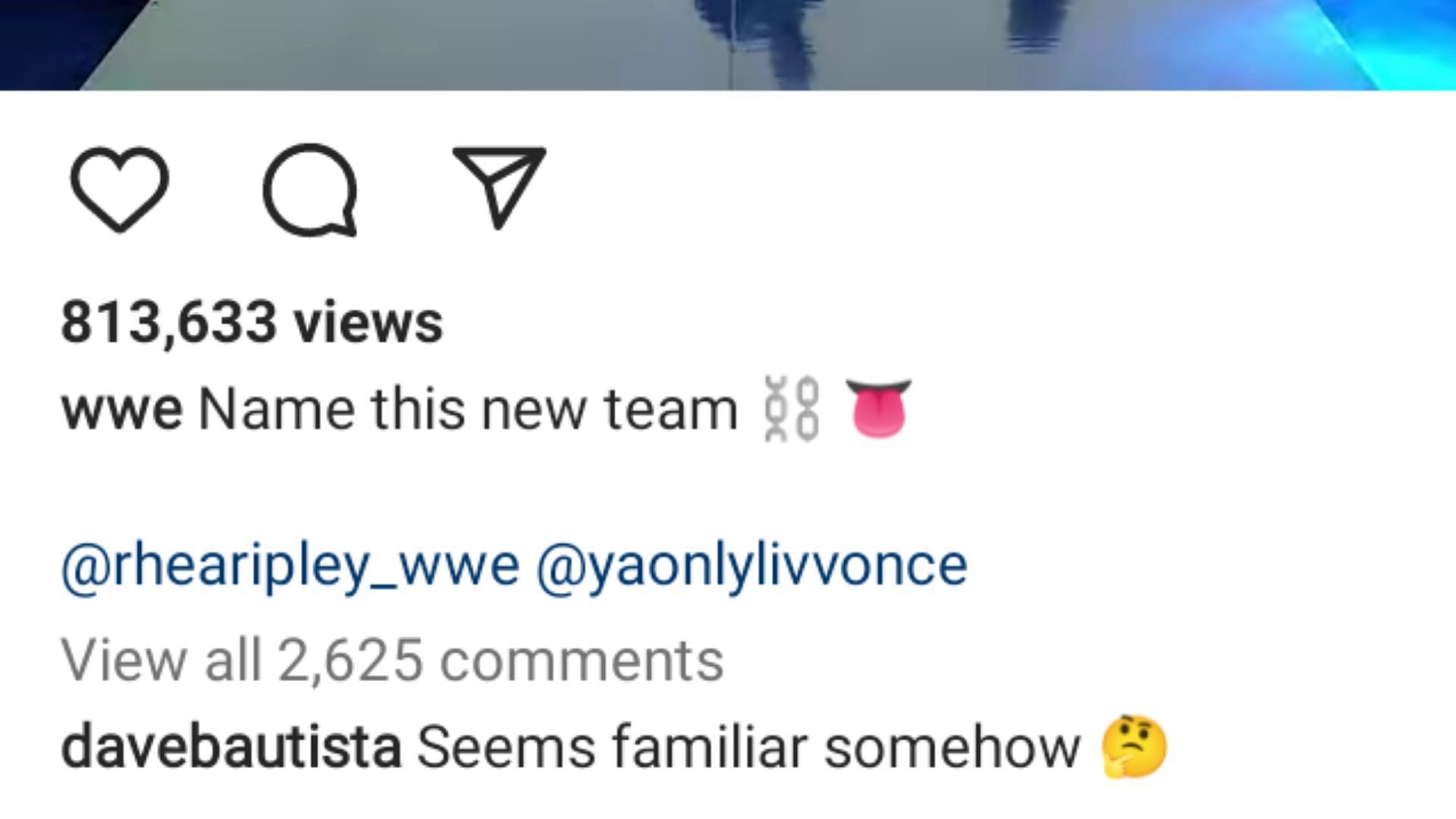 While Dave Batista was supposed to be inducted to the WWE Hall of Fame in 2020, this did not happen due to the worldwide pandemic and due to previous obligations on Batista's end. However, fans have been clamoring for 'The Animal' to get his due and to be inducted as quickly as possible. One fan on Twitter, where the tweet can be seen below wrote:
"Since Vader is being inducted into the WWE Hall Of Fame which is long overdue and definitely should've happened long ago, here's another who was supposed to be in last year's HOF. Hopefully, he gets in this year. "
Since Vader is being inducted into the WWE Hall Of Fame which is long overdue and definitely should've happened long ago, here's another who was supposed to be in last year's HOF. Hopefully he gets in this year. #Batista #WWEHallOfFame #WWEHOF #WWEHallOfFame2022 pic.twitter.com/NHIfDS5H7d

— Ronnie Faulcon Jr: GameHawkTier94 (@FaulconRonnie) March 7, 2022