Hello again! This piece will deal with my opinions on who could face The Undertaker at WrestleMania.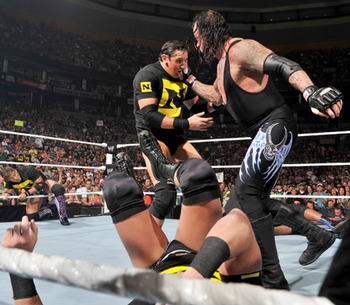 In my mind there are three leading candidates. They are Wade Barrett, Sheamus, and Ezekiel Jackson.
Sheamus seems like a good fit but it would hit a snag when the King of Kings, Triple H comes back and gets revenge on the man who put him on the shelf in the first place. I don't like this outcome and that's why Sheamus won't be going toe to toe with Taker in my mind. This would be a great match but there are too many factors that make this confusing.
Another two choices are Wade Barrett or Ezekiel Jackson. Both of these men have a good chance of facing The Undertaker at WrestleMania if Taker is healthy enough to return. I think that this feud will either make or break Barrett and or Big Zeke.
For Jackson, he is already know pretty well, since he has been around the block a few times when ECW was around. This would be a great match to see but at the same time, you can never outdo the last two 'Mania matches the Deadman has had.
I am going towards more of a Barrett-Taker angle. This has more of a storyline to back it up then any other option.I am leaning toward the fact that the match might rival Randy Orton's match with the Phenom at WrestleMania 21. That match helped to shape Randy Orton to what he is today. This could very well happen to Barrett as he will be passed on the torch in my mind, plus Barrett was hand picked by the Deadman himself to have a feud with.  This, in my mind makes for a great match. If anything, this would be a awesome way for the ushering of two different legacies. One being the ushering out of the Deadman's legacy and the ushering in of Barrett's legacy.
There are different possibilities but in the end, we will find out at WrestleMania; that's if Taker is healthy enough to wrestle by then.